This Chicken Chorizo and Chickpea Stew is nourishing and packed with flavour.
It can be made in the oven, slow cooker or even over a campfire!

Post originally published in Jan 2016
Comfort food.
When you're struggling with the back-to-work blues it can feel a little too easy to rely on 'instant' foods like toast, toast or toast.
That's not just me is it?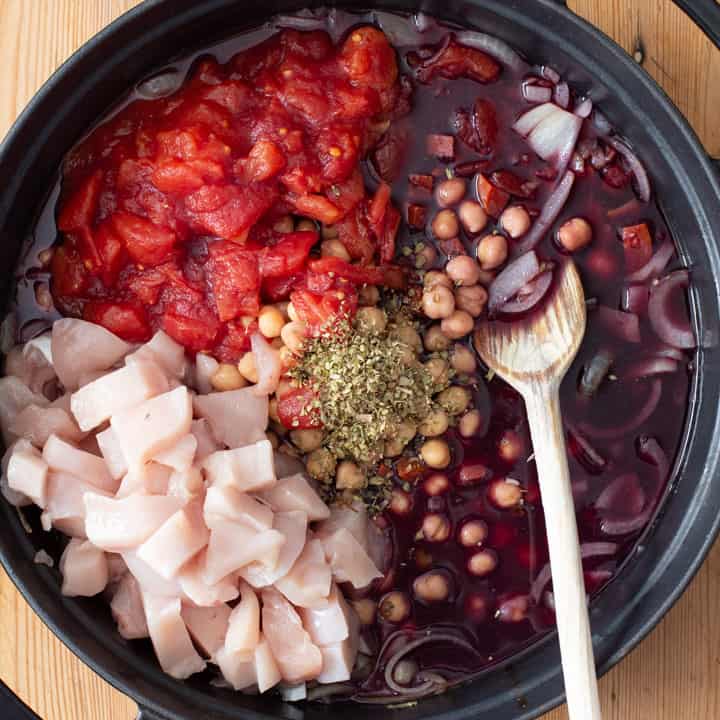 My Chicken and Chorizo Stew
Well, my dear friends. This is the gentle nudge up the derriere you need to write down the ingredient list below. Go buy that good grub. And spend an hour or two in the kitchen this weekend.
I promise you'll love me for it when you're sitting down with a steaming big bowl of this Chicken Chorizo and Chickpea Stew in front of you.
Honest.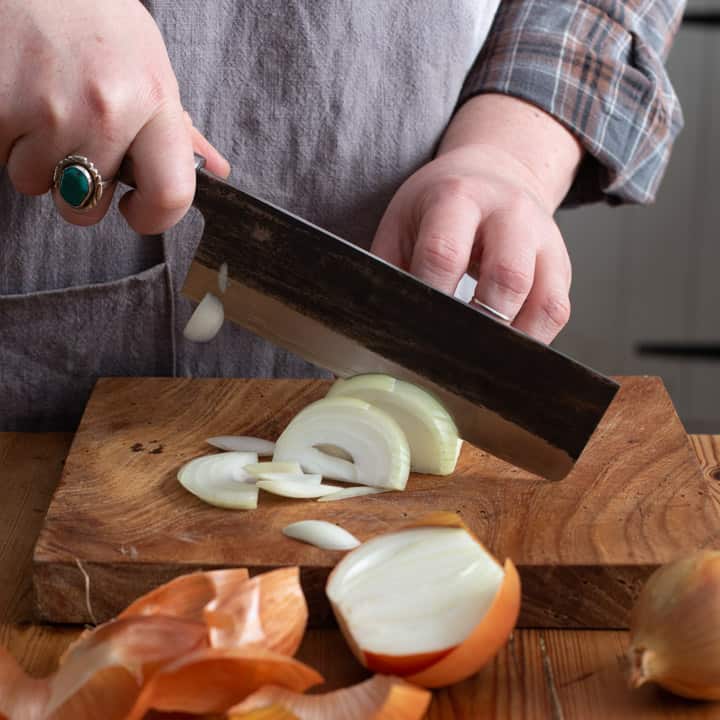 No one, not even a food obsessed greedy guts like me can come up with endless tasty meals without a little bit of pre-planning.
So please drag yourself out of your January slump before it sets firm.
Do what you need to turn your kitchen into your happy place.
And let's fill your belly with some inspiring food.
In the meantime, may I recommend a little strawberry jam on that peanut butter and toast? ;)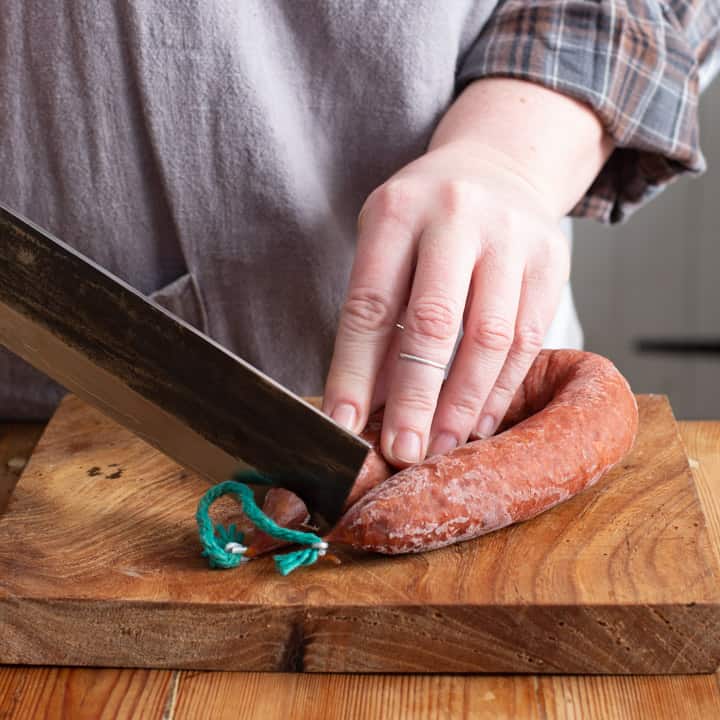 Comfort Food
Chicken is my go-to meat when I'm in a foodie slump.
I always stock up when I see free-range or organic chicken on sale as it freezes so darn well. If you score a freezer full too, why not give these chicken tacos a go. Or maybe these yummy stuffed chicken breasts.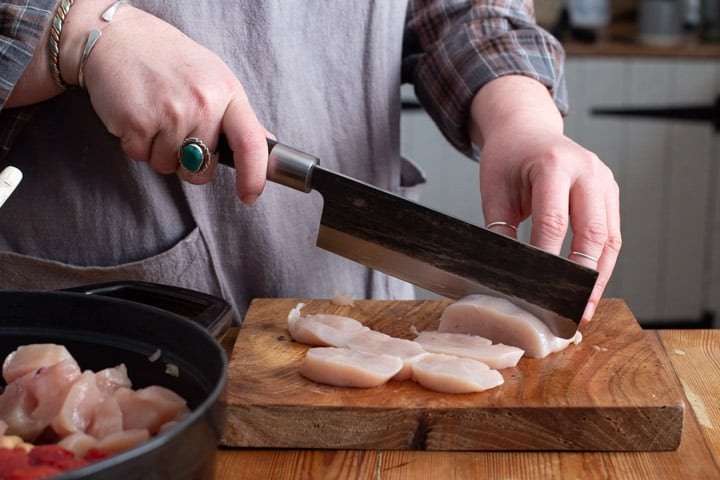 How to make a chicken and chorizo stew with chickpeas
You can make this stew on the stove, in the oven or even over a campfire! Check out the full recipe below.
Because we're using tinned, drained chickpeas the cooking time is actually pretty fast.
If you wanted to use dried chickpeas instead, I would probably cook them beforehand and add them to the stew already cooked.
Gently soften the onions first, then add in all your other ingredients.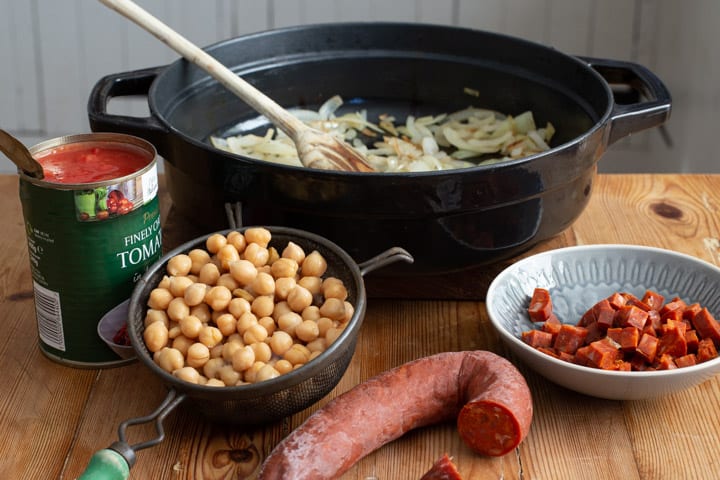 Mix together well and pop on the lid.
Your casserole dish needs to have a well-fitting lid so that the stew doesn't dry out.
If your lid isn't a great fit, you can tightly wrap some foil over the pan and then pop the lid on top of that.
Can I cook my Chicken and Chorizo Stew in the Slow Cooker?
Absolutely! Although I'm personally not overly keen on chicken breast cooked this way.
I find the slow cooker can make chicken breast (which is a very lean meat) feel 'fibrousy'.
Not sure that's the right word for it. But when chicken thigh is slow cooked, it's tender and juicy and soft in your mouth.
Chicken breast has more texture, and I'm not that keen on it.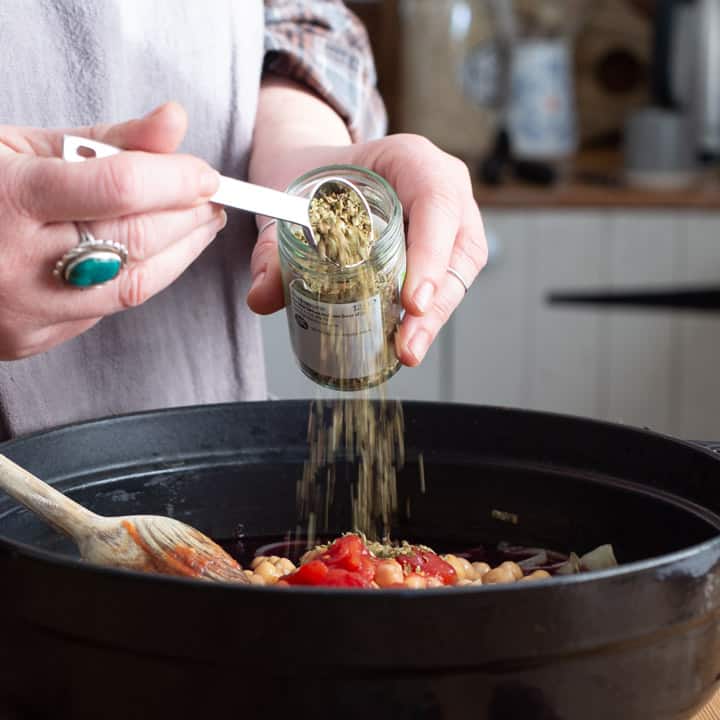 So, if I were planning to dump this recipe in a slow cooker on a busy day, I would swap out the chicken breast for the same amount of skinless, boneless chicken thigh.
Then cook it for 4-6 hours on high, or 8-10 hours on low.
The most incredible smells will be waiting for you when you get home from work!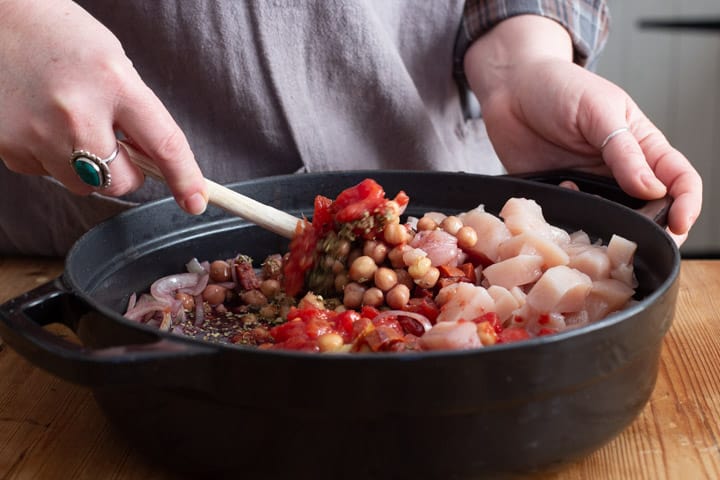 Make Ahead Camping Meals
Over on YouTube we've been focusing on meals that you can make ahead of time to make your journey, or first night at camp, easier.
So far we've made a hearty Slow Cooker Irish Stew in the dinky little crock pot I bought for Myrtle the Campervan.
Then, after visiting the 'World Pasty Championships' (yes, that really IS a thing!) we made this Easy Cornish Pasty Recipe. The pasty really is perfect travel food! Then there's my somewhat infamous Cowboy Stew! This one is cheap as chips, very filling and uses mostly store cupboard essentials.
And today I'm sharing this recipe I first made back in 2016, and took it out with me to reheat after a little hike.
Really warming, filling and comforting.
You can see just how easy it is to through this tasty stew together here: Chicken Chorizo and Chickpea Stew video.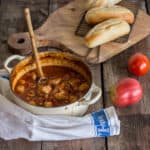 Chicken Chorizo and Chickpea Stew
Keyword:
chicken chorizo and chickpea stew
Ingredients
1

tbsp

oil

1

onion

- sliced

80

g

chorizo

- diced (skin first if necessary)

3

chicken breasts

- diced into bite size pieces

350

g

fresh tomatoes

- chopped. Or 1 can of tomatoes

400

g

can chickpeas

- drain a tin of cooked chickpeas, or precook dried ones.

250

ml

red wine

2

tsp

oregano

- dried

Salt & pepper

- to serve
Instructions
Preheat the oven to 170/325/gas 3

Heat the oil and sweat the onions until soft and translucent.

Add in the chorizo, chicken, tomatoes, chickpeas, wine and oregano and put on a tight fitting lid.

Pop in the oven and mostly ignore it for the next two hours (you may want to check it hasn't dried out every now and then if your lid isn't tight fitting).

Season with salt and pepper as necessary and serve with whatever comfort food you fancy - we had freshly baked baguettes but mashed potato would have been equally scrummy.
Nutrition Facts
Chicken Chorizo and Chickpea Stew
Amount Per Serving
Calories 478
Calories from Fat 153
% Daily Value*
Fat 17g26%
Cholesterol 126mg42%
Sodium 455mg20%
Potassium 1191mg34%
Carbohydrates 22g7%
Protein 46g92%
Vitamin A 810IU16%
Vitamin C 16.7mg20%
Calcium 69mg7%
Iron 3.3mg18%
* Percent Daily Values are based on a 2000 calorie diet.