This Slow Cooker Irish Stew is so easy to throw together and makes a warming, stick to your ribs meal. Perfect for after a long hike or a day out adventuring.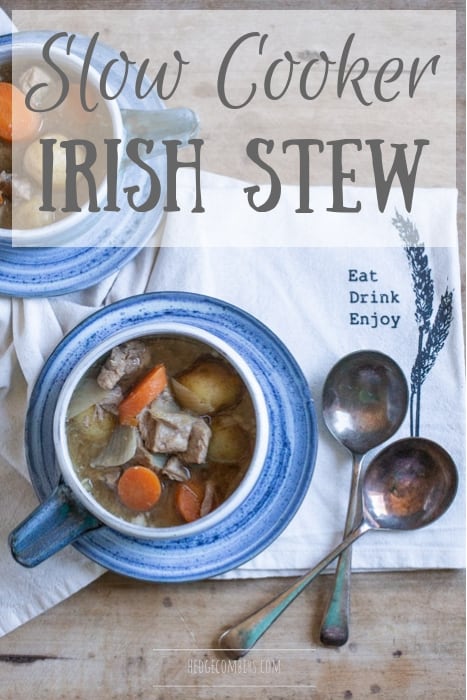 My name's Jane and I'm a slow-cooker-oholic.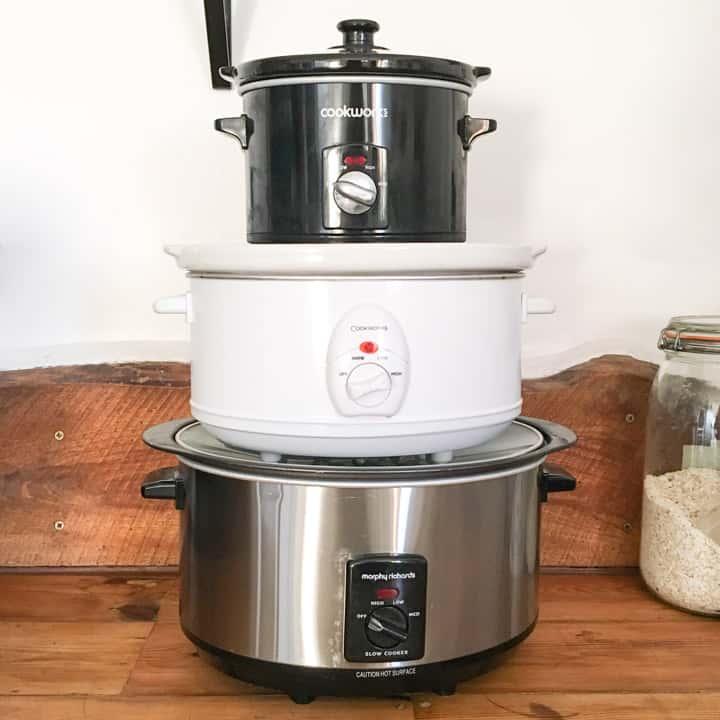 It seems I now own three of these things, and yes each has its very own purpose. The biggest one (6.5 litre) is for large joints, batch cooking and bone broth. The middle one (3.5 litre) is my original slow cooker and is used for 'normal' slow cooking meals. And my newest addition to the family is this rinky dink little 1.5 litre one, which is to keep in Myrtle the campervan.
Now obviously I'm only going to be able to use that teeny one when we are parked up on a campsite that has electric hookup. But as slow cooking takes ALL the hassle out of getting dinner on the table, it'll make the perfect end to those long days out exploring.
Here's a link to the tiny little slow cooker I bought. It's the perfect size for 1-2 people, however if you are a family of around 4 I would recommend a 3.5 litre slow cooker. And if you are a large family, say 6 or more, you may be better off with a 6.5 litre.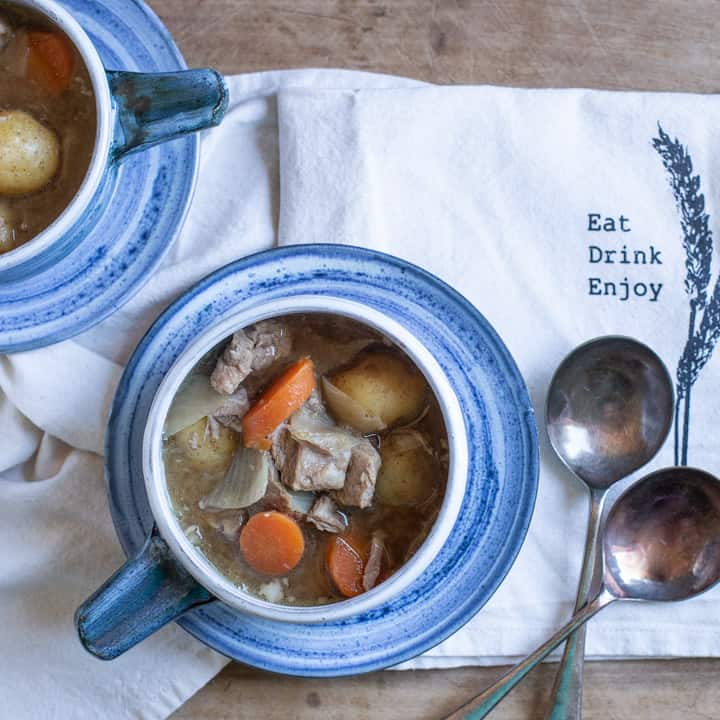 So, let's talk Irish Stew. There must 27 bazillion different recipes out there for Irish Stew. And as with all traditional recipes, every family will have theirs a little bit differently.
To make my campervan version I have kept it exceedingly simple. Meat, veggies and a stock cube kinda simple.
Which Meat Goes in an Irish Stew?
From my research, there is no definitive answer to this question. If a family could afford beef, then it would be beef.
If they were on a smaller income, then lamb or mutton would have been used. And if a family was strapped for cash, then no doubt rabbit or hare would have been the meat of choice, as these were freely available to all that could hunt.
My first choice for a slow cooker version of Irish stew would have been mutton. Being from an older sheep (2 year plus), the meat is tougher, stronger in flavour, and fattier. I'll admit this doesn't sound terribly appetising, however this is the meat that a slow cooker will turn into pure edible heaven.
However my butcher doesn't stock mutton as a rule, as he needs to buy the whole sheep, and sadly there is very little call for it these days.
So instead he recommended lamb neck which was just perfect.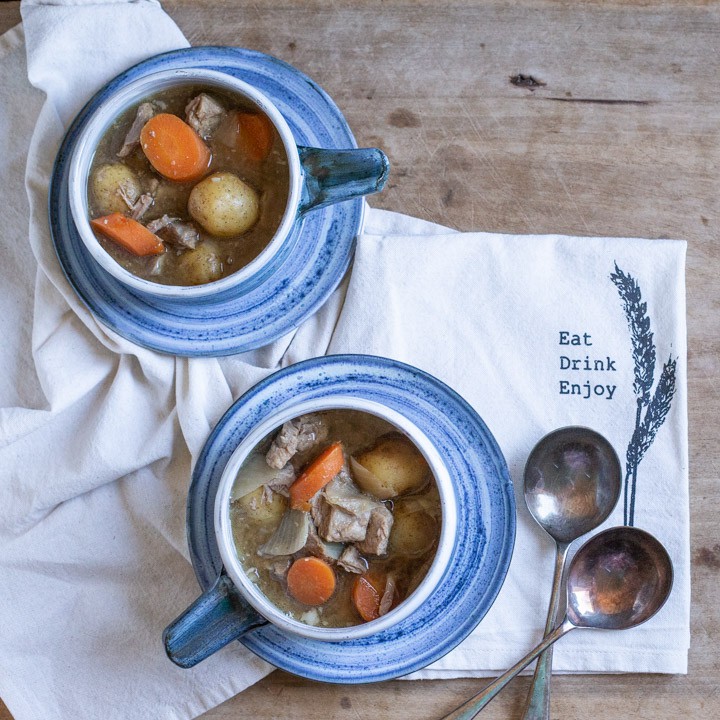 How Long to Cook an Irish Stew in a Slow Cooker?
As a general rule of thumb, these are the timings I aim for when slow cooking meat;
3-4 on high
6-8 hours on low
As we're using chopped meat, rather than a big joint, it may be ready a little sooner than these timings. So if you are particularly ravenous, it may be worth trying a little sooner.
And as all other slow cooker addicts will know, as the steam is contained within the slow cooker, you can safely leave your meal cooking for much longer than these time guides without fear of it burning, drying out or ruining your dinner.
Want some more Slow Cooker recipes? Feel free to browse my recipes and hopefully you'll find some new family favourites in my archives!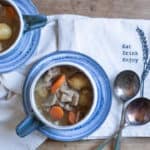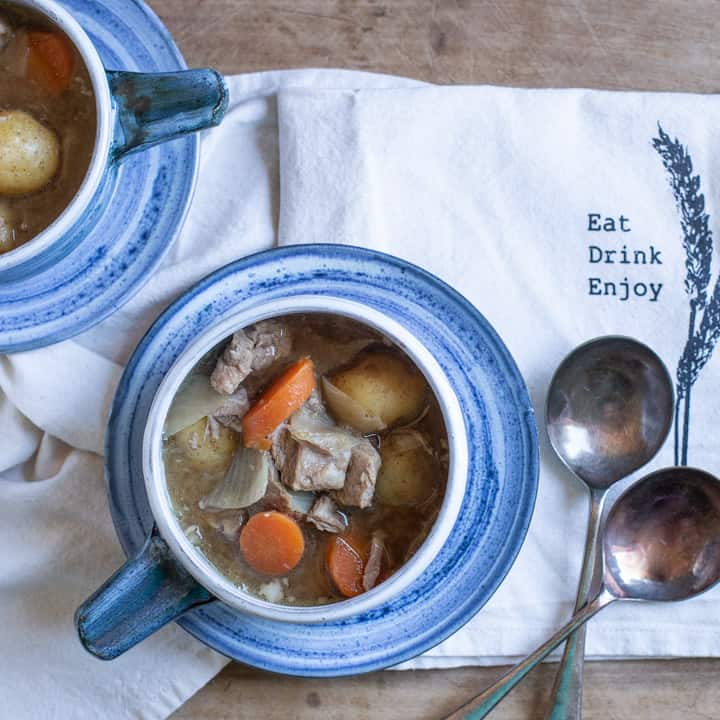 Slow Cooker Irish Stew
Keyword:
slow cooker irish stew
Ingredients
400

g

lamb

or mutton, diced

8

new potates

scrubbed clean

1

onion

diced

1

carrot

diced

1

stock cube

water

2

tsp

cornflour

(optional)
Instructions
Tip all the ingredients into a slow cooker.

Pour in enough water to come halfway up the pot. You don;t need to cover all the ingredients.

Switch on to high and cook for 3-4 hours, or low and cook for 6-8 hours.

If you would like to thicken the gravy, in a glass or cup, stir a little cold water into the cornflour to make a smooth paste. Pour this into the slow cooker and stir well.

Pop the lid back on and leave for 5 minutes to thicken.

Stir again, and serve.
This post may contain affiliate links. Thanks so much for supporting the work that we do here on hedgecombers.com :)
Jane x