This Cowboy Stew is one of our favourite camping recipes. Made with simple, easy to source ingredients, it tastes good cooked on a gas stove at home, but even better over a campfire.
All would-be cowboys are going to LOVE it!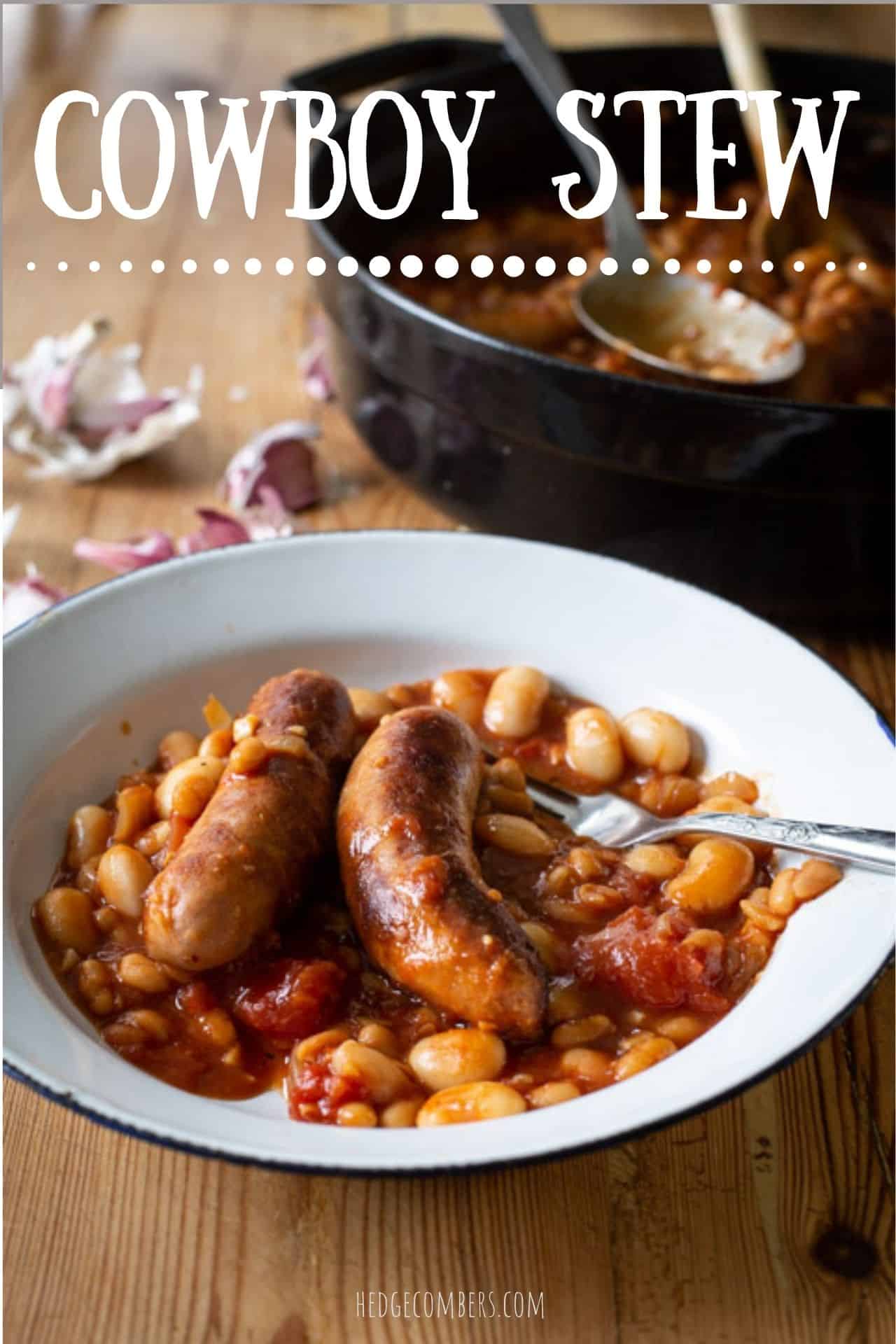 This recipe has been in my blog's archives since way back in 2013.
It started off as a campfire cowboy stew recipe.
But as you'll see, we're such big fans of it, that we've now expanded on this to allow for four different ways it can be cooked! This campfire recipe has also been reinvented for the slow cooker, hob and even the oven.
It's on regular menu rotation at our house. And it doesn't even matter if we're camping or not!
How to Make Cowboy Stew
1/ sausages
Because I'm using top-quality butchers sausages from my local butcher, I need to cook them first.
I want to get that skin dark golden and caramelised. This will make them look gorgeous in the finished dish, but also add another level of flavour.
It doesn't matter so much if they're cooked right through, as they'll finish off cooking in the stew.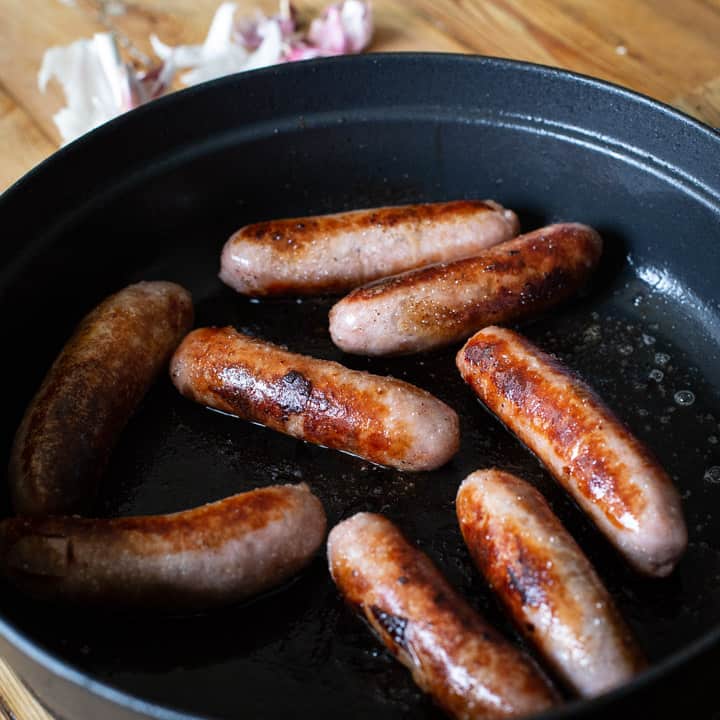 However, if you're using Frankfurters from a can/jar, or vegetarian sausages, you can skip this step entirely. (If you're looking to make a veggie version, I'm currently loving the Cauldron Cumberland Sausages. Not sponsored, I'm just really impressed with them).
Frankfurters are already cooked, and veggie sausages will usually get enough cooking time in the stew.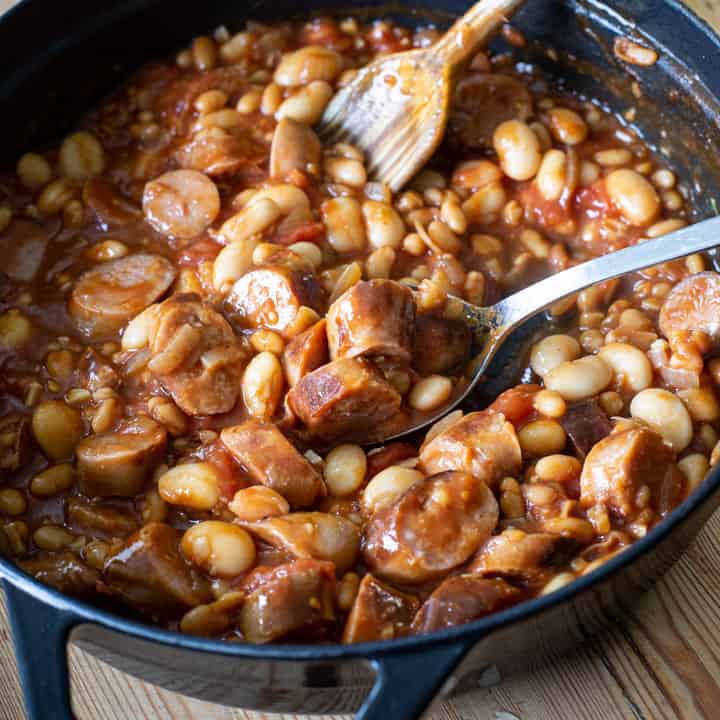 Sometimes I chop my sausages up into bite-sized pieces. And sometimes I leave them whole.
Either works well, but it's worth noting that you can stretch this meal out to feed more quite easily if you chop your sausages up.
If you were to also add an extra can of beans or tomatoes (or both!), you could easily get another 2 or 3 portions out of the final stew.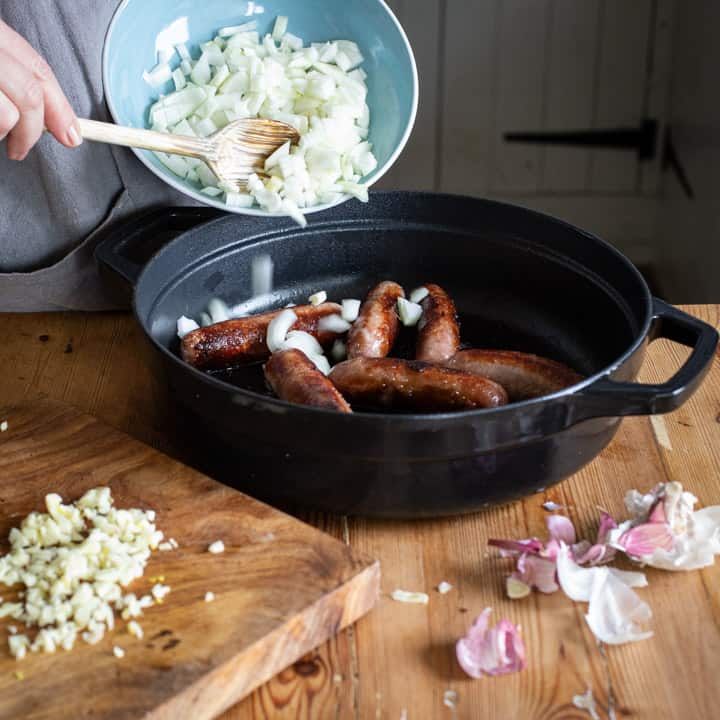 2/ veggies
Next up, add the onion and garlic and gently fry both until they are soft.
Be sure not to burn the garlic. A gentle sweat will give you the best flavour.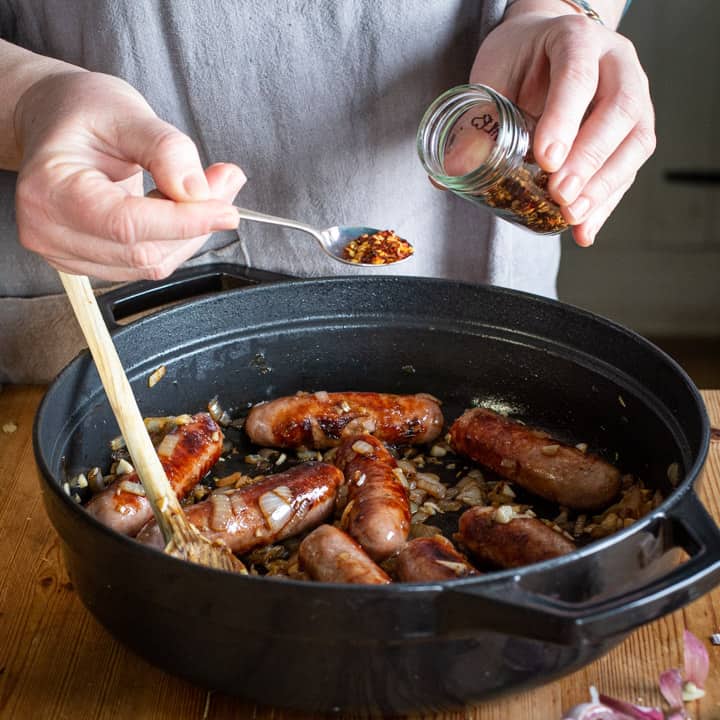 I like to add chilli to my cowboy casserole, but this is entirely optional.
You can use a fresh chilli, dried chilli flakes, chilli powder or even some hot sauce!
As with most of my recipes, I'd much rather you adapt this recipe to use the ingredients you already have on hand, then go and buy new.
The amount of chilli you use will depend on how hot you like your food.
So taste as you go to get it perfect for you.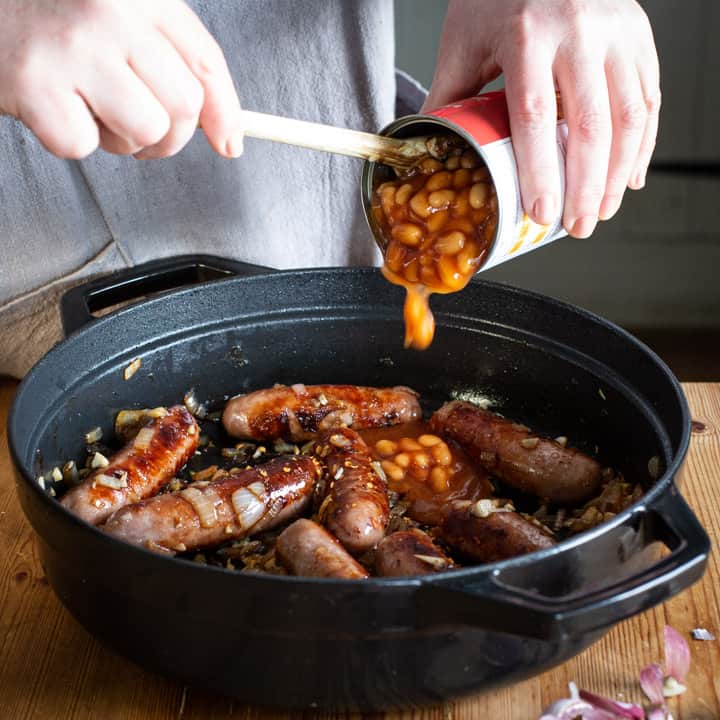 3/ add the cans of tomatoes and beans
Next up, add in a can of baked beans in tomato sauce and a can of tomatoes…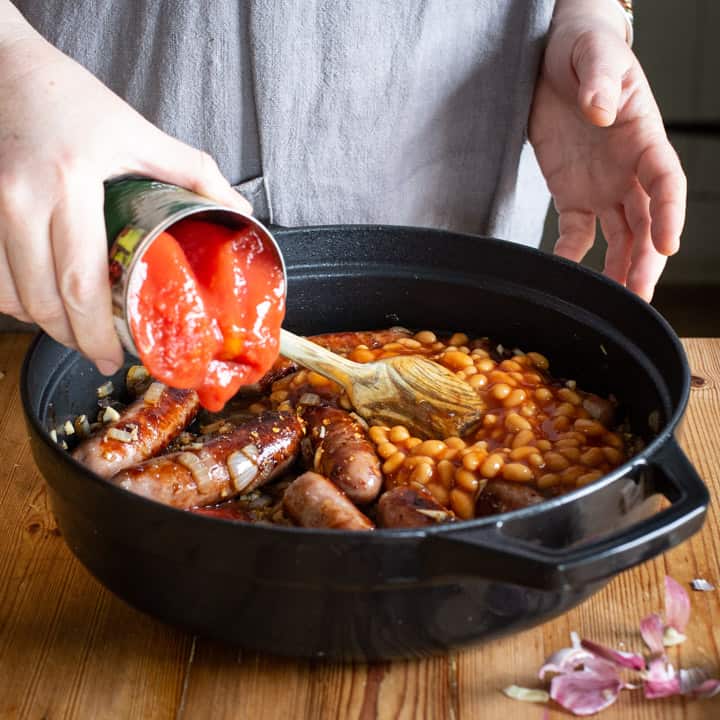 And then a whole can of drained beans.
You can use any canned bean you like. Over the years I've tried butter beans, cannellini, chickpeas, red kidney beans and even mixed beans.
They all taste great, so use up whatever cans you have in the cupboard.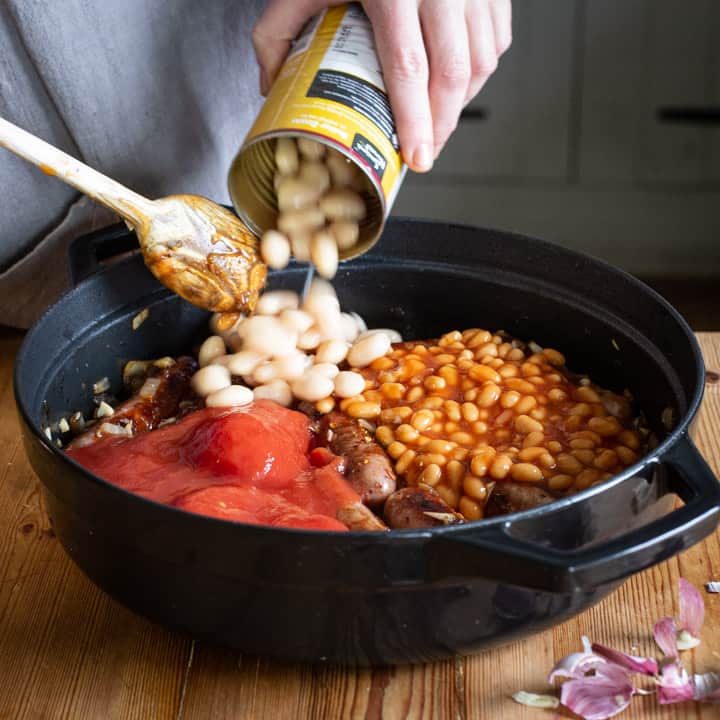 At this point give everything a good stir and season with salt and pepper.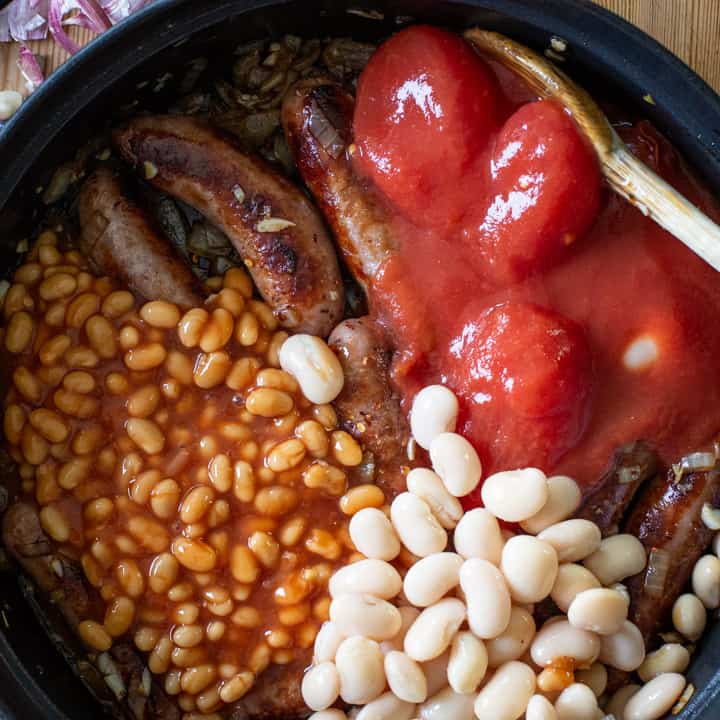 4/ cook
Set the pan over a medium-high heat until you see bubbles.
Then pop on a lid and turn the heat down to a gentle simmer.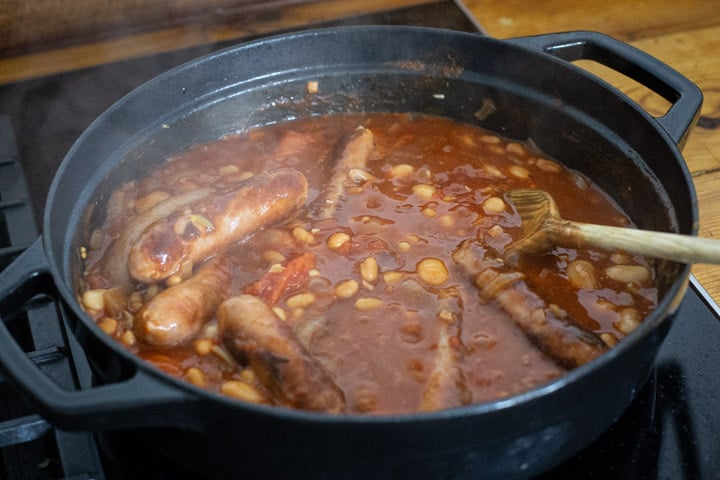 Give it the occasional stir and after 15 minutes or so, you should have quite a thick stew.
If you'd like to thin it out a bit, you could add a slosh of wine or beer if you have a bottle open.
Or just a splash of water will work too.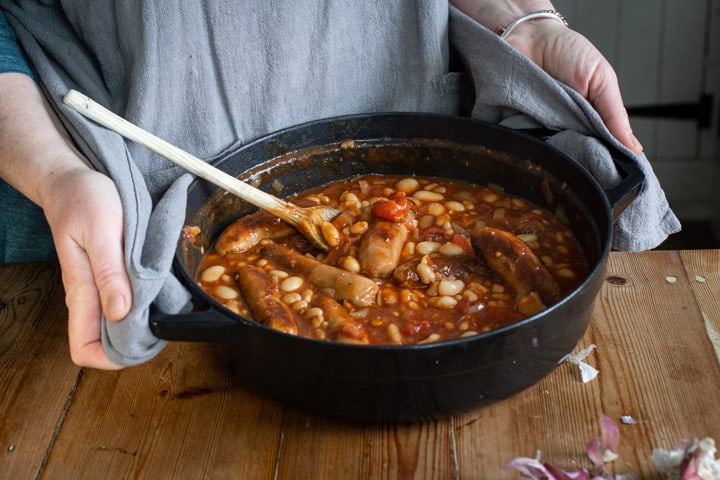 5/ serve
To serve, we mostly just have a bowl of the cowboy sausage casserole all on its own.
However, you can again stretch it out to feed lots more people by serving with bread, rice or pasta.
It's really filling either way and makes the perfect cold weather comfort food recipe.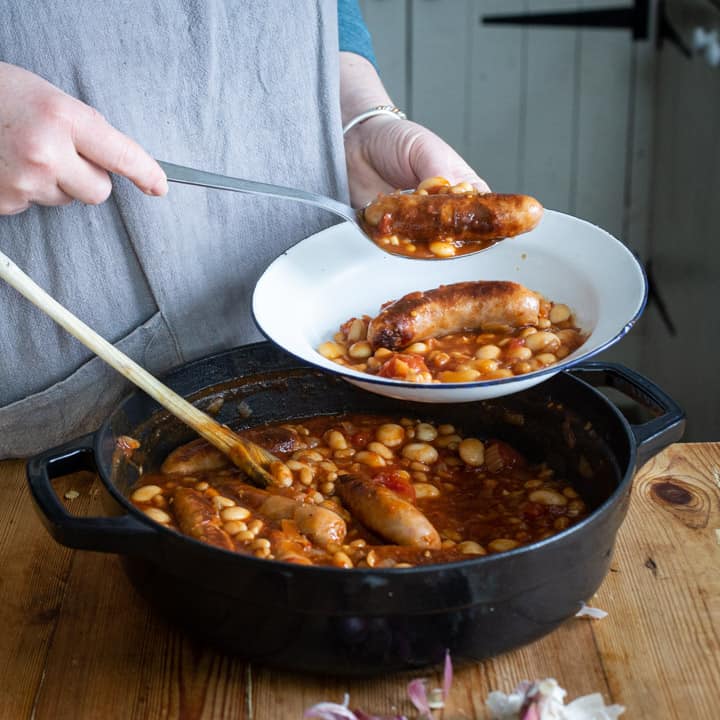 Cowboy Stew: The Campfire Recipe
Campfire cooking is hands down my favourite way to cook a cowboy stew. There's something about cooking over the embers of a campfire that permeates food with more than just a touch of smoke.
Cooking, and eating outdoors brings adventure to your meal and encourages jaded appetites.
As with cooking on a BBQ, be sure to let the flames of your campfire die down before starting to cook.
As an alternative, you can always scrape some embers out from the bulk of your campfire and create a smaller cooking area.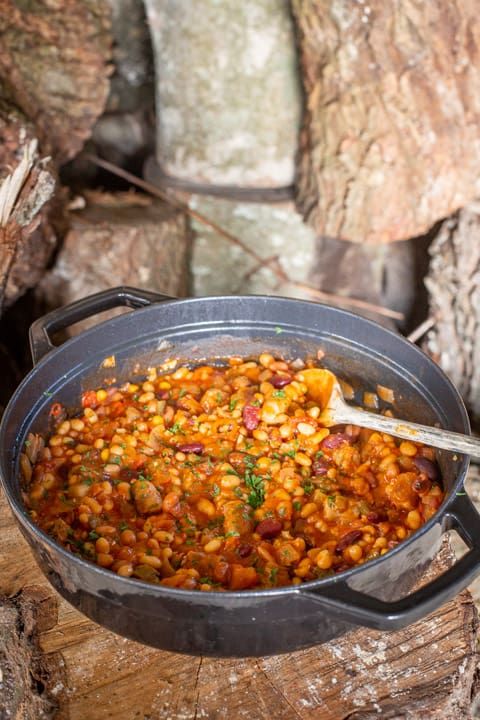 When you separate out the embers this way, it ensures that you can still feed the main fire with wood. At the same time, you don't have to worry about flaring the flames too much for cooking on.
A cast iron skillet is the absolute best pan and my top recommendation for campfire cooking.
Thin metal can warp or create uneven hot spots that can cause your food to burn. In contrast, a heavy cast iron will produce an even heat, even when it's placed directly onto the coals.
If the embers have turned grey and ashy, you can cook directly onto the embers. However, if they are still glowing bright orange, then ideally use a trivet or some rocks to elevate the skillet a couple of inches above the coals.
Next, heat the pan up before throwing in the sausages.
This will create an extra flavour boost by creating a delicious caramelisation on the bottom of the pan.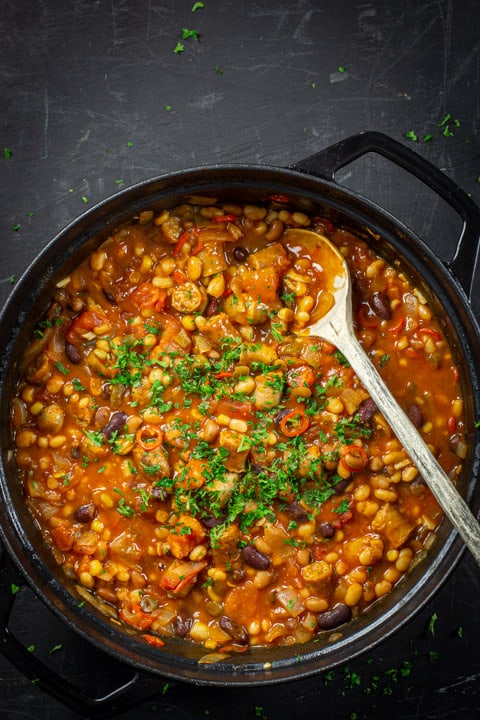 Cowboy Stew: The Slow Cooker Recipe
By preparing and cooking this campfire stew recipe in a slow cooker you can come home from a long day at work to a piping hot meal that the entire family will love.
I highly recommend that you brown your sausages first in a skillet or heavy-bottomed pan. Chop the sausages into bite-sized pieces and throw them into the slow cooker. Add all the other ingredients to the pot, stir well, then leave to cook for 4 hours on high, or 6 hours on low.
Don't panic if you're out of the house for longer than the recommended cooking time. The beauty of a slow cooker is that it won't dry out or burn your food.
Once you've made this recipe once, and thereby know your family are big fans. Why not double the quantities and freeze the leftovers for another night?
Now that sounds like a zero effort win-win to me! ;)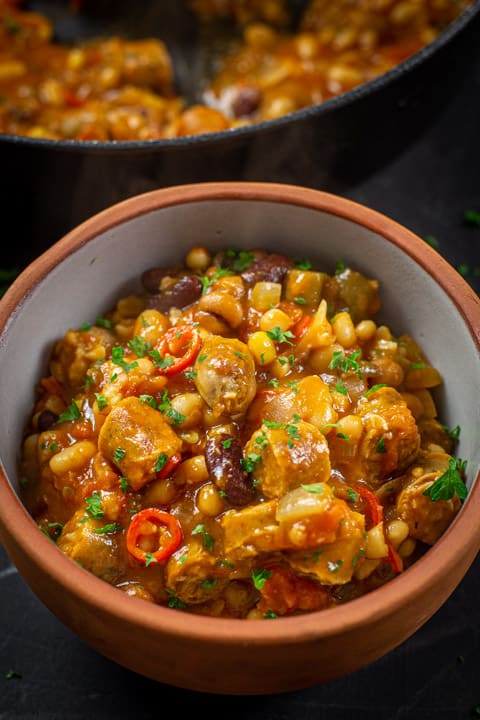 Cowboy Casserole: The Oven Recipe
Yep, a third method means that this recipe can even be adapted perfectly to make in the oven too!
And it really couldn't be simpler.
Firstly, brown your sausages on the hob. Then, pile everything into a casserole dish with a tight-fitting lid.
Bake at 180C/3350F for 1 hour for a no-hassle dinner treat any time.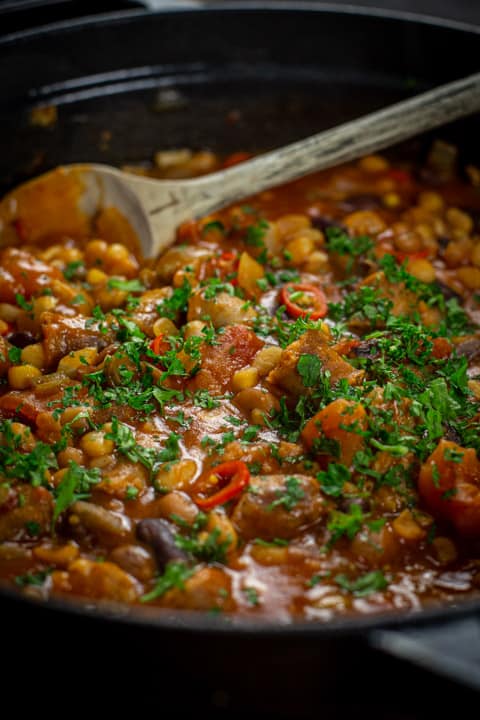 Cowboy Stew… in a Campervan?!
And here's yet another version of this cowboy casserole recipe.
This time cooked on a gas hob in Myrtle the campervan.
You can watch this recipe on my YouTube channel here: Cowboy Stew Recipe
Talk about a versatile recipe :)
What to Serve with Cowboy Stew?
The proper answer would be campfire foil baked potatoes or a simple flatbread recipe.
However, we've served it with everything from rice to French baguette.
Mind you, I'm more than happy with just a big bowl of cowboy stew.
No need for sides.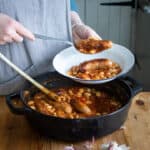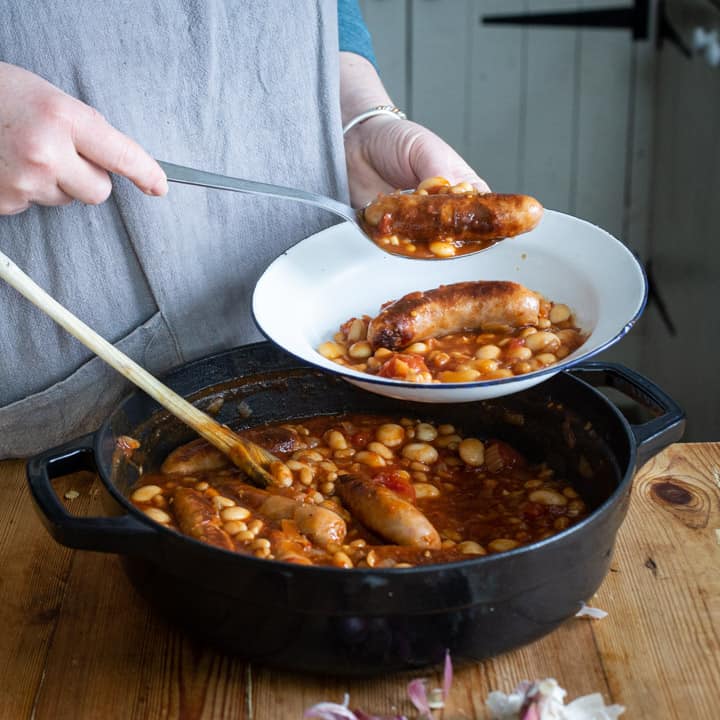 Campfire Cooking ~ Cowboy Stew!
Keyword:
campfire cooking, campfire stew, cowboy stew, sausage stew
Ingredients
1

tbsp

oil

8

sausages

1

onion

- finely chopped

4

garlic cloves

- finely chopped

1

can

baked beans

1

can

mixed beans

- drained

1

can

chopped tomatoes

1

chilli pepper

- finely chopped. Swap out for chilli powder, flakes or hot sauce if that's all you have.

Salt & pepper
Instructions
Preheat a large frying pan or skillet.

Add the oil and sausages and cook until caramelised and dark brown. Decide whether to keep them whole, or chop into bite-sized chunks at this point.

Add the onion and garlic and fry gently until soft.

Add the can of baked beans, chopped tomatoes and mixed beans.

Add the chilli, salt and pepper and stir well.

Pop on a lid and let the dish simmer until the sauce thickens. Add a splash of water if you would prefer a 'wetter' stew.

Serve in bowls alone, or with bread, rice or pasta to get more servings from the recipe.
Recipe Video
Nutrition Facts
Campfire Cooking ~ Cowboy Stew!
Amount Per Serving
Calories 796
Calories from Fat 468
% Daily Value*
Fat 52g80%
Cholesterol 136mg45%
Sodium 2052mg89%
Potassium 1317mg38%
Carbohydrates 48g16%
Protein 37g74%
Vitamin A 356IU7%
Vitamin C 34mg41%
Calcium 166mg17%
Iron 6mg33%
* Percent Daily Values are based on a 2000 calorie diet.