We've just returned from this years Cornwall RV, and it was AWESOME! The weather was (mostly) perfect, the vibe was very laid back everyone seemed to have a great time. I was called upon to make this simple flatbread recipe with the children at the event.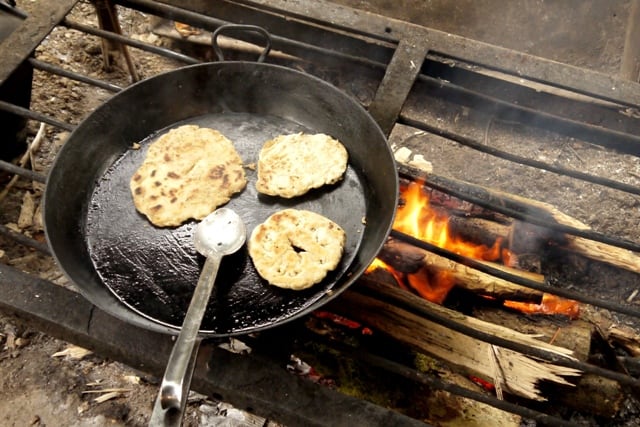 The Cornwall RV is a bushcraft and survival weekend run by the brilliant Footsteps of Discovery. This is not a sponsored post by the way! I try and get to the RV annually, simply because I LOVE it! It is a real family affair with people of all ages with bushcraft skills ranging from brand new to veteran.
Not being able to distance myself from food too much for fear of, I don't know, starvation maybe, I spent most of the weekend selling burgers & bacon butties in the HQ kitchen.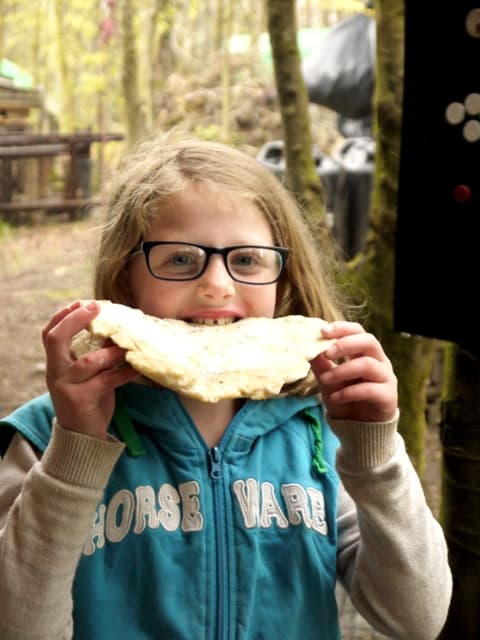 When I was let out of the kitchen for good behaviour, it was to arrange an Easter Egg Hunt through the woods. At the same time, I would hold a bread making class for the kids.
Funny how I always end up in the kitchen, even on holiday :)

How to make flatbread
For this year's bread making workshop, I wanted to teach the children how to make flatbread. You might think that making flatbread is a bit of an odd task to attempt. Especially given the fact that we were in the middle of the woods! Surely there has to be something easier to make? However, this was all more straightforward than you might imagine! And well worth the time!
We used a really simple flatbread recipe that we cooked on a skillet over an open fire.
Of course it can be cooked at home either on the hob or under a hot grill, but as everything tastes better cooked outdoors do give it a try if you can.
This flatbread recipe uses a combination of plain flour, salt, water and a tiny glug of oil. When you're in the great outdoors if you don't have a bowl to hand, I showed the children to pop their ingredients into a large ziploc bag (if plastic, these can be washed out and reused afterwards too, don't forget! Even better, use reusable silicone food bags like these). I did something similar with this equally simple chapati recipe. You can then give the ingredients a massage while they are in the bag. I'm reliably informed that this part is especially 'fun'!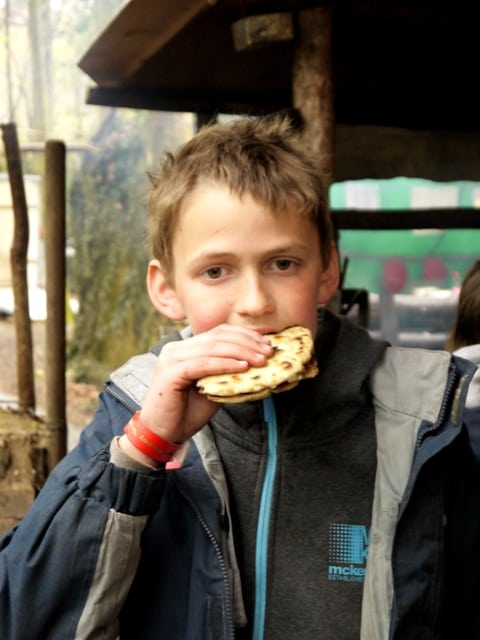 Cooking with kids : Simple Flatbread Recipe
This is such an easy way to get cooking with kids, encouraging them to get involved in making their own food. Because it is such a simple flatbread recipe, they can do it all themselves (note: adult supervision is recommended for anything involving a hot pan, open fire/flame and excited little ones). They love mixing, rolling and shaping their bread, and they really love slapping on the chocolate spread :)
I'm sure you can imagine the reaction of these children. Easter egg hunting, crazy campfire cooking and yummy food! All at once! I'm hoping that we were making memories at the same time as baking our bread!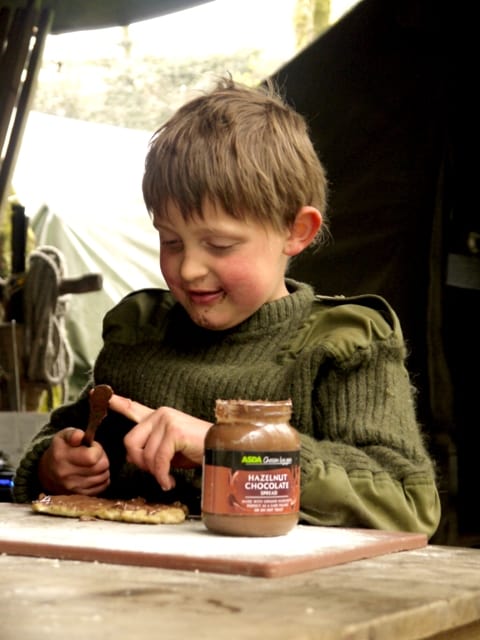 The measurements below are about as loose as you can get, so don't feel you have to stick to them. Don't skip the salt as it'll be pretty grim without it, but if you don't have any oil or butter to melt it's not the end of the world. With enough chocolate spread on I'm sure the kids won't mind!
As an alternative to this plain flatbread recipe, you might want to make savoury versions using herbs or even a little garlic!
Just play around with the flavours or toppings and see what you come up with!
Do you ever make your own bread when you go camping? Would you consider it? I am a bit of a collector of campfire recipes! If you're interested and you've not visited before, you will often find me making one pot camping recipes over on my YouTube channel.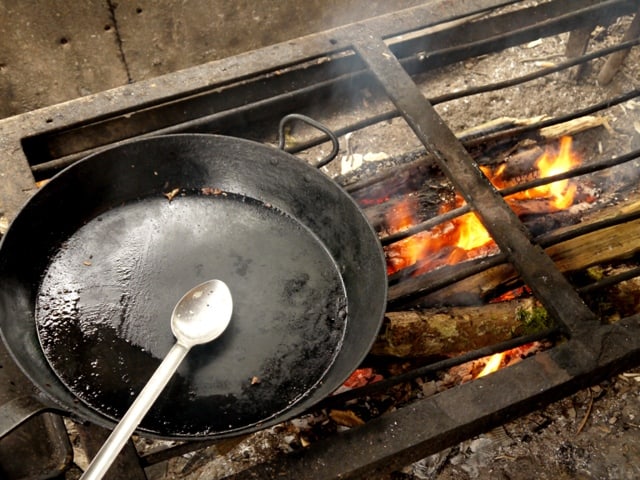 Here's hoping you all had as much fun as we did this Easter!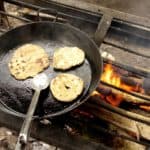 Simple Flatbread Recipe ~ Campfire Cooking
Servings
:
4
-4 decent sized flatbreads
Ingredients
1

mug

plain flour

if you only have self raising that will work fine, it'll just puff up a little bit

1

pinch

salt

A glug of oil

about 1/2 - 1 tablespoon

Enough cold or warm water to turn the mix into a dough
Instructions
First up, get the little darlings to wash their hands in warm water with soap or washing up liquid in. Some of these kids hadn't washed their hands in at least 4 days, probably longer :)

Pop all the dry ingredients in a large bowl or large ziploc bag. Pour in the oil then add the water slowly, stirring the bowl or massaging the bag as you go.

When you have something that looks vaugley dough like, tip out onto a lightly floured board or table and roll or press into as evenly thin as possible. If it looks too wet and is sticking to everything, add more flour. If it is dry and crumbly, pop back in the bowl or bag and add a bit more water at a time until it looks smooth.

Some of the kids used a rolling pin but you can press with your hands or roll with a bottle or even squash the dough with a plate or pan base. This is definitely the time to play with your food :)

The kids love to shape their breads into all kinds of shapes, but by keeping them thin and even they'll taste much better as they'll be cooked evenly. The other bonus of rolling them really thin is that they'll be bigger so they can fit more chocolate spread on!

Heat up a skillet or frying pan on the fire or gas stove and add a little dash of oil. You don't really want a lot of oil in there, just enough to stop the bread from sticking.

Cook each flatbread for a couple minutes, until the dough puffs up with fat bubbles and the bottom looks golden brown in places. Flip over and cook the other side.

Spread with oodles of chocolate spread and devour greedily.
Nutrition Facts
Simple Flatbread Recipe ~ Campfire Cooking
Amount Per Serving
Calories 31
Calories from Fat 27
% Daily Value*
Fat 3g5%
Cholesterol 0mg0%
Sodium 9mg0%
Carbohydrates 0g0%
Protein 0g0%
* Percent Daily Values are based on a 2000 calorie diet.
Note: This post includes affiliate links