If you've never cooked pulled lamb in a slow cooker, try this easy recipe! It makes the perfect plan-ahead meal. Ideal for when time is short and bellies need filling. Serve in sandwiches or stir fries, or with the full Sunday roast.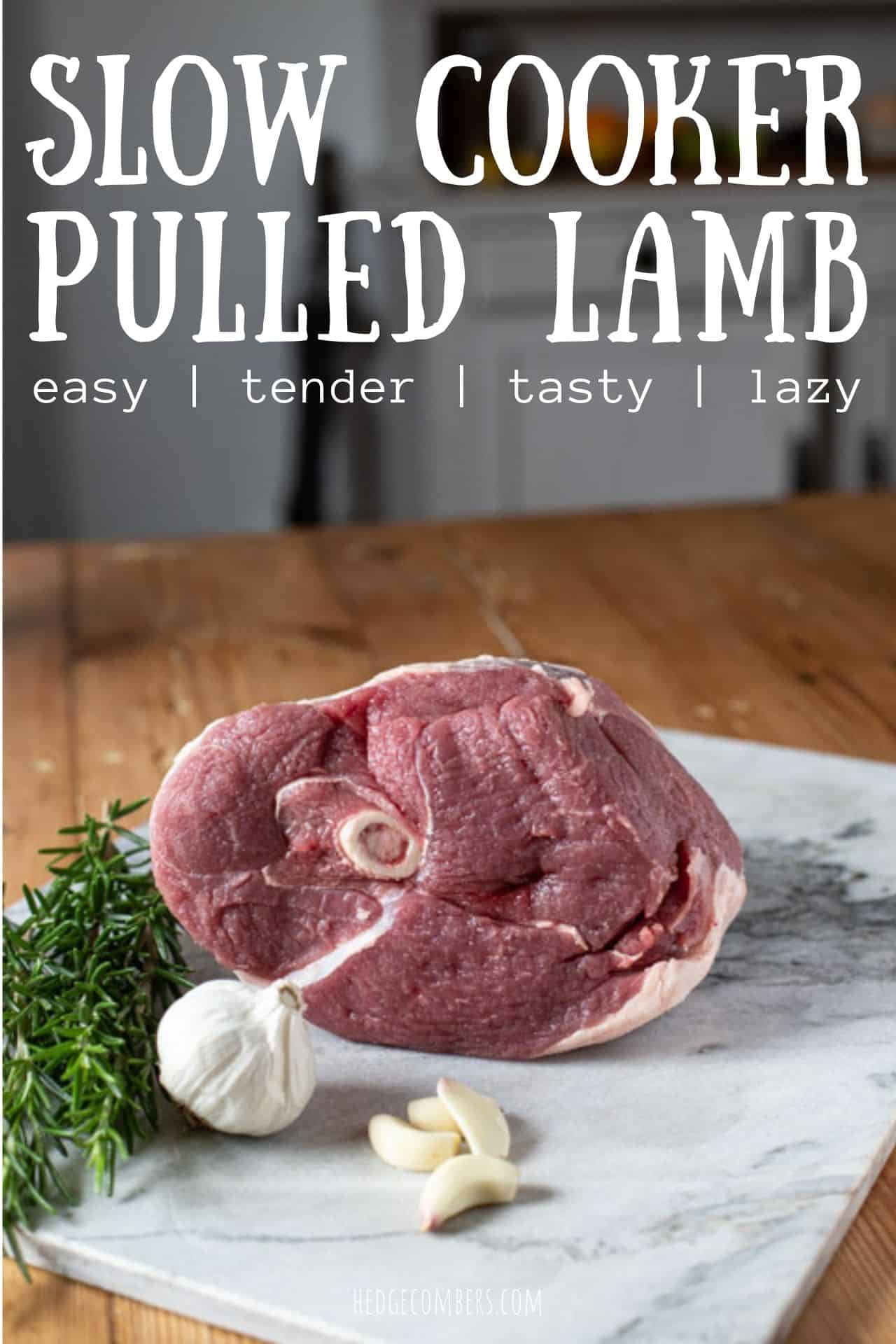 How to Cook a Leg of Lamb in a Slow Cooker
This slow cooker pulled lamb is the easiest way in the world to cook a leg of lamb. You literally put your lamb in a slow cooker, turn it on and forget about it. Perfect for busy days when you're out having family fun, but want a substantial meal to be ready when you get home.
You can flavour it however you like. Very often I'll cook it in a slow cooker all on its own with no herbs, extras or flavourings. If you want to make a little gravy you can add an inch or two of water or wine to the pan.
Or you can cook the joint of meat 'dry' with no added liquid at all. It won't burn or dry out, and in fact you'll still end up with a little puddle of meat juices in the slow cooker bowl at the end of the cooking time.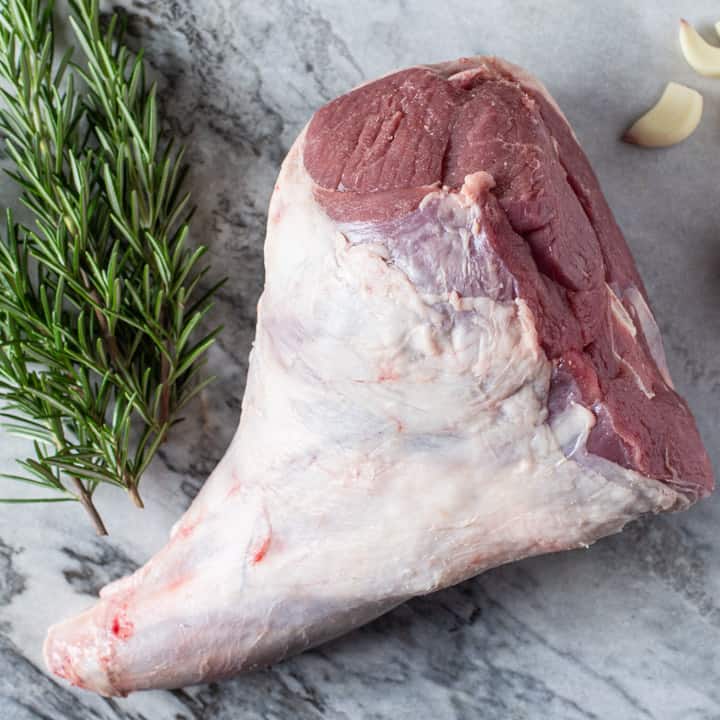 What Herbs to add to Slow Cooked Lamb?
However, for this particular pulled lamb recipe, I'm using rosemary (a nice woody herb that complements lamb beautifully and won't disintegrate with the long cooking time) and whole cloves of garlic that turn to a sweet, delicious mush when slow-cooked.
And finally, to make it a little extra special, I stirred in some mint sauce to the gravy at the end. Yum!
Please don't worry if you don't have any of this on hand. Just cook your lamb joint all on it's own and you'll have a beautiful, tender bowl of pulled lamb meat to use in various recipes.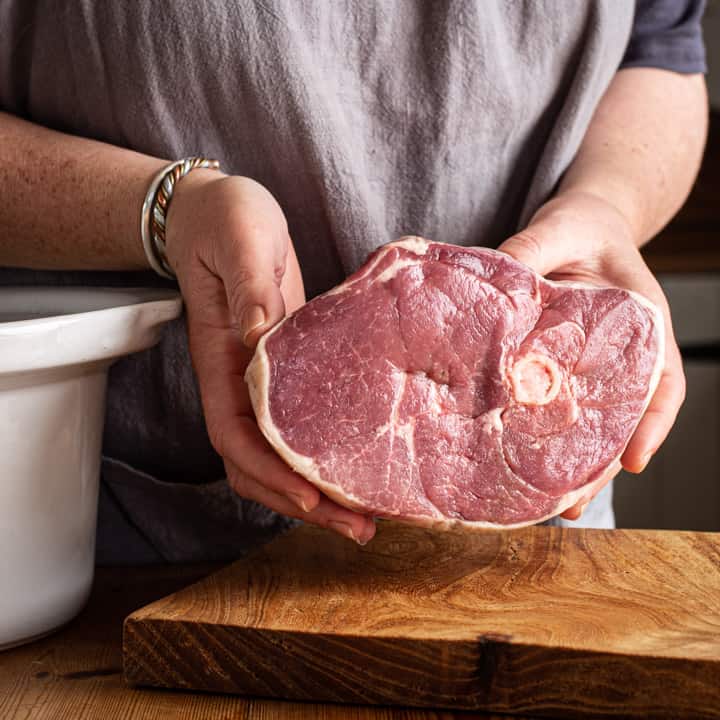 Choosing a Leg for your Slow Cooker Pulled Lamb
It turns out that lamb legs have a tendency to be rather unwieldy when trying to fit one in the slow cooker.
When you go shopping, look out for a squat dumpy half leg of lamb rather than a whole leg of lamb as it's much easier to fit in a slow cooker.
If you need to double up the recipe, just buy two of the thigh halves instead of one whole leg. There's much more meat on the thigh end anyway. You could also use lamb shoulder (so long as it will fit!) or any other cut of lamb.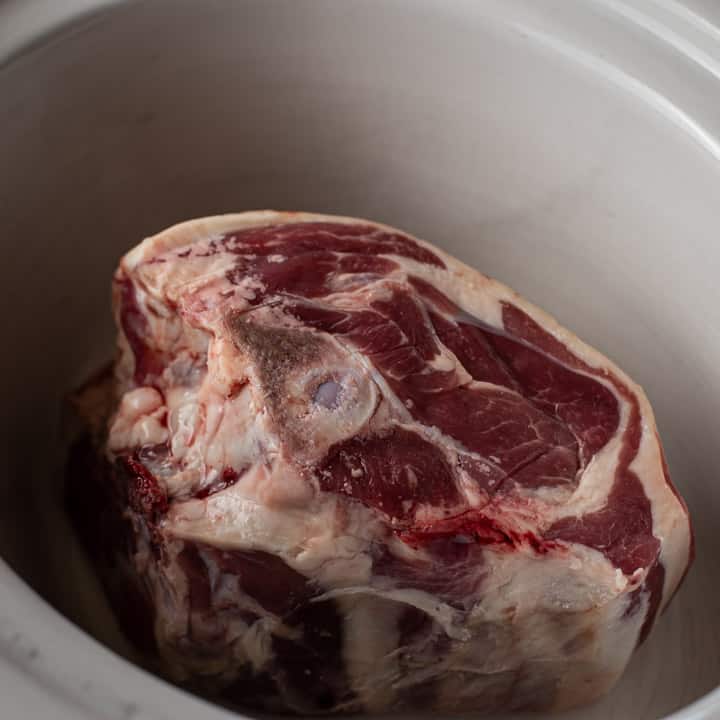 I like to add a splash of boiling water (or red wine) to the bottom of my slow cooker to kick start the slow cooking process.
It goes without saying that wine will add a whole extra flavour dimension to your pulled lamb too, especially when it's nice and slow-cooked in those delicious juices!
Cooking Times for Leg of Lamb in Slow Cooker
HIGH: 4-6 hours
LOW: 8-10 hours
Slow cookers are extremely forgiving. They work by gently simmering the food very slowly. There is little chance of them drying out, burning or boiling over. Even if you don't get back to check on your pulled lamb within the cooking times stated.
They are also designed to be left on all day, or all night. So if you've purchased a good brand, you have no worries about leaving it on whilst you go to work or sleep. It will safely cook your meal and you don't need to check it or babysit it in any way.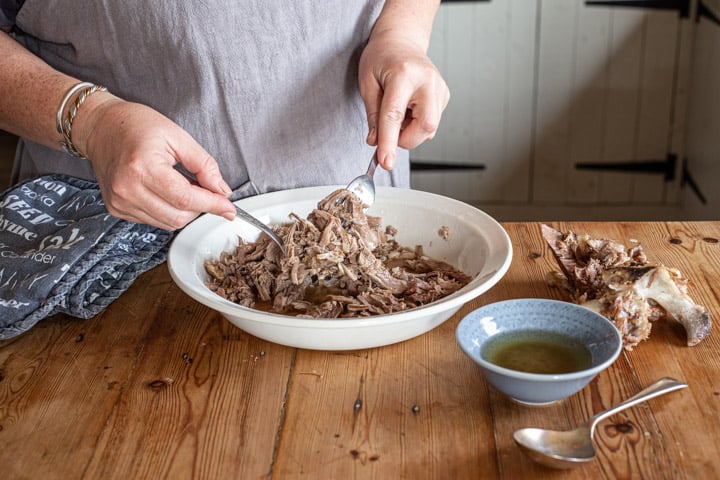 Some slow cookers have a timer which allows you to set a delay for the start time of your cooking, giving you even more control. Others have a keep warm facility which reduces the temperature after the set cooking time. That means you don't overcook your meal, but simply keep it warm until you get home.
Imagine coming home to the smell of that slow cooker pulled lamb, all ready to serve straight to the table!
If you're new to the world of slow cooking, you're going to love it. It's such a forgiving way of cooking that allows you to turn the cheaper, tougher cuts of meat into the most delicious meals for you family.
How to Make Pulled Lamb
Once the cooking time is up, the meat should easily pull away from the bone.
You can then carefully remove the joint of meat from the pan and pop it onto a chopping board. Then it's a case of simply shredding the meat using two forks. Remove any bits of bone or very fatty parts as you go.
In the photo below, I didn't add any liquid at all to the pan whilst it was cooking. Just look how juicy and tender it is!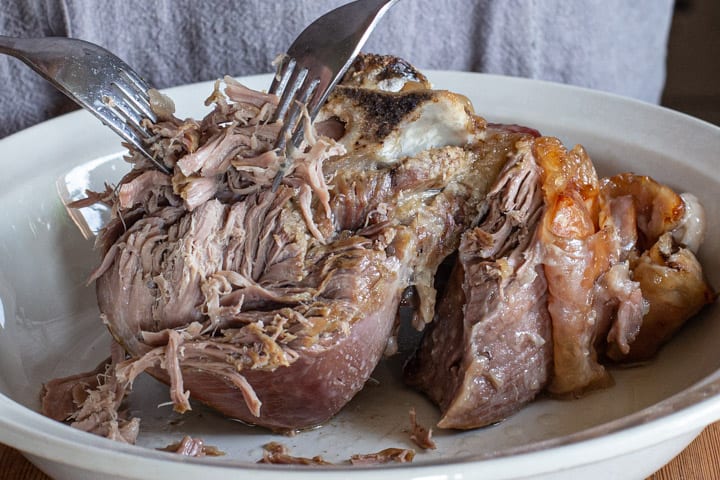 How to remove the fat from lamb meat juices
Lamb is quite a fatty meat and you'll want to remove most of the fat from the juices in the pan before turning it into a gravy.
It's really easy to do as the fat floats. I simply grab a soup spoon, and slowly scoop off as much fat as possible.
Pour it into a little bowl where it will then harden and you can then either throw it away, or use it for cooking instead of lard, butter or cooking oil.
Lamb fat does have quite a distinct taste that not everyone loves. So I tend to only use it in dishes like stir fries or curry's where the flavour will become an element, rather than a major factor. For an example, I wouldn't fry an egg in lamb fat!
WARNING: Don't pour lamb fat down the sink as it may well block your drains!

Using the lamb juices
Those delicious juices are packed with flavour and will keep the meat super moist.
Simply pour the juices back over the meat and season with salt and pepper.
And I then like to mash the garlic cloves up and tip them back in with the meat. Don't worry about them being to overpowering in flavour. When slow cooked, garlic becomes soft and sweet and gentle in flavour.
Finally, you can stir everything together well and serve!
What can I do with leftover pulled lamb?
Any leftover meat can be stored in the fridge, and those lovely meat juices will firm up into a lovely savoury jelly.
You can serve it cold like this, or once reheated the jelly will melt once again.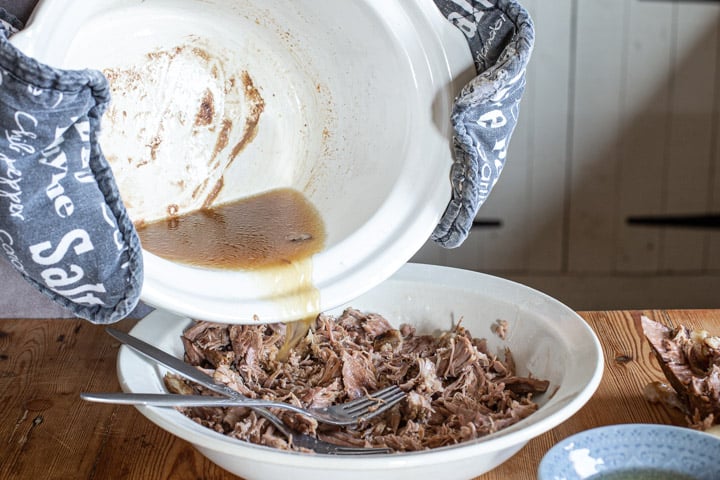 I then serve this pulled lamb hot or cold, in sandwiches, salads, stir-frys or in a hot dinner with mashed potato and steamed veggies.
It's such a versatile way of cooking that makes meal prep so easy!
PS if you love your slow cooker as much as me, you may also want to check out my awesome way for cooking a whole chicken in one. Click here to find my slow cooker whole chicken recipe. Enjoy!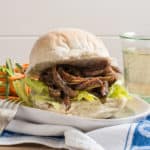 Pulled Lamb In Slow Cooker
Keyword:
pulled lamb in slow cooker, slow cooker pulled lamb
Ingredients
800

g

leg of lamb

hot water

4

cloves

garlic

- peeled but kept whole

4

sprigs

rosemary

2

tsp

mint sauce

salt and pepper to taste
Instructions
Place lamb in slow cooker.

Pour an inch of hot water from the kettle into the bottom of the slow cooker and add the garlic and rosemary.

Switch on the slow cooker and let cook for 4-6 hours on high or 8-10 hours on low.

When it's easily shredded with a fork, remove onto a plate and pour the juices into a small saucepan.

Remove the rosemary sprigs and discard.

Smash the garlic cloves in the juice to break them up, and add the mint sauce salt and pepper.

Bring the juices to a boil. Cook until the sauce has reduced by half.


Meanwhile, shred all the meat from the lamb joint.

Pop into a bowl, and when the gravy is ready pour this over and mix well.
Recipe Video
Nutrition Facts
Pulled Lamb In Slow Cooker
Amount Per Serving
Calories 667
Calories from Fat 198
% Daily Value*
Fat 22g34%
Cholesterol 322mg107%
Sodium 315mg14%
Potassium 1504mg43%
Carbohydrates 4g1%
Protein 104g208%
Vitamin C 3.7mg4%
Calcium 52mg5%
Iron 9.4mg52%
* Percent Daily Values are based on a 2000 calorie diet.