If you've ever (or never!) cooked pulled lamb in a slow cooker, try this easy recipe! It makes the perfect plan-ahead meal. Ideal for when time is short and bellies need filling. Serve as 'Slow Cooker Pulled Lamb Sliders' in baps with salad, or with the full Sunday roast.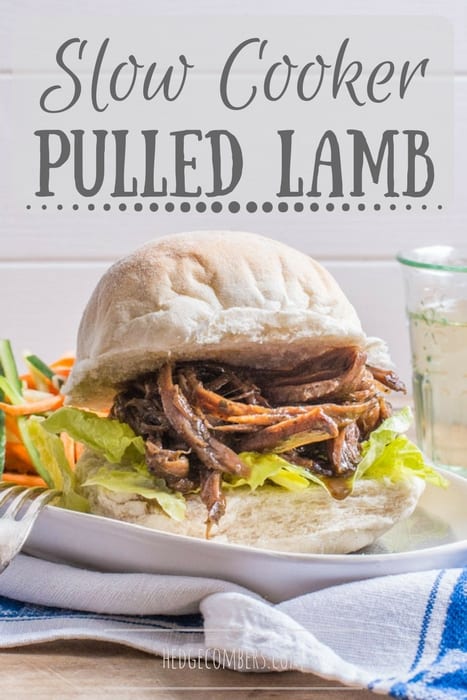 How to Cook a Leg of Lamb in a Slow Cooker
This slow cooker pulled lamb is the easiest way in the world to cook a leg of lamb. You literally put your lamb in a slow cooker, turn it on and forget about it. Perfect for busy days when you're out having family fun, but want a substantial meal to be ready when you get home.
You can flavour it however you like. For this particular pulled lamb recipe, I'm using rosemary (a nice woody herb that complements lamb beautifully and won't disintegrate with the long cooking time) and whole cloves of garlic that turn to mush when slow cooked.
And finally I stirred in some mint sauce to the gravy at the end. Yum!
I think some dried porcini mushrooms would really ramp up the resulting gravy too (if you try this before I do, please let me know what you think!)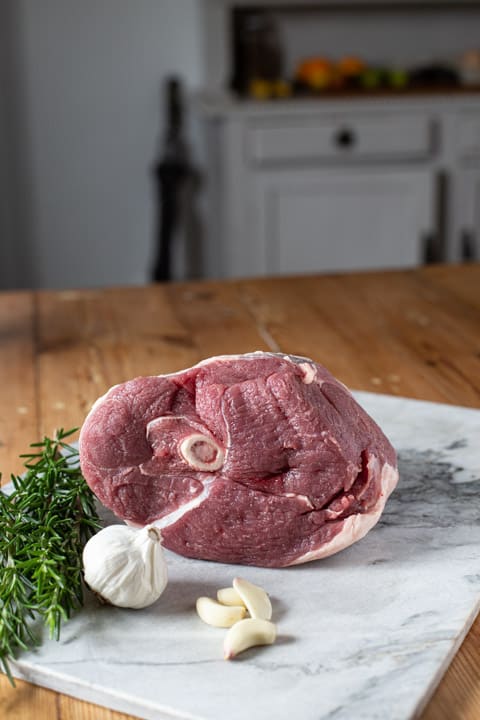 Choosing a Leg for your Slow Cooker Pulled Lamb
It turns out that lamb legs have a tendency to be rather unweildly when trying to fit one in the slow cooker.
So when you go shopping you can either get a long bony whole leg, or a squat dumpy half leg.
Please learn from my mistake and buy the squat, dumpy thigh end as it's much easier to fit in a slow cooker. Luckily for me I have a second slow cooker that is enormous.
If you need to double up the recipe, just buy two of the thigh halves instead of one whole leg. There's much more meat on the thigh end anyway.
I like to add a splash of boiling water (or red wine) to the bottom of my slow cooker to kick start the slow cooking process. It goes without saying that wine will add a whole extra flavour dimension to your pulled lamb too, especially when it's nice and slow cooked in those delicious juices!
Cooking Times for Leg of Lamb in Slow Cooker
HIGH: 4-6 hours
LOW: 8-10 hours
Slow cookers are designed to be left on all day or all night, so if you've purchased a good brand, you have no worries about leaving it on whilst you go to work or sleep.
Slow cookers simmer the food very slowly, and as long as the lid is a good fit there is little chance of them drying out, burning or boiling over. Even if you don't get back to check on your pulled lamb withing the cooking times stated.
Some slow cookers have a timer which allows you to set a delay for the start time of your cooking, giving you even more control. Others have a keep warm facility which reduces the temperature after the set cooking time. That means you don't overcook your meal, but simply keep it warm until you get home.
Imagine coming home to the smell of that slow cooker pulled lamb, all ready to serve straight to the table!
If you're new to the world of slow cooking, you're going to love it. It's such a forgiving way of cooking.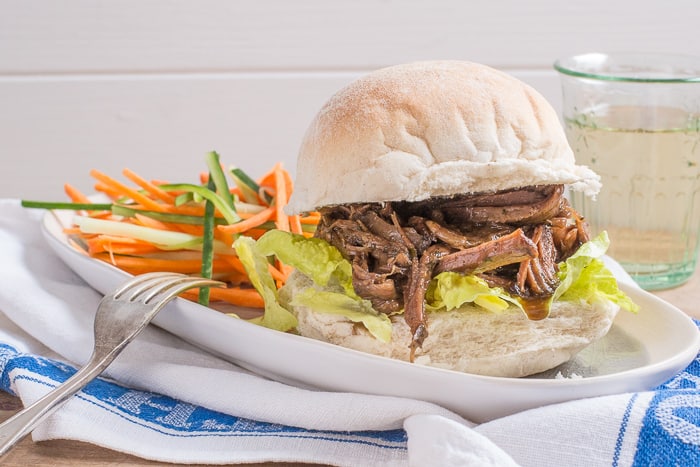 Pulled Lamb Burger Recipe
I served my slow cooker pulled lamb, that had been tossed with the yummy mint gravy, in soft white baps. Just delicious. And you can reheat your soft and tender lamb for the next days to repeat.
However you can also put your oven to good use and cook up some roast potatoes and veggies too if you want a more traditional slow cooked lamb recipe.
Oh, and if there's any left, the lamb is fantastic cold the next day. I may have finished it up, straight from the fridge. Shh :)
PS if you love your slow cooker as much as me, you may also want to check out my awesome way for cooking a whole chicken in one. Click to find my slow cooker whole chicken recipe. Enjoy!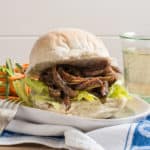 Pulled Lamb In Slow Cooker
Keyword:
pulled lamb in slow cooker, slow cooker pulled lamb
Ingredients
hot water

4

cloves

garlic,

peeled but kept whole

4

sprigs

rosemary

800

g

leg of lamb

1

desertspoon

mint sauce

salt and pepper to taste
Instructions
Place lamb in slow cooker.

Pour an inch of hot water from the kettle into the bottom of the slow cooker and add the garlic and rosemary.

Switch on the slow cooker and let cook for 4-6 hours on high or 8-10 hours on low.

When it is easily shredded with a fork, remove onto a plate and pour the juices into a small saucepan. Remove the rosemary sprigs and discard.

Smash the garlic cloves in the juice to break them up, and add the mint sauce salt and pepper.

Bring the juices to a boil. Cook until the sauce has reduced by half.


Meanwhile, shred all the meat from the lamb joint. Pop into a bowl, and when the gravy is ready pour this over and mix well.
Nutrition Facts
Pulled Lamb In Slow Cooker
Amount Per Serving
Calories 667
Calories from Fat 198
% Daily Value*
Fat 22g34%
Cholesterol 322mg107%
Sodium 315mg14%
Potassium 1504mg43%
Carbohydrates 4g1%
Protein 104g208%
Vitamin C 3.7mg4%
Calcium 52mg5%
Iron 9.4mg52%
* Percent Daily Values are based on a 2000 calorie diet.
Now, let me tell you about the inspiration behind this recipe…
Iceland Feaster Event
Being a Cornish lass, I don't get up to London all that often. So in early 2018 when Iceland invited me to join their Feaster celebrations (and as I know what a good party they throw) I was there!
Iceland's head chef Neil Nugent, once again treated us to a stunning meal. Mine was a little different from the other diners due to being dairy free, but I didn't feel like I was missing out in the slightest.
Iceland's roast turkey crown was the star of the savoury show. It was served with Tenderstem broccoli (which I would have thought was cooked from fresh rather than frozen. I've always found frozen broccoli to be a bit watery after cooking, but this tasted fantastic).
I also had these sweet, juicy prawns served with the tart little seeds of the Finger Lime. Have you heard of them? The juicy little pearls look like a slightly pink caviar, yet explode in your mouth with sweet and sharp citrussy burst. Absolutely delicious.
And I've since found out that even though Finger Limes are from Australia, they do grow in our climate too. Guess what's now top of my garden wish list!
Unfortunately I didn't get a photo of the whole fruit, but this is how they look inside…
#IcelandFeaster
And then there was dessert… On the left there is the stunning layered raspberry and pistachio pavlova that everyone was cooing over. This is Iceland's Easter showstopper dessert, so don't hang around if you want to give it a try.
My dairy issues meant I sadly missed out on this treat, but Neil & the team created me my very own dairy free raspberry and chocolate pud instead!
And the best part was, the dessert entertainment! Each dessert was served with a chocolate egg in an egg cup, a small bottle of pure raspberry juice, and the bottle had a helium filled balloon attached.
See if you can get the gist of the fun we had with this Instagram Story I shared on the day…
Funniest thing I've ever seen at an influencer event was pretty young YouTubers squeaking into their video cameras! So funny!
Huge thanks to Iceland for our lovely Feaster event and for sponsoring this yummy slow cooker pulled lamb recipe. As always all thoughts (and leftovers!) are my own. Happy Feaster everyone!
Jane x