This Sundried Tomato and Pesto Stuffed Chicken Breast is a doddle to throw together and yet is bursting with fresh, Mediterranean flavours.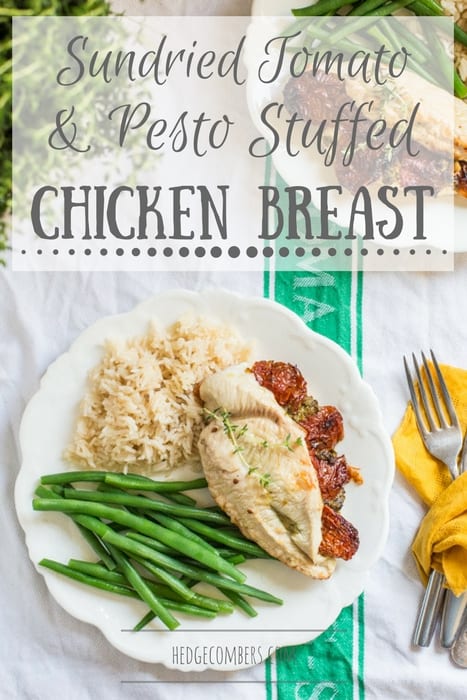 If you are always on the lookout for healthy recipes that pack a punch of flavour, then boy you have come to the right place! This Sundried Tomato and Pesto Stuffed Chicken Breast is so easy to make and tastes incredible!
Imagine a tender, juicy chicken breast. Then picture the sweet deep flavours of sundried tomato and the herby kick of a good quality pesto. Served with basmati rice and green beans it makes a superb family dinner.
If you manage to save any leftovers, try slicing the chicken breast and having it in a sandwich with rocket leaves the next day.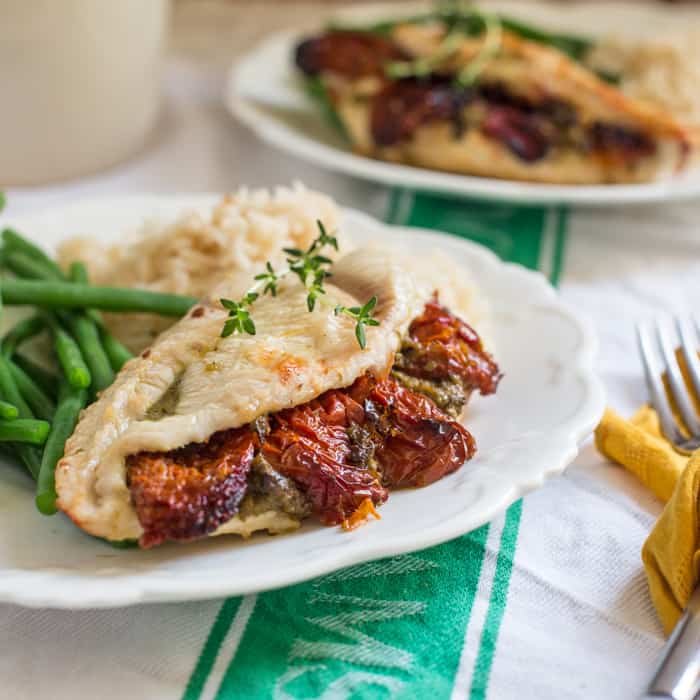 I created this recipe for Fitness First and their shiny new Recipe Generator.
It's a great tool for folk that are looking to clean up their diets, and there are some awesome sounding recipes included. With the ability to narrow down your healthy recipe search to specific categories such as carb free, breakfast, vegetarian and more, you're guaranteed to find exactly what you're looking for in no time.
I love the look of this Sweet & Spicy Salmon with Pak Choi. And as for this Pomegranate & Ginger Venison with Miso Parsnip Fries? YUM!!!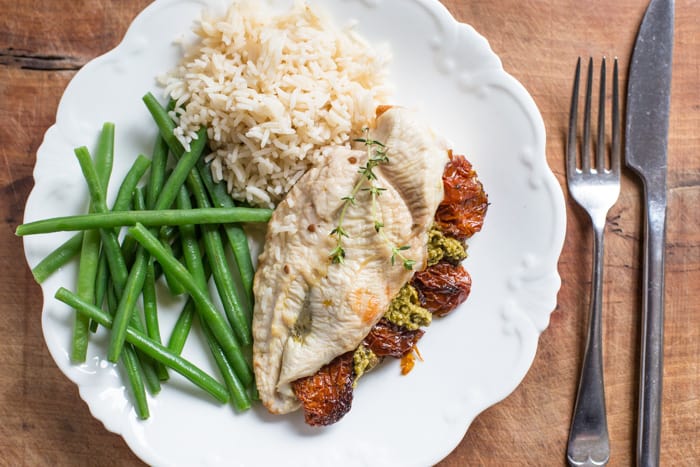 As always, if you give this or any of my other recipes a try, please share pics with me on social. You can generally find me everywhere as @hedgecomber.
Sundried Tomato and Pesto Stuffed Chicken Breast
Ingredients
2

chicken breasts

2

teaspoons

pesto

8

sundried tomatoes in oil, drained

250g

cooked basmati rice

1

bag

fresh green beans, topped & tailed

4

sprigs

fresh thyme to serve
Instructions
Preheat the oven to 190/fan 170/gas 5

Lay each chicken breast out on a chopping board and using a very sharp knife, carefully slice a deep pocket in it, from front to back.

Using a teaspoon take a little oil from either the top of the pesto, or the jar of tomatoes and drizzle it onto the chicken breasts. You only need a tiny amount. Rub it into the meat well.

Drop a teaspoon of pesto into each chicken pocket and spread it around. (To avoid cross contamination, DO NOT put the teaspoon back into the jar of pesto if it has touched the raw chicken. Use a clean spoon).

Lay 4 sundried tomato halves inside each chicken pocket and move to a baking tray. Pop in the preheated oven for 25-30 minutes, or until the centre of the chicken hits 74'C when probed with a digital thermometer.

Serve with basmati rice and green beans and topped with the sprig of thyme.
Huge thanks to Fitness First for commissioning this recipe thereby allowing me to continue creating tasty recipes for you, for free. As always all thoughts, and leftover, are my own!
Jane x