This Healthy Sundried Tomato and Pesto Stuffed Chicken Breast is a doddle to throw together and is bursting with fresh, Mediterranean flavours.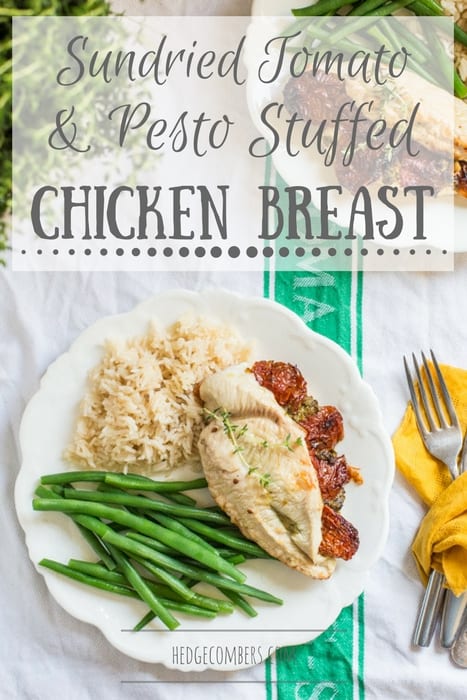 If you are always on the lookout for healthy recipes that pack a punch of flavour, then boy you have come to the right place!
This Sundried Tomato and Pesto Stuffed Chicken Breast is so easy to make and tastes incredible!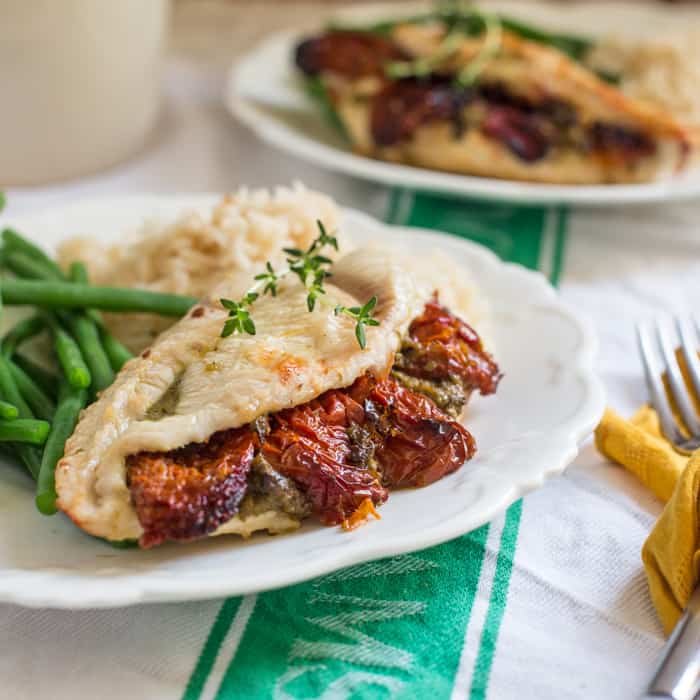 Imagine a tender, juicy chicken breast.
Then picture the sweet deep flavours of sundried tomato and the herby kick of a good quality pesto.
Served with basmati rice and green beans it makes a superb family dinner.
If you manage to save any leftovers, try slicing the chicken breast and having it in a sandwich the next day.
Add in a handful of rocket leaves for some extra goodness. Delish.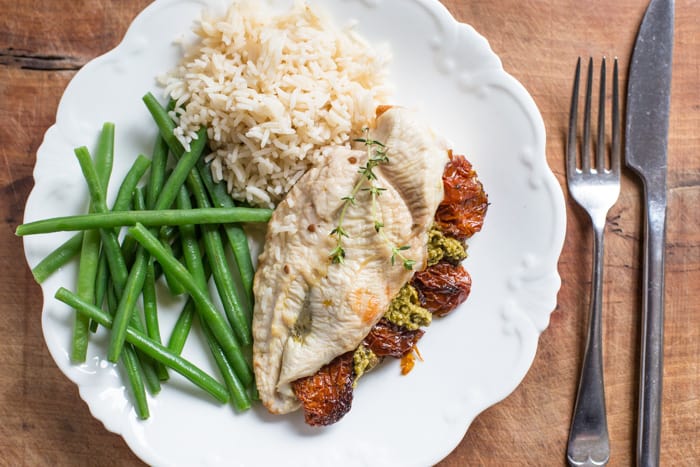 As always, if you give this or any of my other recipes a try, please share pics with me on social. You can generally find me everywhere as @hedgecomber.
Sundried Tomato and Pesto Stuffed Chicken Breast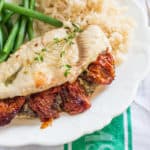 Sundried Tomato and Pesto Stuffed Chicken Breast
Keyword:
chicken recipes, stuffed chicken breast
Ingredients
2

chicken breasts

2

teaspoons

pesto

8

sundried tomatoes

in oil, drained

250g

basmati rice

cooked

1

bag

fresh green beans,

topped and tailed

4

sprigs

fresh thyme

to serve
Instructions
Preheat the oven to 190/fan 170/gas 5

Lay each chicken breast out on a chopping board and using a very sharp knife, carefully slice a deep pocket in it, from front to back.

Using a teaspoon take a little oil from either the top of the pesto, or the jar of tomatoes and drizzle it onto the chicken breasts. You only need a tiny amount. Rub it into the meat well.

Drop a teaspoon of pesto into each chicken pocket and spread it around. (To avoid cross contamination, DO NOT put the teaspoon back into the jar of pesto if it has touched the raw chicken. Use a clean spoon).

Lay 4 sundried tomato halves inside each chicken pocket and move to a baking tray.

Pop in the preheated oven for 25-30 minutes, or until the centre of the chicken hits 74'C when probed with a digital thermometer.

Serve with basmati rice and green beans and topped with the sprig of thyme.
Nutrition Facts
Sundried Tomato and Pesto Stuffed Chicken Breast
Amount Per Serving
Calories 756
Calories from Fat 72
% Daily Value*
Fat 8g12%
Cholesterol 145mg48%
Sodium 335mg15%
Potassium 1254mg36%
Carbohydrates 105g35%
Protein 58g116%
Vitamin A 335IU7%
Vitamin C 9.1mg11%
Calcium 71mg7%
Iron 2.9mg16%
* Percent Daily Values are based on a 2000 calorie diet.
More Stuffed Chicken Breast Recipe Ideas!
There are plenty of other tasty fillings you could use to keep stuffed chicken breasts on regular rotation on your family menu without things getting boring. How about some of these for some yummy stuffed chicken breast ideas.
Method:
Slice each chicken breast as above, and stuff each one with a mix of the following.
Then pick up the recipe above at step number six.
Garlic and Herb Stuffed Chicken Breast
Mix together 1 minced clove garlic, 1 tbsp butter and 2 tbsp fresh chopped herbs (think basil, coriander, sage, parsley or a mix of any/all of them!)
Ham and Cheese Stuffed Chicken Breast
Layer one slice of good quality ham (roll it up if necessary), and a slice of your favourite cheese along with a little grind of black pepper.
Garlic Mushroom Stuffed Chicken Breast
Slice 1 portobello mushroom, or 4 or 5 button mushrooms per chicken breast. Fry in a little butter and towards the end of cooking add in 1 clove of minced garlic per chicken breast and fry a little before stuffing the chicken breast and baking.
Hunters Chicken Breast
Grill 2 rashers of smoked crispy bacon per chicken breast. Stuff each breast with the bacon, a slice of your favourite cheese and 1 tbsp of BBQ sauce. Brush the chicken breast with a little oil or melted butter before continuing the recipe at step six.