This easy Cornish Pasty Recipe is so delicious and makes the perfect packed lunch, picnic food, or make-ahead camping meal.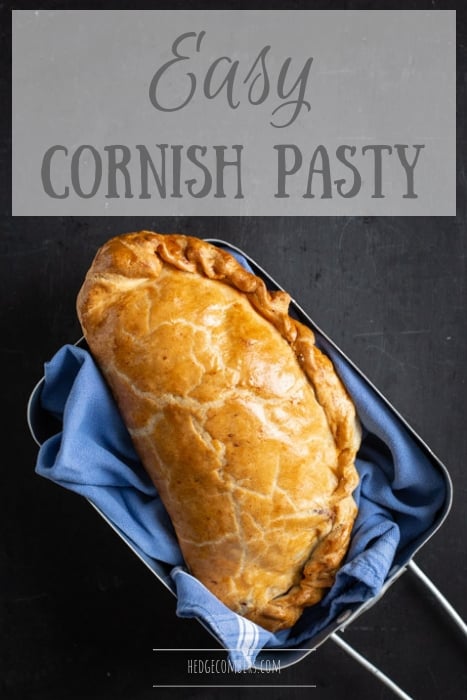 This post has been updated for 2020
A traditional Cornish pasty hails from the small county of Cornwall, at the very South West tip of England.
It's the ultimate on-the-go meal, originally being baked for miners to take down into the mines.
The crust was designed to be held, as the 'body' of the pasty was eaten.
The crust would then be thrown away as miners hands were often contaminated by heavy metals and other poisons. And of course, they wouldn't have had access to clean or running water in the tin or copper mines of the 19th century.
How to make a GREAT Cornish Pasty!
There are three keys to making the perfect pasty:
PASTRY
The pastry needs to be a buttery shortcrust, that flakes a little. It also needs to be dark, golden brown. No pale, anaemic looking pasties please!
MEAT
Traditionally beef skirt is used in a Cornish pasty. It needs all gristle removing, then should be diced finely and spread evenly throughout the pasty to avoid finding a great clump of meat at one end, with no meat at the other.
SEASONINGS
This should actually be number one on this list. As without a really good sprinkle of salt & black pepper, a perfectly good pasty will be bland and inedible.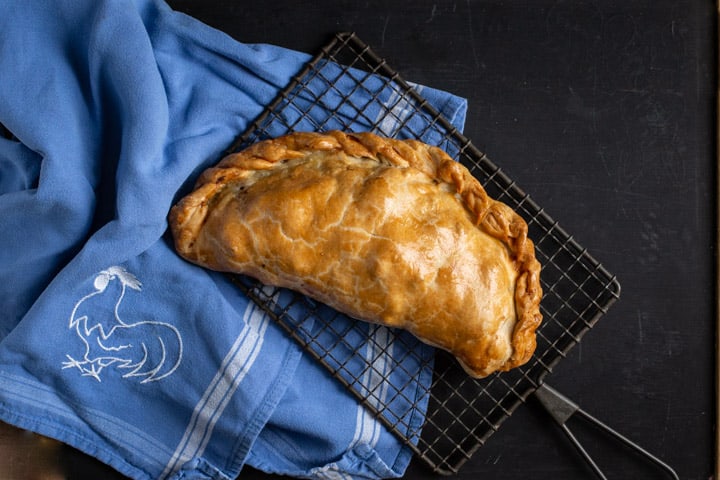 What's in a Cornish Pasty?
Along with the pastry, beef skirt and plenty of seasoning, you're also going to need…
Potatoes. Choose a waxy potato rather than a floury one. The latter will simply disintegrate in baking. Secondly, I was always taught to 'chip' my potatoes rather than dice them. I've made it both ways, and honestly, there is no difference in taste. However, you'll have generations of Cornish bakers smiling down on you if you chip rather than dice :)
Swede/Turnip. Apparently, there is a little confusion on this vegetable. The swede/turnip we use is the yellow-fleshed variety. For authenticity sake, please avoid the white-fleshed ones. The one below is possibly the largest swede I've ever seen and I only used one small slice of it for three pasties!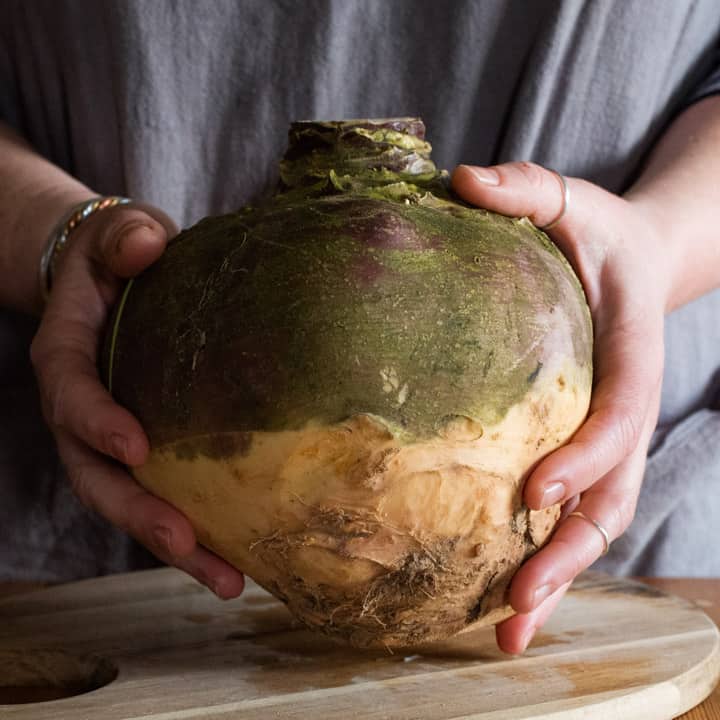 What NOT to put in a Cornish Pasty!
Carrot. DO NOT PUT CARROT ANYWHERE NEAR A TRADITIONAL CORNISH PASTY.
It is a sin, and you will get pooped on by every seagull in Cornwall.
Same for peas. Urgh.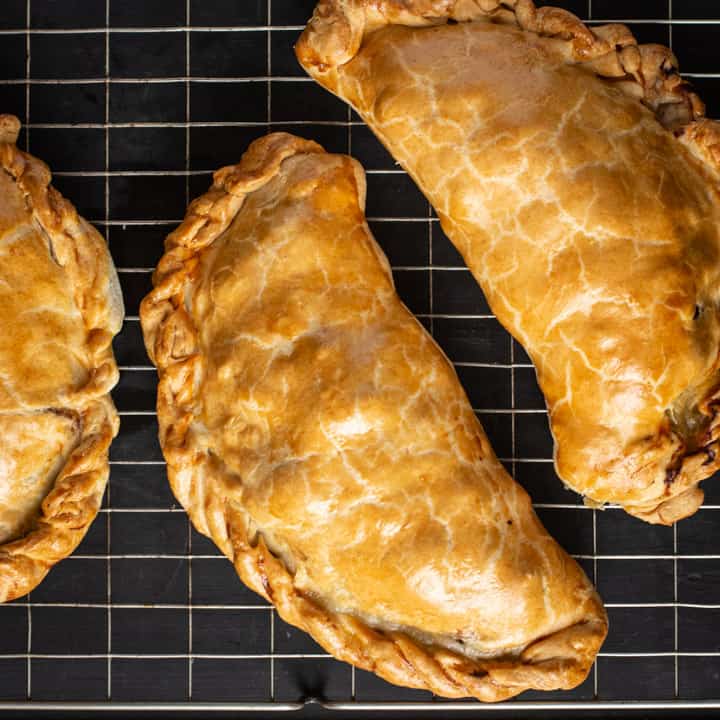 Step by Step Guide to Making a Traditional Cornish Pasty!
1: Prep your Pasty Filling
The way I was taught (by a lovely Cornish man in his 90's who had made pasties his entire life) was to 'chip' the potato rather than dice it.
To do this, take a small paring knife, and gently chip away at the potato.
Cutting away small pieces that almost resemble flower petals.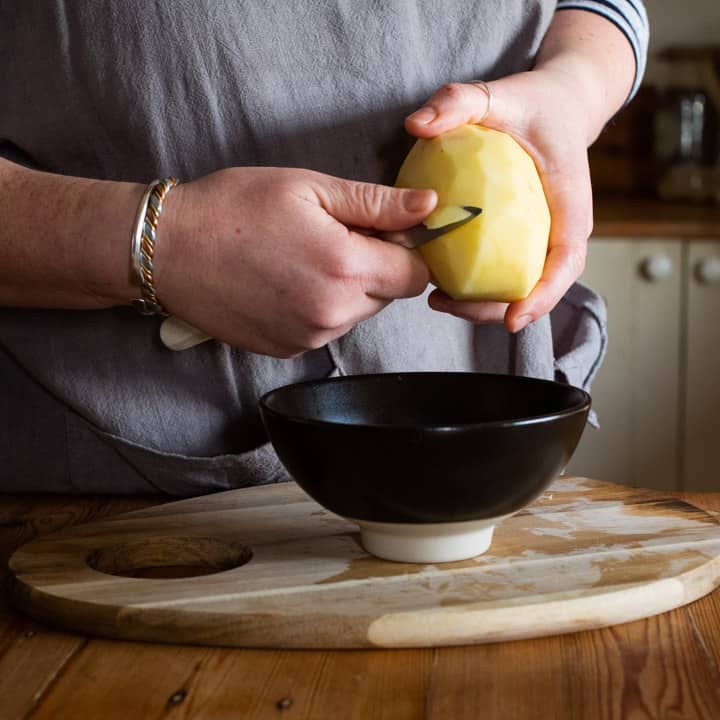 Repeat with the swede.
Then finely dice the onion.
Finally, chop your beef skirt into small pieces, removing any tough or gristly looking pieces.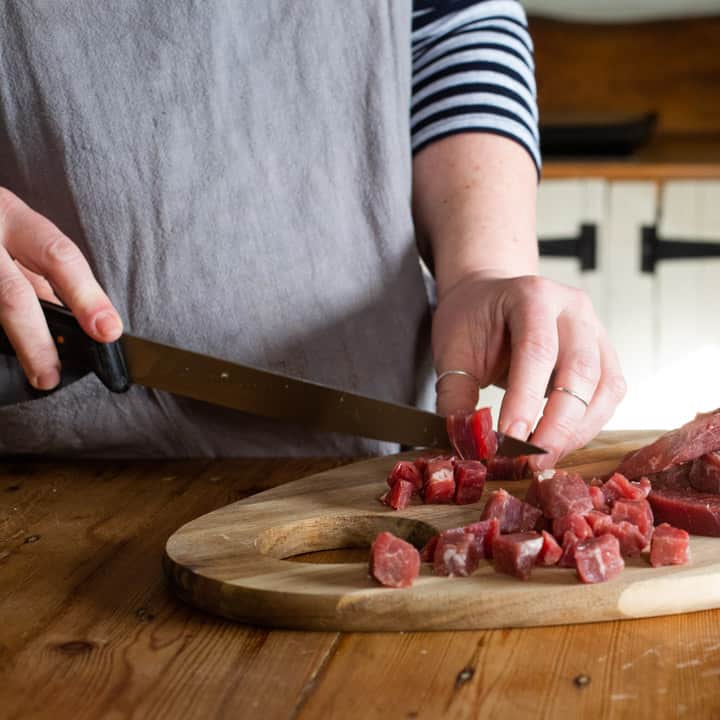 2 Roll out Your Pastry
You can make shortcrust pastry from scratch, or buy the ready-made version if you are short on time.
Either way, roll the pastry out. Then draw around a plate that is roughly 20cm in diameter with a sharp knife.
Lay the pastry rounds out on the work surface that has been lightly dusted with flour.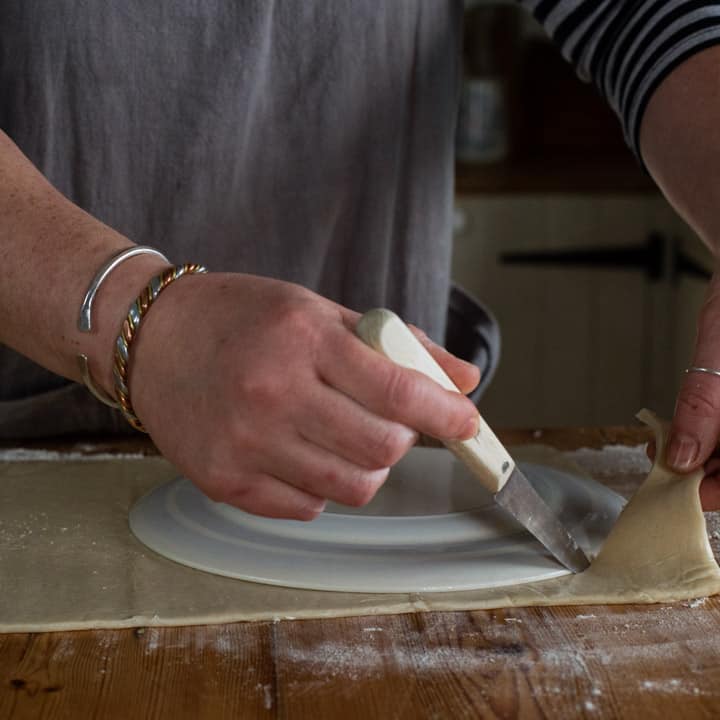 3/ add the pasty filling
It really doesn't matter what order you do this in.
But I tend to do the potato first so that the meat juices will drip down a baste the potato as it cooks.
Next up I add the onion, swede and finally the beef.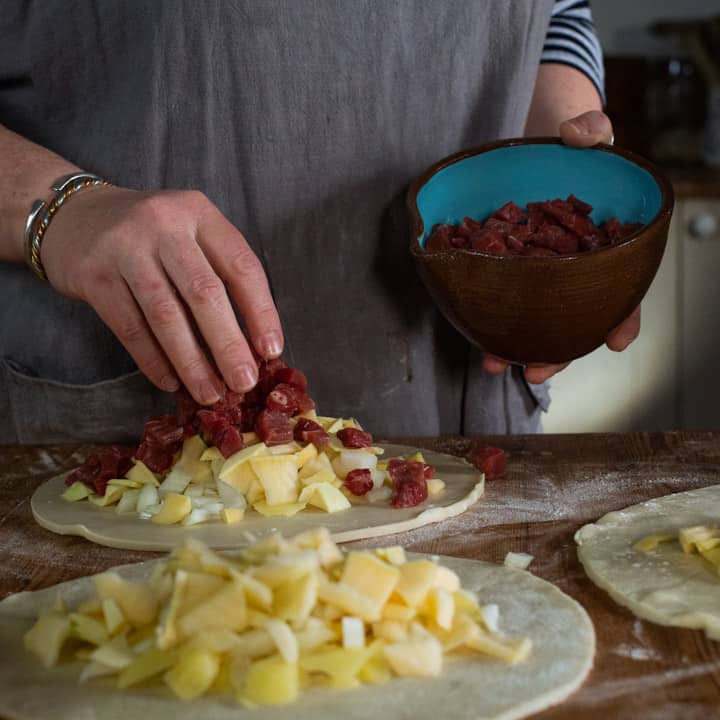 4/ add the pasty seasonings
You'll need LOTS of black pepper and a really good sprinkle of salt (for authenticity it should really be Cornish Sea Salt!)
Finally a goodly sized knob of butter which I tend to cut into three so that it will flavour the entire pasty evenly.
Whilst butter is most commonly used these days, you could switch it out with a knob of clotted cream instead if you have any. Many old pasty recipes note either butter or clotted cream.
The fat in the butter or cream will baste all the ingredients and create a deliciously moist filling.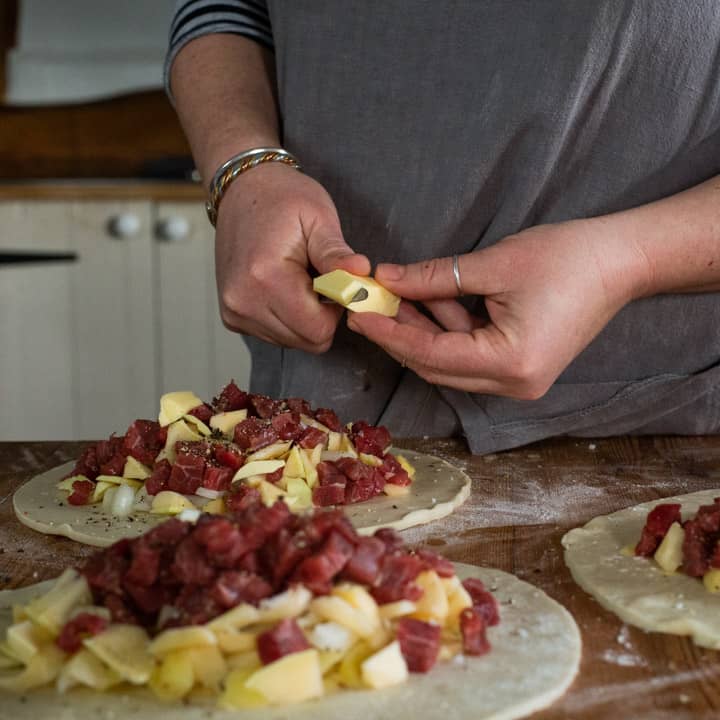 5/ fold and seal the pastry
OK, I'm not gonna lie, this bit is tricky the first few times you do it.
Firstly, fold the nearest edge of pastry over the filling, away from you. Whilst also trying to stop everything from falling out.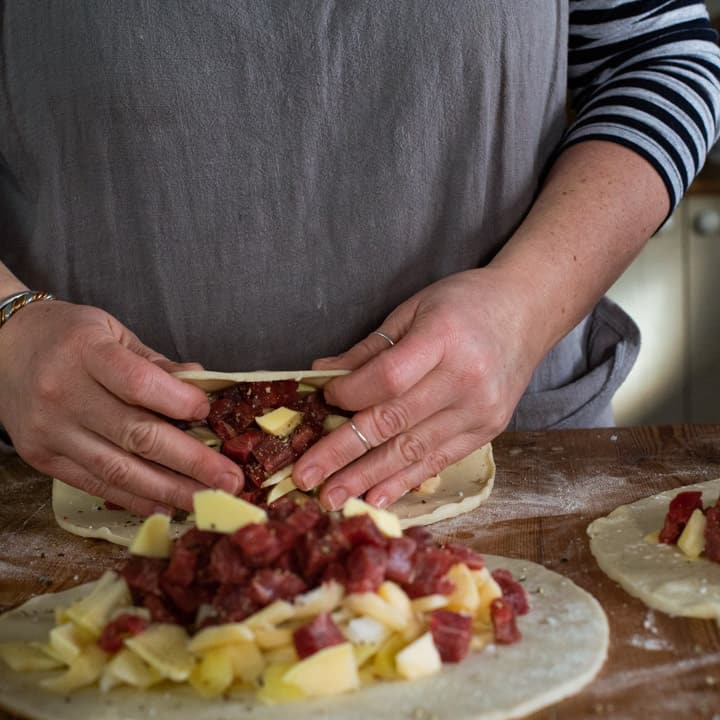 Then press the pastry edges together.
Again poking any stray filling pieces back inside.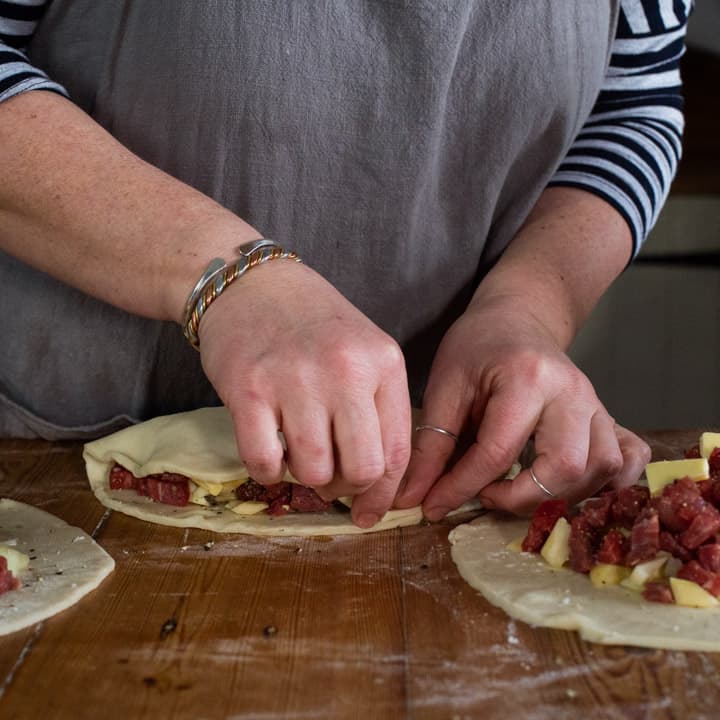 And finally, pinch the edges together along the length.
You don't need to egg or milk wash the edges to make the pastry stick.

6/ how do you crimp a Cornish pasty?
Start at one end and fold the very end inch of pastry over itself, pressing down firmly.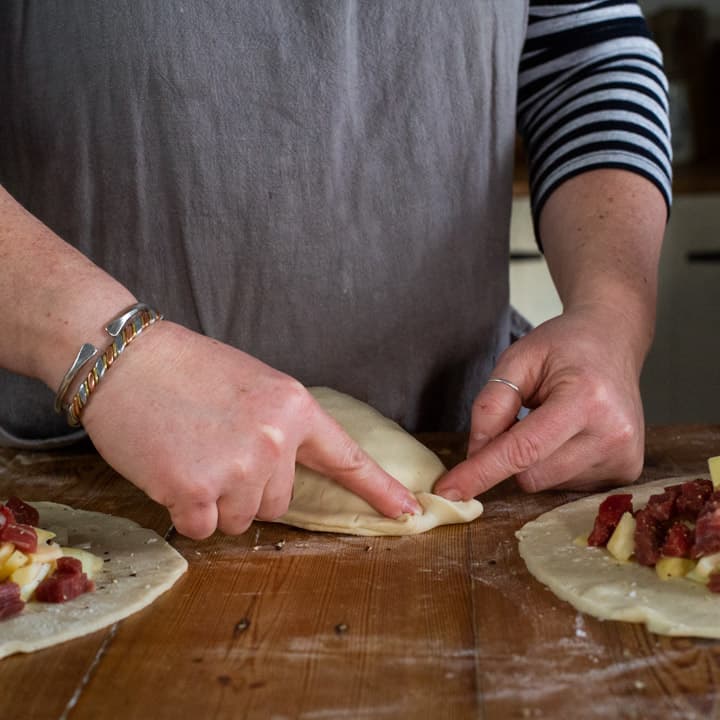 Fold the next inch of pastry and press down.
Then repeat along the entire length.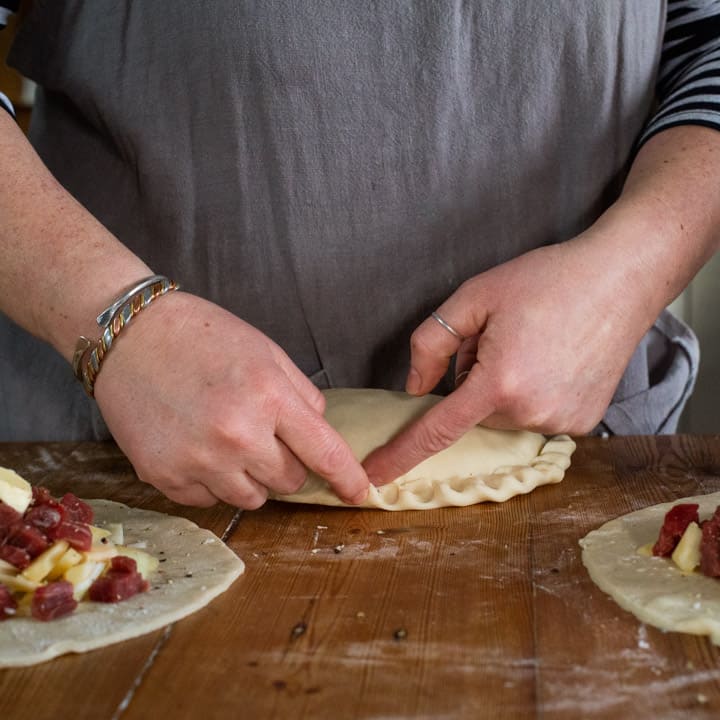 When you reach the far end, you'll be left with a 'sticky out' piece of pastry an inch or two long.
Simply fold this piece underneath the pasty for a tidy finish.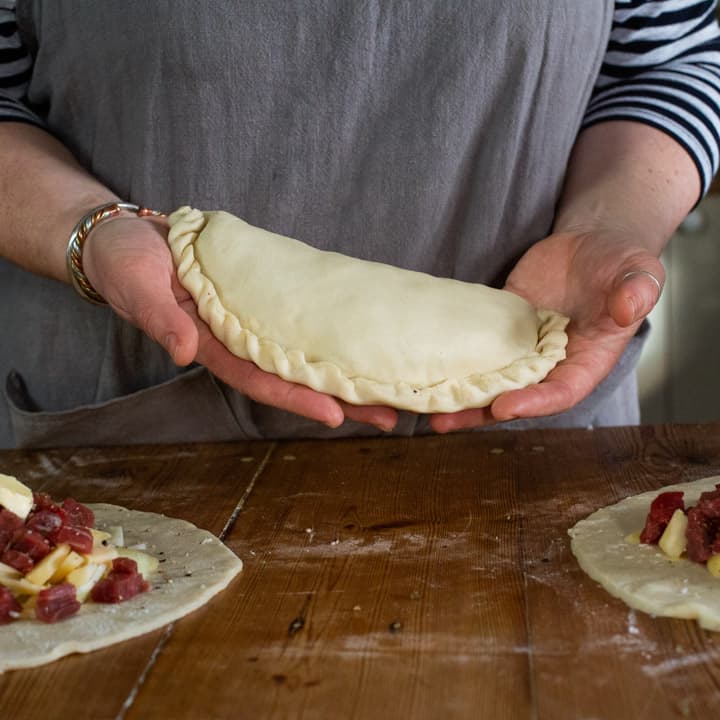 If my explanation on how to crimp a pasty has left you at all confused, please watch this video I made at the World Pasty Championships at the Eden Project.
Feel free to skip forward in the video to 11.50 for the recipe only. Or 12.51 for the pasty crimping action!
7/ egg (or milk) wash
I've never heard whether egg or milk is the most traditional wash for a Cornish pasty. But I always use egg as I'm lactose intolerant.
If you opt for egg too, do make sure you beat it really well so the yolk and white are fully combined.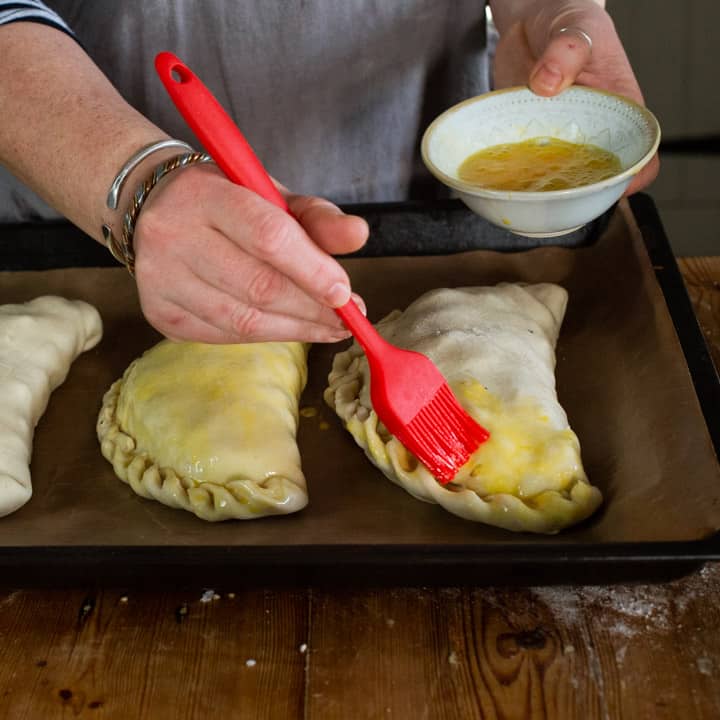 Then simply brush liberally over the pasty and crust with a pastry or basting brush.
At this point, you'll pop the baking tray into a preheated oven.
Then tap your fingers impatiently for the next 50 minutes whilst your house fills with the glorious scent of baking Cornish pasties!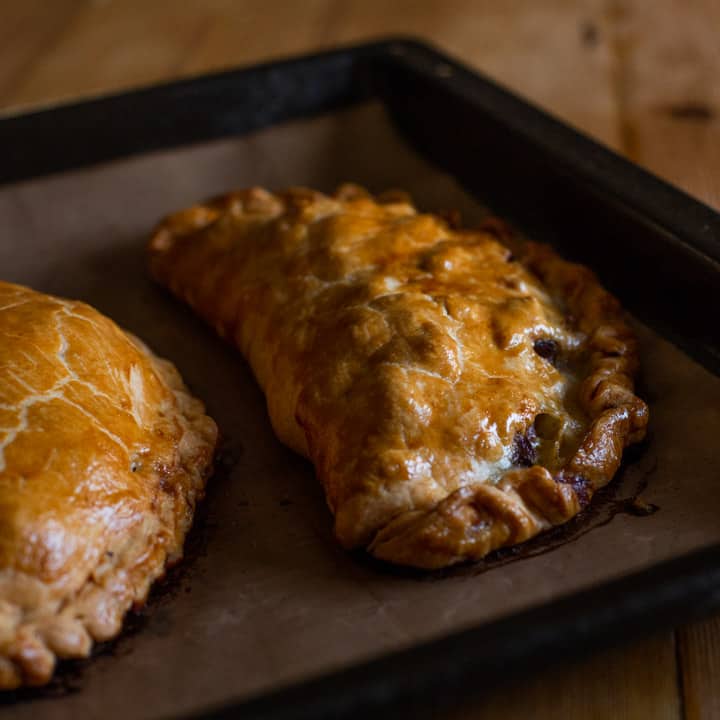 When they are cooked, you can eat them immediately or let them cool.
They are a complete meal so don't need any side dishes. But a side salad would work well if you wanted to get some extra veggies in.
Can you Freeze Cornish Pasties?
Yes! They freeze perfectly.
Once they are baked, place on a cooling rack until room temperature.
Move to the fridge until they are cold. Then wrap well in cling film or foil.
Write the name and date on the foil with a sharpie, then place them in the freezer.
If you are freezing several pasties, spread them out in the freezer overnight. This will protect them from getting squished, and prevent your freezer temperature from fluctuating too much.
Once they are frozen solid, you can gather them all up into one large ziploc bag if you like.
How do I defrost a frozen pasty?
To defrost, leave overnight in the fridge. By lunch time the next day your pasty should be ready to eat cold, or you can reheat it.
To reheat a Cornish pasty, preheat your oven to 180C/350F. Place the unwrapped pasty on a baking tray and cook for 15 minutes, or until the centre is piping hot.
Can I cook a pasty from frozen?
Yes, absolutely.
Simply preheat the oven to 180C/350F and cook for around 40 minutes, or until the middle is piping hot.
Where can you buy the best Cornish pasty?
If you're visiting Cornwall and you want to avoid buying a bad pasty (of which sadly, there are many), my absolute favourite pasty shop is Sarahs Pasties in Looe.
It's the tiniest little bakery and you can watch the girls make them every morning.
They also have a sister cake shop down the road for pudding ;)
Oh, and they all deliver nationwide, so no need to wait until your next visit!
And if you've enjoyed this easy Cornish pasty recipe, you might like to take a peep at my entire category dedicated to Packed Lunch Recipes!
Or if you'd like to head directly to one of my readers favourite recipes, check out this Authentic British Pork Pie recipe. It's divine!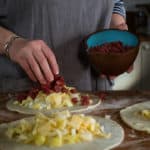 Easy Cornish Pasty Recipe
Cuisine:
British, Cornish, English
Keyword:
Easy Cornish Pasty Recipe
Ingredients
500

g

shortcrust pastry

150

g

potato

chipped or diced

75

g

swede

chipped or diced

75

g

onion

diced

200

g

beef skirt

diced

30

g

butter

1

egg

beaten

salt and pepper

lashings of!
Instructions
Preheat the oven to 165c and line a large baking sheet with baking paper.

Roll out your shortcrust pastry and cut round a 20cm plate to make a circle of pastry. Lay out on a work surface dusted lightly with flour.

Repeat with the remaining pastry so you have 3 pastry circles.

Lay 1/3 of the potato, swede, onion and finally beef skirt on the centre of each circle. Aim to have the ingredients well spread out so as each bite gets a mix of flavours.

Add a small knob of butter on top of each pile of ingredients.

Season extremely well with salt and pepper.

This step is vital, please don't skimp!

You want to feel the heat from the black pepper as you eat your pasty.

Fold one pastry side over to meet the other, enveloping all the filling in.

If any bits stray, simply poke them back in.

Gently press the two edges together Gently but firmly.

Starting at one end, fold the very last inch of the pastry 'seam' over itself.

Continue with this action to crimp the entire 'seam' together which will create a sealed edge along the pasty.

Lay out on the lined baking sheet, then brush generously with the egg wash.

There's no need to pierce a hole in your pasty, try to keep the pastry intact if you can.

Bake in the preheated oven for 50 minutes.

Remove and devour hot, or let cool fully on a wire cooling rack before packing away in a lunch box.
Nutrition Facts
Easy Cornish Pasty Recipe
Amount Per Serving
Calories 732
Calories from Fat 198
% Daily Value*
Fat 22g34%
Cholesterol 117mg39%
Sodium 943mg41%
Potassium 690mg20%
Carbohydrates 98g33%
Protein 30g60%
Vitamin A 330IU7%
Vitamin C 13.8mg17%
Calcium 71mg7%
Iron 8.7mg48%
* Percent Daily Values are based on a 2000 calorie diet.