This Refried Beans Quesadilla recipe makes a brilliant quick, nutritious and balanced vegetarian meal that's naturally high in protein and so filling!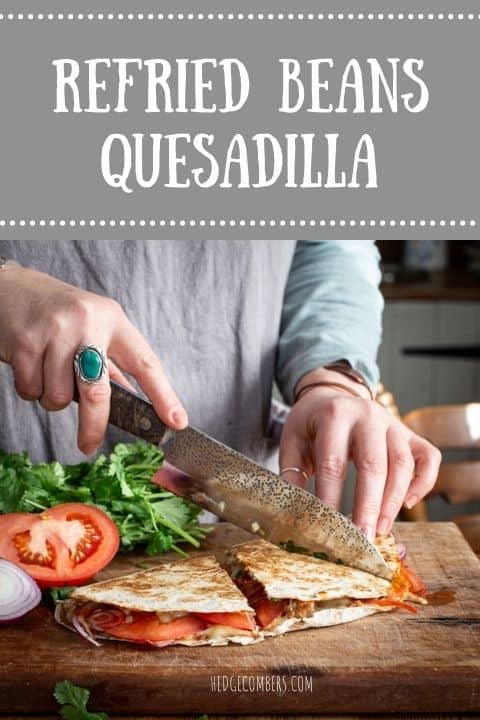 I have to put my hands up to having these bean quesadillas for lunch for the past three days 🤣
Day 1 was a test, just to check that they tasted as good as I hoped. (they did!).
Day 2 was so I could shoot the photos for this blog post.
Day 3 was so I could film them for my YouTube channel.
And honestly, I could happily eat them again tomorrow! They are that good!
How to make Refried Beans Quesadilla
In case you haven't hard of them before, refried beans are a mix of mashed cooked beans and spices. Most often they are made with pinto beans, but in different parts of Mexico both kidney beans and black beans may be used instead.
The resulting 'mush' is then fried into the delicious beans spread. The 'refried' part of their name is a little misleading, 'fried' beans would be a little more accurate.
Confusing name aside, they are a fantastic store cupboard item to have on hand when you need a really quick, yet really nutritious meal.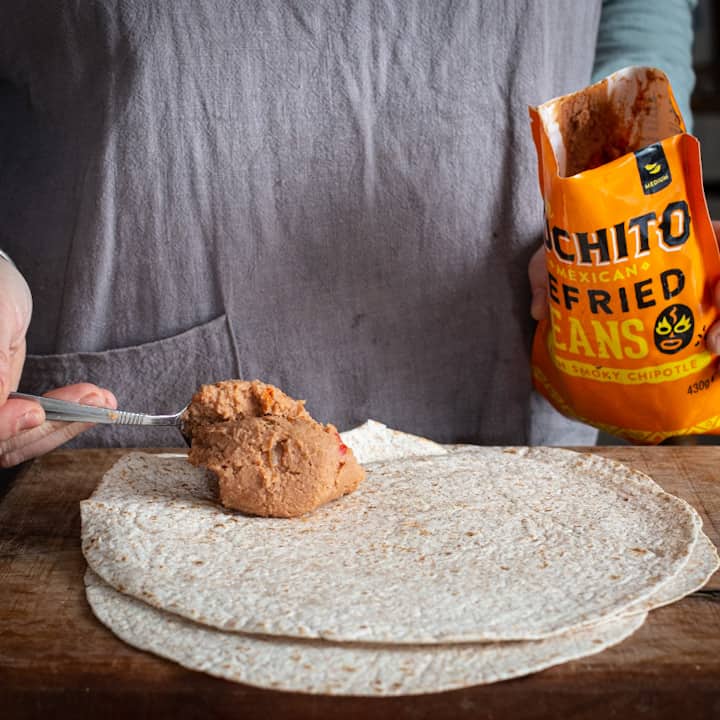 1/ layer your tortilla with refried beans
I'm using a pouch of refried beans from Gran Luchito (not sponsored), but canned or homemade refried beans work perfectly well too. (Here's a gorgeous looking recipe if you'd like to make them from scratch).
Spoon on 2-3 tablespoons of your refried beans of choice onto a tortilla wrap.
Spread it evenly across half the wrap with the back of your spoon.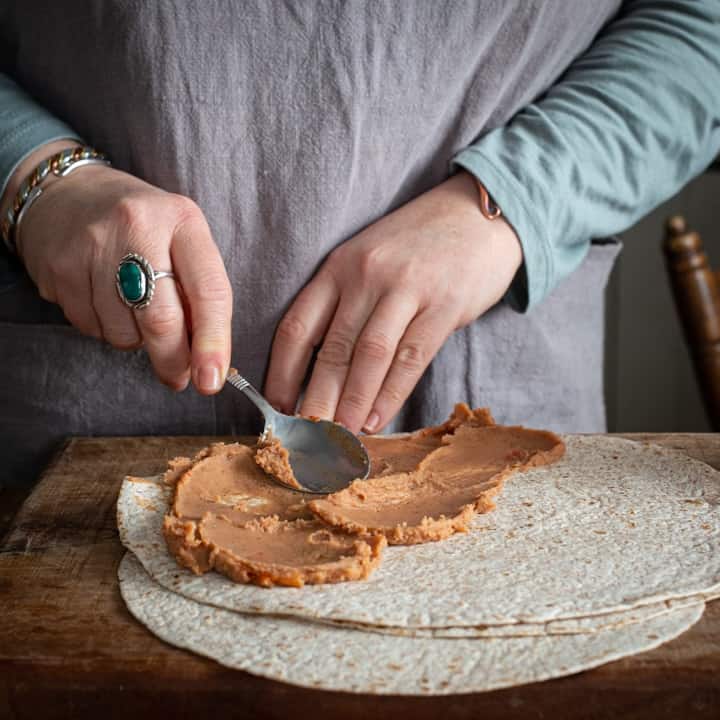 2/ top with your other ingredients
I started off with some grated cheddar cheese.
But you could use whatever cheese you fancy. It may not be particularly Mexican sounding, but I reckon a soft goats cheese would be utterly delicious`. Or perhaps some shredded Monterey Jack cheese.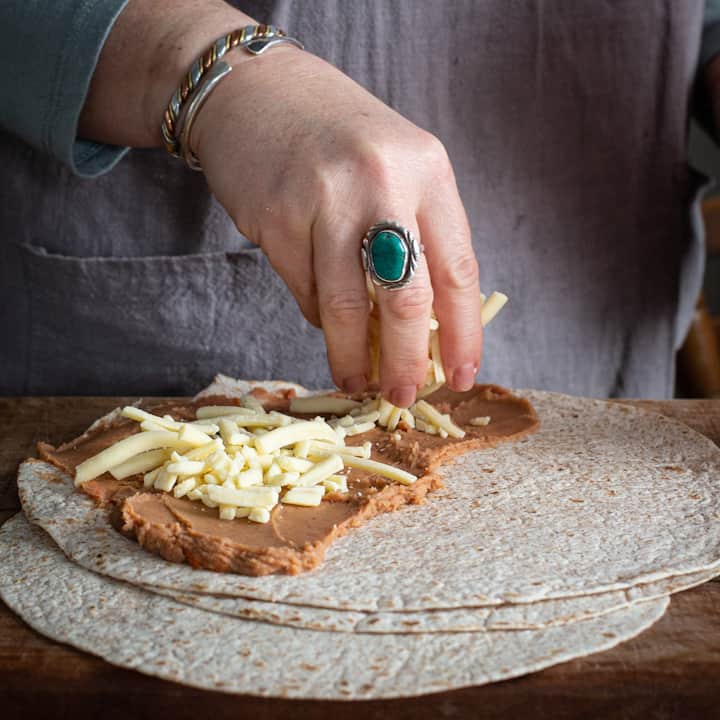 And a layer of thinly sliced tomato.
I'm using beefsteak tomato today, but I've used little cherry tomatoes very successfully too.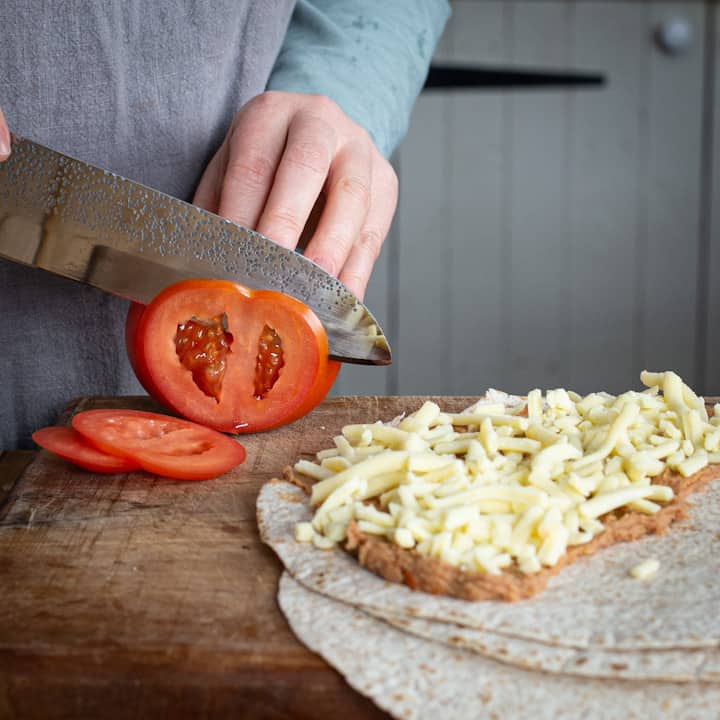 Next was some really thin rings of red onion.
I would avoid white onion in this dish as they can be quite powerful. And with the short amount of cooking time for this quesadilla, they might still be too raw to be palatable.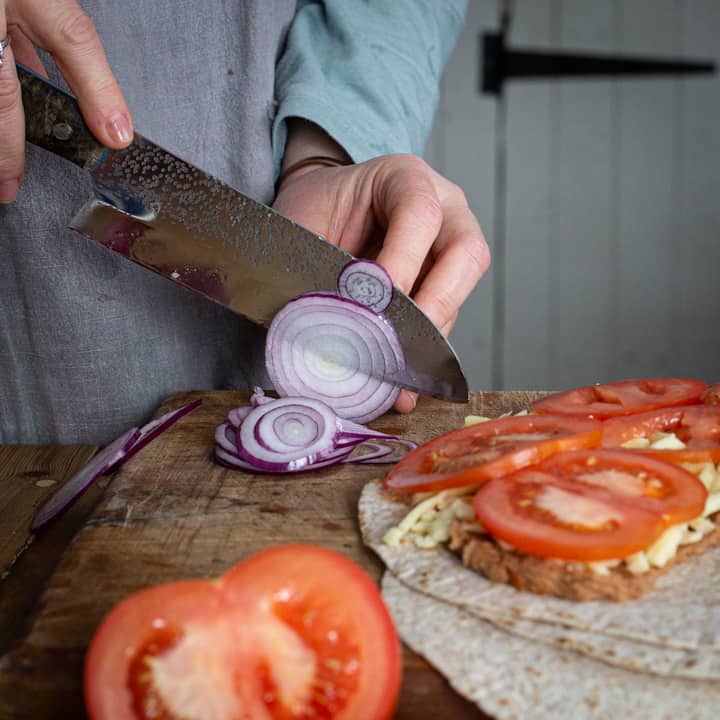 Add a sprinkle of fresh chopped coriander.
This step is optional as I know a lot of you really don't like coriander!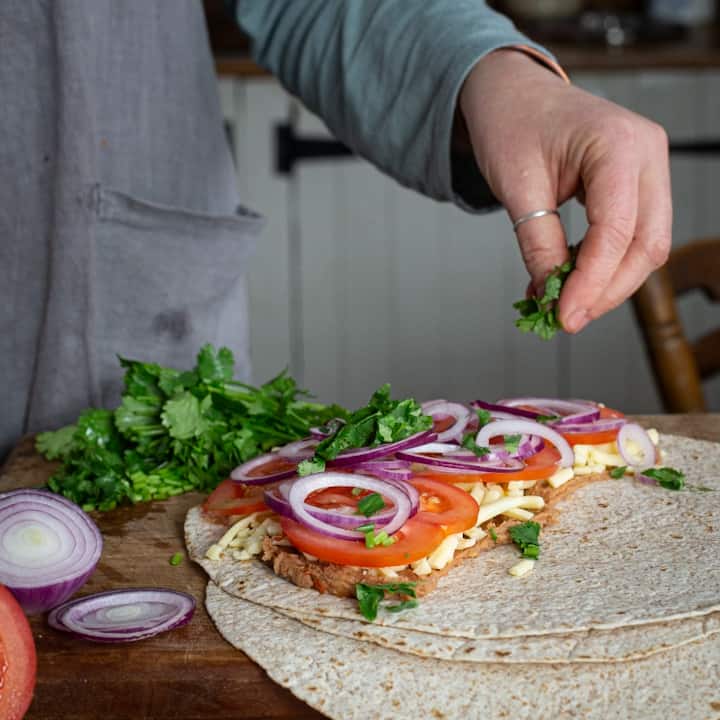 And another optional, but totally delicious extra, is to add a good dash of hot sauce.
If you don't like lots of heat, simply omit this and instead season with black pepper and a little salt.
Or you could try sprinkling with 1/3 teaspoon of fajita spice mix. Whist this contains chilli powder, it is mixed with other herbs and spices so you'll get a lovely Mexican flavour, without the massive heat of the hot sauce.
If you'd like a recipe to make your own fajita spice mix, I have one for you right here: Homemade Fajita Seasoning Spice Mix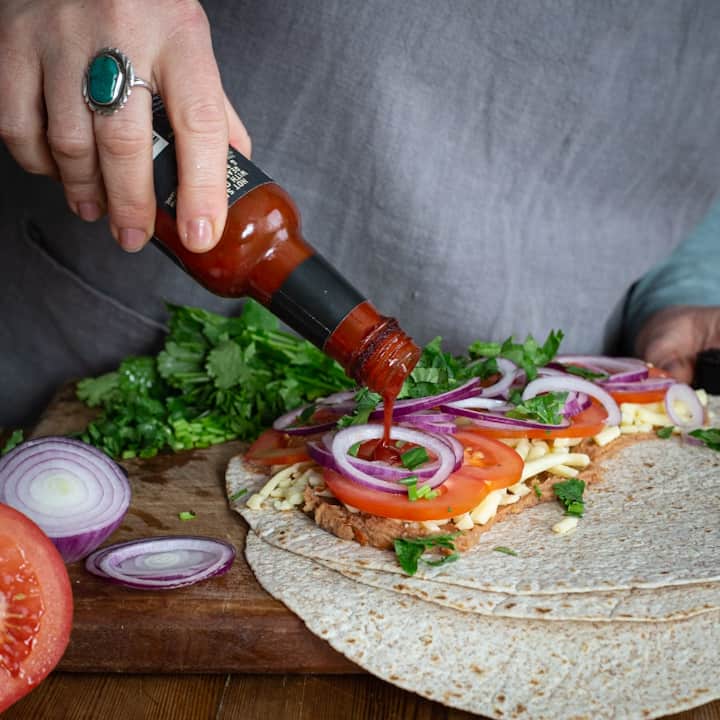 Finally, fold your quesadilla in half, tucking any stray ingredients back inside.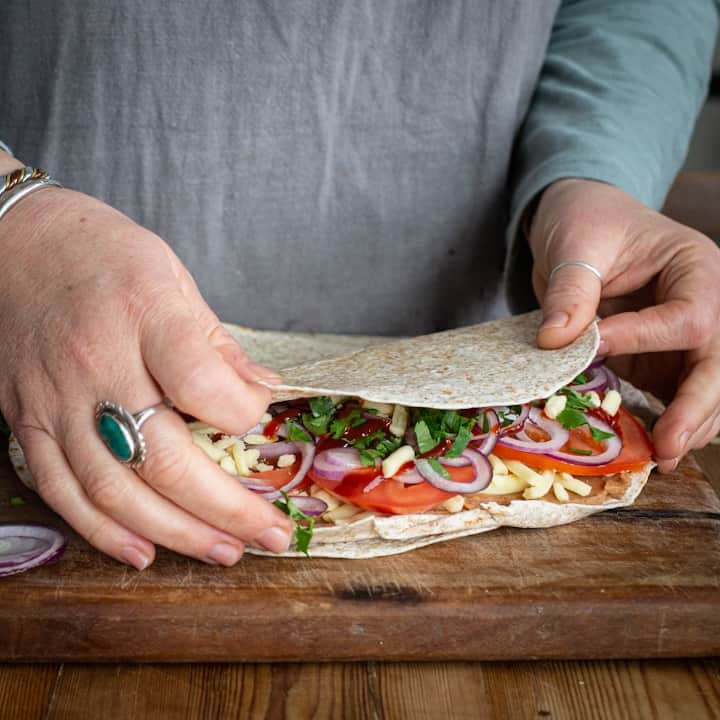 3/ cook your refried bean quesadillas
Preheat a large frying pan or griddle pan over a medium high heat.
Carefully lay your tortilla on the pan and wait a couple of minutes.
Lift up the quesadilla to take a peek at the underside. When it's lightly golden brown, slide a spatula or fish slice underneath and gently turn it over to cook the second side.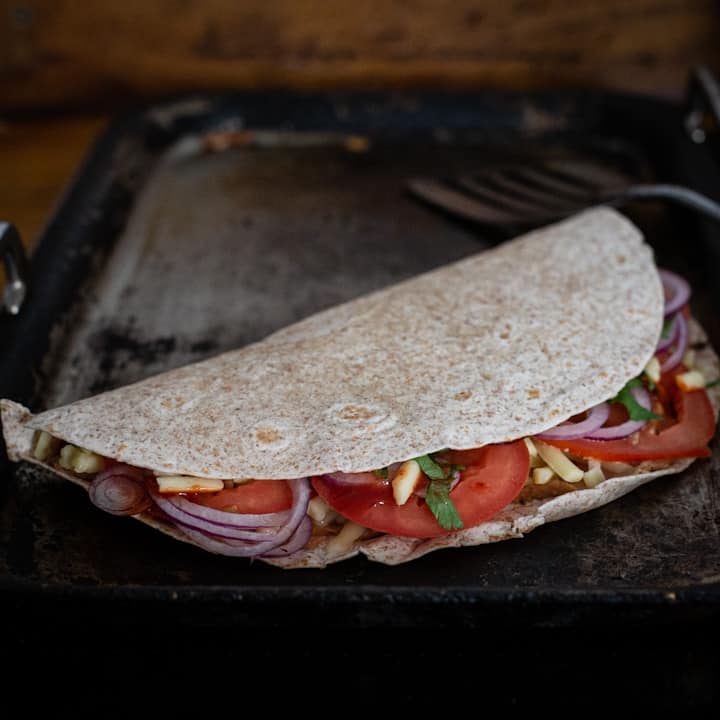 I like to cook each side twice, to make sure the cheese is thoroughly melted and everything is piping hot, without the outside burning.
And on my pan, it took about 6 minutes total to cook the quesadilla.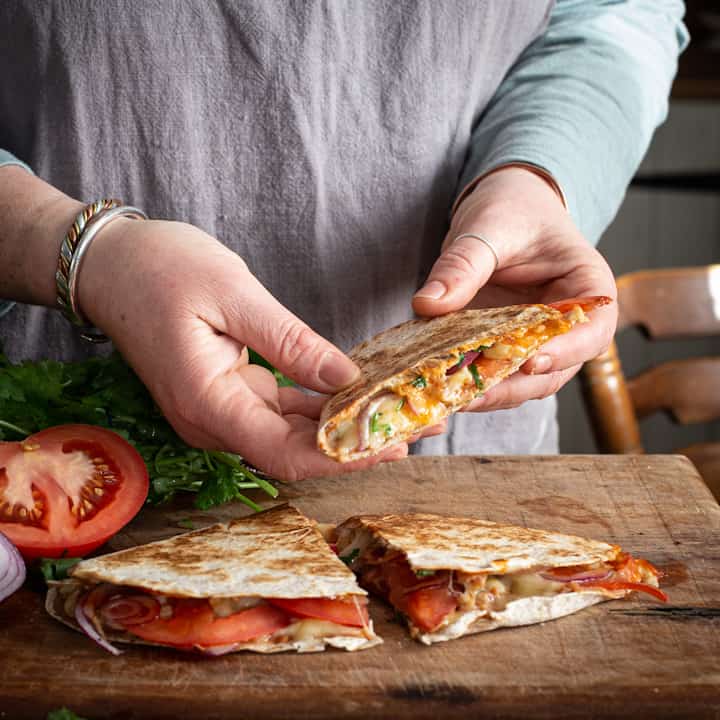 When it's ready, remove to chopping board, cut into wedges and enjoy.
I hope you love this recipe if you give it a go!
And if you're after another super easy crowd-pleasing recipe, take a peep at my Cowboy Stew recipe! It can be cheaply bulked up to feed more and it has various cooking options inc slow cooker, campervan and campfire!
And if you need more cheap and cheerful, yet healthy and wholesome recipes in your life, check out my How to make Hummus without a Blender post! It's a readers favourite :)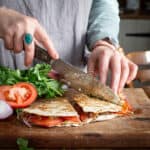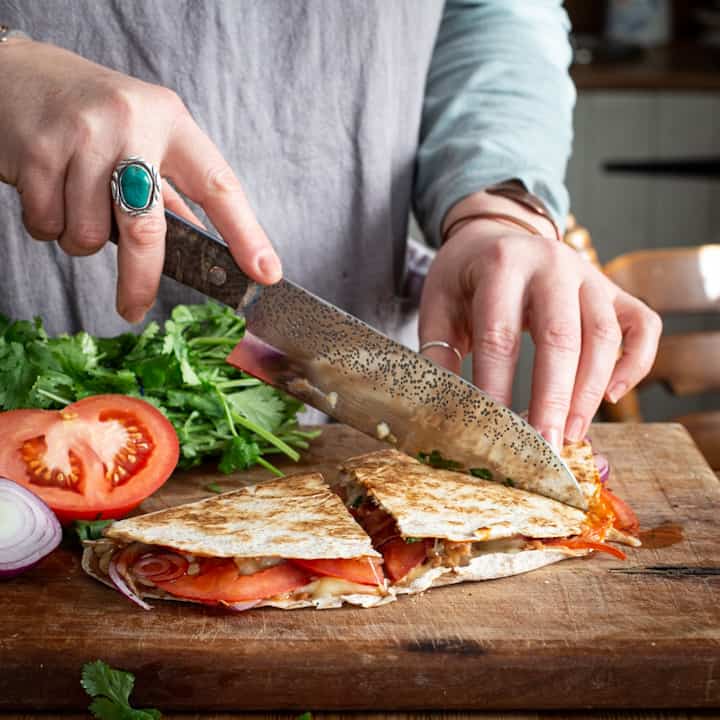 Refried Beans Quesadilla
Keyword:
refried beans quesadilla
Ingredients
2

wheat tortillas

4

tbsp

refried beans

– canned or homemade

4

tbsp

cheddar cheese

– grated

1

red onion

– thinly sliced

1

beefsteak tomato

– thinly sliced

2

tbsp

coriander

– finely chopped

2

tbsp

hot sauce

– more or less to suit your taste
Instructions
Lay one tortilla out on a chopping board and spread 2 tablespoons of refried beans over half of the wrap.

Next sprinkle with half the cheese and layer up the onion rings and tomato slices.

Then top with the chopped coriander and hot sauce if using.

Fold the tortilla in half and place the quesadilla onto a hot griddle or pan.

Cook for 2-3 minutes each side, or until the outside os golden and the cheese has melted inside.

Carefully place the hot quesadilla onto a chopping board and cut into 3 wedges and serve.
Nutrition Facts
Refried Beans Quesadilla
Amount Per Serving
Calories 334
Calories from Fat 126
% Daily Value*
Fat 14g22%
Cholesterol 32mg11%
Sodium 1003mg44%
Potassium 621mg18%
Carbohydrates 39g13%
Protein 15g30%
Vitamin A 1881IU38%
Vitamin C 48mg58%
Calcium 364mg36%
Iron 3mg17%
* Percent Daily Values are based on a 2000 calorie diet.