Ever wondered how to make hummus without a blender? Well friends, you are in the right place! I show you how to whip up this tasty dip with no blender, food processor or even electricity required!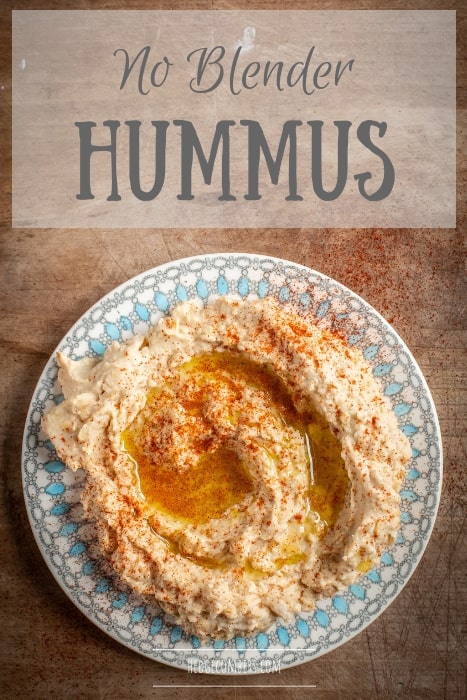 Hummus is one of the greatest camping foods.
It's jam-packed full of protein, carbs and healthy fats.
It doesn't require exact refrigeration.
Eating can be as easy as opening a bag of tortillas or slicing a cucumber.
Oh, and it tastes AWESOME!!!
Happily, tubs of ready-made hummus can be found in most stores these days.
However, if you like to control what goes into your hummus.
Or you need to whip up a batch whilst camping off grid.
Then this recipe is for you :)
Hummus Ingredients
To whip up your own hummus all you'll need is:
Can cooked chickpeas
Light Tahini (this is a paste made from ground sesame seeds. You can buy light or dark tahini. I prefer light in hummus, but dark would work too – it just tastes stronger)
Garlic (a fresh clove or the equivalent garlic powder)
Olive Oil
Lemon juice (from a fresh lemon or bottled lemon juice in a push)
Smoked paprika (optional, but delicious!)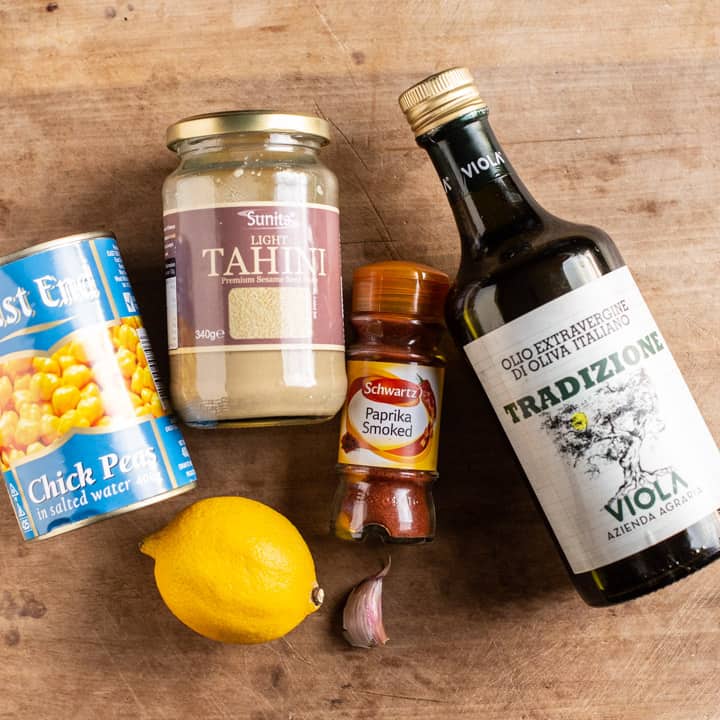 As you can see all these ingredients are easy to carry around in your camp kitchen, and are very shelf stable.
So this is the perfect recipe to make when fresh food stocks are dangerously low!
How to Make Hummus without a Blender
So, if you're off grid, and don't have access to a blender or food processor, the magic ingredient in your blender free hummus is…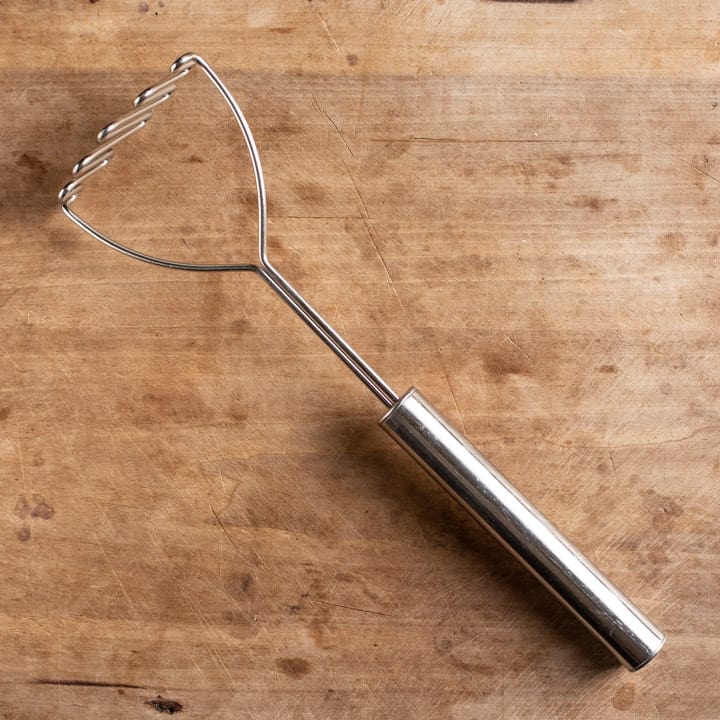 Yep, a potato masher is your friend when you want to whip up a creamy fresh bowl of hummus!
OK, so it does take a little bit of elbow grease, but it's such a fun way to get the whole family involved in making dinner.
I like to make it in a saucepan rather than a bowl.
This way you can get the masher right down into the corners.
Avoid using a pan with a non-stick coating though, as you could end up damaging the pan and eating that non stick coating.
Not tasty.
Love Healthy Camping Food?
Me too! Check out the quick little video below of me knocking up a batch of this easy no blender hummus in my campervan, Myrtle!
WATCH TODAY'S RECIPE VIDEO HERE!
If you love easy one pot camping food ideas, do come and join our lovely little community over on YouTube. I release a new campervan recipe video every single week!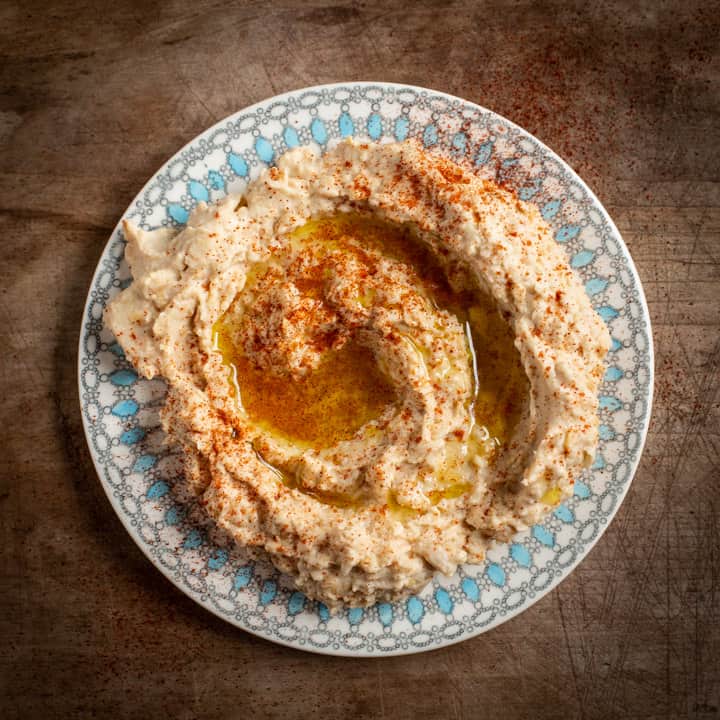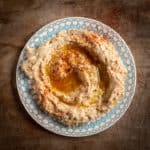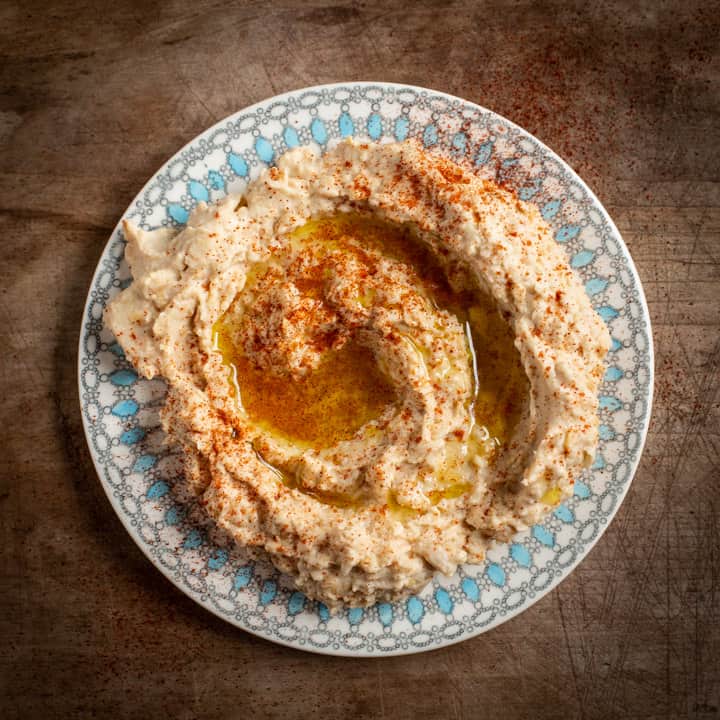 How to Make Hummus without a Blender
Ingredients
400

g

chickpeas cooked

can drained and chickpeas rinsed

1

tbsp

light tahini

1

garlic clove

minced

1

tbsp

olive oil

1

tbsp

lemon juice

1/2

tsp

salt

1

tsp

smoked paprika

to serve
Instructions
Tip the chickpeas into a straight sided pan, and mash really, really well with a potato masher until it is pretty smooth.

Add in the tahini, garlic, olive oil, lemon juice and salt and mix together well.

Taste and add more of whichever seasoning you feel is lacking. Taste again and repeat as necessary.

Tip out onto a plate, smooth out a little them drizzle a little more oil, a little squeeze of lemon juice and a sprinkle of smoked paprika.

Serve with crudites, toast, crackers, baguette or whatever else you fancy.
Nutrition Facts
How to Make Hummus without a Blender
Amount Per Serving
Calories 144
Calories from Fat 63
% Daily Value*
Fat 7g11%
Cholesterol 0mg0%
Sodium 570mg25%
Potassium 172mg5%
Carbohydrates 15g5%
Protein 5g10%
Vitamin A 260IU5%
Vitamin C 1.7mg2%
Calcium 40mg4%
Iron 1.5mg8%
* Percent Daily Values are based on a 2000 calorie diet.