This Tahini Sauce is a healthy, creamy, dairy-free dressing that will elevate any meal to epic status. Drizzle on salads, splodge on burgers, dress grilled chicken, mix with tuna and sweetcorn… I am yet to find a savoury dish this tahini sauce doesn't make magic with!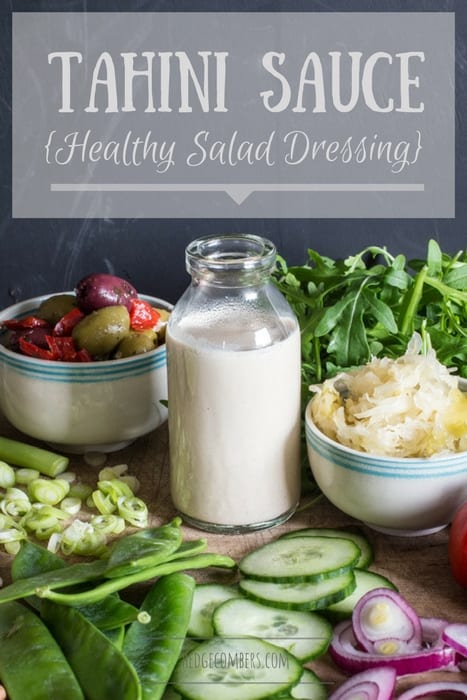 Hey Hedgies, how's the healthy eating going?! I wanted this post to hit you back in the New Year, but life had other plans for me. Chest infection followed by the flu meant that 70% of my January was a write off #sadface
It also meant that I lost my appetite. Seriously. That like never happens.
So all the good intentions outlined in this post went out the window and I lived on whatever Jonny brought me and made me eat.
And so it is that I'm officially restarting 2018. Feb 1st is the new Jan 1st doncha know!
My main food related goal for 2018 is to eat more veggies, and specifically greens. I LURVE veggies, but can be a bit rubbish at actually eating them when I'm busy/bored/tired/unprepared/craving toast. If you're in the same boat, check out this rather awesome post I managed to publish in between the chest infection & flu;
The Ultimate Guide to Healthy Eating, Meal Prep and Avoiding Food Waste.
It outlines some really basic food prep ideas that have helped me make quick easy choices when hunger hits.
And so, to make this a little more fun, I'm challenging myself to eat a nourish bowl every single day for 30 days.
aka #30DaysOfNourishBowls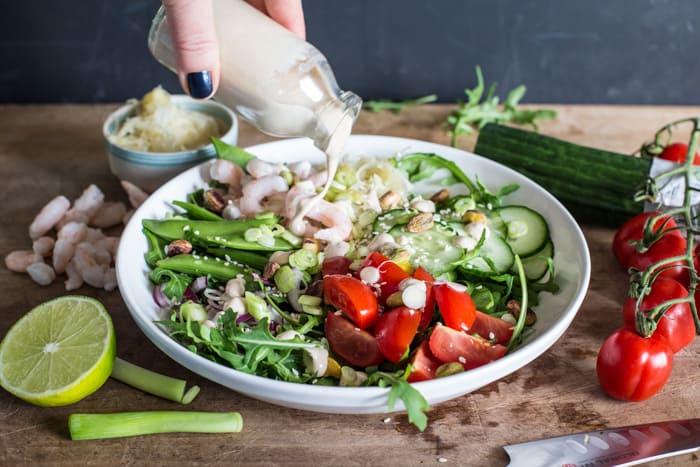 Nourish Bowls
What is a nourish bowl? It's a big bowl of nutritious goodness bursting with:
a myriad of colourful vegetables (50-60% of my bowl – it's all about that rainbow!)
a healthy protein (usually chicken, eggs or fish but could occasionally be pulled beef or pork)
fermented food (sauerkraut or kimchi to boost gut health)
healthy fat (helps you feel fuller for longer)
fun toppings (nuts, seeds, herbs, fruit, dried fruit)
dressing (makes the whole thing even more delicious (and esp this tahini sauce!)
So one HUGE bowl of vibrant goodness a day fills a gap, gets in my nutrients and makes me feel like a ninja. #winwin
I don't always manage to finish it at lunchtime (I'm telling ya, it's BIG) so I put the remains back in the fridge and snack on it throughout the afternoon, or serve it as a side salad with my dinner.
What I have found is that by sploshing some of this magical tahini sauce over those veggies, it feels decadent and extra nourishing, whilst the fat content makes me feel fuller for longer.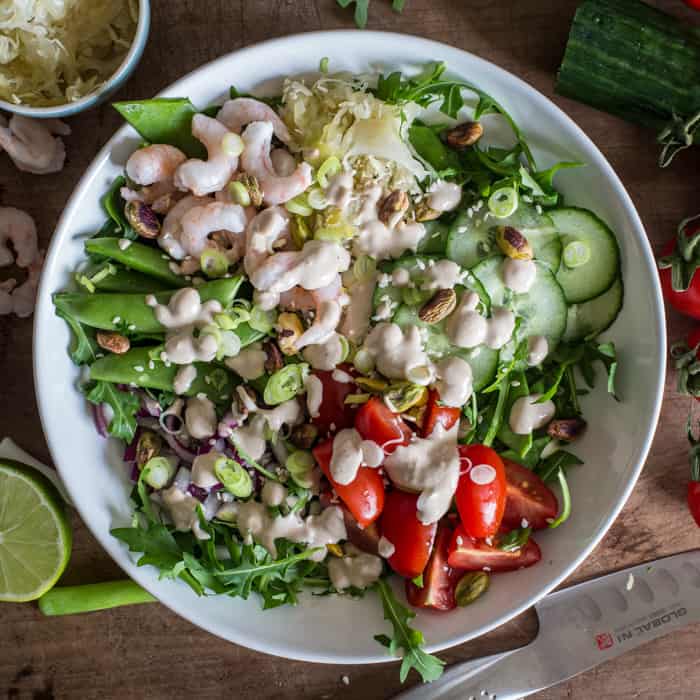 Tahini Sauce – Healthy Salad Dressing
Before we dive into the tahini sauce recipe, a couple of points…
If you're new to the delicious world of tahini, I would recommend buying the 'light' version initially. This doesn't mean it's lower in fat, just that sesame seeds have been hulled before blending. Whereas the dark version is made from the whole sesame seed.
The dark version is slightly more bitter and, well, hardcore. And I don't want anyone thinking they don't like tahini just because they started off with the hardcore version! For the record, once you start getting a taste for the light stuff, you're going to love to the dark stuff too, and you can use either in this recipe.
Secondly, I used lemon juice in my tahini sauce recipe, but you can use any citrus you like. Lime is an obvious choice, but I've even made it with satsuma juice which delivered a sweet, subtle sauce. It was yum!
OK, let's get our tahini sauce ON!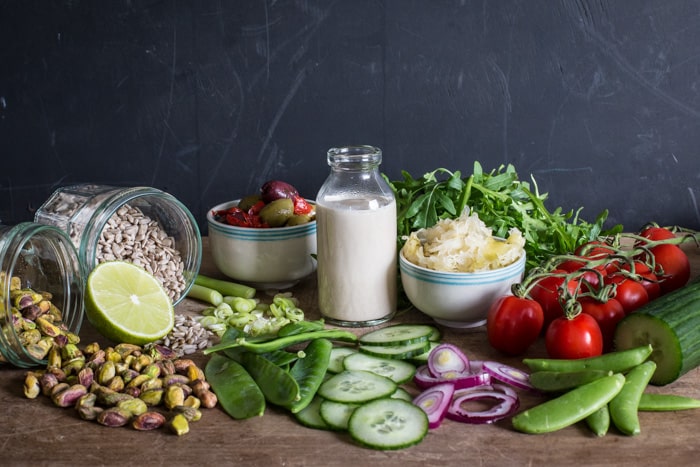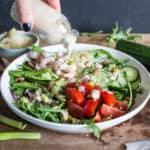 Tahini Sauce - Healthy Creamy, Dairy-Free Dressing
Keyword:
tahini dressing, tahini sauce
Ingredients
2

tbsp

light tahini

1/4

lemon

- juiced

1/4

tsp

soy sauce

- or a pinch of salt

1/8

tsp

garlic powder

splash

warm water

- enough to thin the sauce
Instructions
In a small bowl whisk together the tahini, lemon juice, salt/soy sauce and garlic powder

Add in the warm water one tablespoon at a time until you have a sauce at the consistency you like.

Taste the dressing and adjust any of the flavours to make it perfect for you

It will thicken as the water cools, so if you are storing for any time you may wish to whisk a little more warm water in when you are ready to use.
Nutrition Facts
Tahini Sauce - Healthy Creamy, Dairy-Free Dressing
Amount Per Serving
Calories 31
Calories from Fat 27
% Daily Value*
Fat 3g5%
Sodium 16mg1%
Potassium 29mg1%
Carbohydrates 2g1%
Protein 1g2%
Vitamin C 3mg4%
Calcium 7mg1%
Iron 1mg6%
* Percent Daily Values are based on a 2000 calorie diet.