Here's my long adored Wild Garlic Pesto recipe. It's the perfect way to transform the season's forage into a tasty treat that will go with so many dishes all year round.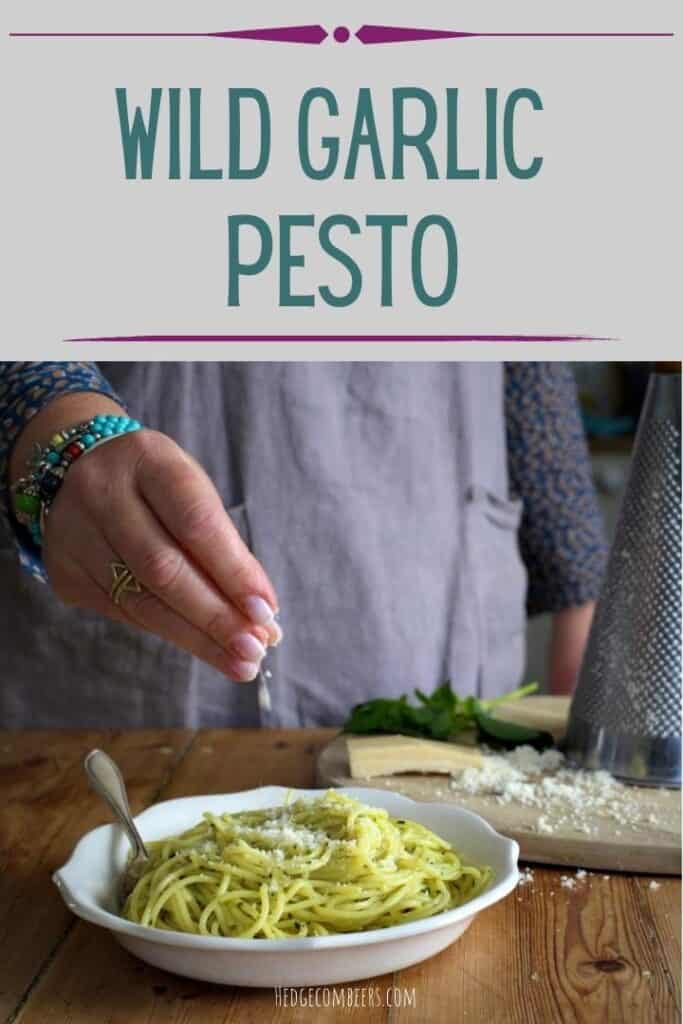 If you happen across a healthy patch of ramsons or wild garlic this year, fill your basket safe in the knowledge you can whisk it home and turn it into this delicious pesto.
Wild Garlic / Ramsons
Here's a shot of my friends woodland that is one of my favourite places to be at this time of year.
Wherever you look there are either ramsons or bluebells!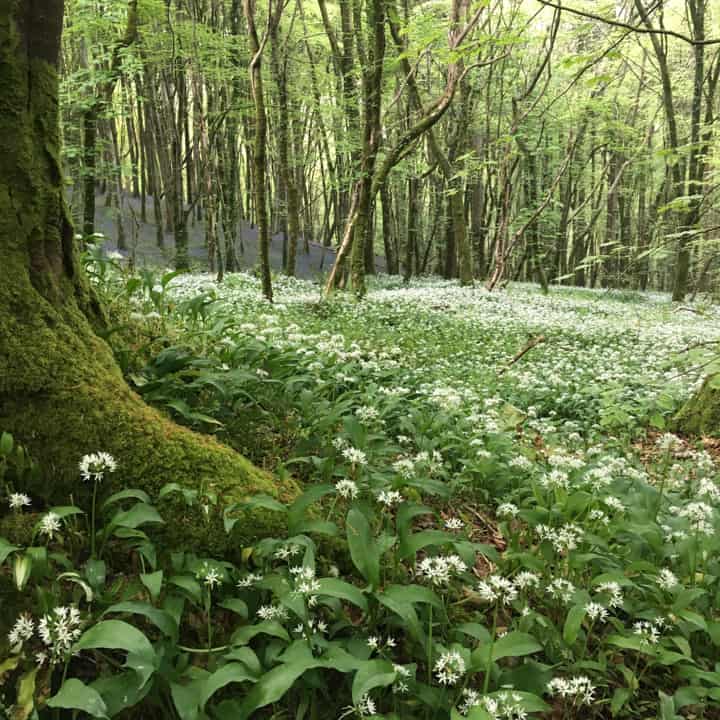 It favours the shade of trees or hedges, and loves damp ground.
Identification of the Wild Garlic (also know as Ramsons) plant is easy. Simply snap the stem and if it smells of garlic, you're in luck!
And if you do get bitten by the foraging bug this spring, do check out my other Wild Garlic Recipes.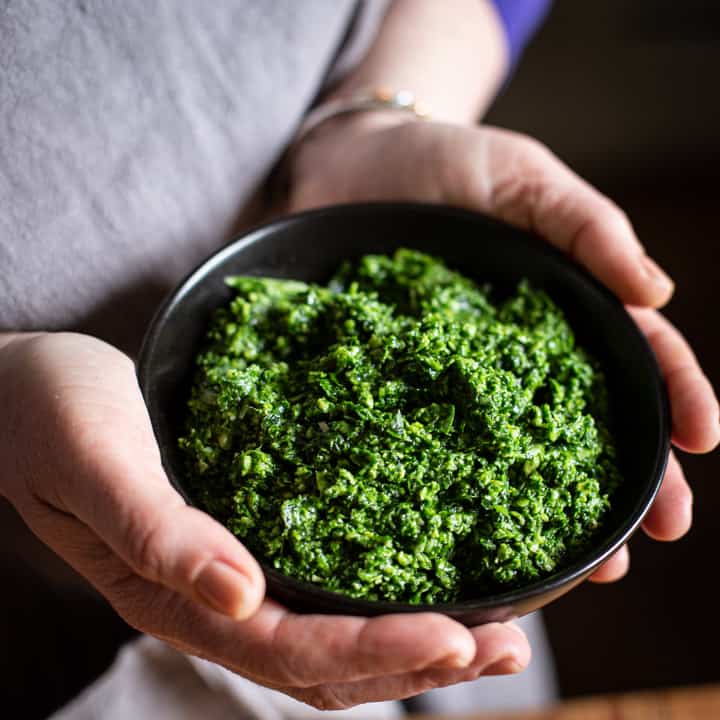 What to do With Ramsons Pesto?
Honestly, I am happy with a jar of this pesto and a spoon.
But I guess I should offer some more constructive uses for you!
So, hows about…
Pesto Quesadilla – This. Tastes. Awesome.
Ramsons Pesto Pasta – Too obvious? OK, let's keep going…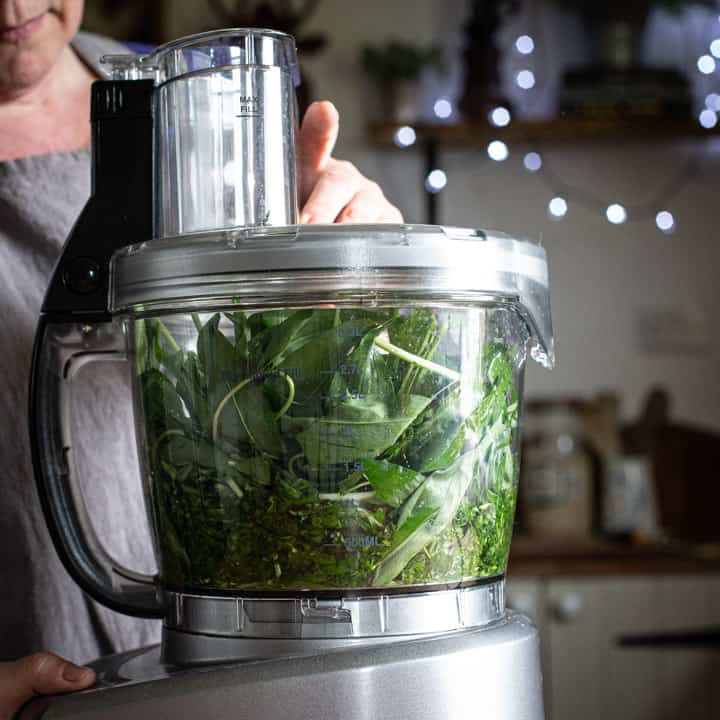 BLTP – Yep. Spread a generous layer of wild garlic pesto into a BLT for a flavour BOMB.
Keto Pesto Cheese – This is perfect for those that avoid carbs. Simply cut some small slices of cheddar, top with a dash of ramson pesto and half a cherry tomato. Perfect canapes or movie night treat.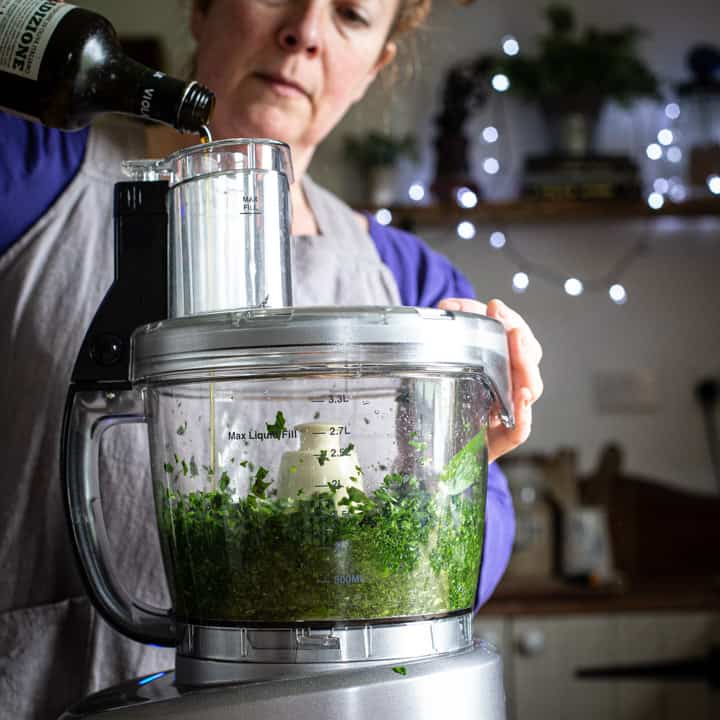 Savoury Celery Boats – top a celery stick with a little cream cheese and a smear of pesto. So crunchy and SO good!
Pesto Cream Cheese – Otherwise, try mixing a good sized dollop into the cream cheese and spread on sandwiches, wraps etc
Wild Garlic Pesto Salad Dressing – Mix some freshly made pesto with more olive oil and your favourite vinegar for a delicious salad dressing.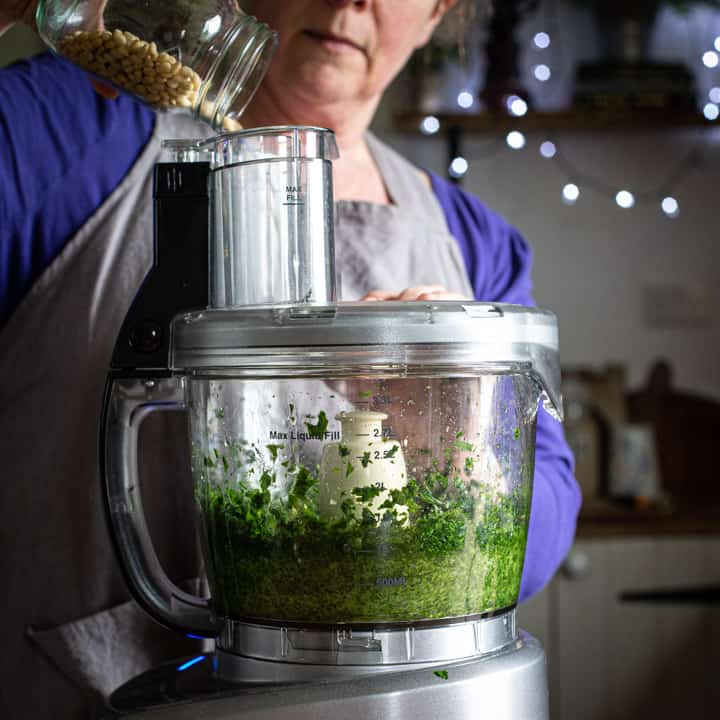 Pesto Potatoes – Saute new potato wedges until crisp. Serve with a mix of mayo and ramsons pesto. Heaven.
Got more ideas? Leave them below for us all to try!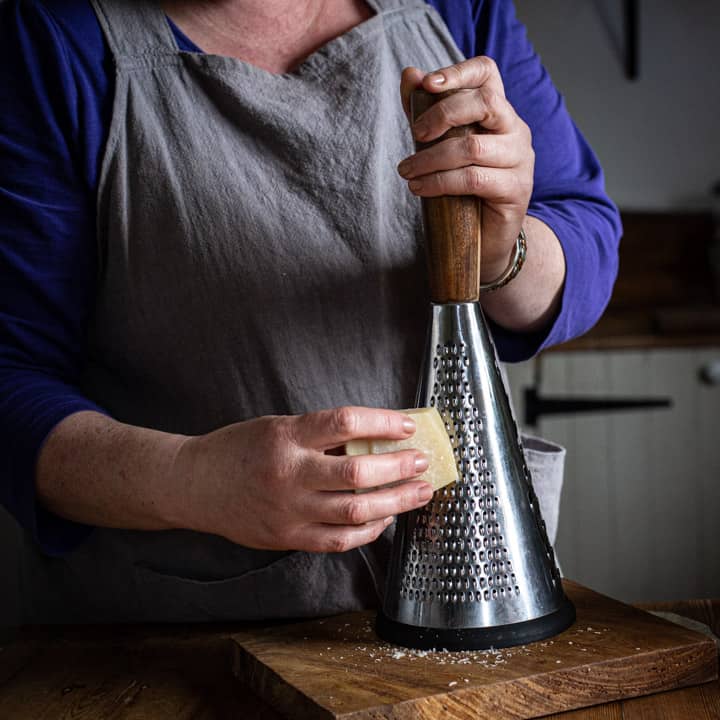 Can you Freeze Homemade Pesto?
YES! You have a few options when it comes to freezing homemade pesto.
I have successfully frozen it in 'dollops' laid out on a silicone baking sheet.
When the 'dollops' freeze and harden, I then pop them into a ziploc bag back in the freezer where I could dip in whenever I fancied some pesto.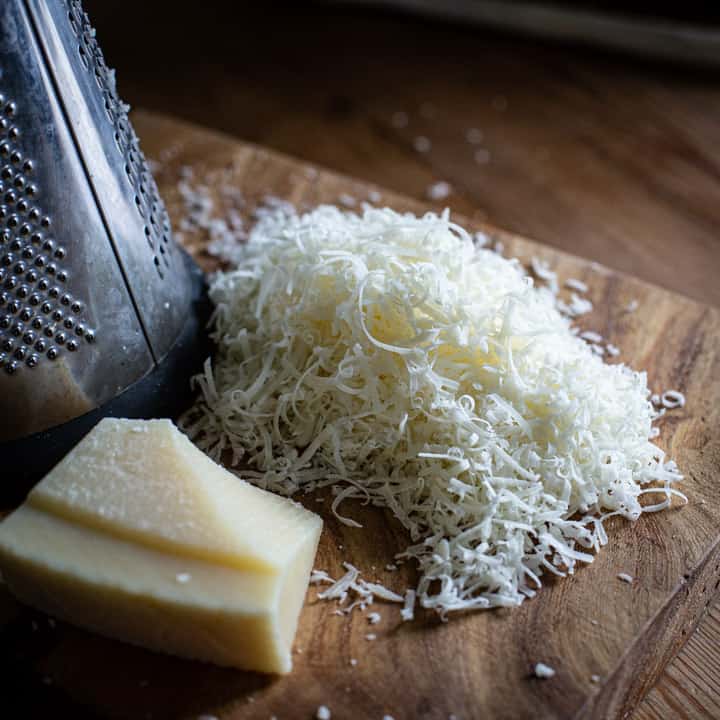 You can also freeze your pesto in glass jars.
Ensure there is a one inch gap or so at the top of the jar for expansion.
And place the jars somewhere safe within the freezer. Just in case they topple during routine rummages.
Oh, and write clearly on jar/lid so you know what it is in six months time when spring is just a distant memory!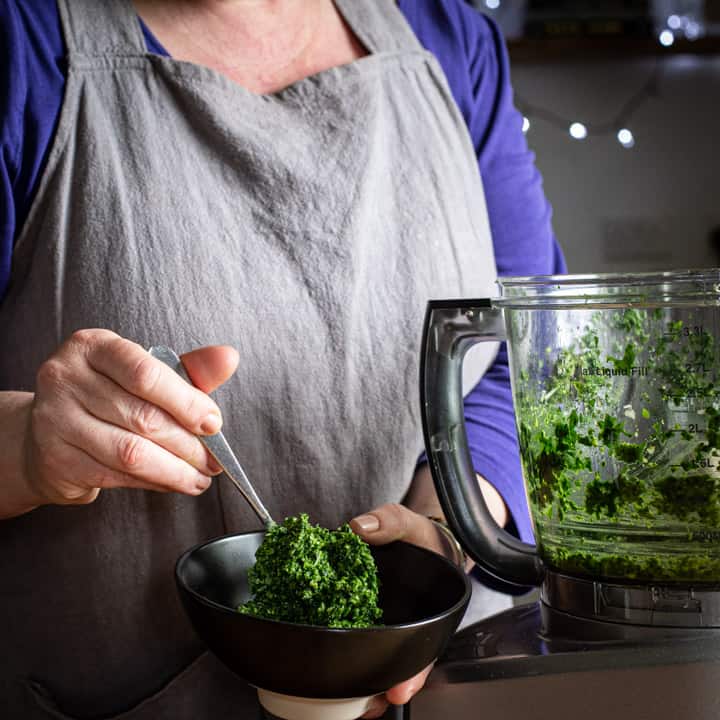 I recommend you see the recipe that follows as a starting point.
Follow it, and then taste your pesto. Then you have the option of adding a little more of this, or a little more of that.
And as with most recipes, this will give you your perfect pesto.
With the perfect blend of flavours suited to your taste buds.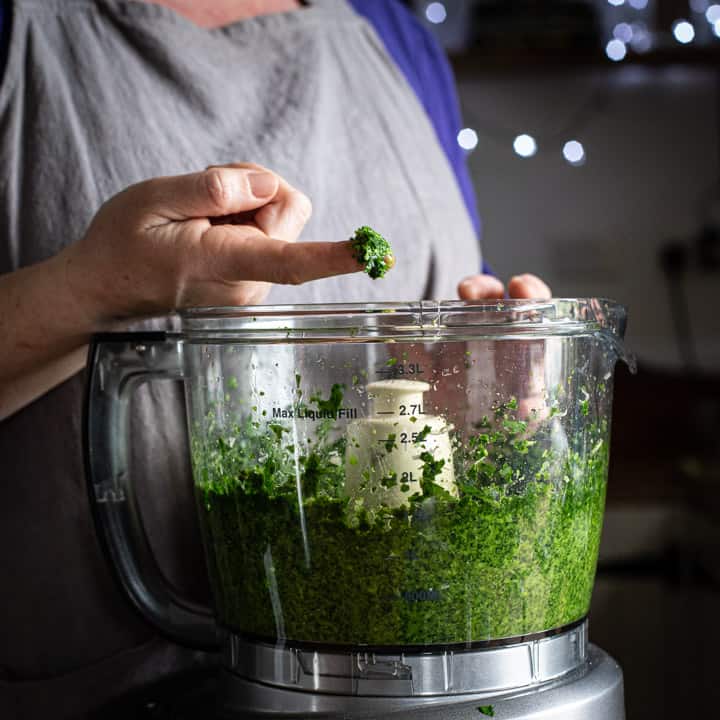 Wild Garlic Pesto Recipe
So here it is. My delicious recipe for homemade ramsons pesto.
I do hope you enjoy it, and don't forget to tag me on social if you share any pics of your foraged goodies!
You can find me pretty much everywhere as @hedgecomber :)
Janie x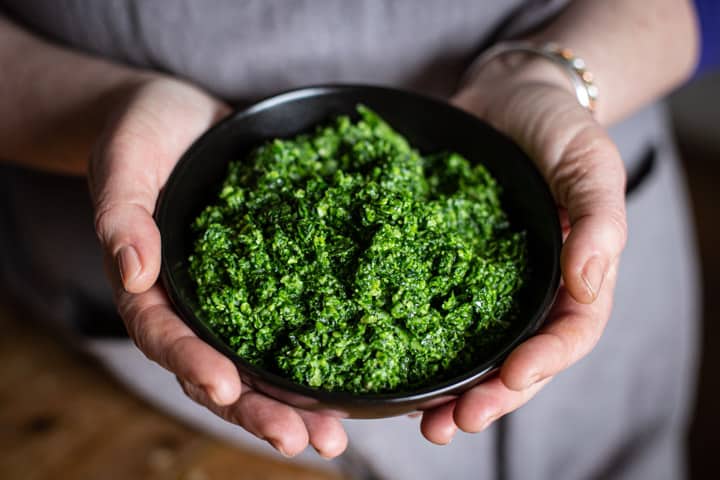 Oh, and if you're in the mood for more fun foraging projects, now is the perfect time to try out my popular Plantain Salve recipe! It's so simple, and makes such a useful skin balm to help you through the season ahead.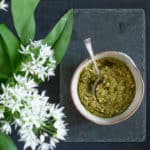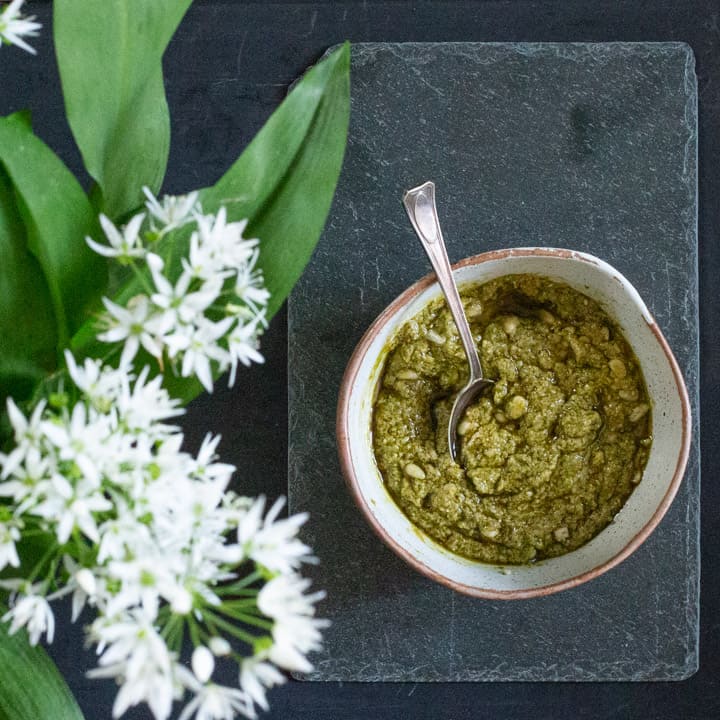 Ramsons Pesto Recipe
Course:
Lunch, Main Course, preserves, Salad
Keyword:
Ramsons Pesto, wild garlic pesto
Ingredients
150

g

ramsons

leaf, stem & flower. Washed and shaken dry

250

ml

olive oil

or avocado oil

60

g

pine nuts

or almonds or walnuts

60

g

Parmesan cheese

grated

1/2

tsp

salt
Instructions
Wash the ramsons in cold water to remove any bugs or debris. Pat dry with a clean tea towel.

Put the ramsons, oil and half the pine nuts into a food processor and blitz till mostly smooth.

Add the rest of the nuts and the grated cheese and pulse to combine (blend further if you prefer a smoother consistency)

Scrape into a sterilised glass jar, ice cube tray or pot. Place in the fridge if you are planning to use within a few days, or freeze for longer term storage.
Recipe Notes
Ramsons
You can use all parts of the wild garlic plant in this recipe, however please remember it is illegal to dig up wild plant bulbs from public land here in the UK.
Picking and using the flowers, stems and leaves is just fine. This recipe also works superbly with Three Cornered Leek.
Cheese
Parmesan is my preferred cheese, however any hard, aged cheese would work well.
For a vegan/dairy free version, just omit the cheese altogether. It will still be delicious.
Oil
Olive oil or avocado oils would be my preferred choice. Avocado oil is very neutral in taste, so use this if you're not keen on the taste of olive oil.
Nuts
Pine nuts are the traditional choice, however they are expensive. Feel free to swap them out with almond, walnuts, hazelnuts or even pecans. Each will bring a different flavour to the pesto, so play around with them.
Nutrition Facts
Ramsons Pesto Recipe
Amount Per Serving
Calories 294
Calories from Fat 270
% Daily Value*
Fat 30g46%
Cholesterol 4mg1%
Sodium 213mg9%
Potassium 41mg1%
Carbohydrates 3g1%
Protein 3g6%
Vitamin A 300IU6%
Vitamin C 1.8mg2%
Calcium 80mg8%
Iron 0.8mg4%
* Percent Daily Values are based on a 2000 calorie diet.