This plantain salve recipe is so easy to make and a great introduction to the fascinating world of homemade herbal products. Use it on the whole family, for bites, stings and other skin irritations.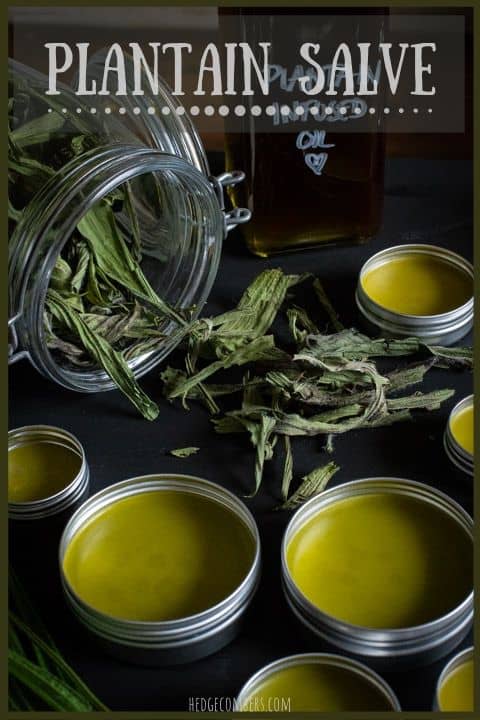 This Plantain Salve is an easy DIY herbal balm that is great fun to make.
Not only do you end up with a really useful product that your family will lean on throughout all the seasons. But making your own simple herbal remedies gives you back the power to look after your family in a natural, healthy way.
It also feels a little bit like magic, turning a weed from your garden into a really gentle and safe healing balm!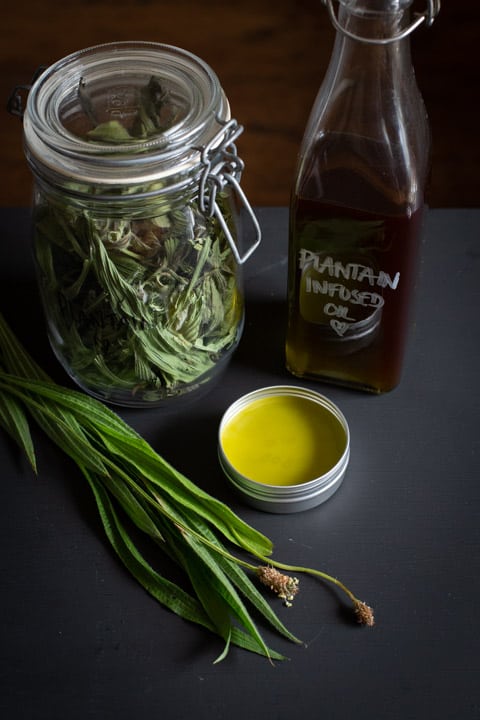 Plantain is one of the easiest to find wild plants. In fact, I recently watched 'Ray Mears – How The Wild West Was Won' on Amazon Prime, and he referred to the Native American Indians calling plantain 'White Man's Footprint' as wherever the white man trod, plantain was soon to spring up.
I assume this is due to the teeny tiny little plantain seeds lodging themself into soles of shoes, hooves of horses and treads of cartwheels.
It just shows how easy it is for this little plant to spread its love around!
What do you use Plantain Salve for?
This is what it gets used for in our family:
Flea, horsefly or mosquito bites
Stinging nettle stings
Spider bites
Dry, chapped skin
Grazes, scratches and small cuts
Rough or cracked skin
Rashes and inflamed skin
Softens and heals scabs
On pets, if they have scabs, small sores or irritated skin
How to Make Plantain Salve: Quick Overview
Scroll down to the bottom of the page for a full, step by step tutorial. In the meantime, here's a quick overview of how this salve making shenanigans works.
Please don't think it's a difficult process. It's incredibly easy, although it does take a little time to work through all the steps.
Pick and dry your fresh plantain leaves until crispy dry. Alternatively, you can purchase dried plantain leaves (affiliate link) if you're in a hurry or if plantain doesn't grow in your area.
Make your Plantain Infused Oil. There's a quick (2 hour) version, or a slower (4 week) version. Both give you an excellent end product, so take your pick!
Melt beeswax into your plantain oil to make an ointment or salve.
Pour into glass jars or salve tins and let cool before sealing.
Give out freely to friends and family members and they will love you forever!
What type of plantain do I need?
After a quick google, I discovered there are around 200 different species of plantain! Boy, that is crazy!
However, these are the two most commonly discussed varieties in herbal circles. And they are also the two that grow so rampantly here on the farm:
Broadleaf, or Greater Plantain (plantago major)
Narrowleaf, or Ribwort Plantain (plantago lanceolata)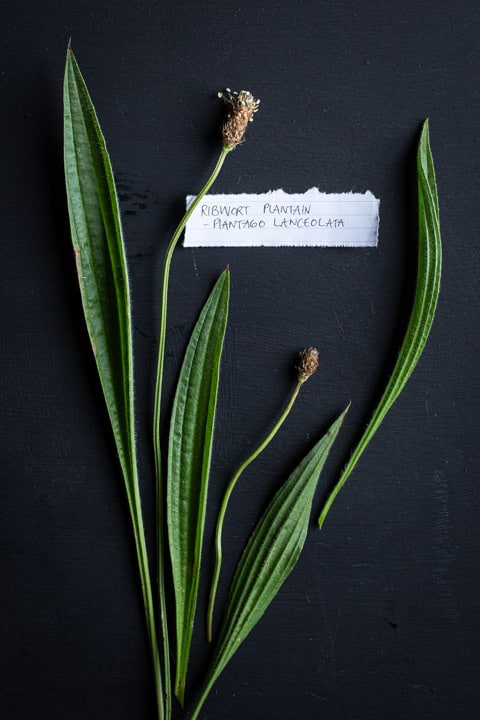 Both have interchangeable healing benefits and will work well in this salve recipe.
As for the other 198 varieties, honestly, I'm not sure. My go-to resource for all things wild plant is Plants for a Future. If you know the name of species you have found, have a search for medicinal or edible benefits over there.
In the recipe photos I am using Ribwort plantain as that is what we have the most of here on the farm.
Generally speaking, where one grows you will likely find the other closeby.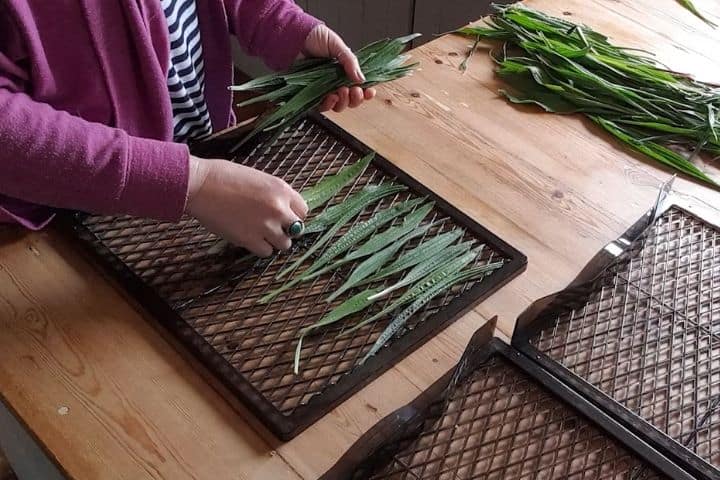 How do I dry plantain leaves?
DEHYDRATOR: I like to use a dehydrator as I live in a damp climate and air drying is often out of the question. I lay the leaves out on the dehydrator sheets, ensuring they're not overlapping to allow maximum airflow around each leaf. I set the temperature to low (around 35C/95F) and leave the dehydrator to run for 24 hours. Depending on the level of moisture in the leaf to start with, I may need to run it for longer.
I check it after 12 hours, and then every 3 or 4 hours after that. If there's been a lot of rain, if I washed the leaves, or if there's a lot of moisture in the air then it will take longer than if none of those damp scenarios happened.
Because of all the variables, there's no way of saying exactly how long it will take you to dry your leaves.
Some leaves get crispy and start to darken whilst other leaves on the tray are still green and bendy. So I remove the dry ones, putting them to one side whilst the rest continue drying.
I like the leaves to snap when bent, as the crispier they are, the more confident I am that all the moisture has been removed from the leaf.
I use the Optimum P200 dehydrator (affiliate link) from Froothie. It's a big machine, but maximises the drying space far better than my old round dehydrator. And vitally, it has a temperature gauge allowing you to preserve the medicinal & nutritional compounds in the plant material you're drying.
OVEN: I believe you can also dry plantain leaves in an oven.
I would set the oven to the lowest possible temperature setting, lay the leaves out on cooling racks on top of the oven shelves and prop the oven door open with a wooden spoon or similar to let any steam escape.
AIRDRY: If you live in a warm, dry climate, then firstly, I'm jealous!
Secondly, all you would need to do is tie the leaves into small bunches, maybe 10-20 leaves in each, and hang upside down in a place that is out of direct sunlight, but has good air flow.
Leave hanging until the leaves are crispy dry, and snap when bent.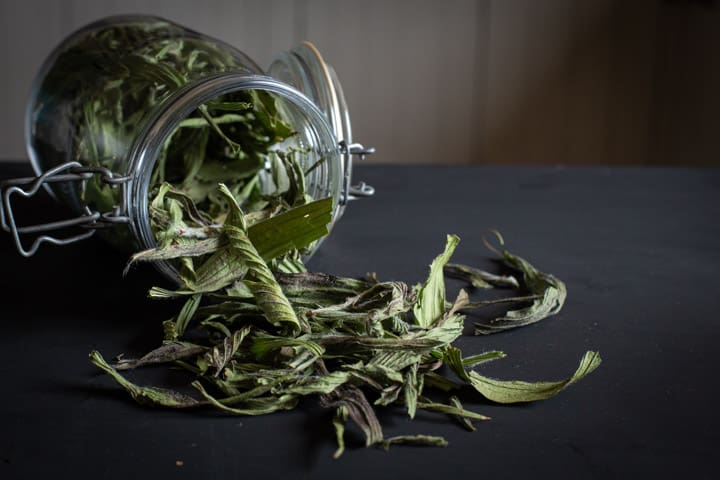 Can I use fresh plantain leaves in a herbal salve?
You can, but if you are new to the world of making herbal salves I would urge you not to. Yet.
Leaves naturally contain water, and salves or ointments that contain water are more likely to spoil, or go mouldy. To lose all your hard work to mould would be pretty sad, so I urge you to go the extra step of drying them first and then your healing salve will last months and months.
When you are a ninja herbalist, you can learn how to safely make salves with fresh plants :)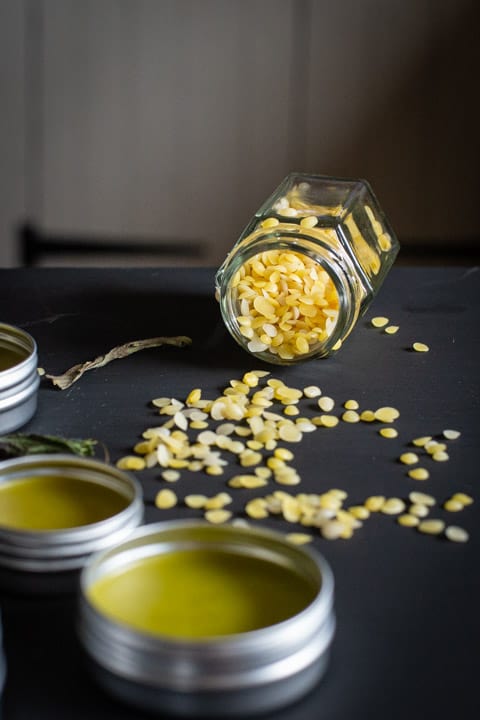 How do I make Plantain Oil?
There are two ways that we'll discuss today – a quick version that takes 2 hours, and a slow version that takes 4 weeks.
They both start out the same way:
Crumble your dried plantain leaves into a clean glass jar. Ideally, the dried plant material will fill the jar somewhere between the 1/3rd and 1/2 level.
Fill the jar up with olive oil to about 1″ from the top. Use a clean chopstick or spoon handle to gently stir the plantain and oil, and release any air pockets in the jar.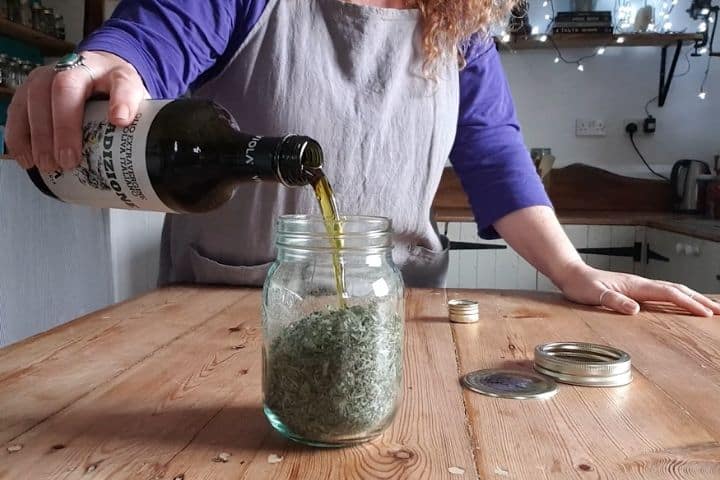 The Two Hour Version:
At this point place your glass jar in a saucepan with 2 or 3 inches of cold water in. Gently bring the heat up to a lazy simmer and set the timer for 2 hours.
Don't let the water boil, let any water splash into the jar, or let the pan dry up. Top up with hot water from the kettle if it's getting low.
The Four Week Version:
Instead of using heat to extract the plant's healing properties, we're going to use time.
Take your jar of oil and plantain and cover the top of the jar with a lid. Label with the contents of the jar, the date you made the blend and the date in 4 weeks time that the oil needs straining.
Place the jar somewhere dark and dry and carefully shake the jar every couple of days or so to agitate the contents and help extraction.
To use the oil:
At the end of either process, the oil can be poured through a piece of clean muslin over a sieve into a bowl. Wring the herbs out fully to extract as much of the oil as possible. (Your skin will feel AMAZING after doing this!)
It can then be made into plantain salve or stored somewhere dark for future use.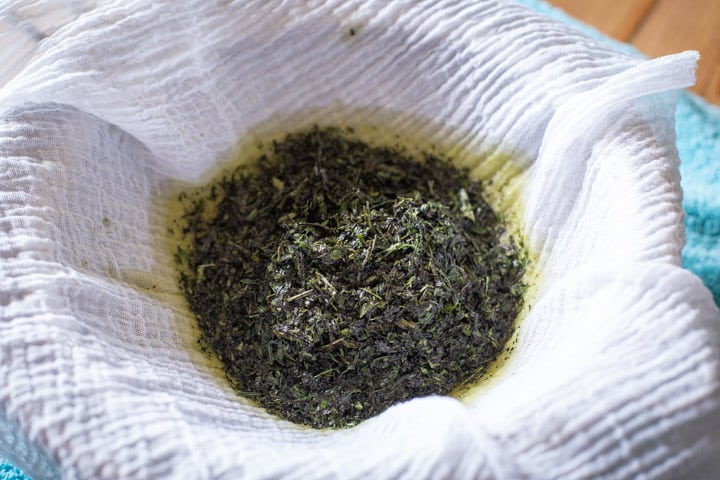 Why do I need beeswax & where can I find it?
Adding the beeswax turn your plantain infused oil into a solid product. Plantain oil is just as effective at healing stings and bites as the salve, but as it's a liquid, it is harder to keep on the skin.
If you are vegan there are other wax options such as:
Carnauba wax
Soy wax
Candelilla wax
Paraffin wax
Carnauba wax
Olive wax
Rice Bran wax
Sunflower wax
However, each different wax has different properties so you may need to adjust the amount of wax you use in a recipe.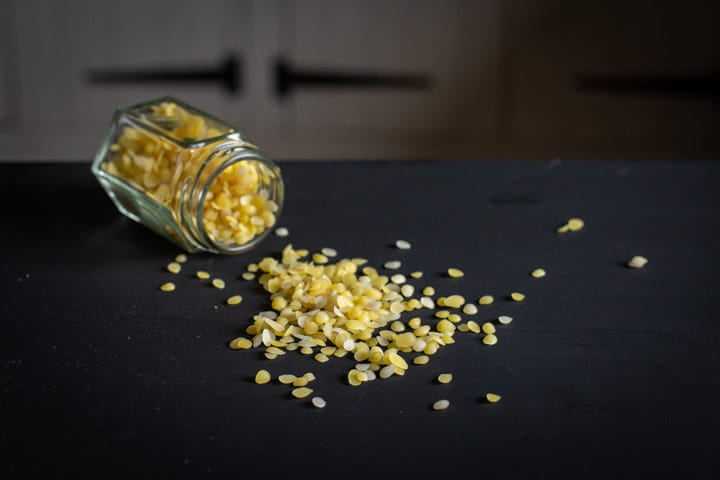 If you are not vegan, but still concerned about using a beeswax, please search for an organic beeswax produced as locally to you as you can find. Organic farming & beekeeping legislation is extremely strict (at least here in the UK it is) and you will be able to rest assured that the beekeepers are doing everything in their power to support the health and life of the bees in their care, and the land they feed on.
Most beeswax on Amazon is imported from China, and I personally would be wary purchasing it without proof of the quality (ie is it 100% beeswax), and organic status of the wax.
How to Make Plantain Salve
Dry your freshly foraged plantain leaves

Use a dehydrator, oven or air dry (see above for more info).
This may take around 24 hours, or you can purchase already dried plantain leaves.

Make your plantain oil

Crumble the dried leaves into a clean glass jar. Cover with olive oil and mix gently.
Place the jar in a small pan of cold water. Place on the hob and bring to a gentle simmer. Cook gently for 2 hours.
Carefully remove the jar from the hot water, and pour the contents through a piece of muslin over a sieve into a clean bowl.
When it is cool enough to handle, wring the herbs out, extracting all the oil you can.

Make your plantain salve

Place an old, clean jar or pot on electronic kitchen scales. Don't use your favourite pot for this as you're unlikely to ever get it fully clean again!
Pour in 100g of the plantain oil.
Zero out the scales, then add in 15g of organic beeswax pellets.
Place the jar carefully back into the pan of hot water and stir until the wax has melted.

Ta da!

Finally, pour the liquid salve into small clean jars or tins.
Let cool thoroughly before popping on the lid & don't forget to label!
I hope you enjoyed this little lesson in making your very own plantain salve! Do let me know if you give it a go, and share any pics on social – you can find me pretty much everywhere as @hedgecomber.
Take care friends
Jane x