These savoury roasted chickpeas are the perfect travel snack, and will take out a salty snack cravings at 50 paces!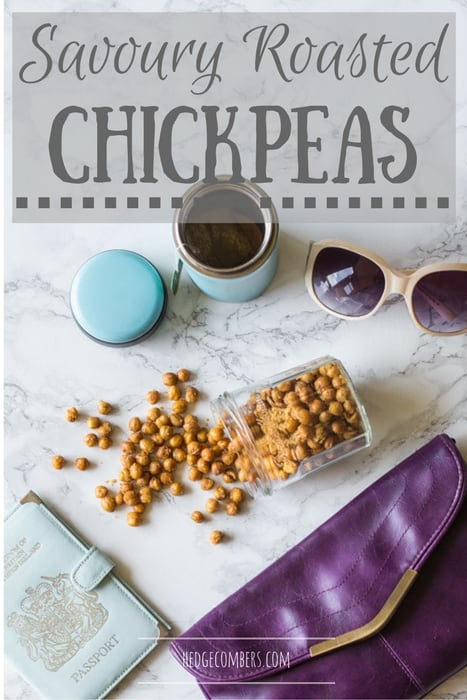 Recipe commissioned by P&O Ferries
P&O Ferries have a fun summer campaign on at the mo that highlights the benefits of travelling by boat rather than air. For a foodie, and especially one with food intolerances, having the freedom to take my own snacks on board is one of my biggest ticks for ferry v plane. There's no limits to what you can carry on board in terms of weight or size, so perfect for folk like me.
However my favourite part of ferry travel, is the freedom to get up and move around. You can spread out and get comfy, walk around the deck or find a comfy recliner to take a nap in. One of my guilty pleasures when travelling is to find a quiet nook with a comfy chair and a good sized table, and spread out my planner, and plan. I'm not sure why the physical distance from my desk makes any difference to my focus, but I get so much clarity about my life when I'm away from the daily grind.
Here's pretty much my perfect hand luggage contents if given no restrictions. In an ideal world I'd swap out the iPad for my laptop, but then it's going to start getting seriously heavy…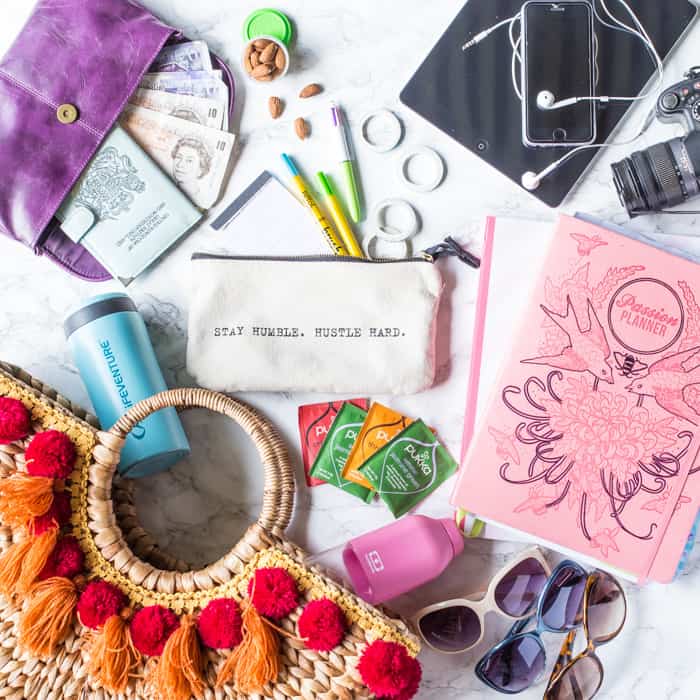 Savoury Roasted Chickpeas
I'm not really one for sweet snacks, but oh boy do I crave salty ones! Crisps are my number one weakness, and being dairy free does limit my options in terms of flavour. It has been years since I last tasted a cheese & onion or sourcream & chive crisp. Sigh.
Enter these savoury roasted chickpeas, stage left.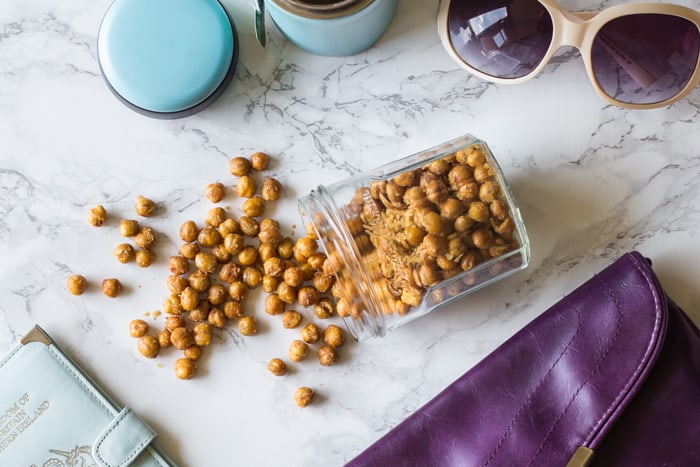 Basically you roast a can of drained chickpeas in a hot oven, then toss them with your preferred flavours. And to try and mimic that cheesy flavour that I miss so much, I've used a savoury, moreish coating of salt, nutritional yeast and garlic powder.
For those not in the know nutritional yeast, aka hippy dust, is a big tub of flavour that resembles flaked fish food. It honestly doesn't smell all that better either, but I assure you it tastes freaking awesome! It's used by vegans and other dairy free'rs to replicate a cheesy kick to sauces and bakes. It's really cheap and often fortified with vitamin B12 (a vitamin that you can't source in a plant based diet), and a tasty flavour booster for the rest of us.
These savoury roasted chickpeas made the perfect travel snack. They give a monster savoury kick and don't bloat me up like wheat based snacks do. And no one want to feel bloated or sluggish when travelling!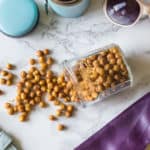 Savoury Roasted Chickpeas
Ingredients
1

can

chickpeas, drained

1

tbsp

olive oil

1

tsp

salt

2

tbsp

nutritional yeast

1/2

tsp

garlic powder
Instructions
Preheat the oven to 200/180 fan/gas 6.

Dry the drained chickpeas by rolling gently in a clean tea towel. Remove any skins that have come away from the peas.

Add the oil to baking tray. Tip the chickpeas on top, then sprinkle with salt.

Bake for 20 minutes. Remove from the oven and sprinkle on the remaining ingredients and toss well.

Let cool fully before storing in an air tight jar or tub.
Huge thanks to P&O for sponsoring this post and allowing me to continue bringing you tasty content, for free! As always all thoughts (and leftovers!) are my own.
Jane x