This easy roast vegetable couscous recipe will be your new go-to when you want a quick, tasty and healthy dish that works well as either a side or a main dish.
Serve hot or cold, and make extra for meal prep and packed lunches.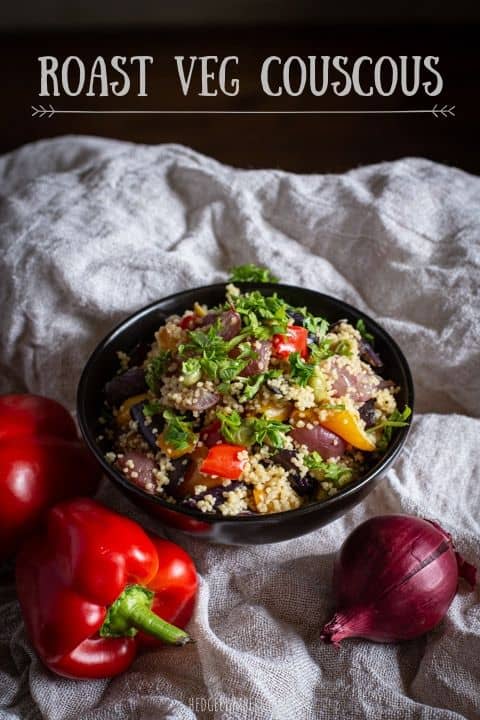 This post was originally written in 2014 and has been updated in 2020 with shiny new photos.
Before we go anywhere in this post, let's talk about the holy grail of cooking with couscous:
Couscous. Has. No. Flavour.
It is the dullest little carb if left to its own devices. However, my friend, you hold the power to transform it into something that becomes not only edible, but a delight that the whole family will enjoy.
So please don't hold its blandness against it.
Instead, use it to your advantage and learn how to pack it with so much flavour that it will become a cheap and healthy kitchen staple.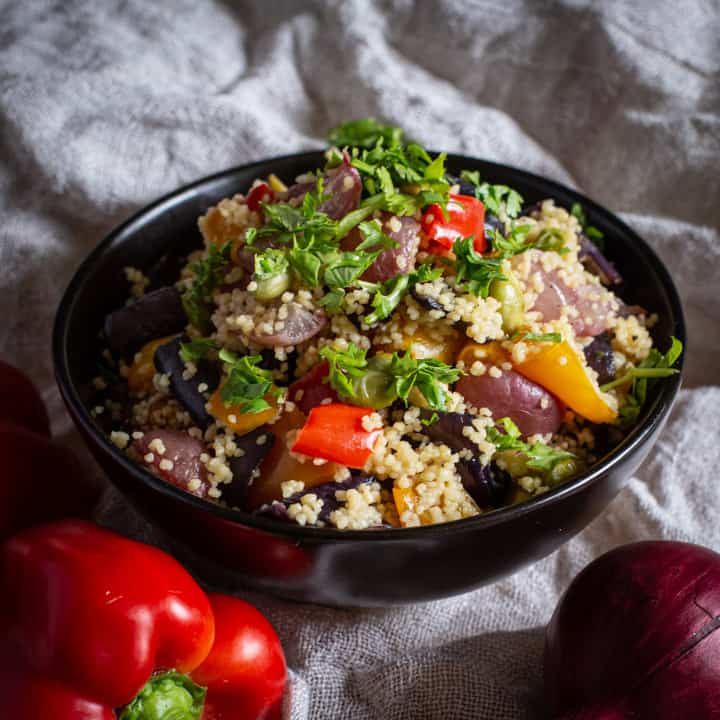 Whilst there must be a gazillion flavour combos you could infuse this little dull little carb with (think herbs, spices, sauces and any other form of flavour you can imagine) I'm going to show you the easiest and quickest of all.
This is the recipe I use when I'm camping and need food on the table pronto. When washing up is more hassle than just a daily chore, and being outdoors makes me even more ravenous than usual.
Are you ready?
Here's my dirty little couscous secret: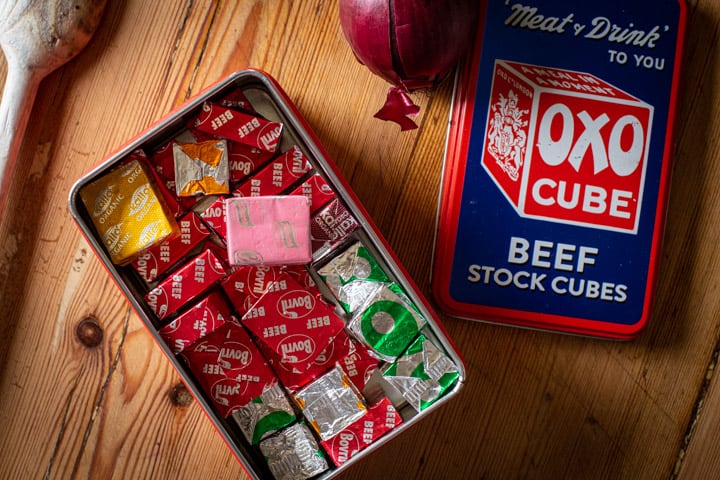 Yep. Stock cubes. Don't judge too harshly until you've tasted the result, OK?
Now you can get all fancy and organic, or keep it all budget and own brand.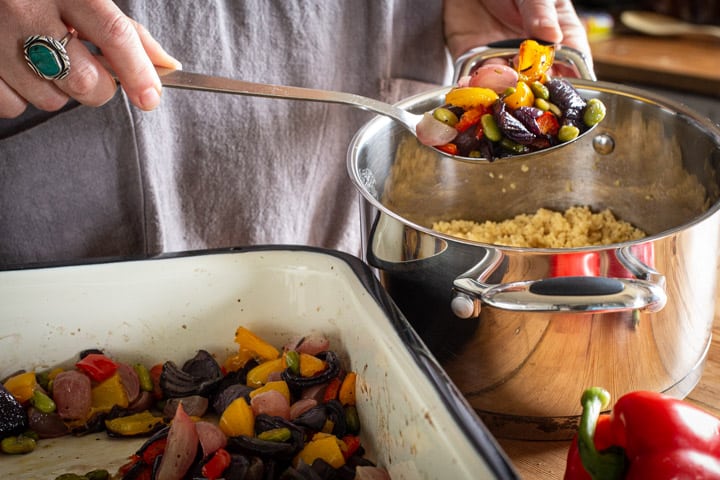 You can vegan it up, make it meaty or, if you're doubling the recipe to feed more folk or for meal prep, mix the stock cube flavours together.
Low sodium stock cubes might be necessary if you have to limit the salt in your diet.
But otherwise, let rip on the flavour profile you fancy.
In case you're wondering, my favourite stock cubes to use with couscous are ham, or roast onion.
It mostly depends who I'm feeding as to which one I plump for.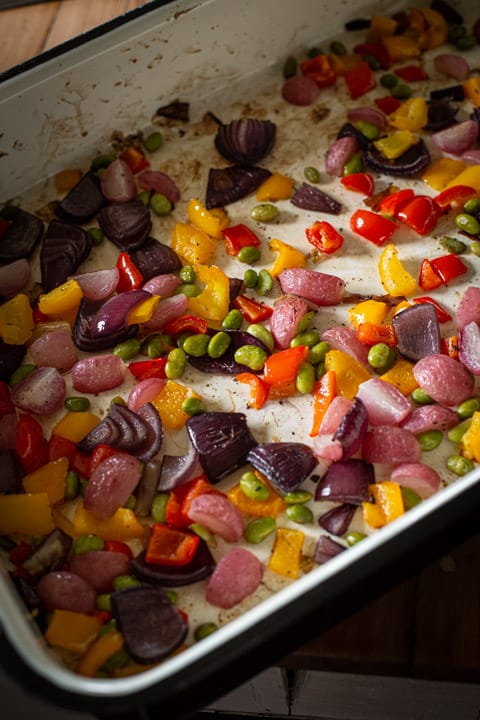 How to Roast the Perfect Veggies
First, preheat your oven, with your roasting tin inside.
Then, when you're ready to cook, pull the tray out, add the oil and veggies and toss them round in the oil as it melts/heats.
You can season the vegetables at this point too if you fancy.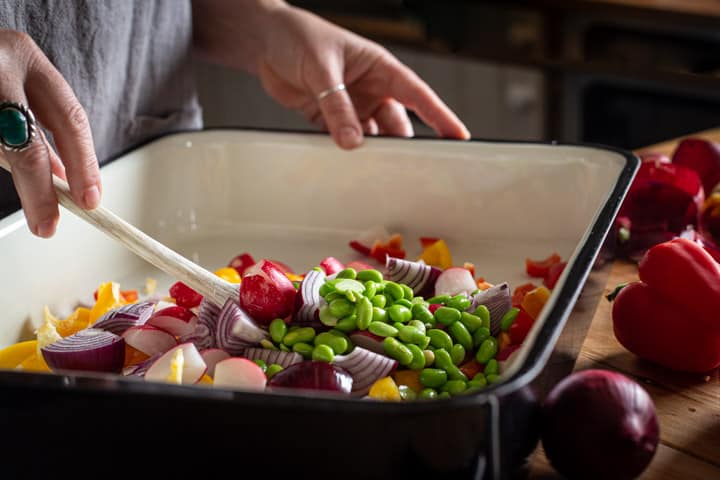 I used black pepper and sea salt but you could season however you fancy. Fajita spice anyone?!
I tossed them around the pan again at about half time, just so that they would cook evenly.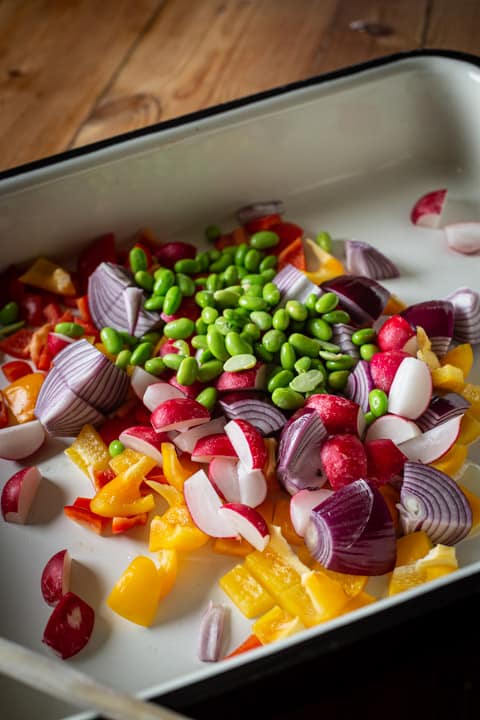 Next, let's do an audit of all the veggies your fridge. Nothing is out of bounds here.
Drag them all out and work out what needs to be used up, and let's work with them first.
Root veggies: will obviously take longer to cook than say peppers or onions, so chop them small and give them a 10-15 minute head start before adding in the other veggies.
Softer veggies: Things like courgette/zucchini, tomatoes, peppers, corn, broccoli, leeks etc will take the 20 minutes of cooking time in the recipe below.
Green leafy veg: Spinach, chard, kale, rocket/arugula etc can all be chopped up and added to the roasting tray.
Herbs: Tough or woody herbs like rosemary and thyme can be added to the tray for the full cooking time. I had some fresh coriander (cilantro) that needed using up and as that's a delicate herb I sprinkled it on as I was serving.
Finally, if the tray is looking a little sparse, take a peek in your freezer. I pulled out some edamame beans which I defrosted in a sieve under the hot tap, then drained on a clean kitchen cloth. Why not add in peas, sweetcorn, or whatever other frosty veggies you find. (I defrosted them before adding them to the pan so they wouldn't make my roast veggies watery).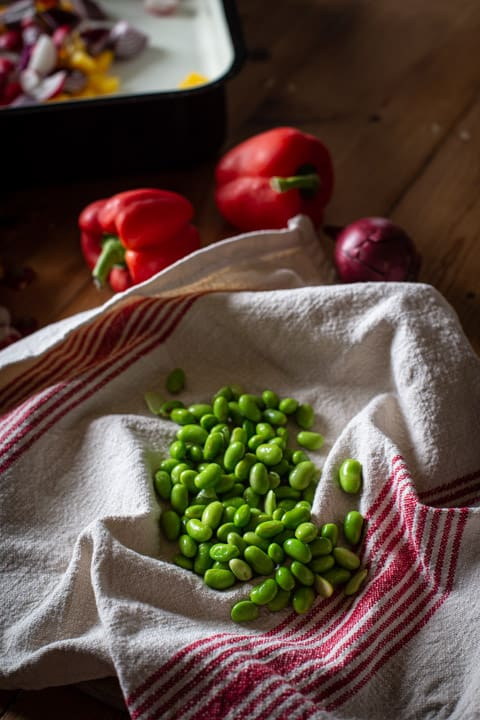 How to Make the Perfect Couscous (that isn't bland!)
OK, remember our bland little couscous sponge? Here's my low down on making it shine:
Boil the kettle. Pour 150ml of boiling water into a bowl or saucepan.
Add about 2 tablespoons of butter, and your stock cube of choice.
Pour in 100g of couscous. Stir, pop on the lid and leave for 5 minutes to work its magic.
Remove the lid, and fluff your couscous with a fork.
Serve or leave to cool if you're meal prepping for future meals.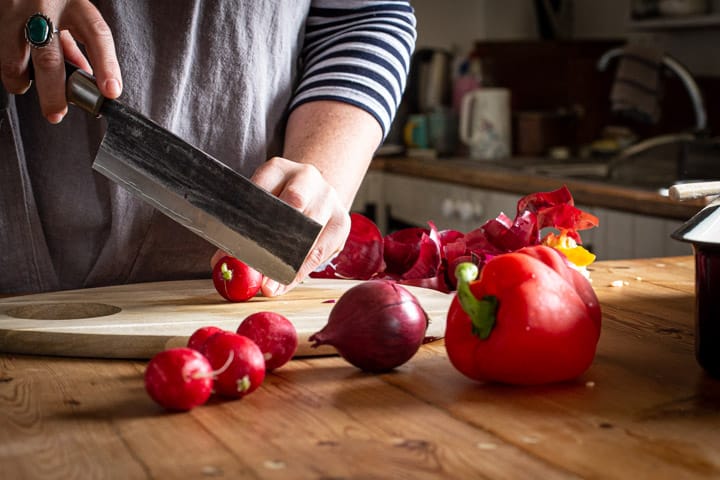 Roast Vegetable Couscous
As promised, here's the recipe as I made it. But don't forget that this is just a list of the vegetables that I used. Pimp the recipe to use what you have, what you fancy and what your family loves.
Enjoy!
PS if you'd like some more packed lunch inspo, take a peep at my corner of the website dedicated to it: Packed Lunch Recipes
Or if you'd like to head directly to one of my readers favourite recipes, check out this Authentic British Pork Pie recipe. It's divine!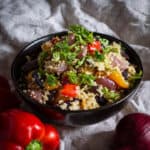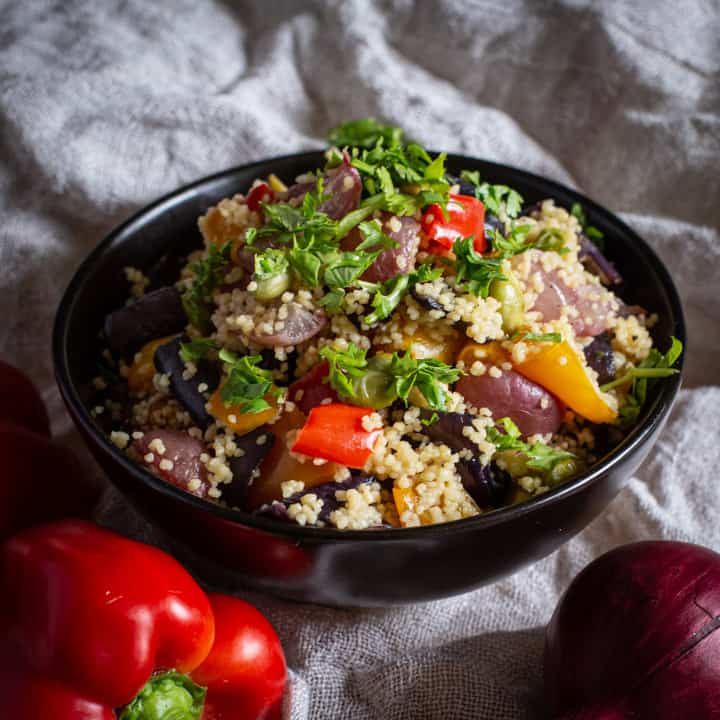 Roast Vegetable Couscous
Course:
Lunch, Salad, Side Dish
Keyword:
roast vegetable couscous
Ingredients
1

tbsp

oil

1

red pepper

chopped

1

yellow pepper

chopped

1

red onion

chopped

240

g

radishes

quartered

4

tbsp

edamame beans

salt & pepper

1

stock cube

crumbled

1

tbsp

butter

150

ml

boiling water

100

g

couscous

Fresh coriander to sprinkle over finished salad
Instructions
To roast the vegetables
Preheat the oven to 200C/180 fan/350F with the roasting tin inside.

When the oven is at temperature, remove the tray and add the oil. Throw in the chopped vegetables, stirring them round to coat in the oil.

Return the tray to the oven and cook for 20 minutes, tossing the veggies partway through the cooking time.
To make the couscous
Pour the boiling water straight from the kettle into a pan or heatproof bowl.

Add in the crumbled stock cube and butter, followed by the couscous. Stir well and pop on the lid. Leave for 5 minutes.

When the couscous is ready, fluff with a fork (don't stir with a spoon as it'll go claggy) and stir through the roasted vegetables.

Sprinkle with coriander/cilantro if using and serve hot, or leave somewhere to cool before storing in the fridge for a later meal or packed lunch.
Nutrition Facts
Roast Vegetable Couscous
Amount Per Serving
Calories 832
Calories from Fat 270
% Daily Value*
Fat 30g46%
Cholesterol 31mg10%
Sodium 1188mg52%
Potassium 1647mg47%
Carbohydrates 117g39%
Protein 25g50%
Vitamin A 4319IU86%
Vitamin C 418mg507%
Calcium 160mg16%
Iron 5mg28%
* Percent Daily Values are based on a 2000 calorie diet.