Could there be any better excuse than International Vodka Day for throwing a celebration with this popular Pink Elephant Cocktail recipe? It's quick and easy to throw together. What's more, you could be the lucky winner of an international-award-winning vodka from right here in Cornwall if you enter our Pink Elephant giveaway!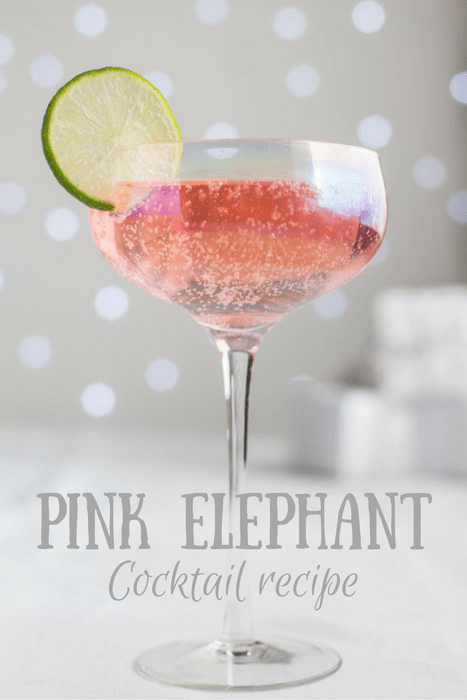 commissioned post
I've had a taste for cocktails of late! This pink elephant cocktail recipe is just the latest in a long line of party tipples I've been mixing up to share with you as we fast approach the festive season.
I was thrilled when Cornish producers, Colwith Farm Distillery gave me a good excuse to celebrate early! The distillery has offered my readers a bottle of their Aval Dor Vodka to give away as part of this year's International Vodka Day celebrations.
I can't think of a more fitting prize! Especially as the Aval Dor Vodka is an international vodka award-winner!
Find details below of how you can enter our Pink Elephant Aval Dor Vodka giveaway to win a bottle of this world-renowned vodka.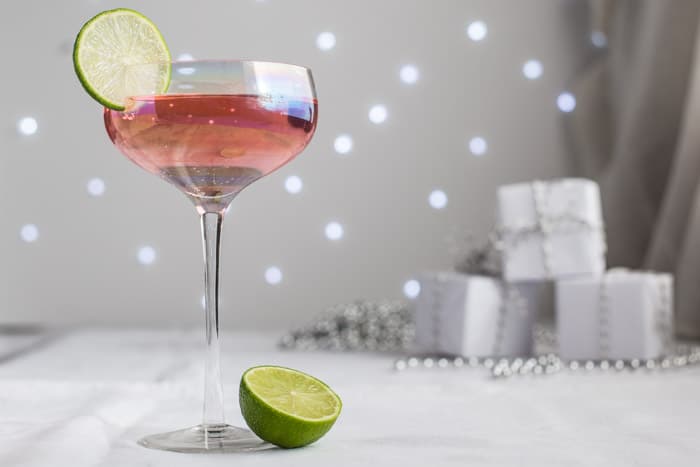 Pink Cocktails: Big Flavour with a Cheeky Kick
The Pink Elephant Cocktail is frivolous and full of whimsy, whilst also having a cheeky little kick to it. Most importantly, this pink cocktail with vodka base is really, really tasty.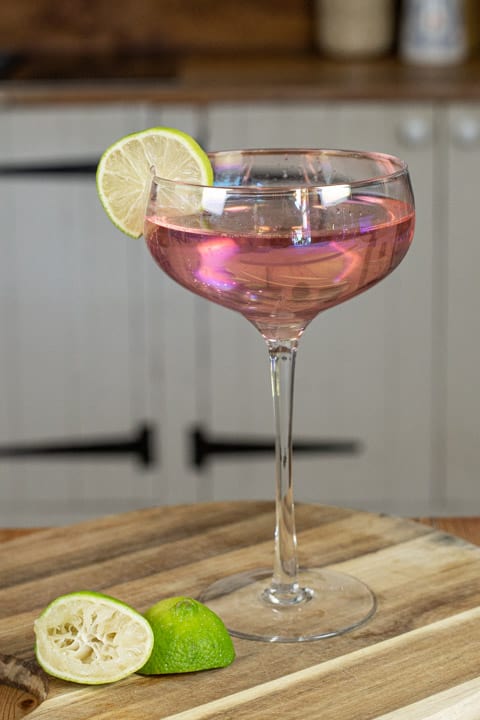 Variations of Pink Elephant Cocktail recipes use a combination of vodka, lemonade and a twist of lime, cranberry juice and/or grapefruit juice.
However, rather than straight lemonade, my pink elephant cocktail recipe uses Fentimans' rose lemonade. This is what gives it that baby pink colour. That means all you have to do is add a twist of lime juice to give it its kick.
This recipe is so quick and simple! The combination of the vodka with the sweetly scented rose lemonade and that sharp zesty lime offers a cocktail with oodles of flavour!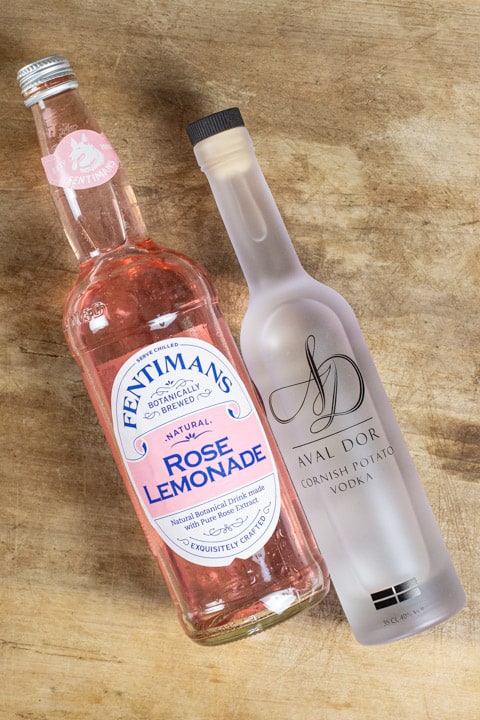 If you are having a party, make this cocktail in batches and then chill and serve it up in a big pitcher, poured over ice.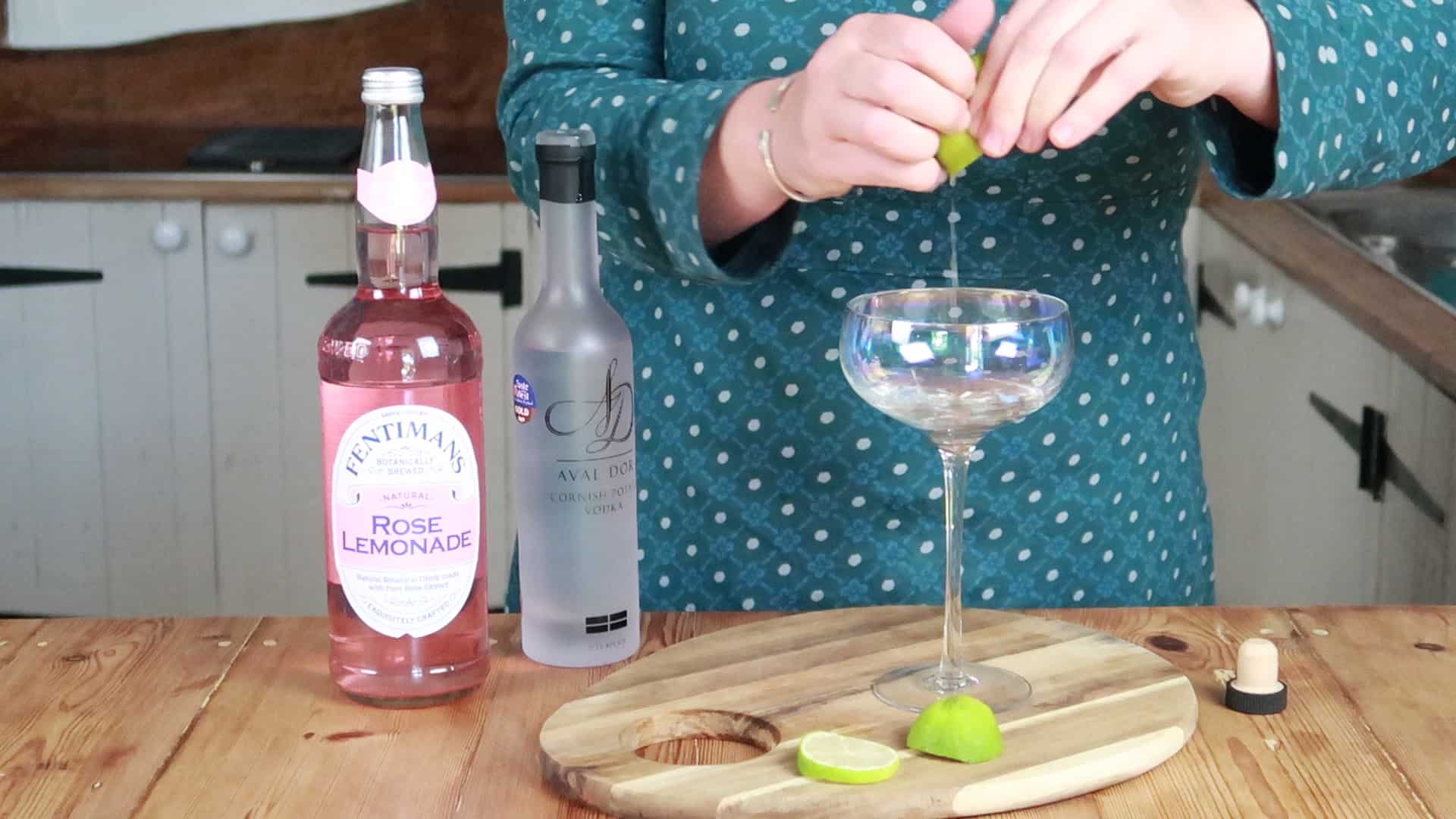 Aval Dor Vodka: Cornish Potato Vodka
When you make any cocktails with vodka, the quality of the vodka makes ALL the difference.
Colwith Farm Distillery's Aval Dor Vodka is a premium 'plough to bottle' vodka. It is carefully produced from the finest King Edward potatoes which are grown by Colwith Farm. Colwith Farm is a fifth generation family farm which also happens to be very local to me right here in South East Cornwall!
The vodka is lovingly distilled in a state-of-the-art distillery and blended with mineral water from an aquifer (which I am reliably informed is an underground layer of water-bearing permeable rock) beneath the farm itself. The smooth and creamy flavoured Aval Dor Vodka won acclaim this year. It was named as 'one of the best on the planet', bringing home silver at the 'Oscars' of the spirits industry; the 2019 San Francisco World's Spirits Awards.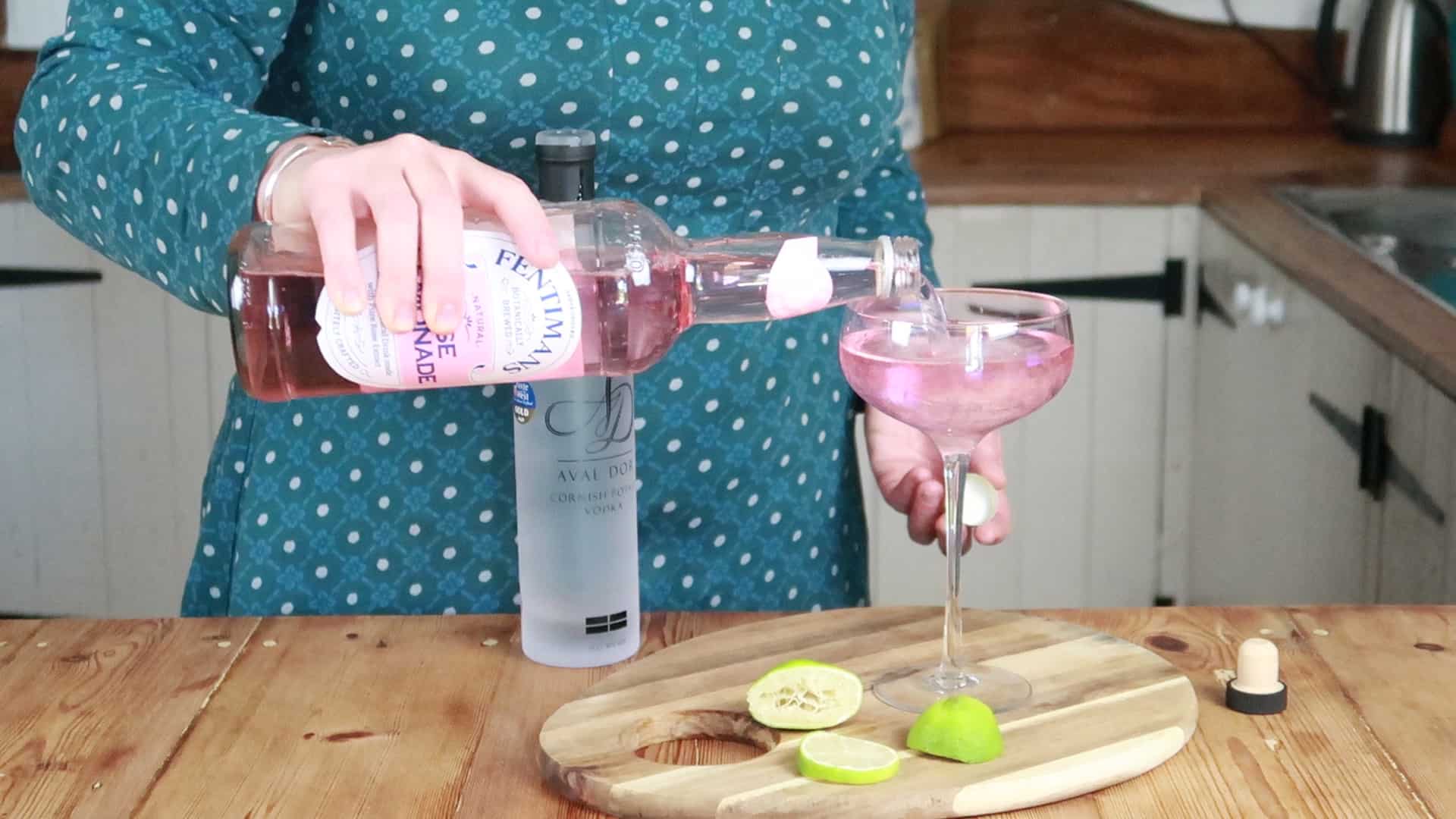 Pink Cocktail Giveaway: Win a bottle of Aval Dor Vodka
My lovely (almost) neighbours on the family farm at Colwith Farm Distillery have given me a bottle of their award-winning Aval Dor Vodka (70cl) to give away to my Hedgecomber readers! To enter, please follow the instructions which can be found underneath the recipe section below.
Limited time only – Save 10% on all Colwith Farm Distillery products and experiences!
If providing you with the above giveaway wasn't enough, the generous folk at Colwith Farm Distillery are offering all Hedgecombers' readers a whooping 10% off all products and experiences across their website. Visit the Colwith Farm Distillery online store to purchase their Aval Dor Vodka, together with Cornwall's first plough-to-bottle gin: Stafford's Gin.
Alternatively, for anyone lucky enough to be living in or visiting Cornwall in the future, choose from any of their tours or experiences. Experiences range from a guided tour of the distillery & tutored tasting at only £15 per person, to a gin masterclass session for one or two!
To claim your 10% discount, simply enter the code 'Hedgecombers' at the checkout when you place your order. But hurry! This offer ends at midnight on Friday 18th October.
Note: Discount applies to all products excluding gift vouchers.
Please join me in a big "Cheers!" to Colwith Farm Distillery for their kind offer!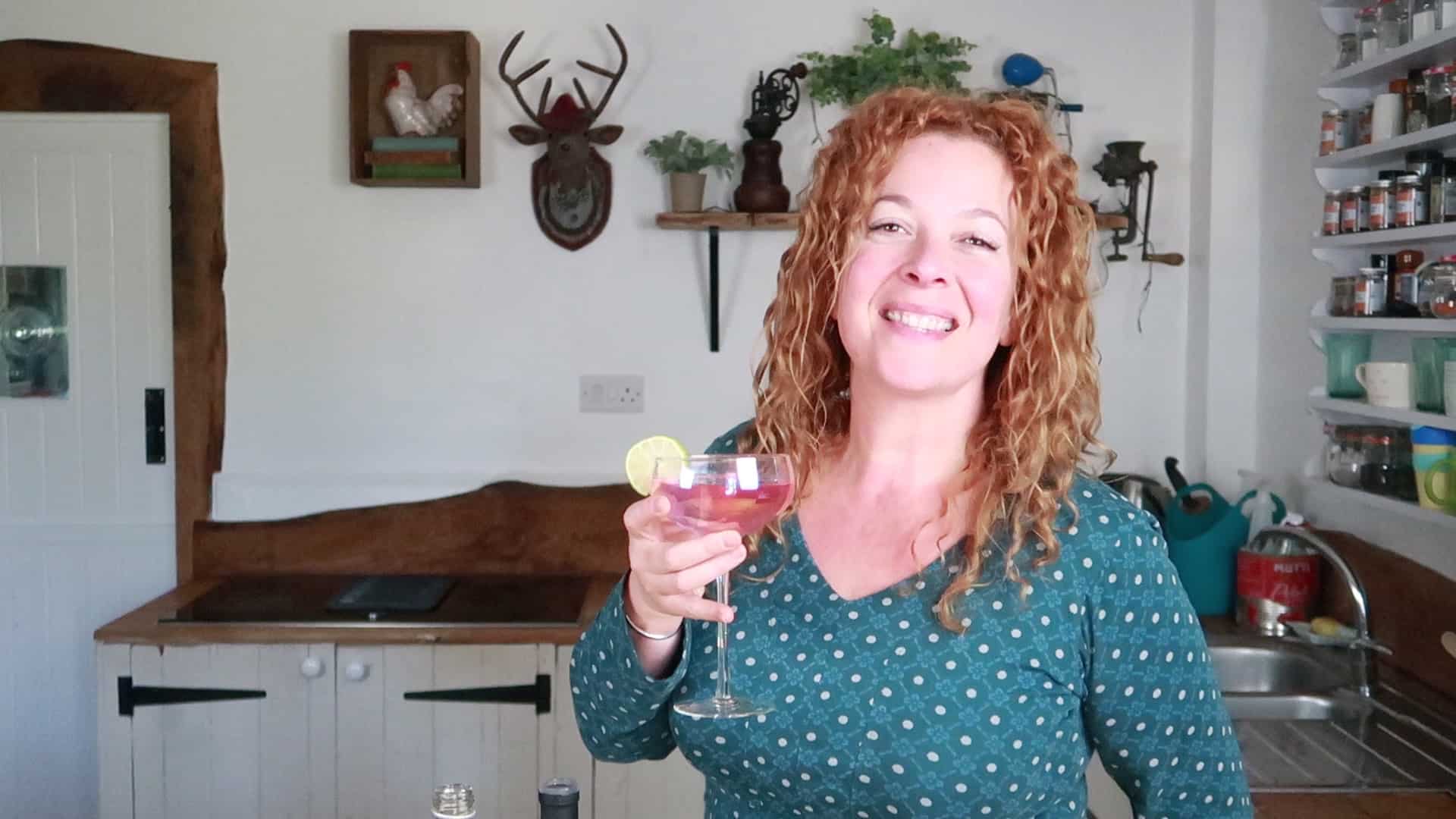 Pink Elephant Vodka Recipe
Mixed with just vodka and fresh lime, the cocktail is pure elegant simplicity. Follow the measurements below for your new favourite festive tipple. And if you need more cocktail inspiration, here's another of my favourites – Prosecco Kir Royale.
Enjoy! And please drink responsibly :)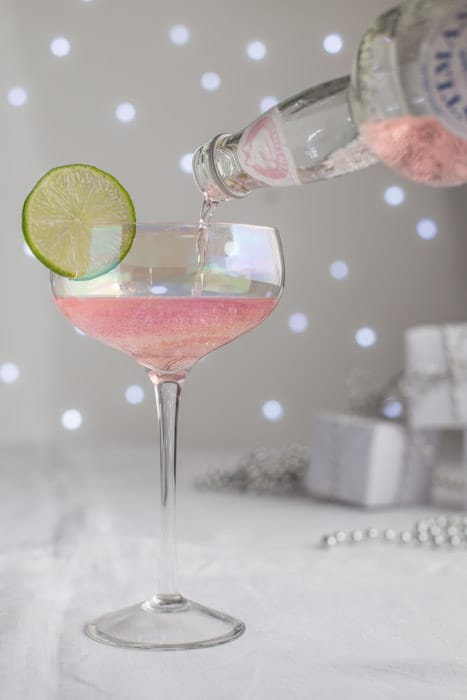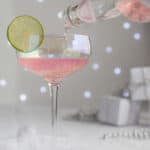 Pink Elephant Cocktail Recipe
Ingredients
Per Glass
1

shot of vodka

A squeeze of lime to taste

Fentimans Rose Lemonade

1

slice

of lime
Instructions
In a fancy cocktail glass add the shot of vodka and the lime juice.

Top up with the pink lemonade and serve with a slice of lime.

Dive right in and enjoy!
Enter the giveaway to WIN a 70cl bottle of Aval Dor Vodka. There are a number of ways to enter, with multiple entries up for grabs. Simply click on one of the dropdowns in the box below, follow the instructions and complete your details:
Huge thanks to Colwith Farm Distillery for providing the giveaway prize, allowing me to continue bringing you tasty content for free. As always, all thoughts (and leftovers!) are my own.
Janie x