Who else loves a classic Cosmo Cocktail? Well, now summer's here why not give it a twist with this Sweet and Sour Cosmo Cocktail.

Hey friends, here's hoping your week has been as sunny as ours! I love how these long hot days make the house feel so feel so much bigger with all the windows and doors thrown open. It really does make the garden feel like an extra room.
And boy have we have we used that extra room this week! We've been busy testing BBQ and cocktail recipes here at hedgecombers HQ.
I know right, I have a seriously tough job :)
Top of my menu so far is this fabulous Sweet and Sour Cosmo Cocktail. It contains all the classic cosmo flavours of Smirnoff vodka, cranberry juice, orange liqueur and lime juice. But I pimped the martini glass by rimming it with a mix of caster sugar and fresh lime zest.
YUM! Sipping the cosmo through that lovely sweet and sour crust is a real treat. It brings in an extra flavour, and texture. And I'm pretty sure you'll be spinning the glass with every sip to make the most of it too!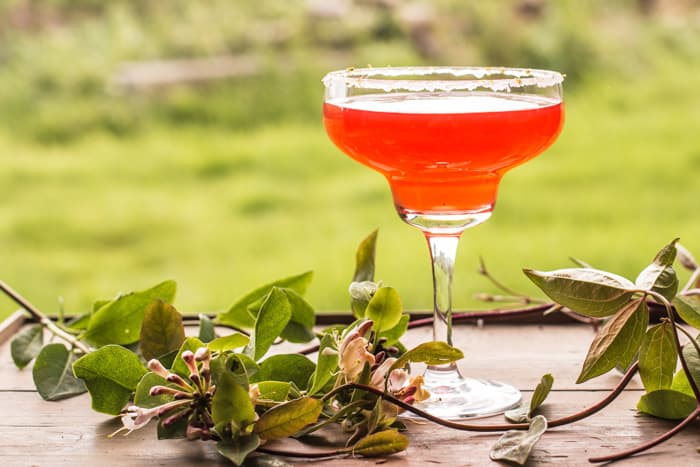 Rimming a Martini Glass
To rim your glass, take a martini glass and run a wedge of fresh lime around it. Ideally you only want to wet two or three millimetres of the glass, and try not to make it so wet that it runs down the sides.
Next, tip the glass upside down and swirl it around on a side plate that contains a mix of caster sugar and fresh lime zest (and on that note, try to find organic, unwaxed limes for this if you can). When you flip the glass the right way up, you should be left with that pretty, sweet and sour rim.
Finally pour in your cocktail (carefully) and your tastebuds will be in cocktail heaven!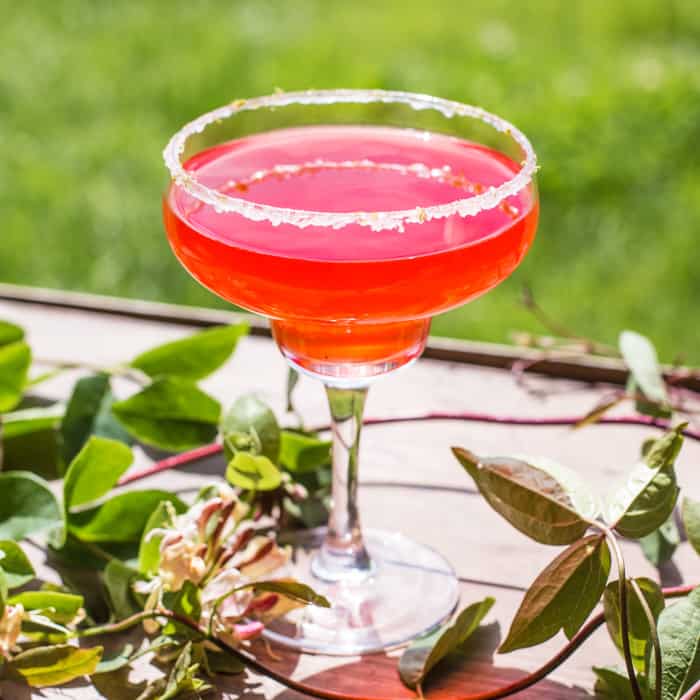 For more great cocktail recipe ideas check out my previously published Smirnoff Marmalade Collins (yes, it actually has marmalade in it!) or my Caipirinha.
Alternatively you can pop over to thebar.com where you can search for new and exciting cocktail recipes based on ingredients, occasions or even seasons. I adapted this recipe from their Cosmopolitan recipe, but you'll find a huge amount more on their Easy Summer Cocktails page.
Don't forget to tag me in any pics you share of your favourite cocktail – you can find me pretty much everywhere online as @hedgecomber :)
Sweet and Sour Cosmo Cocktail
Ingredients
1 Wedge of lime to rim the glass

2 Tablespoons caster sugar

Zest of 1 Lime

35ml

Smirnoff No. 21® Vodka

10ml

Orange liqueur

45ml

Cranberry juice
10ml Lime juice
Directions
Rim the martini glass with sugar and lime zest as detailed above.
Fill a cocktail shaker with crushed ice.
Add Smirnoff No. 21 Vodka, orange liqueur, cranberry juice and lime juice into the shaker.
Shake the cocktail shaker vigorously until the surface of the shaker feels chilled.
Using a cocktail strainer, strain the liquid into the pre martini glass.
Huge thanks to thebar.com for sponsoring this awesome cocktail, as always all thoughts (and leftovers!) are my own.
Happy shaking!
Jane x