This soft & smooth Caipirinha Cocktail recipe will take centre stage at your next get together. Not only is it simple to make and uber tasty, you don't need a lot of fancy cocktail paraphernalia either.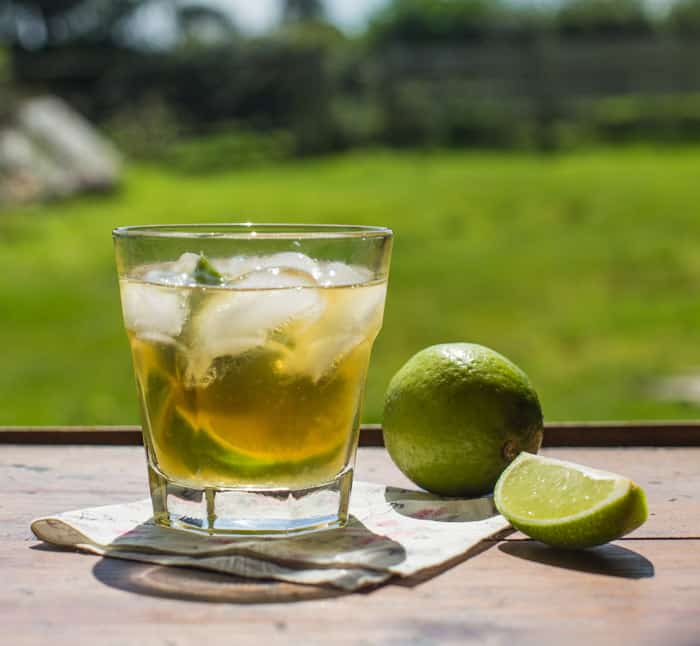 The last time I had a cocktail making session was on my 40th birthday. We turned our little corner of woodland into the prettiest hideaway with bunting and tealights hanging from the trees, a huge campfire in the centre with straw bales all around.
We cooked various joints of home grown meat in a hangi and served it along with fresh baguettes and salads.
A friends yurt was set up as the cocktail bar, and I'd hand painted pieces of slate with various cocktail recipes and hung them round the bar. There were shakers and muddlers, buckets of ice and of course the obligatory colourful paper umbrellas.
Without a doubt, the Mojitos stole the show and have left me with a very soft spot for this beautiful cocktail.
Since then I must admit to having shied away from anything stronger than cider, until this little recipe for a Caipirinha from thebar.com landed in my inbox.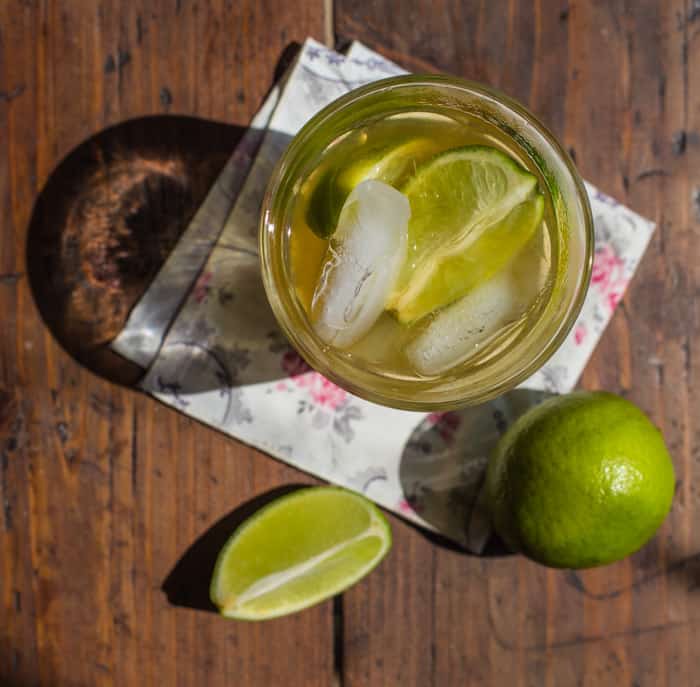 Cooking with rum
I love cooking with dark rum, and always keep a bottle of Captain Morgan's original rum in my kitchen. It goes really well with dark chocolate, like in this divine Dark Chocolate & Rum Mousse, or these Dark Chocolate, Raspberry & Rum Muffins and I might even have made a Frozen Mojito Ice Lolly too :)
This twist on the Caipirinha calls for a generous measure of Captain Morgan's Original Spiced Gold which I'd never heard of, let alone tried. Traditionally the cocktail is made using caçhaca, however it can be tricky to source so do try this version with Spiced Gold instead.
In this cocktail the spiced rum get blended with lime juice and sugar. The rum has the most amazing smell with none of the harshness of the original Captain Morgan's, but a much softer scent of gentle spices and vanilla. That vanilla hit really comes through in the aftertaste too.
Jonny loved the Caipirinha neat, but I opted for a more refreshing version so turned mine into a Long Caipirinha by topping up with soda water. This made a really refreshing summer cocktail, far more suited to 40th birthdays than morning Mojito's ;)
Caipririnha Cocktail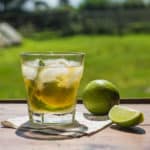 Caipirinha Cocktail
Keyword:
Caiprinha Cocktail
Ingredients
Per glass
50

ml

Captain Morgan's Original Spiced Gold

1

teaspoon

sugar

3

wedges of lime

Soda water

optional
Instructions
Cut your lime into quarters and pop 3 wedges into each glass along with the teaspoon of sugar.

Muddle the lime with a cocktail muddler or a teaspoon to extract the lime juice and mix it with the sugar.

Fill the glass with ice and then add your rum and mix together.

Optional: top up with soda water and stir gently to blend the flavours.
Nutrition Facts
Caipirinha Cocktail
Amount Per Serving
Calories 131
% Daily Value*
Fat 0g0%
Cholesterol 0mg0%
Sodium 0mg0%
Carbohydrates 4g1%
Protein 0g0%
Vitamin C 0.9mg1%
* Percent Daily Values are based on a 2000 calorie diet.
To find out more about the various blends of Captain Morgan's Rum available, check out this useful page on the thebar.com. And if you're in need of brushing up on your barkeepers skills, do visit their cocktail recipe pages whilst you're there, it's an incredible resource where you'll find all the old favourites along with plenty of cocktails I'd never heard of too.
This post was kindly sponsored by thebar.com, as always all thoughts are my own.