Lentil and Nettle Curry. Cheap. Healthy. Vibrant. Comforting. Veggie. Spicy. Tasty. Nourishing.
Where on earth to start when this curry could be summed up in so many ways.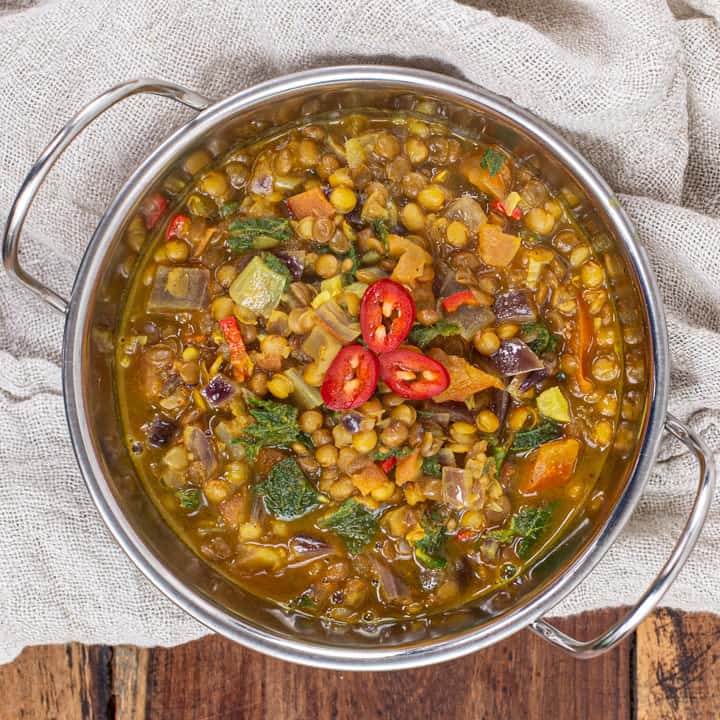 Easy Lentil and Nettle Curry Recipe
We all need a handful of recipes for those times when the cupboards are feeling a little bare. When payday feels like a lifetime away. Or some emergency or other eats into this months grocery budget.
Well, today I'm sharing one of my frugal favourites with you!
I promise it won't taste you're eating a bargain-basement meal as it's packed with rich colours, punchy flavours and gorgeous texture.
You can make it as spicy as you are your family like.
Extras can easily be frozen and reheated later in the week/month. Heck, you can even take it to work in a Thermos or simply ping it in the office microwave.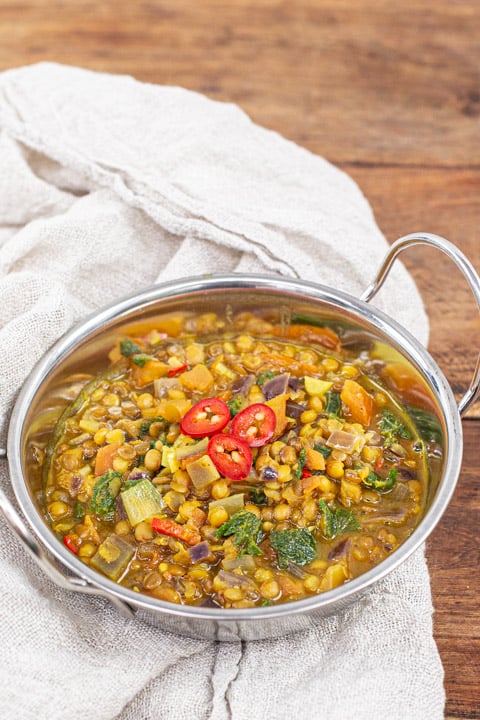 Are Lentils Nutritious?
Nettles and Lentils are two of the most nutritious foods you could find.
Lentils are extremely cheap and can be bought dried and in bulk for maximum savings, or ready to eat in cans or pouches.
They're packed with protein, complex carbohydrates, fibre, potassium, folate, iron and manganese.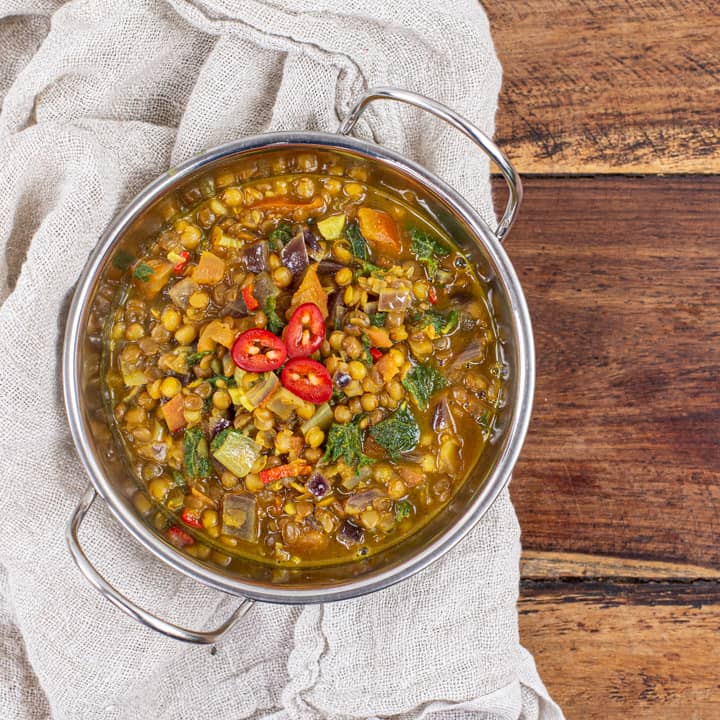 Are Stinging Nettles good for you?
Stinging nettles are free to all those that can be bothered to swap the shopping trolley for a foraging basket!
Make sure you take your rubber gloves with you to protect against those little stings.
It's important to only pick in areas where you have permission, aren't polluted by heavy traffic, sprayed for weed control or likely to have dogs peeing on them!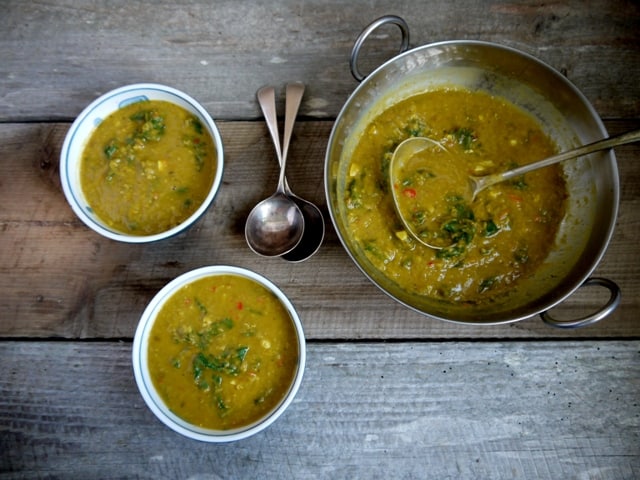 Pick the tips of the nettle plant, before they go to seed.
Remove and use the leaves, discarding the stalk.
And don't worry, those pesky stings will instantly disappear when the nettle hits hot water.
Nettles are packed with fibre, potassium, calcium, chromium, copper, magnesium and iron along with a bunch of vitamins to boot.
Put these two foods together and you have one almighty bowl of hearty goodness!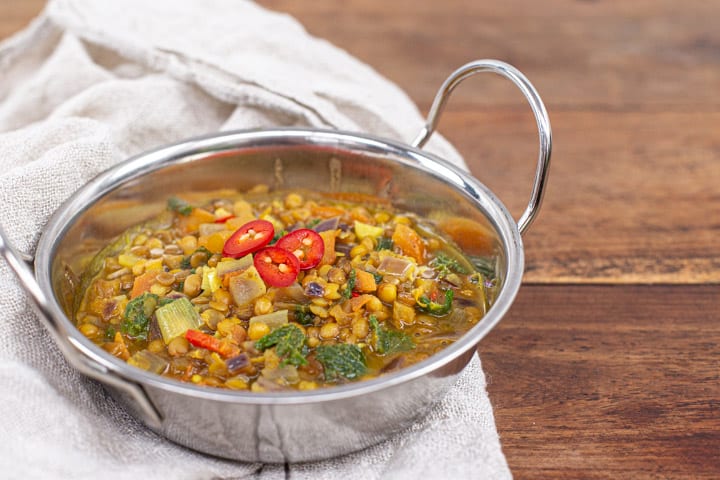 PS If you aren't able to forage stinging nettles where you are, feel free to swap them out with spinach instead.
Want some more nettle recipes?
Here's my Nettle and Feta Ravioli recipe and this tremendous Ox Cheek stew with Nettle Dumplings (it's SO good!)
Oh, and here'a s a little 2020 update – I remade this recipe using ready to eat lentils in my campervan! Here's the video to prove it :)
Enjoy!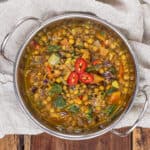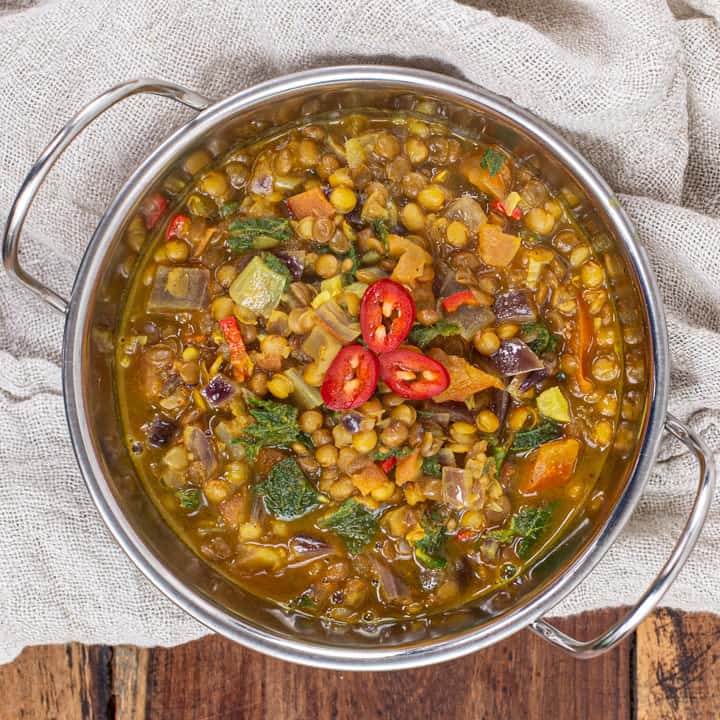 Lentil and Nettle Curry
Keyword:
Lentil and Nettle Curry, lentil curry
Ingredients
1

tablespoon

oil

1

teaspoon

garam masala

1

teaspoon

ground coriander

1

teaspoon

cumin seeds

1

teaspoon

turmeric

1-3

chilli's depending on variety & heat required

chopped

4

cloves

garlic

2

tomatoes

chopped

150

g

split red lentils

1

inch

ginger

peeled and grated

1

litre

water
Last few minutes of cooking time
1

teaspoon

salt

1

handful

nettle tops

washed,stalks removed, large leaves chopped
Instructions
Fry the first 4 dried spices in the oil for a few minutes to release their flavour and scent.

Add in the other main ingredients and simmer in a pan with a lid on for 40 minutes.

A few minutes before you're ready to serve, add in the salt and nettle leaves and stir through. check the seasoning at this point and add a little chilli powder if it tastes bland.

If you want to serve this as a bowl of soup as I did, keep the lid all through cooking. If however you want to serve this alongside rice, breads or perhaps a meat based main, take the lid off for the last 10 minutes or so giving the water time to evaporate and thereby thickening the curry.

Either way, it tastes gorgeous :)
Nutrition Facts
Lentil and Nettle Curry
Amount Per Serving
Calories 239
Calories from Fat 45
% Daily Value*
Fat 5g8%
Cholesterol 0mg0%
Sodium 782mg34%
Potassium 570mg16%
Carbohydrates 34g11%
Protein 13g26%
Vitamin A 160IU3%
Vitamin C 25mg30%
Calcium 41mg4%
Iron 4.7mg26%
* Percent Daily Values are based on a 2000 calorie diet.