This Nettle and Feta Ravioli is a fun meal to make from scratch and tastes out of this world. Go pluck those weeds from your back garden and put them to good use!

Gardeners up and down the country are despairing at the first sight of the invasive stinging nettles return, but I just see lunch!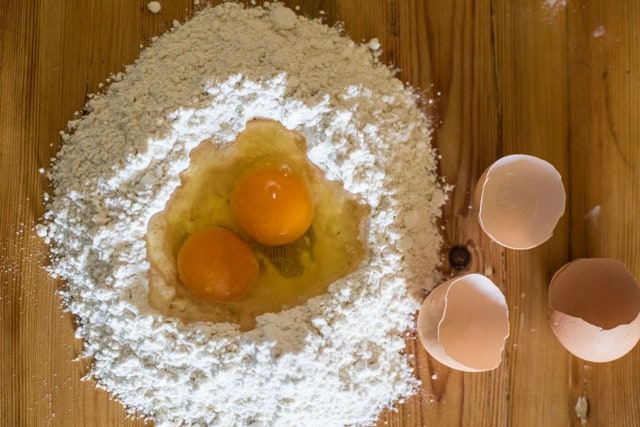 Home Made Pasta
My newest kitchen gadget is a pasta machine, and even before I'd ordered it I couldn't wait to make a stuffed pasta like a ravioli. It's very simple to make, although really time consuming, so I would recommend leaving this dish to a weekend or when you have nothing else to do apart from play with your food :)
Start with a clean kitchen, put your phone on silent and pour a glass of chilled white if that's your thing. This is food that is made with lots of love so ignore the real world and indulge yourself in the act of making beautiful food.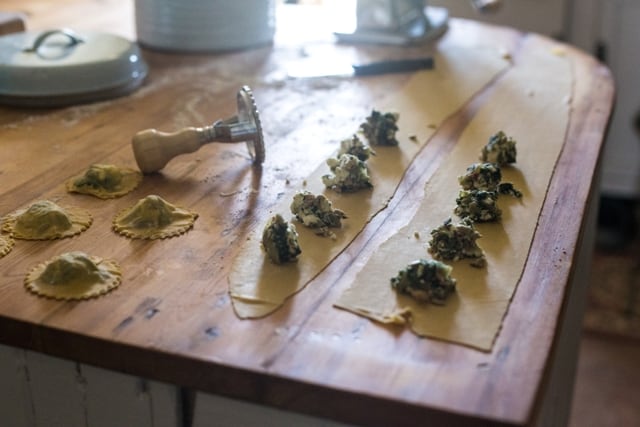 The nettle and feta filling is extraordinarily good. In each bite you have a hit of the salty feta, the earthy green of the nettles and the wonderful texture from the toasted pine nuts, all wrapped up in a soft, fresh pasta drenched with a light and simple butter sauce. Divine.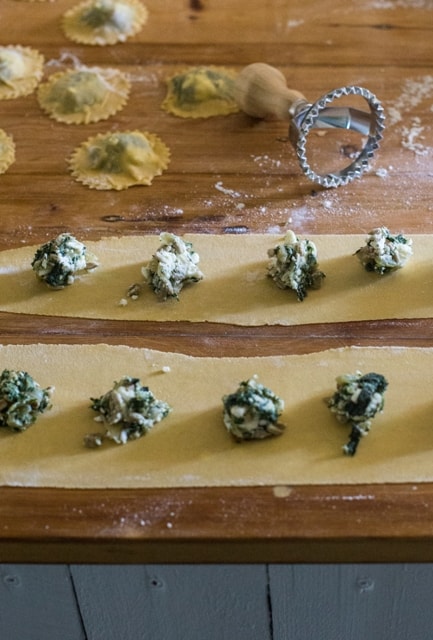 If you do give this, or any of my recipes a go, please share a pic with me on Twitter, Instagram or Facebook and do let me know what you think. Your comments are always appreciated and help me plan more yummy recipes to share with you in the future :)
Janie x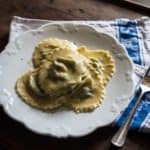 Nettle and Feta Ravioli
Keyword:
Nettle and Feta Ravioli
Servings
:
4
-6 depending on sides & hunger levels
Ingredients
Filling
2

tablespoons

pine nuts

Oil or fat like butter or dripping

1

onion

small ,finely chopped

1/4

teaspoon

dried chilli flakes

2

handfuls

stinging nettle tops

fresh

salt & pepper

200

g

feta cheese
Instructions
Filling
Heat a large saucepan and without adding any oil, pop in the pine nuts and keep moving them round and round until they are lightly browned. Pop them to one side.

Next add the oil to the pan and gently cook the onion until softened.

Add the nettle tops and let them sweat down just like spinach does then season with the chilli, salt and pepper, and let the whole pan cool.
Pasta
On a clean work surface or in a large mixing bowl weight out the flour and make a large well in the middle. Crack in the eggs, and gently whisk them well with a fork. Slowly starting bringing in the flour, until you have a lumpy looking dough.

Dust the work surface with more flour and start kneading the dough for about 10 minutes or until it feels silky and smooth. Bring together into a ball and wrap tightly in cling film and pop in the fridge for an hour.
Filling
By now the nettle mixture should have cooled, so crumble the block of feta into it and mix loosely. You'll need to break up any lumps larger than a marble.
Pasta
It'll be very firm when you bring it out, so get kneading again as best you can until it feels more pliable.

Cut off 1/4 of the dough, wrapping the remainder back in the cling film to stop it drying out.

Flatten it out and dust with more flour before putting it through a pasta machine, starting on the widest setting.

Take it through each setting 2 or 3 times before reducing the thickness again. On my machine I found the second to last setting was best for ravioli as the last setting was very thin and tore easily when forming.

Lay the long sheet of pasta out on the floured counter. Mark the halfway point with a knife and on one half add little teaspoons of your nettle mixture. Ensure you leave enough room either side of your filling to close the pasta.

Brush around each lump of filling with water, then fold the other half of pasta over the filling and press down gently around each nodule of filling, being careful not to rip the pasta and to expel any pockets of air.

Use a knife, cookie cutter or fancy pasta cutter to cut into the shapes and size you want, leaving enough pasta around each filling to make a good seal.

Pop each ravioli onto a floured baking tray and cover with a clean teatowel.

Continue with the rest of the pasta until all is used up.
To Cook
Bring a large pan of water to the strong simmer. Add a good tablespoon of salt to the cooking water. This step is more important than it sounds - it turns an OK pasta into an amazing pasta!

Add the pasta in batches and cook for 2 minutes, then use a slotted spoon to remove them onto a waiting plate.

When all is cooked, drain all thw water away apart from around 2 tablespoons. Add in the butter and cook the salty water and butter together until it starts to reduce.

Gently slide the pasta back in and spoon over the buttery sauce so each pieces gets a little coating.

Serve and enjoy!
Nutrition Facts
Nettle and Feta Ravioli
Amount Per Serving
Calories 440
Calories from Fat 198
% Daily Value*
Fat 22g34%
Cholesterol 141mg47%
Sodium 643mg28%
Potassium 184mg5%
Carbohydrates 43g14%
Protein 16g32%
Vitamin A 540IU11%
Vitamin C 2.1mg3%
Calcium 273mg27%
Iron 3.4mg19%
* Percent Daily Values are based on a 2000 calorie diet.