Let's celebrate the arrival of autumn with my glorious Ox Cheek Stew with Nettle Dumplings. It's lip-smackingly good, easily digestible and incredibly nourishing.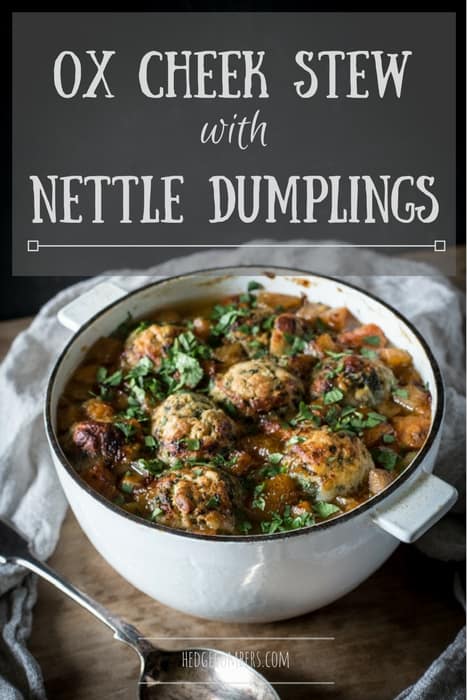 Hello Autumn. Hello Organic September. Hello slow cooker.
Hello Ox Cheek Stew with Nettle Dumplings :)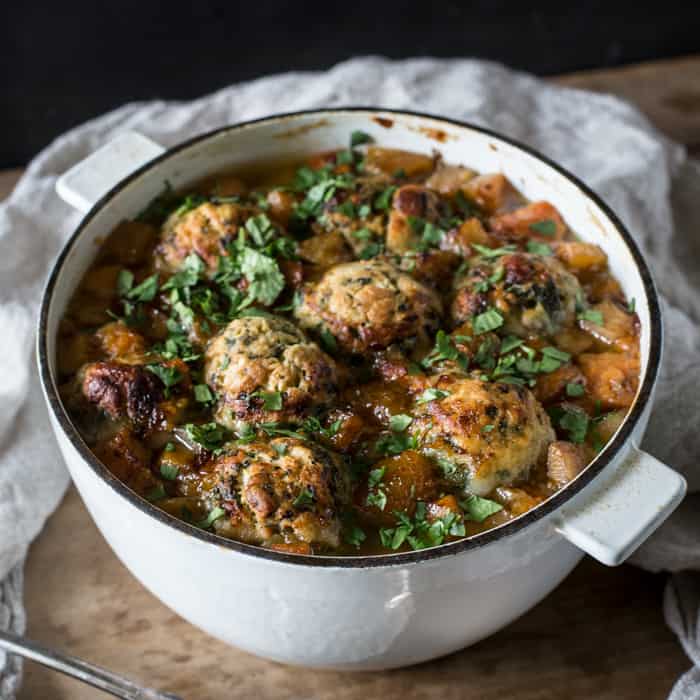 Ahh, I lurve autumn.
Admittedly summer was a bit of blur for me. I spent 4 whole weeks of it in bed feeling very sorry for myself with shingles.
Ouch in more ways than one.
However I'm ready to wrestle this new season with my bare hands, and I have a bunch of exciting content lined up for you all.
This autumnal content kicks off with this fun Organic September #FeedYourHappy recipe :)
We want to know what autumnal foods or traditions make you happy…
Pumpkin carving? Halloween? Soups & stews? Bonfire night?
I think my favourite change is craving warm, satisfying foods again.
Roast dinners with gravy. Thick homemade soups with warm-from-the-oven sourdough bread and lots of butter. And of course stew with dumplings!
To celebrate Organic September in style, I'm teaming up with Yeo Valley, Riverford and the Well Hung Meat Company. Three of the South West's most beloved organic brands.
This recipe combines ingredients from each of them, into one bowl of crazy delicious stew that your friends and family (and in my case, cat!) won't be able to get enough of.
My favourite reason to support organic produce (especially when it comes to meat) is that you know the animals lived a free-range life, with no GM products in their feed.
These are two of my biggest gripes with modern-day farming methods.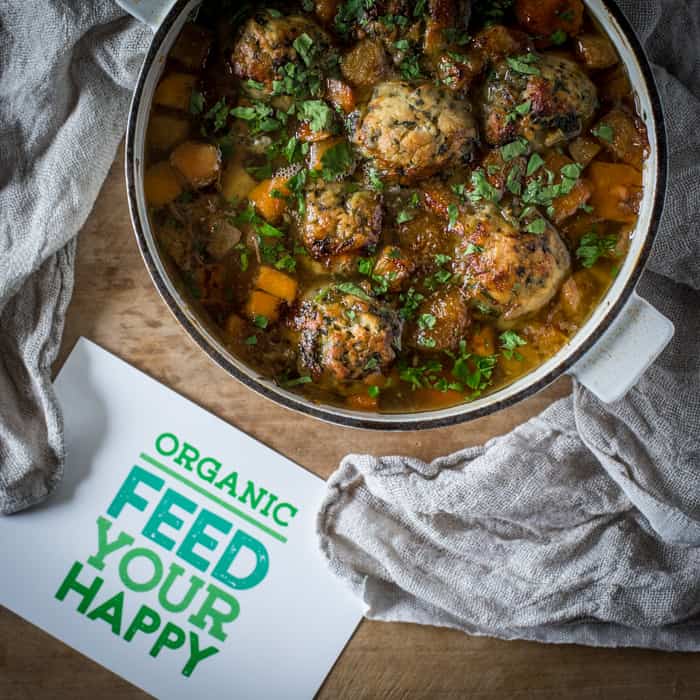 How to cook with Ox Cheek
For those that haven't used ox cheek before, here's a few things to note.
It is tough as old boots and demands slow cooking to soften those fibres into delicious, juicy, tender flakes.
It contains ugly thick lines of gristle. Some cuts of cheek have lots of gristle, some have very little. Please DO NOT let this freak you out. Those ridges of nasty looking stuff are exactly what makes this cut a dream to slow cook. The gristle renders down to create the silkiest of gravies. And the body of gristle melts into a luscious jelly that is lip-smackingly good and incredibly nourishing.
Even if you can't bear to actually eat the cooked, melted jelly-like gristle in the final dish, please don't cut it out before cooking.
Do that and you'll bypass the crazy tasty stock. And this stew will fall back into the realm of 'OK stew' from it's far grander 'OMG stew'!
Trust me friends, trust me.
And in case you were wondering, I tend to add all this melted sticky goo back into the pot along with the shredded meat, as I love it :)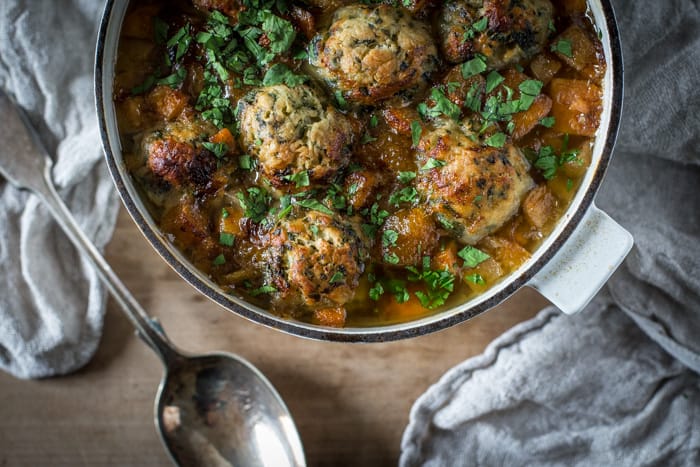 Root Vegetables
It's also worth noting that the recipe includes 500g of 'your favourite root veg'.
I used a mix of Riverford's carrots, sweet potatoes and butternut squash (I know the latter isn't strictly a root veg, but it does have a similar texture).
I recommend these over just going with regular white potatoes. They add a sweet element that works so well with the sticky, savoury beef. Along with an appropriately autumnal colour.
And finally, in a perfect world, you'll use a jelly-like chicken stock made from a free range chicken carcass.
This is going to add another layer of silkiness to the gravy. However I appreciate that not everyone has the well-stocked farm freezers that we do, so use what you have.
A tub of fresh chicken stock from the supermarket would be a close second, but I won't shout if you resort to using stock cubes.
Just know that your gravy won't be quite as silky, decadent or tasty as this one :)
Ox Cheek Stew with Nettle Dumplings
OK, let's dive in to the recipe. As with all my recipes, if you'd prefer the measurements to be in US rather then UK metric, simply hit the little switch to toggle between the two.
Enjoy!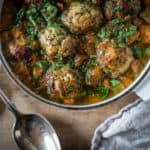 Ox Cheek Stew with Nettle Dumplings
Keyword:
Ox Cheek with Nettle Dumplings
Ingredients
Ox Cheek Stew
250

g

ox (or beef) cheek

1

litre

homemade chicken stock

2

bay leaves

1

cinnamon stick

500

g

your favourite root vegetables, diced

knob

butter

small

1

tablespoon

parsley, chopped

pinch

of salt
Nettle Dumplings
100

g

self raising flour

50

g

suet

pinch

salt

cold water

handful

small stinging nettle leaves
Instructions
Pop all of the stew ingredients into the slow cooker and cook on high for 4-6 hours or low for 8-10 hours. Keep the meat in one piece as you want to be able to easily retrieve it to when it's fall apart tender to shred.

Fish out the bay leaves and cinnamon stick and discard.

Remove the meat from the stock and when cool enough to handle, shred into tiny pieces. Remove the veins of melted gristle if you want to, although I would recommend leaving at least a little.


Pile the meat back into the slow cooker, along with a knob of butter and pinch of salt, whilst you make the dumplings. You may like to top your slow cooker up at this point with boiling water or more chicken stock. This will give it more of a soupy consistency, and make it feed a lot more people.
Nettle Dumplings
Bring a small pan of water to the boil. Plunge the nettles in and let cook briefly - no more than a minute, or until full wilted. Remove from the pan with a slotted spoon and let drain.

When cool enough to handle, squeeze the excess water out of the nettles and chop them very finely.

In a mixing bowl combine the flour, suet and salt. Add in the nettles and stir well.

Add in cold water one tablespoon at a time, mixing well, until you have a firm but pliable dough. You will need around 4 or 5 tablespoons of water.

Divide the dough into 8. Dust your hands with flour and roll each piece into a ball.

You can pop the dumplings on top of the stew in the slow cooker and they will cook perfectly well in around 30 minutes (on high setting).

However if you want an extra level of flavour, *pop the stew into a hot oven with the lid off and the dumplings will lightly caramelise and crisp on top. YUM!

*please note that not all slow cooker bowls are over proof - mine's not. If you don't mind the extra washing up, decant the stew into an overproof dish. Pop the dumplings gently on top and bake in an oven preheated to 180 for 20-30 minutes.

Sprinkle the stew with parsley just before serving.
Nutrition Facts
Ox Cheek Stew with Nettle Dumplings
Amount Per Serving (0 g)
Calories 405
Calories from Fat 180
% Daily Value*
Fat 20g31%
Cholesterol 77mg26%
Sodium 209mg9%
Potassium 425mg12%
Carbohydrates 30g10%
Protein 23g46%
Vitamin A 20965IU419%
Vitamin C 8.7mg11%
Calcium 66mg7%
Iron 3.2mg18%
* Percent Daily Values are based on a 2000 calorie diet.
Huge thanks to the Organic Trade Board for commissioning this recipe and allowing me to continue bringing you tasty recipes, for free. As always all thoughts, and leftovers, are my own!
Jane x