Fancy sipping some homemade Sloe Vodka this Christmas? Or gifting a bottle to your favourite people?
You are SO in the right place!
Sloe vodka is such an easy tipple to make and really does make the most beautiful gift.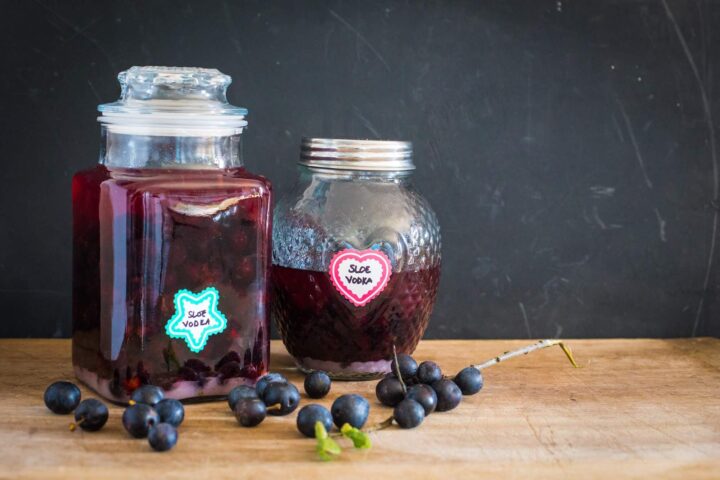 This homemade Sloe Vodka is growing my stash of homegrown booze a treat!
My blackberry flavoured vodka is still in the brewing phase, although it is now ready to strain (and taste test!).
And whilst our blackcurrants were an epic failure this year, I did still manage to lay down one lonely bottle of my homemade blackcurrant cassis for the darker months.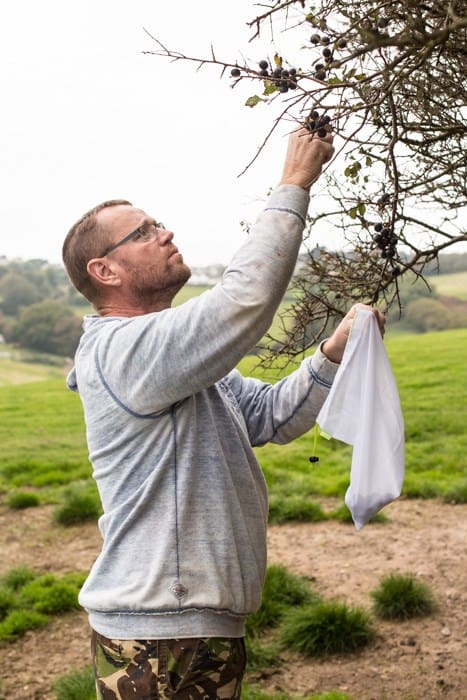 Homemade Sloe Vodka
There's something very olde worlde about cracking open a bottle of a hedgerow brew that you picked yourself to share with loved ones on a cold winters night.
It's a fruity, warming tipple that is so smooth taste.
And because you're adding sugar and fruit, you can get away with using a cheap supermarket brand of vodka.
It'll all mellow together into a rich and syrupy liqueur.
And the best bit is, the recipe simply couldn't be any easier!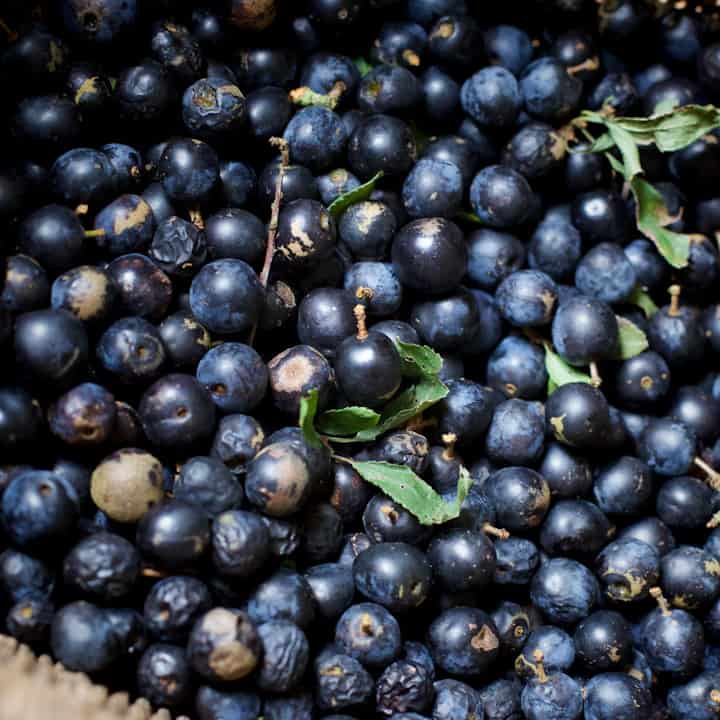 Sloe Vodka Traditions
By the way, it's tradition (at least in my house!) to keep the best bottle from each batch, somewhere dusty and forgotten.
Consider this your 'forager tax' and have no guilt in keeping it all to yourself if you so choose!
We tend to polish this last, dusty bottle off as we work on preparing next years batch. I highly recommend making this your tradition too!
So, get your wellies on and hit the hedgerows.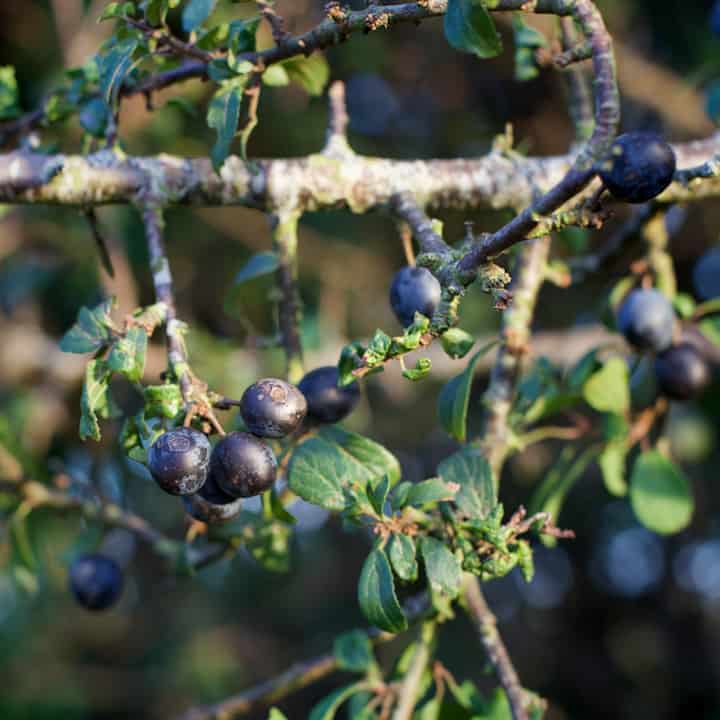 When should you pick sloes?
Some folk say that you should only pick sloes after the first frost.
As I live here in Cornwall (UK) where the climate tends to be quite mild, the sloe harvest is almost over by the time that comes around.
The other option is to pick them and freeze them before using them.
A quick check of the internet as to why this is recommended tells me that one theory is that it softens the skin which then splits and allows the juices to come out.
The other is that freezing sloes makes their flesh sweeter.
As we're splitting the skins with a sharp knife, and brewing them mixed with sugar, I think we can safely ignore that advice for this particular recipe.
Where do sloes grow?
When you're foraging for wild sloes, you're looking for blackthorn bushes.
Here in the UK blackthorn are a traditional hedgerow tree and are pretty easy to spot at this time of year.
They have vicious inch-long spikes on the branches.
And clusters of small black fruit that are quite similar looking to blueberries.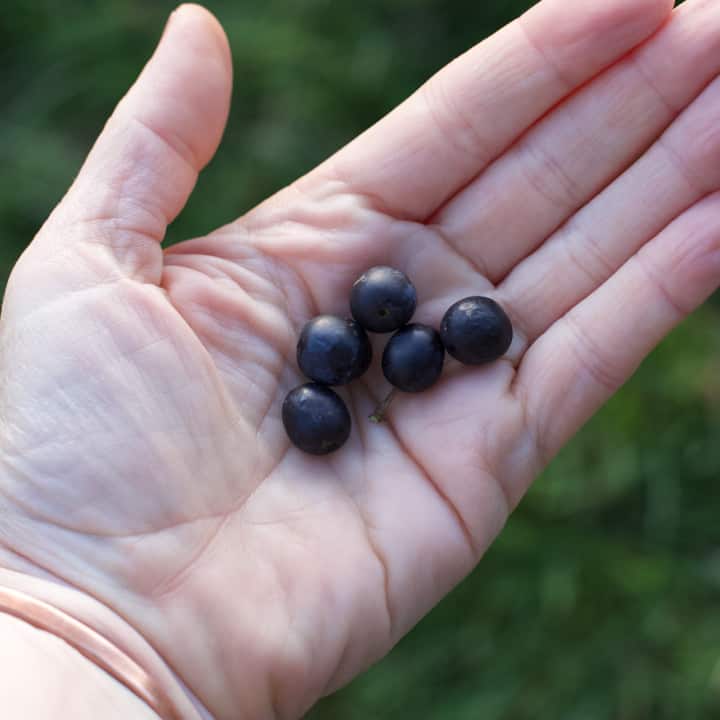 Sloes are part of the plum family. So inside that black skin with a whitish bloom, you'll find an orangey-yellow flesh and a single flatish stone.
The fruit is hard, sour and unpalatable straight from the tree. The juice however is divine, once softened with vodka, sugar and time.
This is what you're looking for in the hedgerow: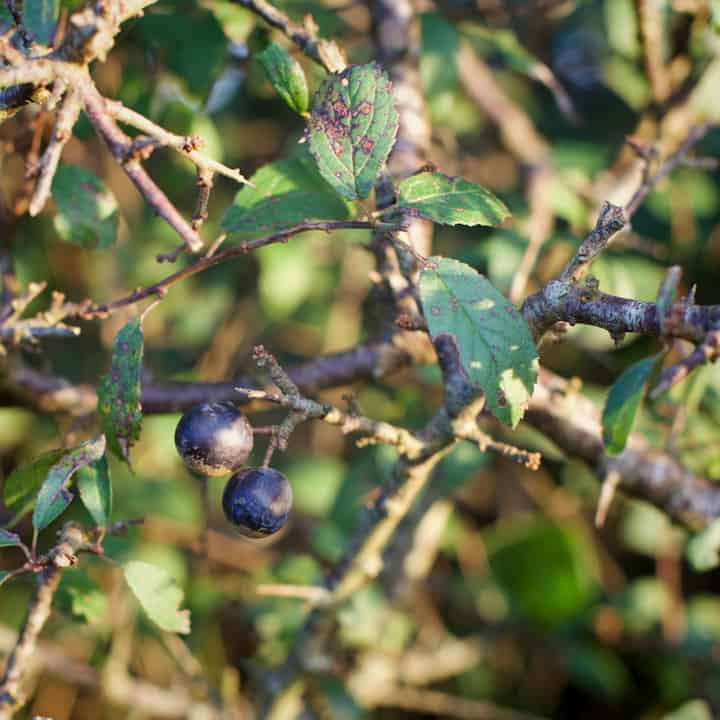 3 simple steps to a sloe vodka recipe
I said this recipe couldn't be easier. And here's the proof!
1/ prep your sloes
On getting your stash home, work through them all removing any leaves or bits of stew from each fruit.
This is time consuming work so I recommend putting YouTube on to help you through :)
Next, wash them well in a sieve under warm running water.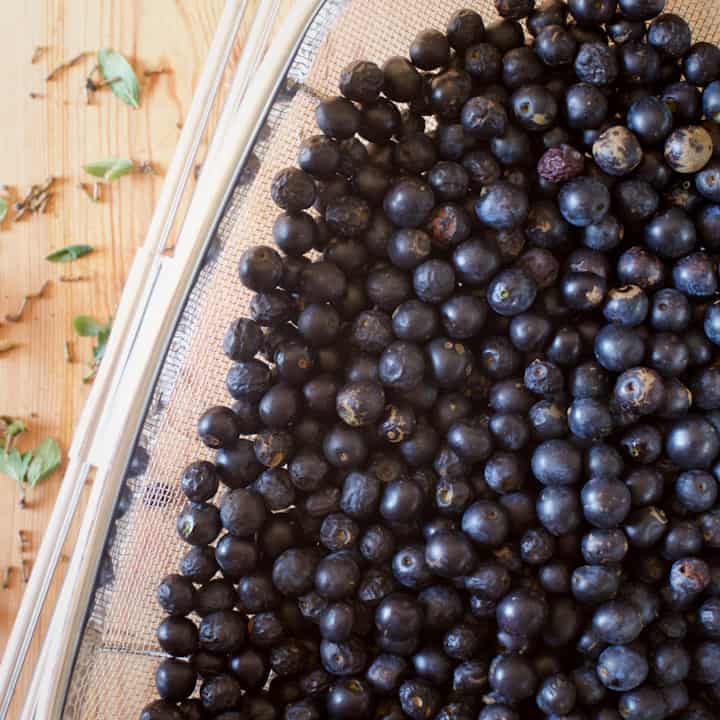 Shakes the sieve to remove most of the water, then tip them out on a clean towel on the kitchen counter.
Roll the towel over them to dry completely.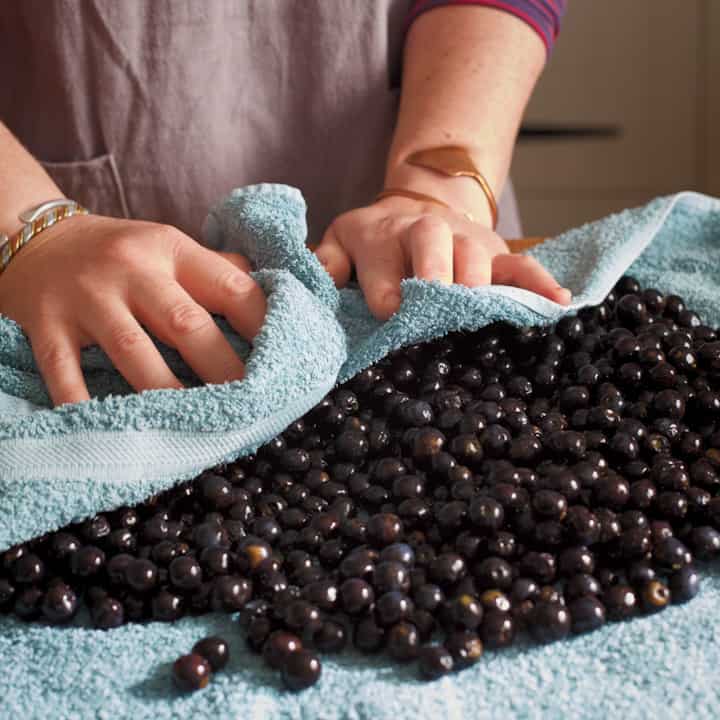 2/ prep your vodka
Sterilise a large glass jar or bowl. I sterilised mine by running it through the hot wash in the dishwasher. But you could also soak it in water laced with Milton sterilising tablets too.
Pour in the vodka.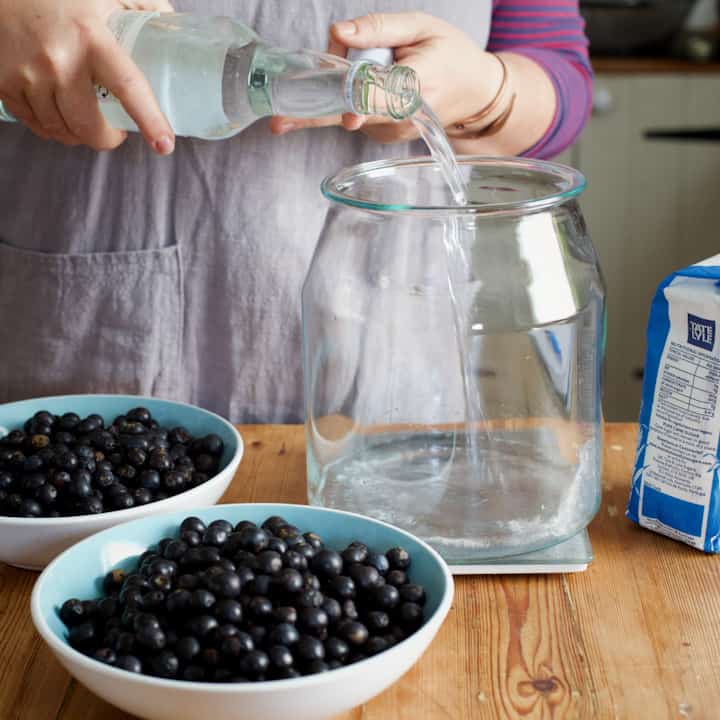 Then follow with the sugar.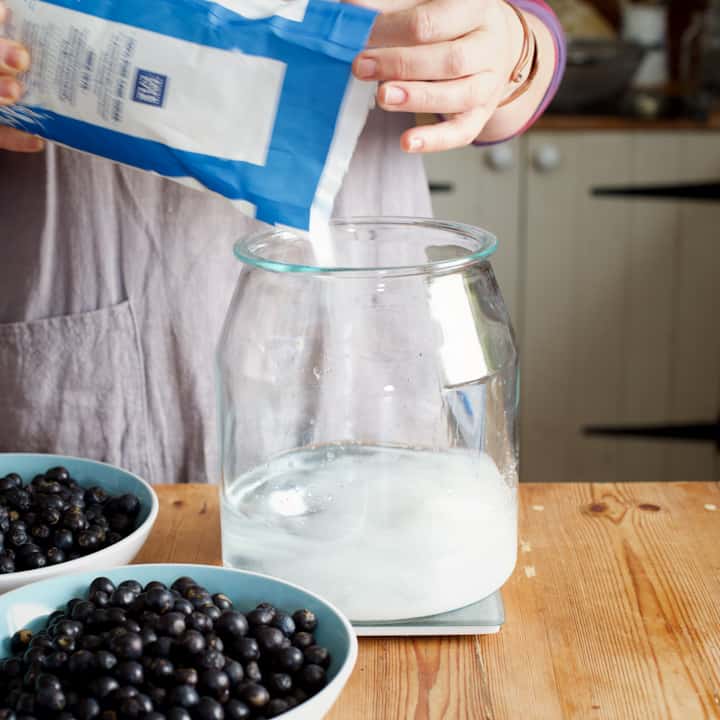 Stir together well.
The sugar will slowly dissolve in the alcohol over the next few days.
3/ add your sloes to the alcohol solution
Assuming you've picked your fruit before the first frost too, the skin on your sloes will also be intact.
So we need to pierce the skin of each fruit to allow the alcohol in, and the juice out.
Use a small sharp knife to carefully slice into each fruit, and then drop them into the glass jar.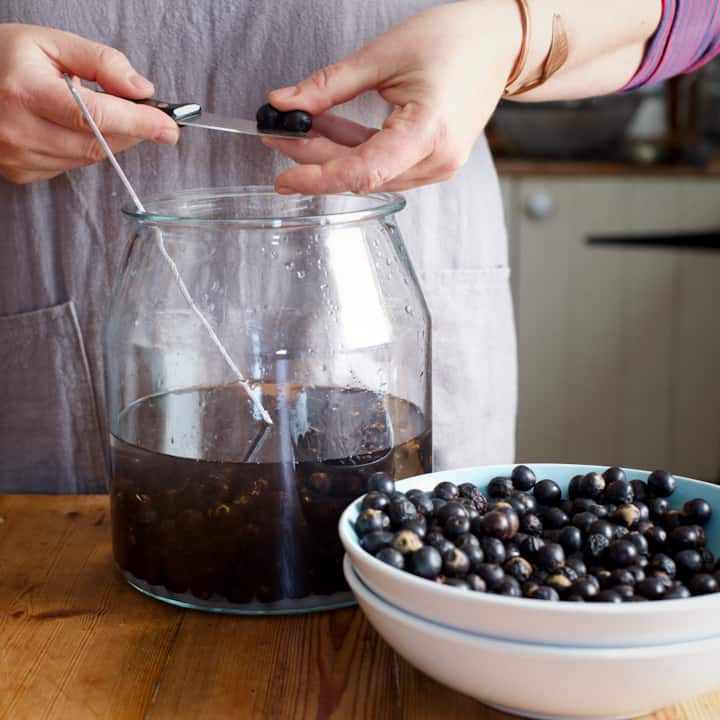 Give it another good stir.
You'll soon start to see the colour coming out of the fruit, staining the vodka with that beautiful purple hue.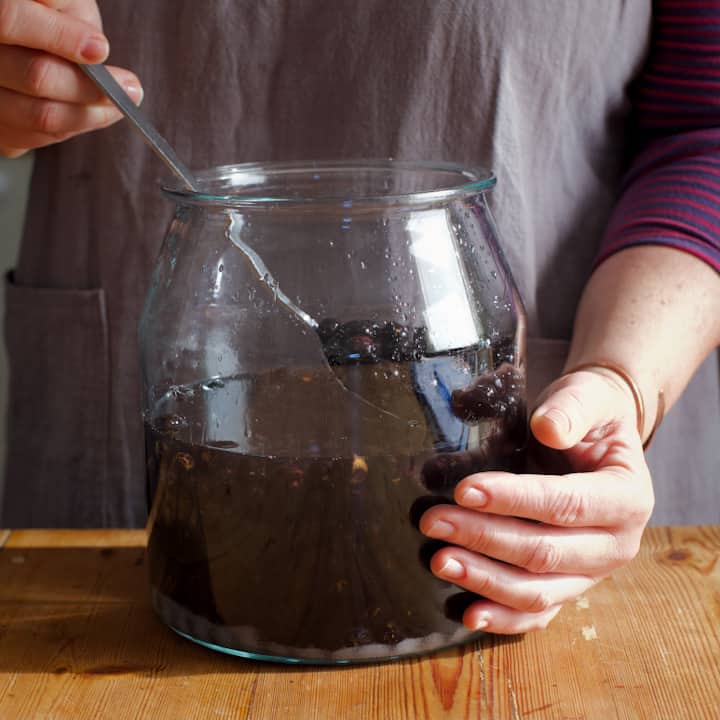 Cover the jar, and store it somewhere cool and dry.
Stir it daily for the first week (don't panic if you forget, stirring it just helps agitate the juice of the fruit quicker. It will still work/taste wonderful if you forget)
4/ straining your sloe vodka
Store the jar for about a month. A week or so either way won't make a huge difference.
Next, simply strain the sloes out of the vodka, and decant into sterilised bottles.
Top off with a (sterile) lid, and pop a label on. Don't forget to write the year on the label either – once you get into hedgerow brewing you'll likely end up with as many random bottles in your pantry as I have!
Can you use the leftover sloes?
Yes! I tend to donate all my 'drunken fruit' that's leftover from making various brews and tipples to my Mum who loves to use them up for me! She adds it to crumbles and pies, or just a spoonful or so on top of a bowl or rice pudding or custard!
If you have any great uses for using up your 'drunken fruit', please let us all now in the comments below!
Here's a link to a video I made showing just how easy it is forage for wild sloes and make this delicious sloe vodka.
Enjoy!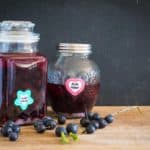 Homemade Sloe Vodka
Keyword:
sloe vodka, sloe vodka recipe
Ingredients
1

kg

sloes

250

g

sugar

1

bottle (70cl)

vodka
Instructions
Freeze and/or prick the sloes to allow the juice out. Pile into one (or more) sterilised glass jars.

Tip in the sugar, pour in the vodka and stir a little.

Pop the lid on tightly and store somewhere cool and dark, stirring/shaking occasionally.

After 2-4 weeks, strain off the vodka and seal in sterilised bottles. The alcohol content means that it will keep indefinitely.
Nutrition Facts
Homemade Sloe Vodka
Amount Per Serving
Calories 969
% Daily Value*
Fat 0g0%
Cholesterol 0mg0%
Sodium 2mg0%
Carbohydrates 249g83%
Protein 0g0%
* Percent Daily Values are based on a 2000 calorie diet.
And if you're in the mood for more fun foraging projects, now is the perfect time to try out my popular Plantain Salve recipe! It's so simple, and makes such a useful skin balm to help you through the season ahead.
And if you'd like another sloe recipe to try, this Sloe and Blackberry Hedgerow Jam is just delish!