Got an allotment? Grow blackcurrants? Then you need this Homemade Blackcurrant Cassis recipe.
End of story :)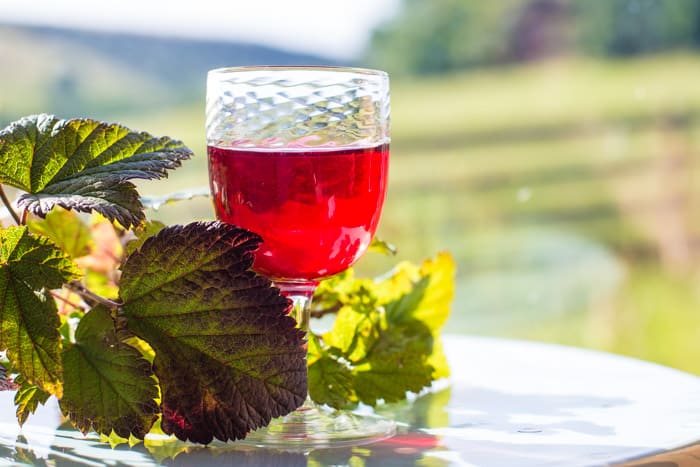 I first wrote this recipe back in 2016. As I've just restocked my supplies of this fabulous homemade blackcurrant cassis, I thought it prudent to give this post a tidy up and reshare it with you before the best blackcurrant season I've ever known is over!
This recipe is one of my most popular during the summer months when blackcurrants are abundant.
Homemade Blackcurrant Cassis the taste of summer
Ohhhh boy. I'm not one to get overly excited about boozy things (apart from maybe these Mojito ice lollies), but this delectable syrup is a bottle of pure sunshiny summer. At first sip you get the scent of fresh blackcurrants. This is quickly followed by a nice warm glow before tailing off with a sweet childhood memory of the taste of Ribena.
Weird and wonderful all at the same time!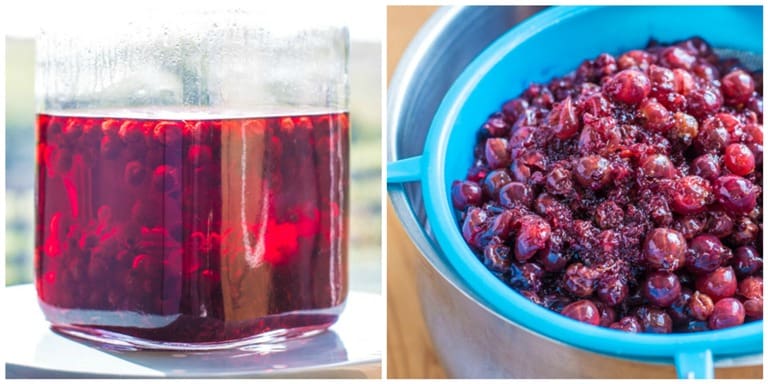 How to use up your blackcurrant harvest
Blackcurrants aren't the most exciting or anticipated of my summer fruity harvests. They aren't quite sweet enough to scoff straight from the bush like the strawberries or raspberries are and whilst they always go well in a crumble or pie, I've never found a blackcurrant recipe that I look forward to making all year long.
There's a strong possibility that has now all changed. This afternoon I have plans to use a dash of my freshly brewed cassis in a Kir Royal cocktail (recipe no doubt coming soon!). I love the idea of pulling out a cute little hip flask of it when sat around the camp fire with friends.
However, I am most excited about bringing a bottle of this homemade blackcurrant cassis out at Christmas. I'm thinking about when the long warm days are all but a distant memory. I imagine it'll be like sipping summer in the depths of winter!
Why not give it a go yourself and let me know what you think in the comments below?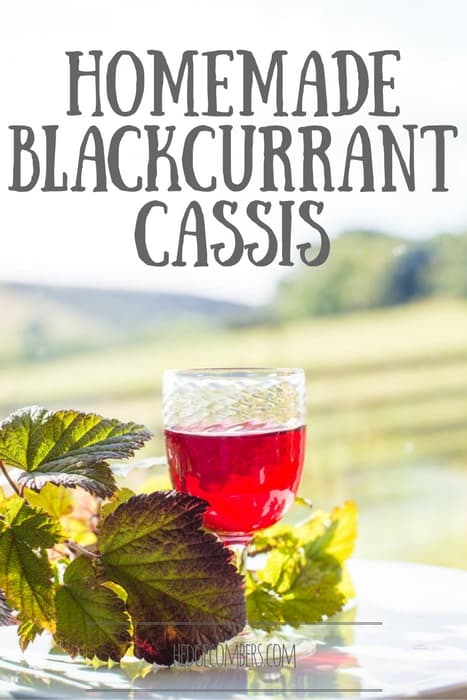 A blackcurrant recipe for the blackcurrant season
Now, I got this liqueur started right at the start of blackcurrant season here in Cornwall. For those who haven't previously grown blackcurrants, the season generally begins in July. Now the blackcurrant season is pretty much at an end here (usually ends in August), so if you have a bush or two that you've ignored all summer hopefully you'll be able to rustle up enough berries to make a batch.
If not, and you can't find any at your local farm shop then please do bookmark or pin this recipe for next year. I promise it'll be worth the wait ;)
Oh, and if you don't currently grow them, why not treat yourself to a couple of bushes? Find out everything you need to know about growing blackcurrants here.
Janie x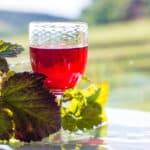 Homemade Blackcurrant Cassis Recipe
Ingredients
500

g

blackcurrants

170

g

sugar

- I used caster sugar, but granulated would work too, it'll just take a little longer to dissolve.

500

ml

brandy

- I used a cheap brandy and it tastes fabulous. If I ever pluck up the nerve I may try with a decent brandy just to gauge the difference.
Instructions
Pick through the blackcurrants, removing stems leaves and bugs. Wash if necessary and dry on a clean tea towel.

Pop the currants into a large glass jar or wide mouthed bottle and crush gently with the back of a large spoon.

Add in the sugar and brandy and stir well. Stand the glass jar on a sunny windowsill and give it a stir every few days. It'll take about a week for the sugar to fully dissolve.

After 1-4 months, strain the fruit out through a sieve (and a piece of muslin if you want a perfectly clear cassis). Do not squash the berries but allow them to slowly drip through the sieve. Keep the berries to use in an (adult only!) dessert. Yum!

Bottle up the cassis and enjoy.
Nutrition Facts
Homemade Blackcurrant Cassis Recipe
Amount Per Serving
Calories 2127
Calories from Fat 18
% Daily Value*
Fat 2g3%
Cholesterol 0mg0%
Sodium 16mg1%
Potassium 1610mg46%
Carbohydrates 246g82%
Protein 7g14%
Vitamin A 1150IU23%
Vitamin C 905mg1097%
Calcium 275mg28%
Iron 7.9mg44%
* Percent Daily Values are based on a 2000 calorie diet.