Capture the taste of autumn with this delicious Sloe and Blackberry Hedgerow Jam recipe.
The sweet blackberries and sharp sloes make the perfect partners.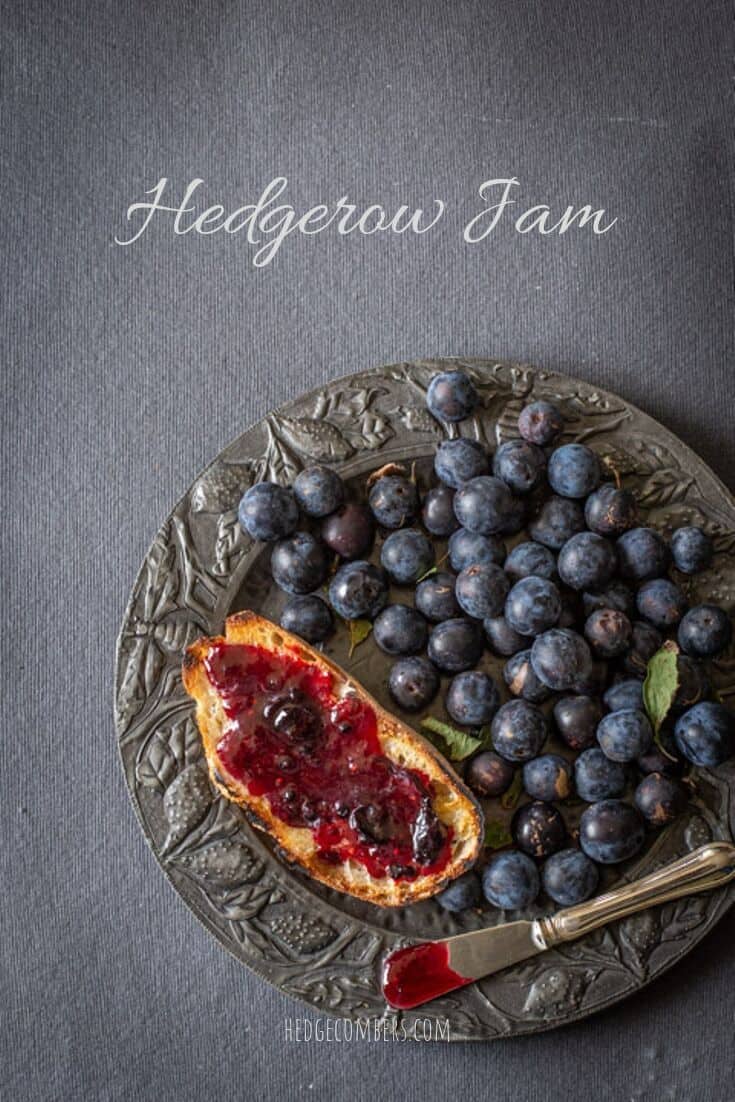 Updated post, originally published in 2016
I do love a wild blackberry jam and, with sloes in season at a similar time of year, sloe jam is also a favourite way to use those wild crops.
However, for me, I can think of very little better jam than blending delicious hedgerow fruits.
A hedgerow jam recipe is generally a combination of seasonal wild fruits, which can include apples, crab apples, haw berries, elderberries, wild blackberry, sloes, damsons and more.
This wonderful wild blackberry and sloe jam combination is one which I have been really wanting to share with you.

I feel a bit of a fraud bringing you a jam recipe as in the past I have had more jammy failures than I have successes.
The elusive setting point that is talked about so freely is something that has to date eluded me completely.
The one time my jam did set I think was by pure luck.
However, I now have a couple of tricks in my arsenal that makes me confident of nailing any future jam making extravaganza.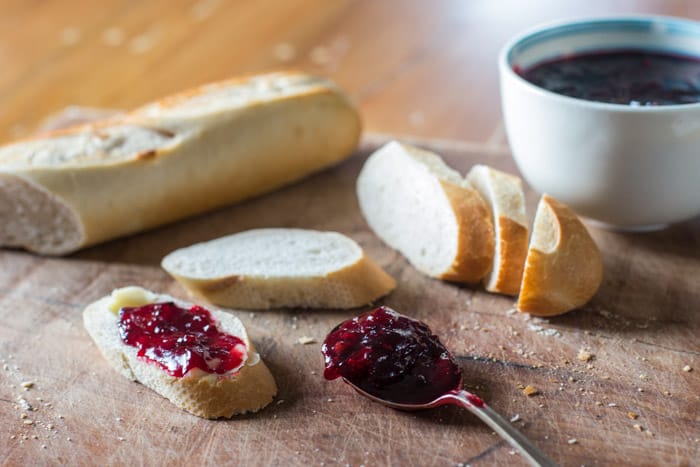 Firstly, and controversially within the hardcore jam making community, I used a jam sugar.
This sugar already has pectin added and it's an easy balance between equal amounts of fruit and sugar.
You can find jam sugars in the supermarket quite easily these days, and as 1 kilo of sugar makes about 3 large jars of jam.
It doesn't work out too pricey either (I used the Tate & Lyle brand).
My second little trick is using the Thermapen digital thermometer.
This British-made gadget is essential for those that are into making preserves as it takes away any guesswork.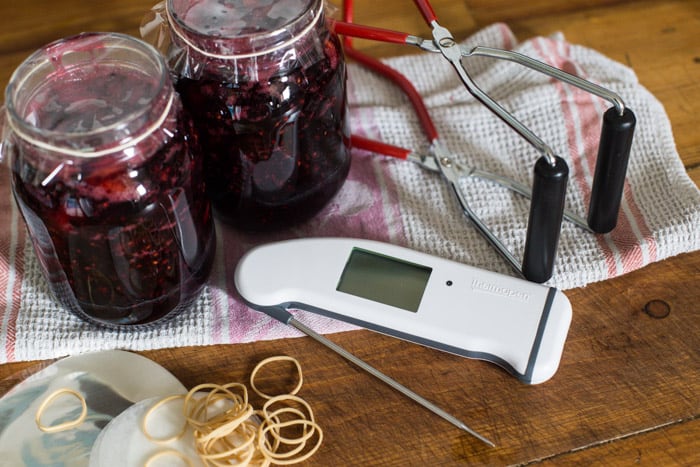 How to Make Sloe and Wild Blackberry Hedgerow Jam
Firstly you need to grab your foraging basket and head outdoors.
Blackberries were top of my agenda, but I was open to anything else I could throw in my basket.
I ended up with a good crop of sloes, a few damsons and a handful of elderberries.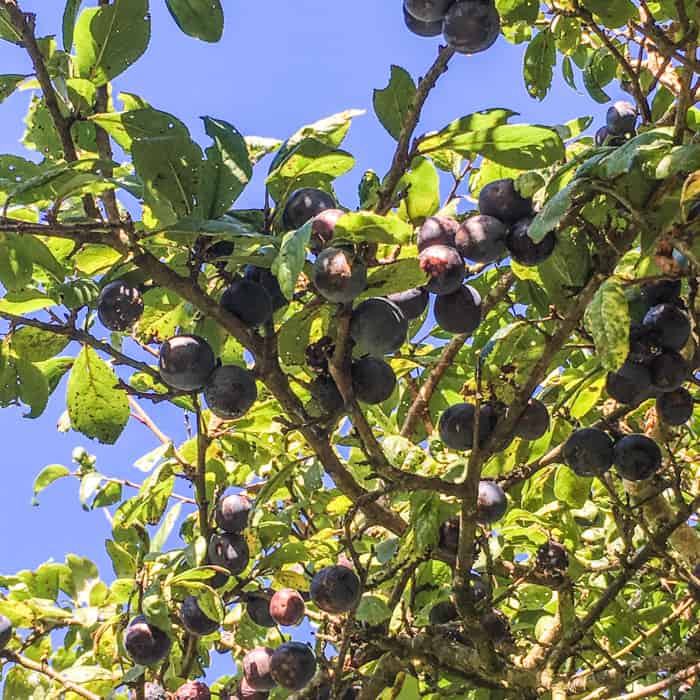 When you get home, weigh out your fruit.
Scatter it out on a tray or baking sheet and pick out any bugs and debris.
I didn't wash my fruit as I didn't want to add any water to the mix but if you feel the need, be sure to dry it well afterwards.
Get all your other supplies ready from your sterilised jars to jam jar discs and cellophane lids.
Pop the fruit in a jam pan, or a very large heavy bottomed saucepan.
Weigh out the equal amount of jam sugar and tip that in too.
Heat the contents over a medium high heat until all the sugar has dissolved.
Your soon-to-be hedgerow jam will start out looking crystal-like and then turn soupy as the sugar dissolves and the juices flow from the fruits.
When there are no sugar crystals on the back of the spoon, turn up the heat and bring to a boil.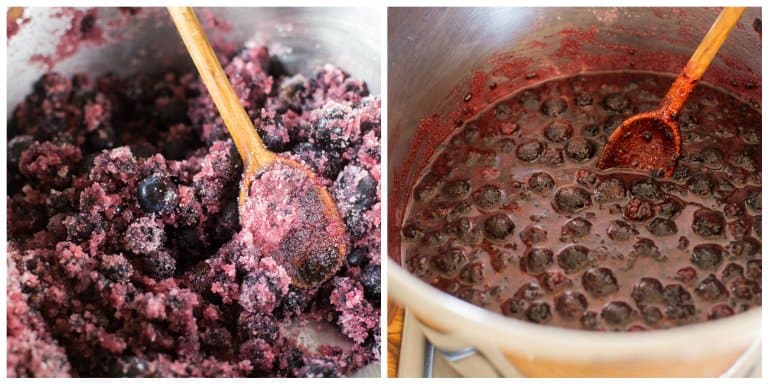 At this point get ready with your thermometer.
Keep that mixture boiling until it reaches the magic number of 105c (220f).
Happily, it only takes 3 seconds to record the correct temperature, so you can dip in and out safely until you get up to temperature.
This thermometer's digital display is backlit.
I can't tell you how handy that is when peering over a vat of molten hot syrup and through a cloud of boiling steam!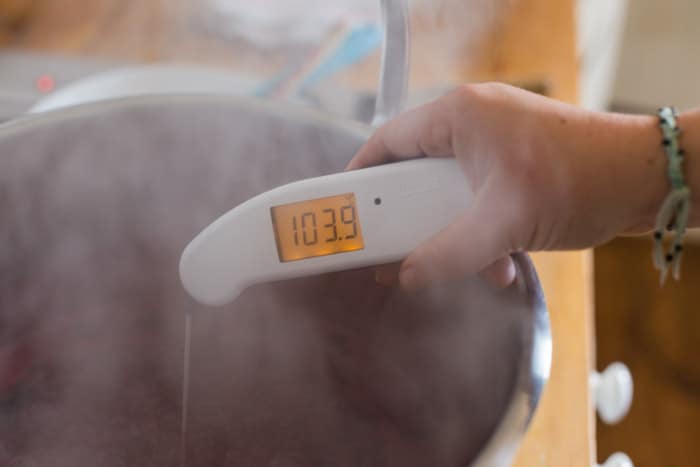 At this point you can test it has reached the setting point by dabbing a small amount onto a chilled plate.
Once cool, if the jam skin wrinkles when pushed with your finger, you have hit jam-making nirvana.
Tips to Making Sloe and Blackberry Hedgerow Jam
The sloe stones will mostly have floated to the top of the jam, where they will look yellow against the mass of purpley black jam.
You can either remove them carefully before potting up. Or leave them in and pre-warn people before they dive in that it contains stones.
If you leave yours in, or if you're not entirely sure you got them all out, please do not feed this jam to children.
Perhaps make a separate wild blackberry jam just for them.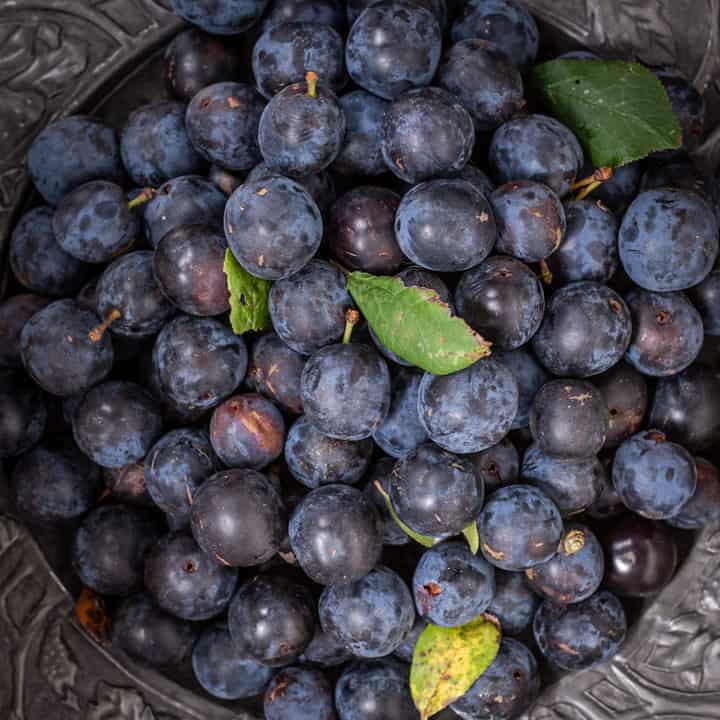 You can also add in a small knob of butter which will clear the scum from the top of the jam.
Personally, I didn't bother as I wanted to keep mine fully dairy free.
The scum doesn't affect the taste at all and is perfectly safe to consume but it doesn't look particularly pretty.
Carefully spoon or pour the jammy goodness into your hot, pre-sterilised jars.
Top off with a jam disc and cellophane lid and secure with a rubber band.
Let cool before squirreling away for the winter months.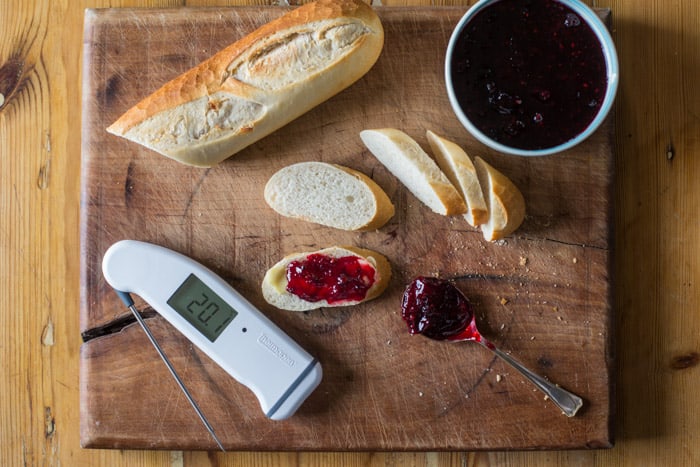 Whilst this Sloe and Blackberry Hedgerow Jam recipe is very sweet, it also has an amazing sharpness, which it gains from those sloes.
It's like a bitter marmalade, the perfect balance of sweet and sour.
If you give it a go, do let me know what you think and which hedgerow fruit you managed to snag!
Jam Making Kit
Here's a handy list for what you'll need to have on hand before making jam: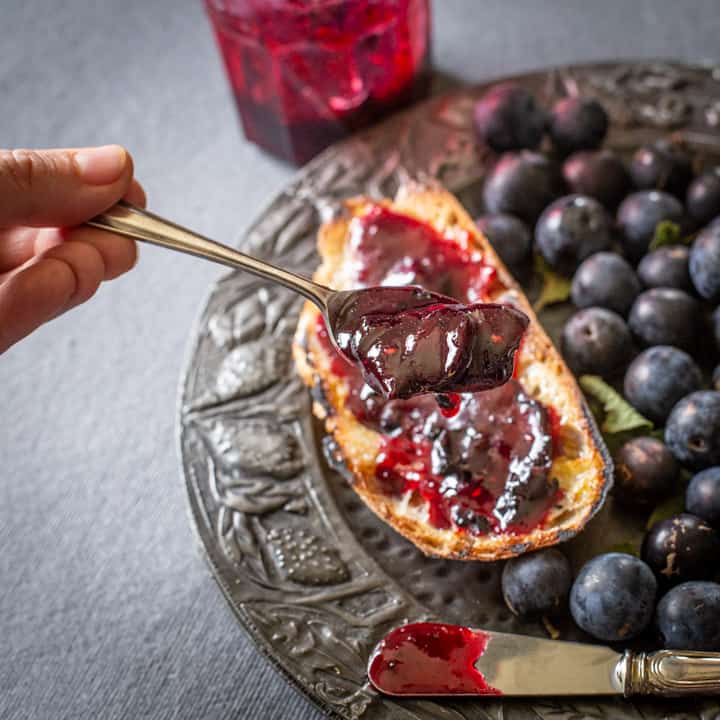 Sloe and Blackberry Hedgerow Jam Recipe
I've recently made a fun little video of this recipe whilst foraging the hedges on our little farm in Cornwall.
Hopefully, it'll prove just how easy this hedgerow jam is to make!
If you're looking to use up your blackberry haul this season, you will find lots more tasty blackberry recipes on the blog.
I'd love to hear what you make with yours!
Enjoy!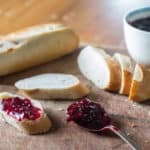 Sloe and Blackberry Hedgerow Jam
Keyword:
sloe jam, sloe jam recipe
Ingredients
1

kg

hedgerow fruits

- bugs, leaves & stems removed

1

kg

jam sugar

- or an equal amount to the fruit you have

1

tsp

butter

- optional
Instructions
Heat the fruit & sugar together in a jam pan or very large heavy bottomed saucepan.

When the sugar has dissolved, bring to the boil until the jam reaches 105c (220f).

Test for setting point by dabbing a little jam onto a cooled plate and doing the 'wrinkle test' once it has cooled.

Pop in a dab of butter if using which will clear the scum from the surface. I don't bother as I like to leave my jam totally dairy free.

Pour the jam into pre-sterilised and hot jam jars before placing a jam disc and cellophane lid on.

Let cool before labelling with contents, date and a warning about the sloe stones.
Nutrition Facts
Sloe and Blackberry Hedgerow Jam
Amount Per Serving
Calories 1925
Calories from Fat 72
% Daily Value*
Fat 8g12%
Cholesterol 10mg3%
Sodium 85mg4%
Potassium 1580mg45%
Carbohydrates 682g227%
Protein 7g14%
Vitamin A 3145IU63%
Vitamin C 22mg27%
Calcium 140mg14%
Iron 7.1mg39%
* Percent Daily Values are based on a 2000 calorie diet.
Huge thanks to Thermapen for sponsoring this recipe and allowing me to continue bringing you tasty new recipes, for free. As always all thoughts, and leftovers, are my own.
Janie x