These melt in the mouth Cardamom Shortbread biscuits are just heavenly.
They're a doddle to bake and make a delicious homemade gift.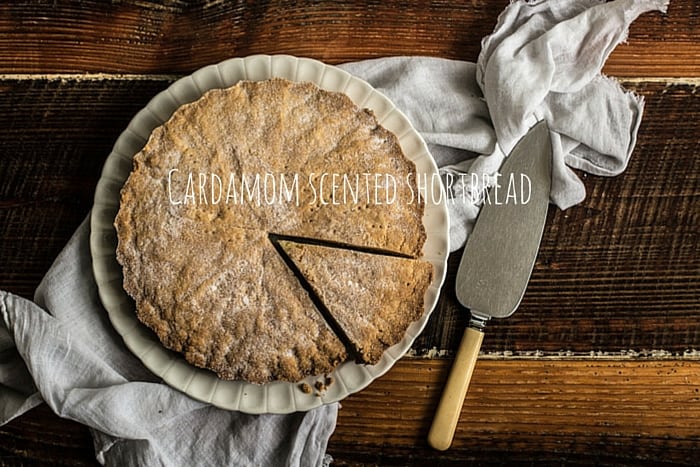 Homemade Shortbread
Admittedly it's hard to improve on perfection however, I thought I'd give it a go.
I took the basic shortbread recipe and played around with adding various quantities of freshly ground cardamom seeds. Cardamom has become one of my favourite spices in recent years.
I finally nailed it! This recipe makes the perfect coffee break treat, and if you're looking for a homemade gift idea, look no further!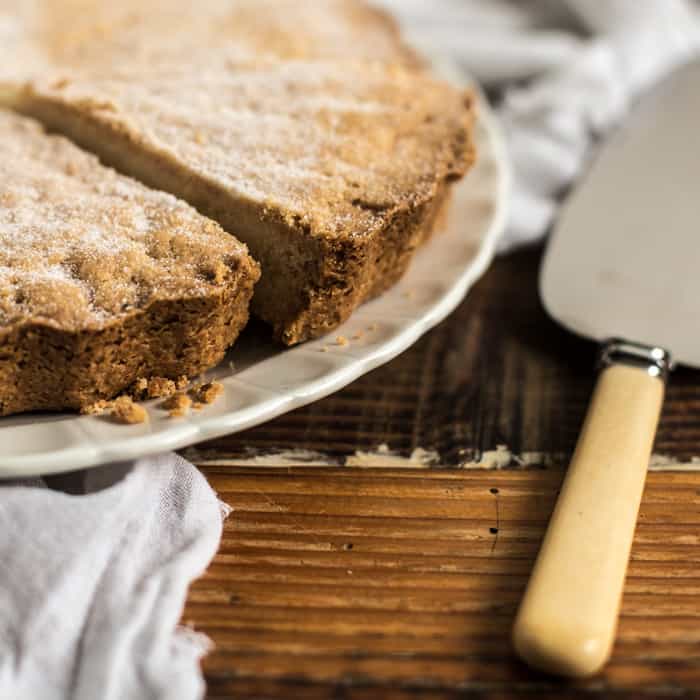 Homemade Gifts
If the budget is a little tight this year, then perhaps this shortbread recipe could save the day?
If you scour charity shops/thrift stores, you can often find these fluted baking dishes, or quiche pans really cheap. Snap them up when you see them.
And come Christmas time you'll only have some basic ingredients to buy.
Ideally, if I were giving these as a gift, I would bake them the same day I was going to see the person. At a push, you could make them one day before, but no earlier.
Once baked, take it out of the oven and leave somewhere cold to cool as quickly as possible.
Then cover with a piece of cling film, or even better, a homemade beeswax wrap!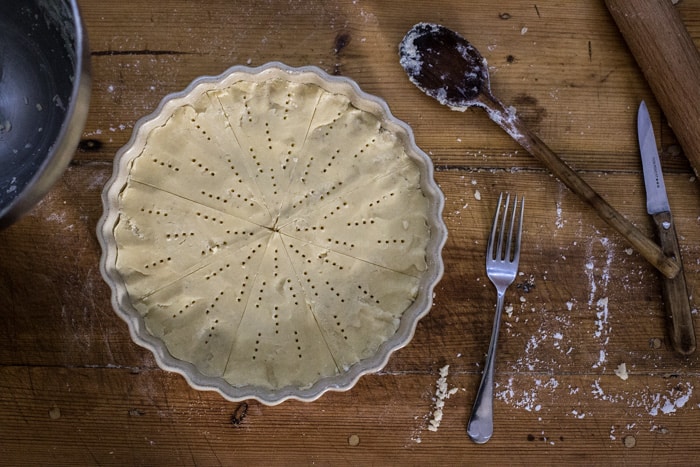 How to Make Cardamom Shortbread
You need to start off by mixing together the butter and sugar.
My butter was hard, straight from the fridge which isn't ideal. But as I was losing the light, I took a shortcut and chopped it up.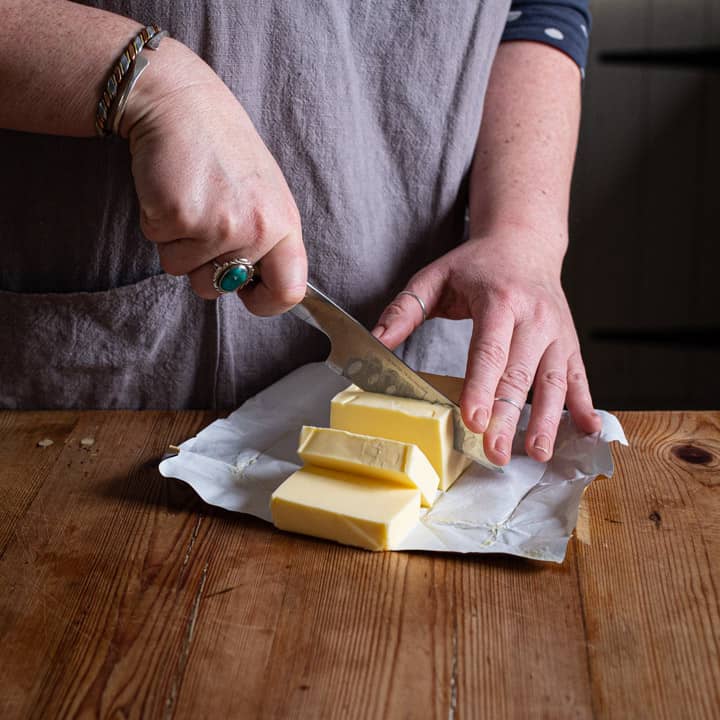 Then I popped it in my stand mixer before adding the sugar, just to soften it up.
It actually worked a treat. But if you don't have an electric mixer and are going to be making this recipe by hand, please wait until it's softened!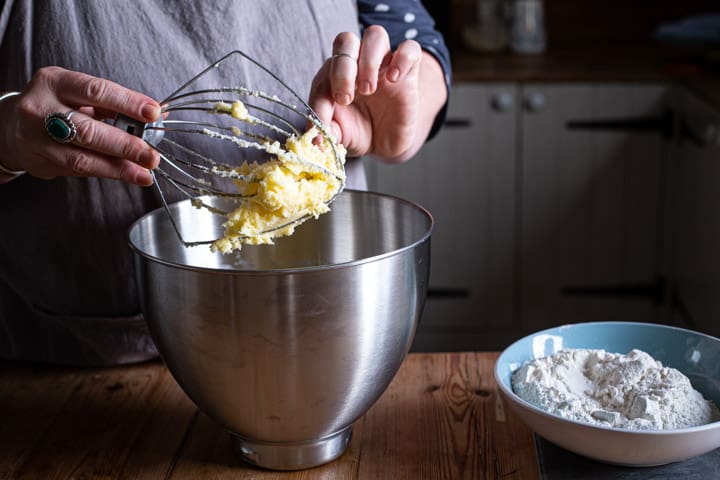 Once the butter and sugar have become light and fluffy, sift in the flour, cornflour and cardamom.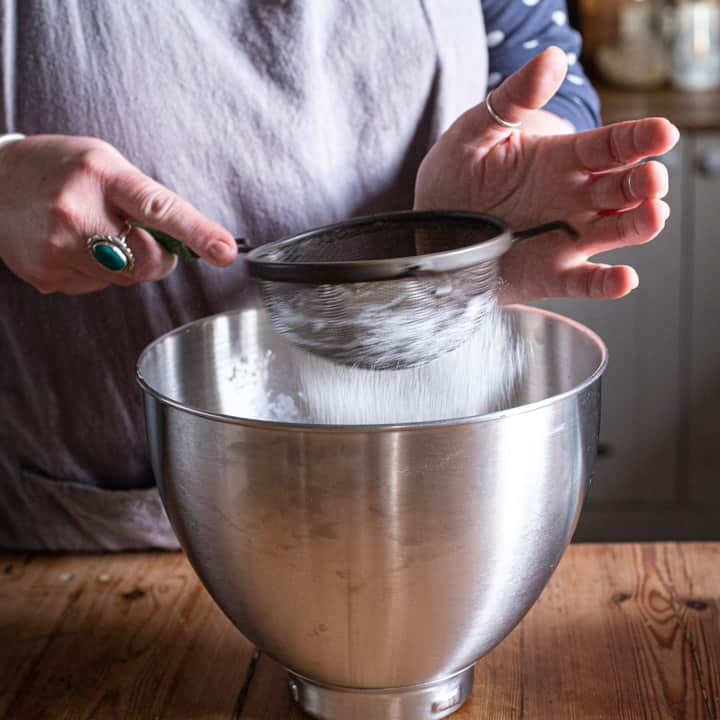 I normally do the next bit of mixing by hand. But I was totally losing the light and was worried I wouldn't be able to finish off these photos.
So I popped it all back in the stand mixer again. But this time I used the dough hook.
Success! It'll be dough hook every time from now on!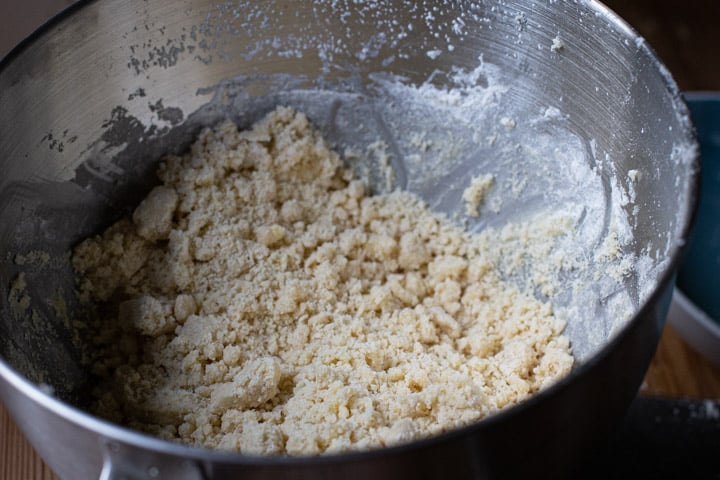 This is the 'crumb' you want to achieve, whichever way you're mixing things up.
If you were to take a bit of the doughy crumb in your hand and press it, it will stay together and not crumble easily.
This is shortbread nirvana.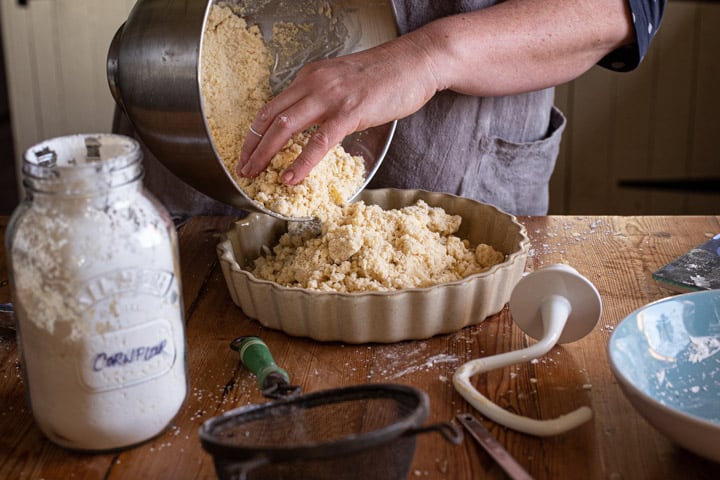 Next, you simply tip it out into your greased flan dish and press it down flat with the back of a spoon.
I always worry at this point how I'm ever going to get the finished shortbread out of the dish once it's baked.
But, so long as you leave it to completely cool, it'll slide right out.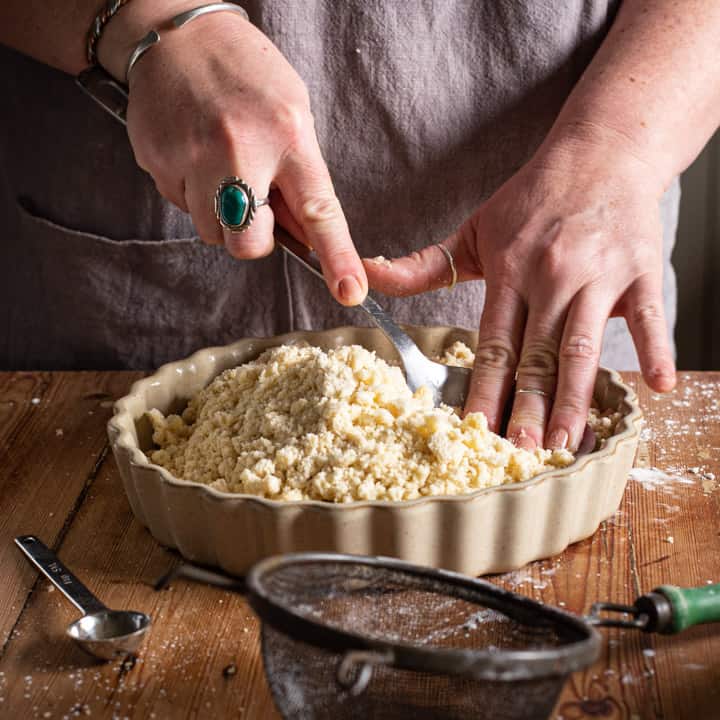 Next up, score the surface of the shortbread with a sharp knife.
You don't want to cut all the way through, just score it a couple of millimetres deep.
I scored mine into 8 even pieces.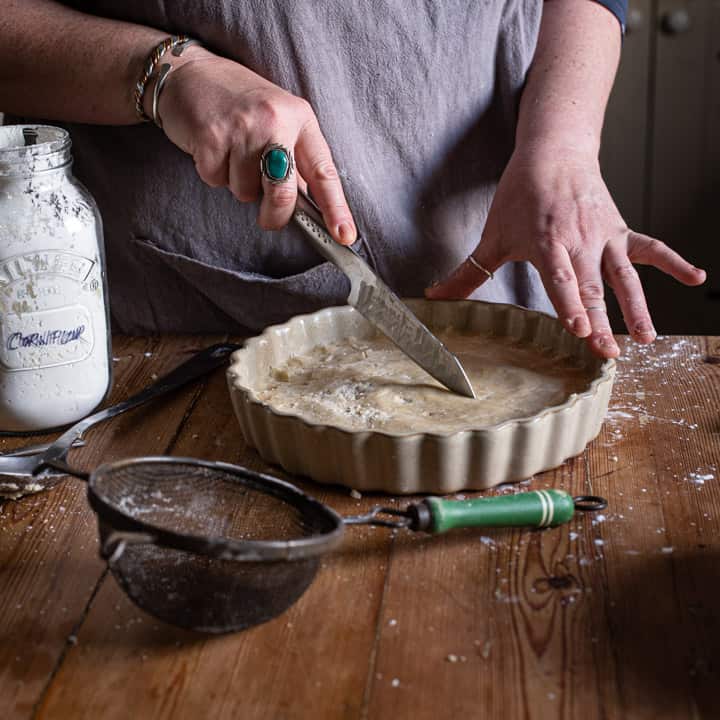 And finally, take a fork and gently prod the shortbread all over.
I'm not sure if this is entirely decorative, or if there's some scientific reason that shortbread gets a good forking.
If you have a theory, could you leave it in the comments below? Enquiring minds need to know…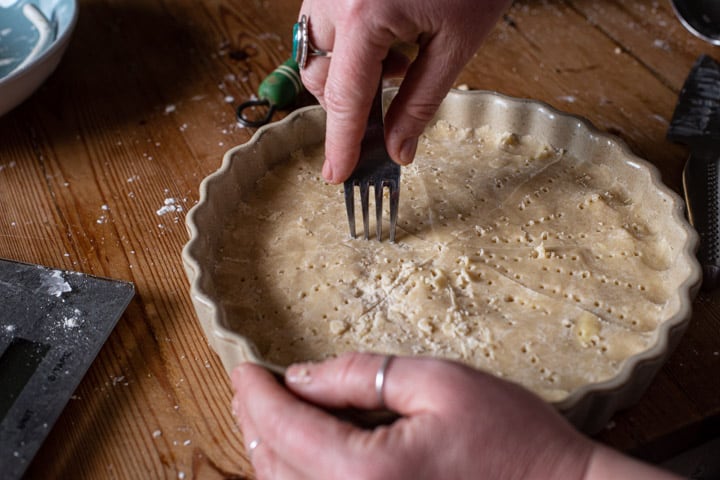 Once the cardamom shortbread come out of the oven, sprinkle with a little more sugar. About a tablespoon should do nicely.
And then leave to cool in the pan.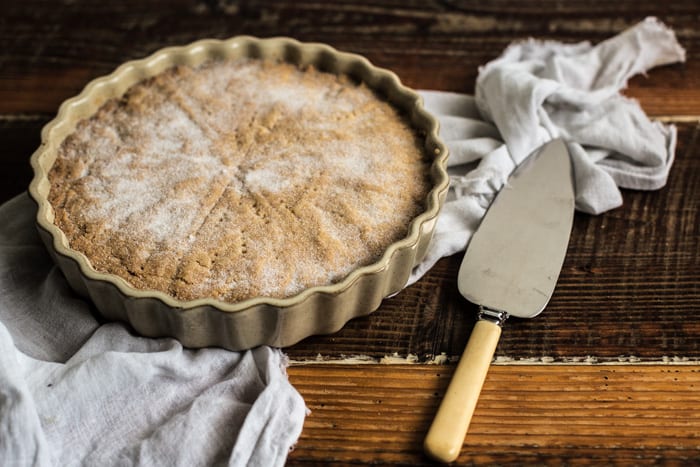 Once cold, simply cut through the score marks, and lift each piece out with the tip of a sharp knife or a cake slice.
The full recipe is down below, and if you do give it a go, I'd love to know what you think! Either drop a comment down below, send me an email or share a pic with me on social. You can find me pretty much everywhere as @hedgecomber :)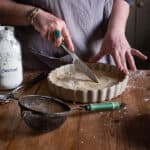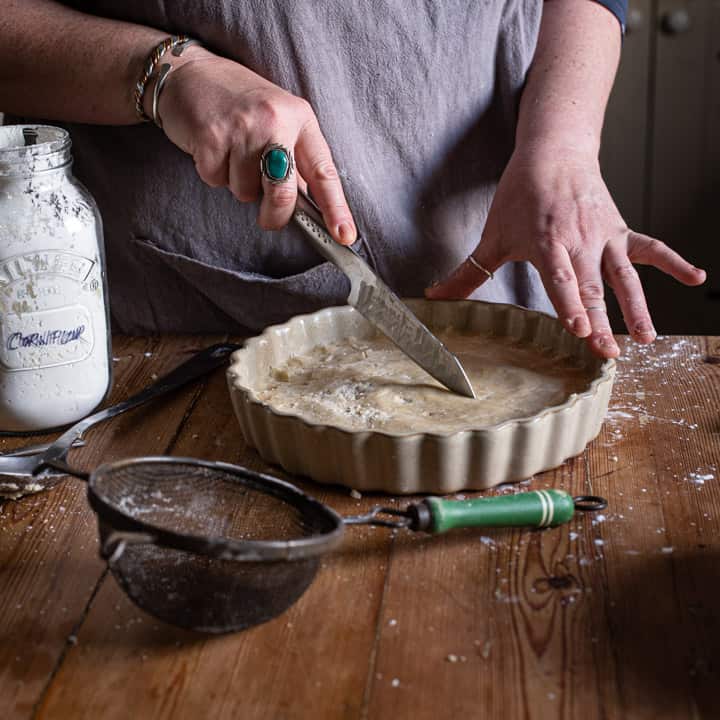 Cardamom Scented Shortbread
Ingredients
250

g

salted butter

125

g

caster sugar

250

g

plain flour

sifted

125

g

cornflour

10

cardamom pods

seeds removed and ground into a fine powder
Instructions
Preheat the oven to 150/300/gas2. Grease an 8" quiche dish.

Dust off your mixer and cream the butter and sugar together until it is light and fluffy.

Sift in the flour, cornflour and cardamom powder and mix gently with a spoon until it is beginning to combine. Next get your hands on there and smush the crumbs up into a dough. You'll think this recipe is rubbish and it'll never form a dough, just hang on in there and keep going ;)

Turn out onto a lightly floured surface and roll out gently until it is around the size of a dinner plate.

Carefully pick up the slab and lay it into the quiche dish, don't worry if it breaks up or otherwise misbehaves, just squidge it into place with your fingers and smooth over with a large spoon until it is relatively flat. Score out 'petticoat tails' into the dough for as many pieces as you want (I scored into 8) and use a fork to gently prick the shortbread all over.

Bake in the preheated oven for 50 minutes, sprinkle with a little more sugar when it first comes out and let cool slightly before removing from the tin and letting cool fully on a cooling rack.