This Cardamom Coffee will excite even the coffee purists out there. Strong black coffee with the subtle scent and exotic flavour of freshly ground cardamom seeds.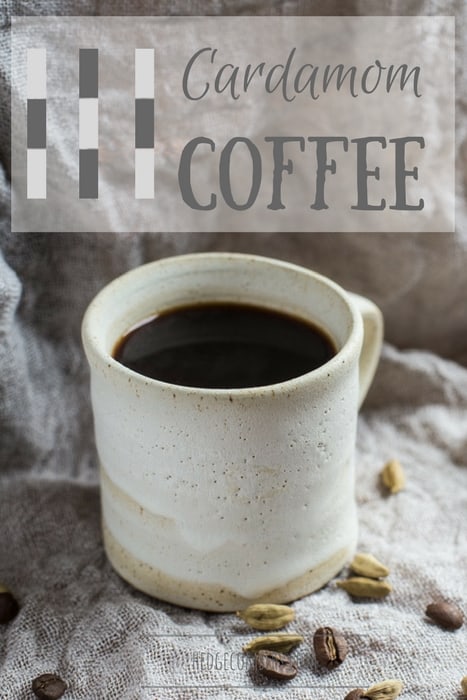 Welcome to my newest addiction: Cardamom Coffee.
I have learnt to love coffee in so many different ways. At home I drink it black and decaf'd. In the big chain coffee shops I drink soya cortados/picconos (a tiny glass with 2 shots of coffee and roughly the same amount of steamed soya milk). If I'm hungry and food is elusive (which, let's be honest, rarely happens in my world) then a soya cappuccino quietens the rumbles a treat. Equally I am also partial to a cold brew or iced coffee (black or white, I don't care. A single dash of hazelnut syrup if I need pampering).
I am a brazen hussy when it comes to my cup of Joe.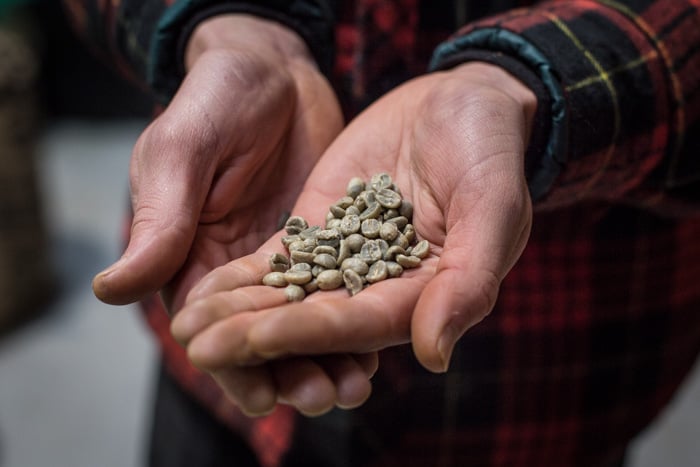 Waiting for this mornings coffee to brew whilst gazing at my spice rack made this cardamom coffee come to pass. I love coffee, and I love cardamom. Why not mix the two and see what happens. A good thing happened. A very good thing.
According to Google cardamom coffee is already a thing: in the Middle East they've been scenting coffee with spice for eons, be it cardamom, cinnamon or nutmeg. It's just taken me a while to catch up.
So in this cardamom version, we bring together two of my most favourite flavours and scents into one magical concoction. It has the kick of a strong black coffee but the emotive overtones of the beautifully scented cardamom pod.
Coffee is a flirty little bean that works well in so many ways. Keep playing with it and promise me you'll never allow yourself to get stuck in a caffeine related rut.
How to Make Cardamom Coffee
If you're grinding your own beans then simply add the cardamom seeds to the beans as you grind. Do be warned though that this will scent your grinder for a few days. As I came away from Yallah with a perfectly ground bag of beans I simply crushed my cardamom seeds in a pestle & mortar. You can use the back of a teaspoon if you don't have one to hand.
Tear away the cardamom pod shell and scrape out the seeds. Discard the pod, the seeds are where the flavour is at. Crush them to a similar size as your coffee grounds and just add to the cafetiere along with the coffee. Brew as usual. Serve black, white or however you fancy.
Play around with the amount of cardamom you add. I found 4 pods gave me the perfect balance between coffee & spice, without the spice being overbearing or intrusive.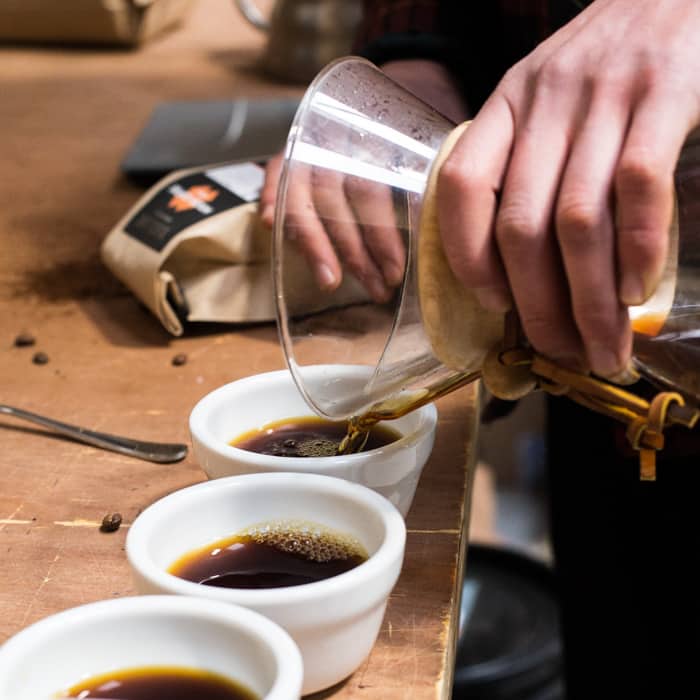 Other Cardamom Uses
If you're also a big fan of the exotic little cardamom pod, you may like to go and explore these recipes. My Cardamom Scented Shortbread is to. die. for. And I've just realised it's been waaaay too long since I last made it. The smell as its baking is enough to drive any calorie counters or 'low carbers' totally bonkers :)
One of my favourite recipes I've ever made here on the hedgecombers is this frugal Cardamom Treacle Tart. Oh boy. It's no good on the waistline (or teeth enamel for that matter) but it is a bake you seriously need to try at least once in this lifetime. The ingredients are so cheap, yet it tastes like a million dollars.
Cardamom Coffee Recipe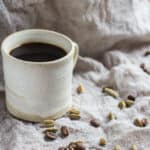 Cardamom Coffee
Ingredients
Per person
1

measure

coffee grounds

4

cardamom pods

seeds removed & ground

water

just off the boil
Instructions
Pop the coffee & cardamom into a cafetiere or French press.

Top up with the perfect amount of water and let brew for 4 minutes.

Plunge & enjoy.
Nutrition Facts
Cardamom Coffee
Amount Per Serving
Calories 12
% Daily Value*
Fat 0g0%
Cholesterol 0mg0%
Sodium 0mg0%
Potassium 44mg1%
Carbohydrates 2g1%
Protein 0g0%
Vitamin C 0.8mg1%
Calcium 15mg2%
Iron 0.6mg3%
* Percent Daily Values are based on a 2000 calorie diet.

Yallah Coffee
Jonny & I recently travelled to West Cornwall to visit a small artisan coffee roastery on the outskirts of Falmouth.
Yallah Coffee is well off the beaten track, but is well worth hunting down if you're in the area. Run by Richard and his mate Phil, the passion that is poured into every batch is apparent from the moment you enter the door. The roaster is from the 1950's and has been lovingly restored. The beans are all directly sourced from small farming co-ops with which Yallah are forging on going relationships with. And they pay well above the average price to the farmers to ensure everybody wins.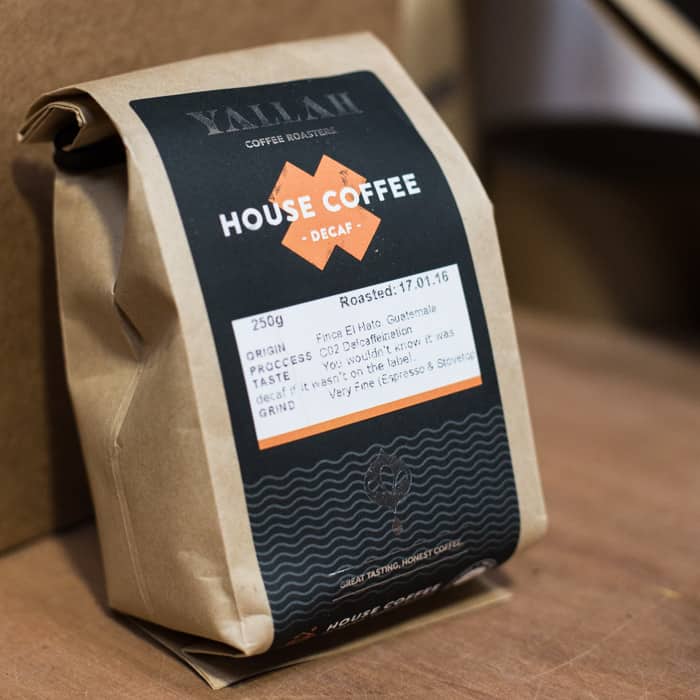 The beans are never blended, but instead prized for their unique notes and celebrated for their differences. In fact one of my favourite things about Yallah Coffee is their three categories of the coffee they sell:
House Range: These change roughly every six months but each batch of beans are chosen for their traditional flavours. If you are new to coffee, or like to know that every cup will be consistent in flavour, then go for House.
Explore Range: These are the beans to buy if you need a bit of excitement in your coffee drinking life. You're going to find new and unique flavours. These are the beans that make Phil the chief bean hunter at Yallah go 'Wow', but are a little bit outisde the box.
Trust Range: I love the trust range, although it is ever so slightly bonkers. During our visit we tried a cup of their latest Trust coffee, and in the cup it looked red rather than black. And to my (admittedly immature) palate it tasted more like tea at first sip, than coffee. These are the beans to go for if you are an intrepid coffee explorer, not wanting to miss out on a single coffee experience. You will never get bored with the fun, wacky and totally unique flavours that the Trust Range delivers. And that's a promise!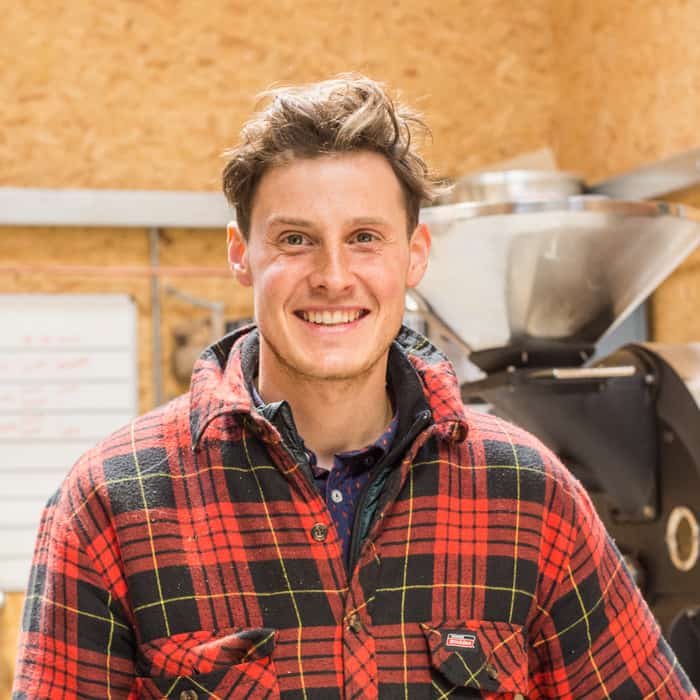 Please go and have a rummage through Yallah's gorgeous website for more info, or to place an order. You can buy one off bags or set up a regular subscription to the range of your choice. Freshly roasted beans (whole or ground) delivered to your door, just when you need them.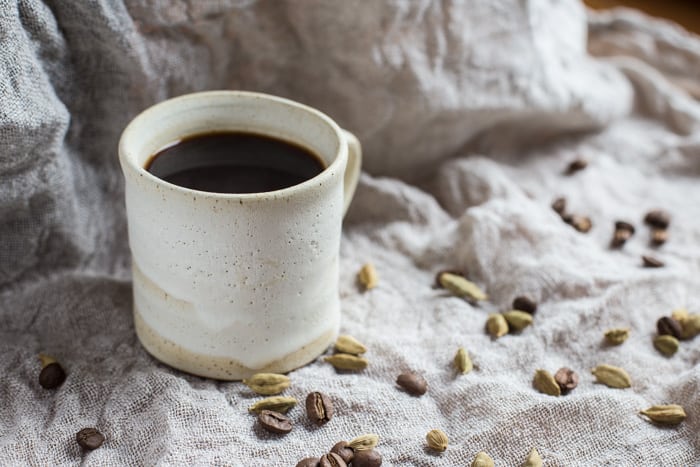 Disclosure: This review was not sponsored in any way (other than being fed enough coffee during our visit to make me talk really really fast, and coming away with a bag of perfectly ground beans!). This non-sponsored recipe post is my way of supporting small artisan producers in Cornwall. If you know a small Cornish food or drink producer that deserves a similar review, please ask them to get in touch with me at hello(at)hedgecombers(dot)com.
Jane x