This Butternut and Sage Pasty is a truly tasty vegetarian pasty recipe that even the meat eaters will be pining over. It's also easy to adapt for vegans too.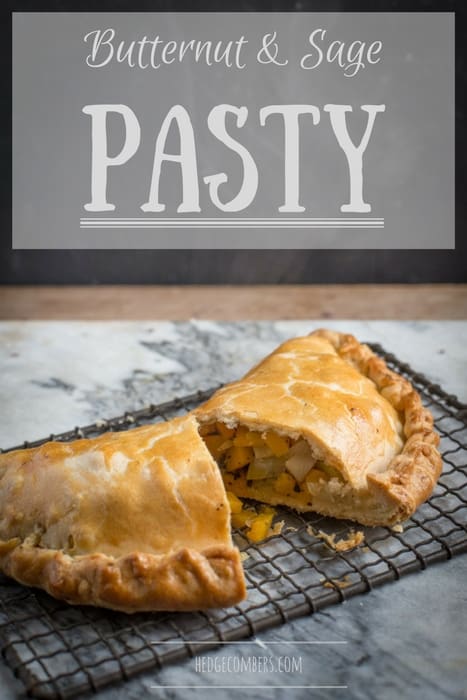 So this butternut and sage pasty may be a million miles from a traditional beef steak or skirt Cornish pasty, but I'm not sure even the most fervent meat eater would complain at the delicious filling encased within this pastry shell.
In fact, when I told Jonny we were having butternut in a pasty, he groaned.
But he soon did a 180 with his very first bite :)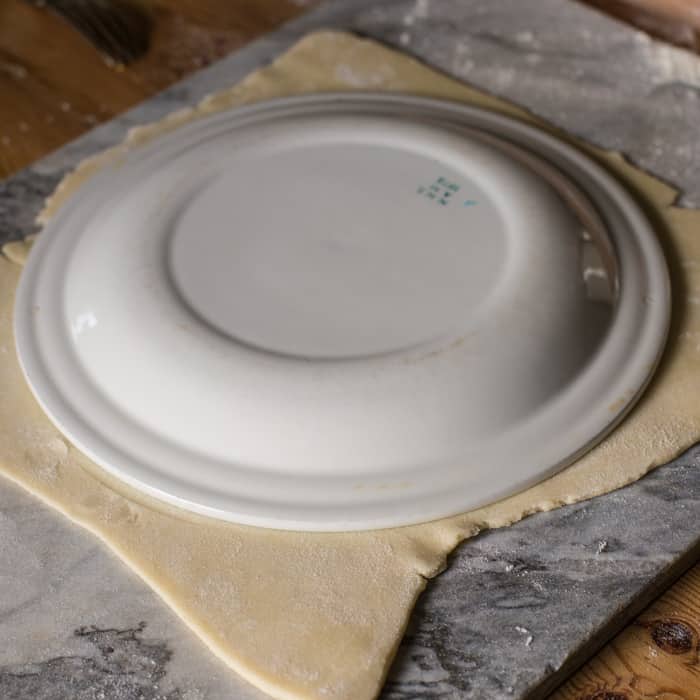 If you haven't made a pasty before, you are in for a treat my friends!
You start out with shortcrust pastry (homemade or shop bought, I won't judge) and roll it out to 2-3mm thick. I am terrible at making pastry so I used shop bought. Shhh.
Use a dinner plate to cut out a circle and pile the filling contents into the pastry disc.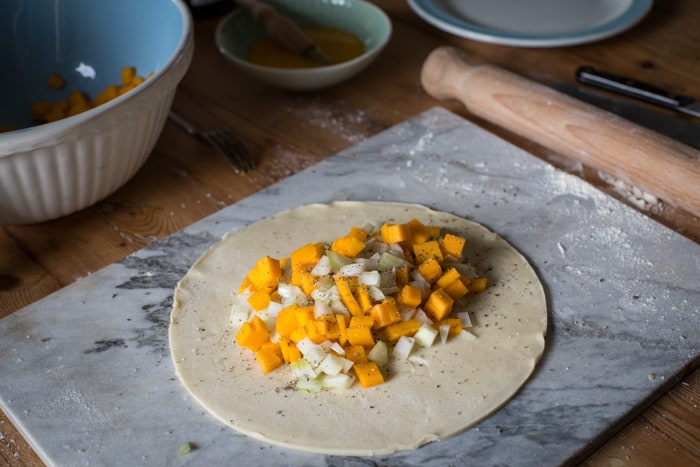 Seasoning is imperative in a good pasty – so many meh ones could have ended up in the pasty hall of fame, if only the cook had been more generous with the salt and pepper grinders.
So, don't scrimp my friends.
Another key at this stage is to add in a knob of butter or of clotted cream (hey, it's a thing!) for flavour and to create a moist filling or 'gravy'.
But if you are keeping this dairy free and vegan, then try adding a teaspoon of coconut oil or your favourite dairy free spread.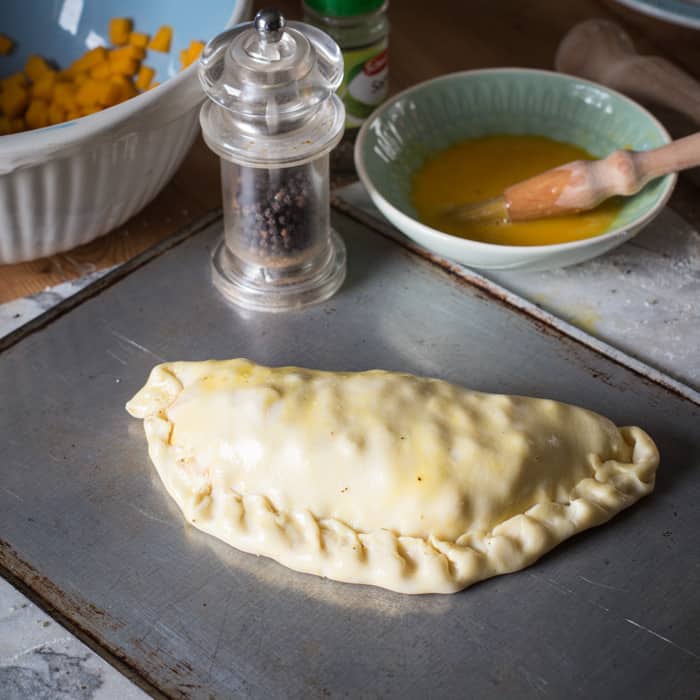 Next up, you need to crimp your pasty to seal the edges and make it look like an authentic Cornish pasty (on the outside at least!).
I'm not sure written instructions will be of the slightest help in teaching you how to crimp, so may I suggest popping over to youtube for a more visual explanation.
And finally, before popping in the oven, give a lick with an egg wash. Dear vegans, apparently you 'egg'wash with olive or vegetable oils. But then you probably knew that already.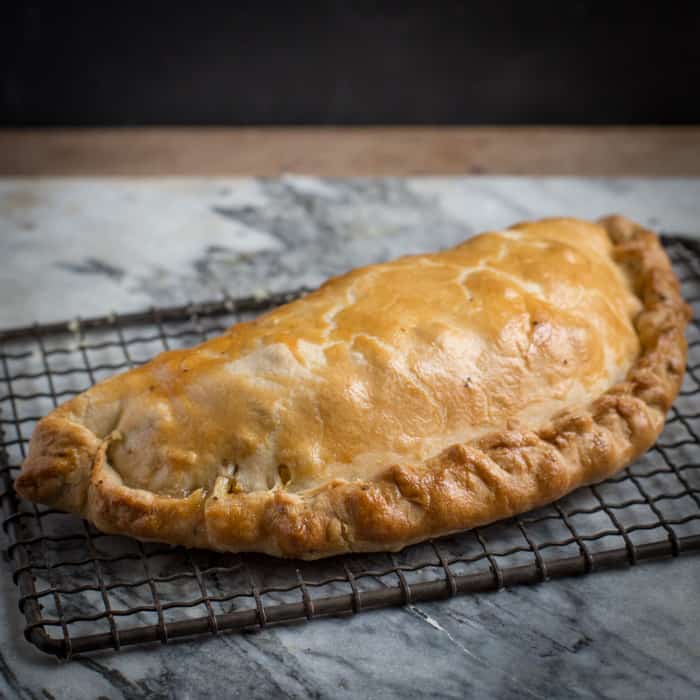 Your fabulous inauthentic butternut and sage pasty then gets slammed into a hot oven where it will morph from collection of ingredients to the most delectable lunch time treat imaginable.
Do yourself a favour and make a bunch and freeze them. They really are that good.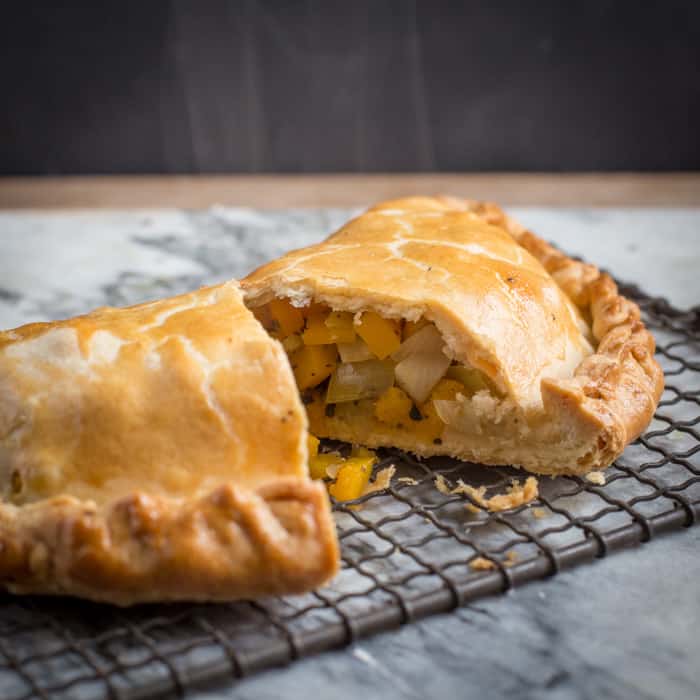 And if you want to push your new found pasty making skills even further, do try my Cheese & Chive Cornish Pasty or this tremendous Tenderstem and Cornish Blue Cheese Pasty.
And for the non-veggie/vegans out there, there's of course my gorgeous traditional Cornish pasty recipe that you just must try!
Over & out!
Janie x
Butternut and Sage Pasty
Here's the full written recipe.
Feel free to toggle the switch between metric & US measurements to make it easier for you. And feel free to tag me in any pasty pics you share online! You can find me pretty much everywhere as @hedgecomber.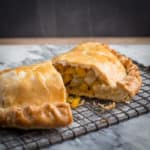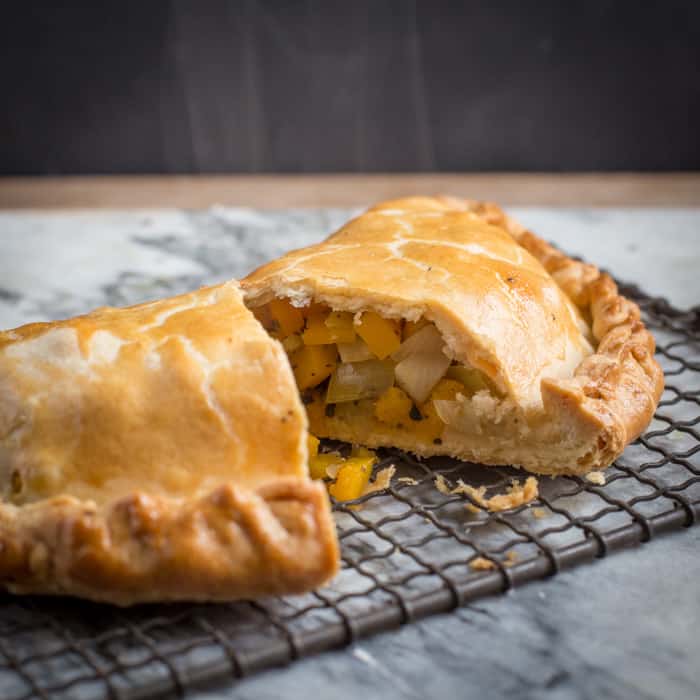 Butternut and Sage Pasty
Ingredients
259g

shortcrust pastry

1/4

butternut squash, skinned, deseeded and diced

1

medium sized waxy potato, peeled and diced

1/2

white onion, finely chopped

2

tsp

dried sage

salt and pepper

knob of butter/coconut oil

beaten egg/cooking oil to 'egg'wash
Instructions
Preheat the oven to 220c/425f/gas 7

Roll out the pastry, and cut into circles using a large side plate/small dinner plate.

Pile up a good mix of the filling ingredients, ensuring it is all evenly spread. Imagine a little bit of everything in every bite. Season really well and add the knob of butter/clotted cream/oil.

Fold the pastry over itself and press the edges together, enveloping all the ingredients inside. Please check out YouTube for a visual explanation on how to crimp! It's really easy, yet really hard to put into words!

Carefully move onto a baking sheet and brush with the eggwash or equivalent.

Bake for 10 minutes, then reduce the heat to 180c/350f/gas 4 and cook for another 40 minutes.