My recipe for a vegetarian Tenderstem and Cornish Blue Cheese Pasty is a quirky little twist on a traditional Cornish steak pasty, but with no loss of great flavour.

The following Tenderstem and Cornish Blue Cheese Pasty recipe is an ode to Cornwall.
The beautiful county that has been my home since the grand age of four, and that inspires me in the kitchen on an almost daily basis.
Hopefully everyone reading this has at some point enjoyed a truly traditional Cornish pasty.
I'm not talking about the ones cocooned in plastic that can be found in the chiller cabinet at the local petrol station, but the ones made to an authentic (often age old family) recipe using top quality ingredients.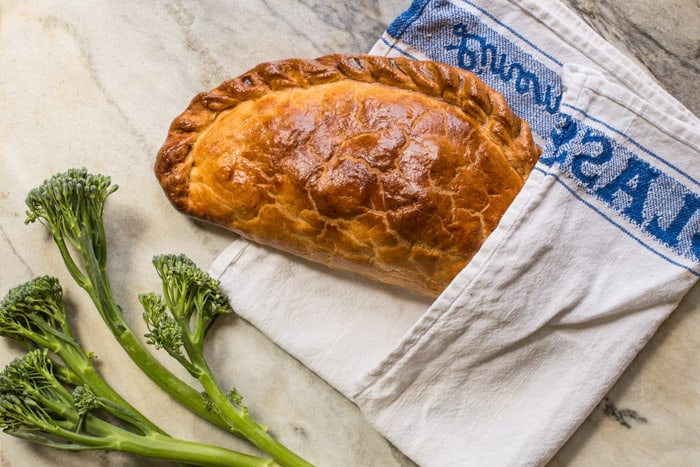 I'll be sharing my traditional steak pasty recipe in the near future (I did! You can find it here: Traditional Cornish Pasty Recipe) but in the mean time I wanted to create a vegetarian version that was just as tasty and satisfying as the original.
How to make a Tenderstem Broccoli and Blue Cheese pasty
Here's how I pimped the ingredient list to make this yummy vegetarian pasty.
Firstly, I replaced the traditional steak with a delicious Cornish Blue cheese.
Creamy and blue, this cheese has racked up at least 19 awards for excellence including (drum roll please) the highly coveted World Cheese Award in 2010.
That is huge for a small family farm in Cornwall that tried against all the odds to make a living from their dairy herd.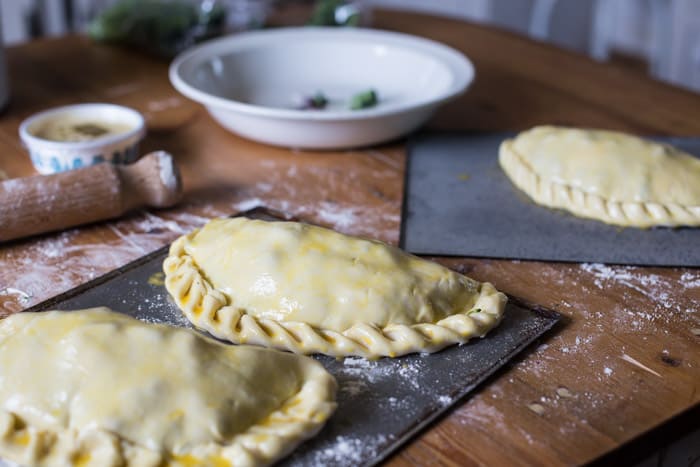 Next I plumped for some fresh Tenderstem broccoli.
Now I didn't know this but Tenderstem (the slender stemmed, elegant cousin of broccoli) was originally created by cross breeding broccoli and Chinese kale.
There's no need to worry at this point, this was done using natural techniques that gardeners and farmers have used for eons, looong before anyone had the 'clever' idea of implanting fish DNA into tomatoes.
And as June marks the start of the UK growing season, there is no better time to appreciate this superfood vegetable.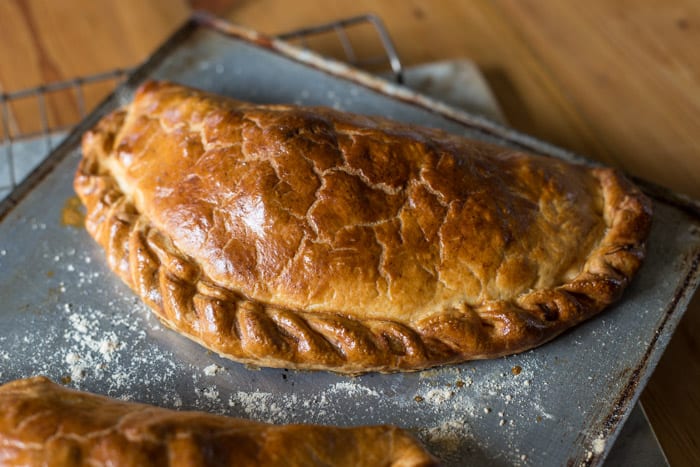 All that was left to add was the more traditional onion and potato (I left out the swede in this one) along with a really good dash of seasoning.
If you want to give this vegetarian version a go, but don't want man sized pasties, use a side plate to cut out your pastry disk rather than a dinner plate ;)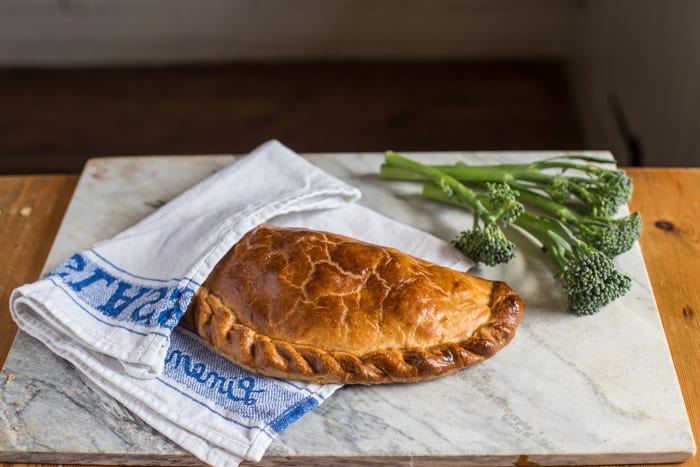 My brother isn't keen on cooked cheese, so he opted for a vegetable only version to which I added a couple of heaped teaspoons of Rodda's clotted cream to create a nice moist 'gravy'.
Much like using a knob of butter just a little more decadent.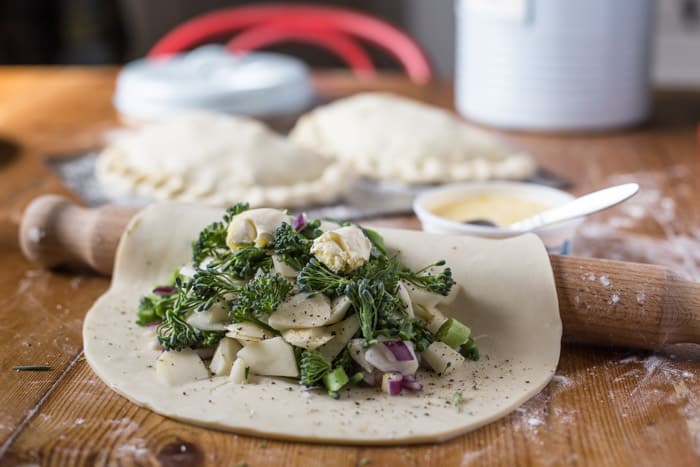 Here's the full recipe, and if you give this one a go please tag me in any pics you share online! You can find me pretty much everywhere as @hedgecomber.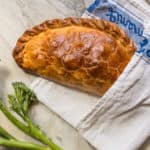 Vegetarian Tenderstem and Cornish Blue Cheese Pasty
Keyword:
Tenderstem And Cornish Blue Cheese Pasty
Servings
:
3
large pasties (or 5 - 6 small ones)
Ingredients
600

g

shortcrust pastry

rolled out to 3mm thick

200

g

Tenderstem broccoli

stem & florets diced

3-4

new potatoes or other small waxy potatoes

cut into small slices

150

g

Cornish Blue cheese

diced

1/2

an onion

finely diced

Salt & pepper

1

egg

beaten
Instructions
Preheat the oven to 220/425/gas 7 (reducing to 180/350/ gas 4 after 10 minutes of baking)

Using a dinner plate as a guide, cut circles out of the pastry. To make smaller pasties use a side plate instead.

Prop one circle up over a rolling pin as n the picture above, leaving you half the pastry to load up with the filling.

Pile up 1/3 of the veggies in turn, and top with 1/3 of the Cornish Blue cheese.

Season very well with salt and pepper - this is a really important step so don't scrimp on that seasoning!

Wet the edge of the pastry and fold the 'lid' over the filling. Use your palm to gently press the pastry down ensuring there aren't huge pockets of air within before sticking the edges of the pastry together firmly.

Crimp the edges of the pastry making the traditional pasty crust, and pop onto a baking sheet.

Brush with the beaten egg making sure to cover the entire pasty - this is another important step that will make your finished pasty look deep golden brown and ridiculously tasty!

Repeat with the rest of your ingredients to make 2 more pasties.

Bake at 220 for 10 minutes, then reduce the heat to 180 for 35 minutes.
Nutrition Facts
Vegetarian Tenderstem and Cornish Blue Cheese Pasty
Amount Per Serving
Calories 883
Calories from Fat 252
% Daily Value*
Fat 28g43%
Cholesterol 92mg31%
Sodium 1711mg74%
Potassium 849mg24%
Carbohydrates 125g42%
Protein 30g60%
Vitamin A 875IU18%
Vitamin C 75.6mg92%
Calcium 339mg34%
Iron 7.9mg44%
* Percent Daily Values are based on a 2000 calorie diet.
Huge thanks to Tenderstem for commissioning this post and helping me continue to bring you tasty content, for free. As always all thoughts (and leftovers!) are my own.
Janie x