This Asparagus Stir Fry with Baked Saucy Salmon is such a quick meal to get on the table when time is short, and belly's are rumbling!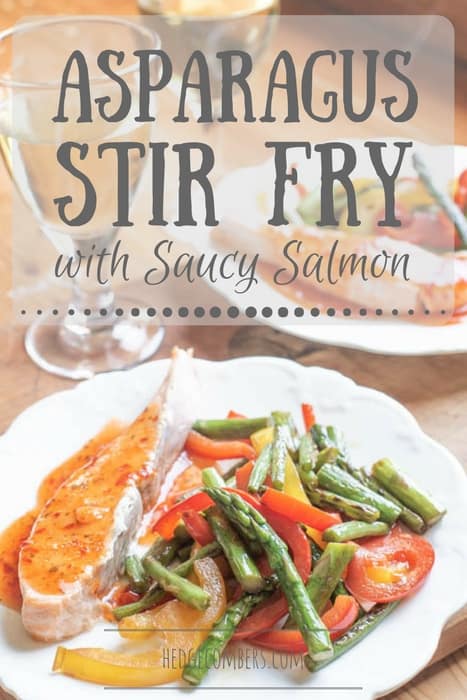 Recipe kindly sponsored by The Saucy Fish Co.
Regular readers will know I'm a girl that likes to cook from scratch.
From cutting up a chicken into smaller pieces, to filleting my own fish. Heck, I even butchered a whole deer a few years ago!
However, I'm certainly not against short cuts in the kitchen, on two conditions:
1/ they must be made with good quality ingredients, that are responsibly sourced.
2/ they must pack a punch when it comes to flavour.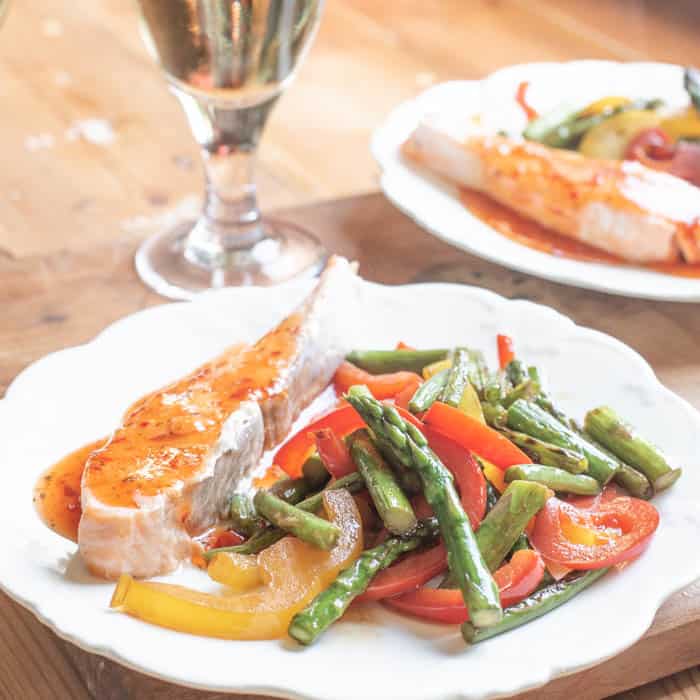 Happily, today's recipe certainly ticks both of those boxes in style! The Saucy Fish Co is a brand that I have leaned on many times in my kitchen. On days when the brain fog descends and I can't think what meal to throw together. Or on days when my fridge is looking sad and bare.
One thing I particularly like about this brand is their attitude to sourcing fish. Whilst many (most?) companies are now quick to jump on the environmental band wagon, The Saucy Fish have actually put their money where their mouth is, being founding members of the Sustainable Seafood Coalition. You can read more about their responsibility manifesto here.
Are you a fan of the Saucy Fish folk too? If so, be sure to tag your saucy recipes with #SaucyChef ;)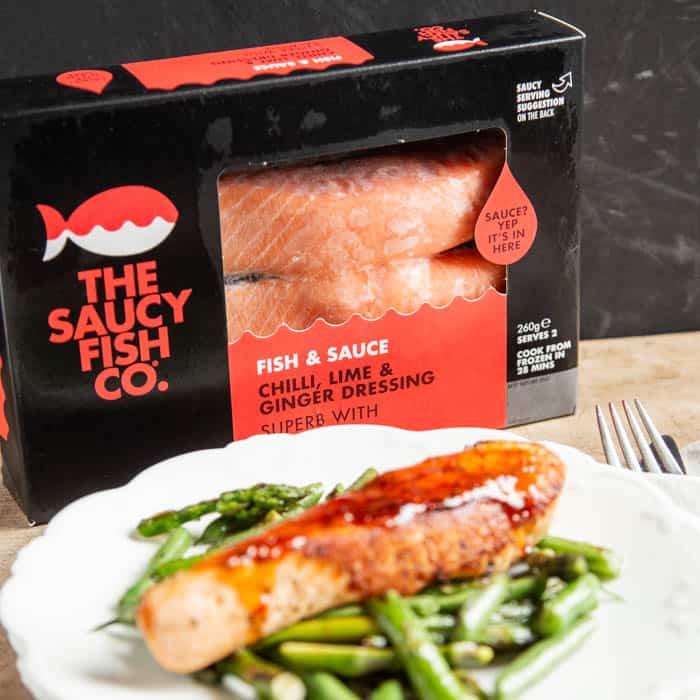 As to my second condition noted above, yes, this Salmon with Chilli, Lime and Ginger Dressing packs a PUNCH.
It's delicious.
Think sweet chilli sauce, with tart lime and warm ginger.
It's the perfect balance of flavours that requires very little effort on your part.
British Asparagus
Traditionally the British asparagus starts on St Georges day (April 23rd), although we're all waiting with baited breath to see whether the recent cold snaps will delay the start this year.
The start of the season will see the very best asparagus anywhere in the world.
There's something about the condition here in the UK that make some crops shine, and asparagus is firmly on that list.
And at the start of the season you'll find the tenderest spears, and those are the most coveted!
How to Prepare fresh asparagus
Give your fresh spear a quick rinse under cold water, then holding the thicker stalk end of each spear, bend it back until it snaps.
Asparagus naturally snaps at the perfect junction between tasty, tender bit & woody, dry bit. Check out the little video I made below for a visual demonstration.
You can then boil, steam, roast or stir fry your asparagus spears until they are cooked just how you like them.
I prefer mine with a little bite, so stir frying is perfect for me.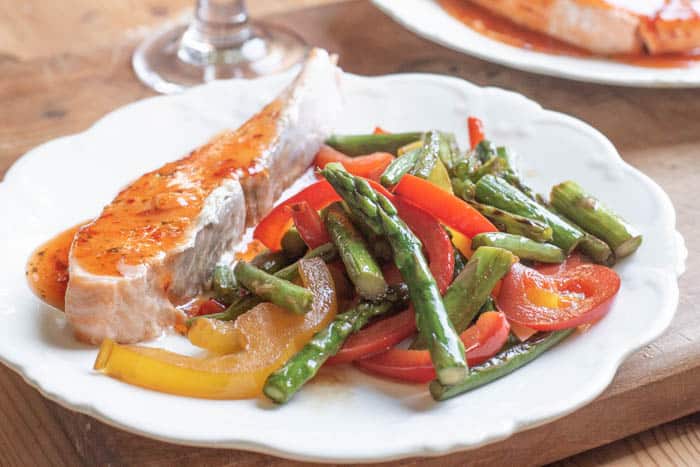 Do let me know if you give this recipe a go, you can find me pretty much everywhere online as @hedgecomber! Oh, and here's that video I mentioned…
One Pan Salmon with Asparagus Stir Fry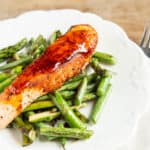 One Pan Salmon with Asparagus Stir Fry
Ingredients
Asparagus Stir Fry
1

tbsp

butter, ghee or coconut oil

1

bunch

fresh asparagus, woody ends trimmed

1

pack

green beans, trimmed

1/2

red pepper

1/2

yellow pepper

2

tbsp

cashew nuts

2

tsp

toasted sesame oil

2

tsp

soy sauce

1

pack

Saucy Fish, defrosted

I chose the Salmon with chilli, lime and ginger dressing
Instructions
Preheat the oven & cook the Saucy Fish salmon according to the package instructions

Heat a wok or pan, and when it's very hot, add the oil

Throw in the asparagus and green beans and stir fry for 1-2 minutes

Add in the peppers and cashew nuts, stir frying for another few minutes until all is cooked

Add the sesame oil and soy sauce, stir through to coat all the veggies well, before serving with the salmon
Nutrition Facts
One Pan Salmon with Asparagus Stir Fry
Amount Per Serving (0 g)
Calories 0
% Daily Value*
Fat 0g0%
Cholesterol 0mg0%
Sodium 0mg0%
Potassium 0mg0%
Carbohydrates 0g0%
Protein 0g0%
Vitamin A 0IU0%
Vitamin C 0mg0%
Calcium 0mg0%
Iron 0mg0%
* Percent Daily Values are based on a 2000 calorie diet.
If you are UK based, you can source Saucy Fish in most major supermarkets or you can order it from their online store. And as I was grabbing that link I noticed they currently have a cheeky 20% online sales. You're welcome ;)
Huge thanks to the Saucy Fish Company for sponsoring this recipe and making my camping trip so tasty! As always all thoughts (and leftovers!) are my own.
Jane x