This Low Carb Griddled Veg with Saucy Salmon makes the perfect quick lunch when you want to boost your veggie intake but don't want to compromise on flavour.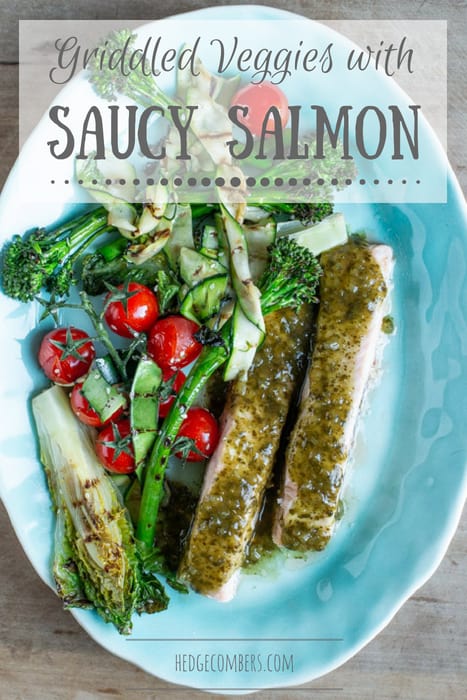 Turns out this Low Carb Griddled Veg with Saucy Salmon made the best camping meal!
I cooked the veggies on a cast iron griddle pan in Myrtle the campervan to get some lovely char marks and boost the flavour.
Once cooked they were tossed with sesame oil and sesame seeds to bring a light Asian flavour to the table.
Alongside The Saucy Fish Co.'s Steamed Salmon with a Lime and Coriander Dressing, it was a match made in heaven.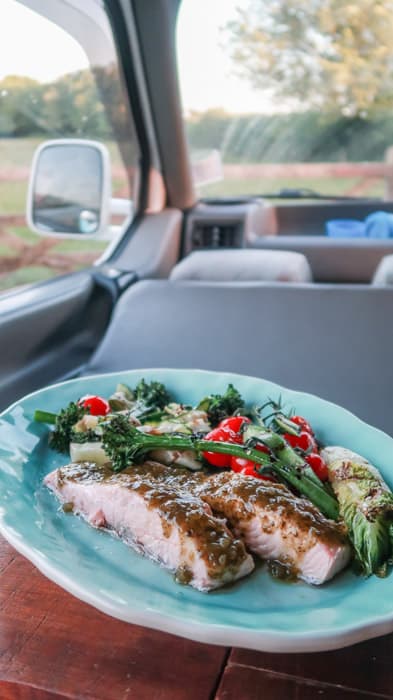 When you griddle your veg there are a few tips to bear in mind:
you don't need to oil the pan. In fact I didn't use any oil during the cooking process at all, but if you feel the need to, brush it lightly on to the veggies before griddling.
Before you let food any where near that pan, get it HOT. Pre-heating your griddle for around 5 minutes is the ideal when cooking on cast iron to get a great sear on your food.
I used tenderstem broccoli, cherry tomatoes, courgette ribbons and quarter wedges on little gem lettuce. But there are a tonne of veggies you could use, how about: asparagus, spring onions, thin slices of sweet potato, mushrooms, peppers, ribbons of carrot or even parsnip. The world is your oyster (mushroom!)
If you can't source The Saucy Fish Co.'s Steamed Salmon with Lime and Coriander (available from Sainsbury's) that I used, then why not cook a couple of pieces of salmon on the griddle plate along with the veggies.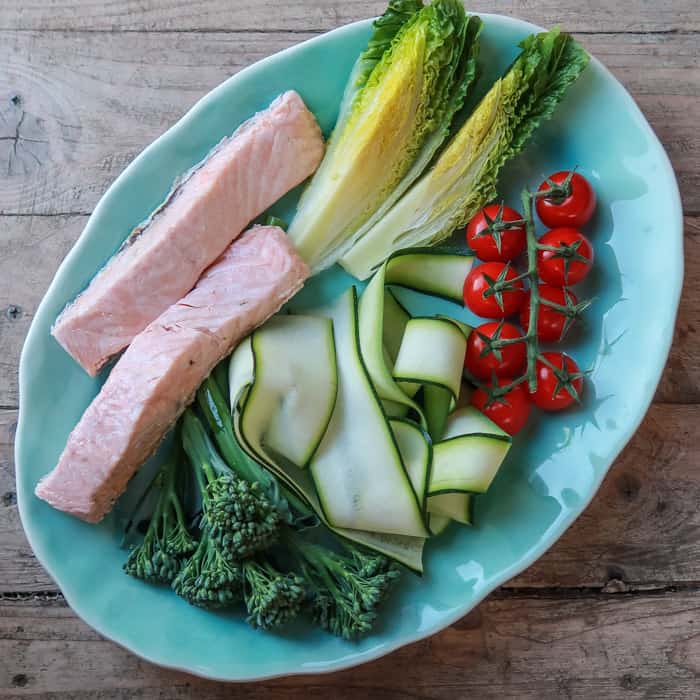 The Saucy Fish Co
The Saucy Fish Co have become a bit of a staple in my world ever since discovering them in my earlier recipe for Asparagus Stir Fry with Baked Saucy Salmon.
But I'm ever more smitten since discovering their 'Ready to Enjoy' range.
These are ready cooked portions of salmon that are so moist and bursting with protein and healthy fats.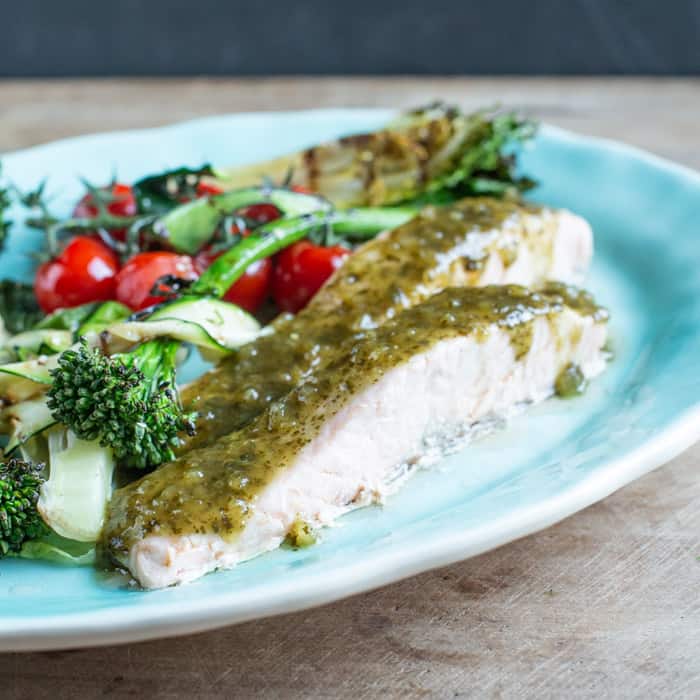 You can serve them cold, as I have here. Or reheat them if you'd prefer.
Each pack comes with a sachet of sauce to drizzle over, and it's those sauces that they're becoming renowned for.
They literally burst with flavour!
You can find Saucy Fish in most UK supermarkets.
I really recommend giving them go for those nights when time is against you.
Here's a video of today's recipe over on YouTube
Low Carb Griddled Veg with Saucy Salmon
Ready for that yummy low carb recipe?
Well, here you go friends!
And don't forget to let me know what you think if you give it a go.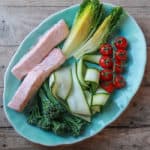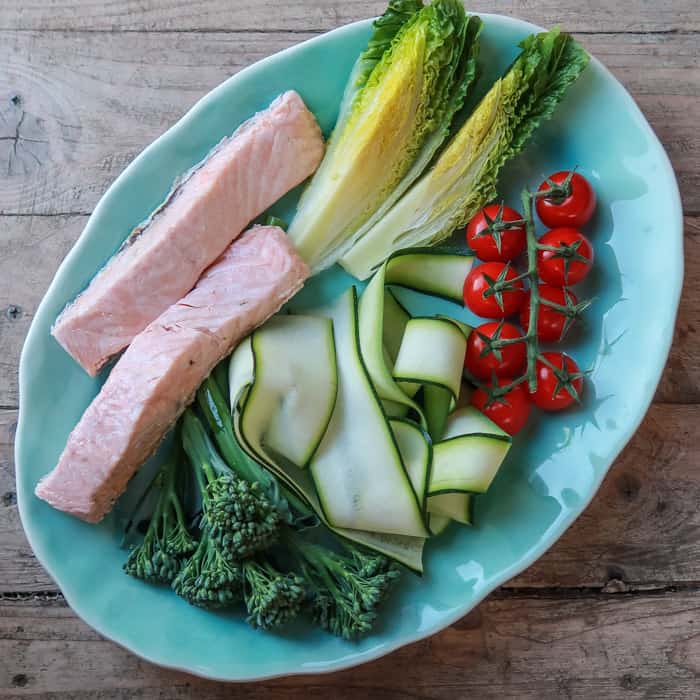 Low Carb Griddled Veg with Saucy Salmon
Keyword:
campervan cooking, griddled veg, one pan, saucy salmon
Ingredients
80g

broccoli

8

cherry tomatoes

1

large courgette

topped and tailed and peeled into ribbons with a potato peeler

1

little gem lettuce

cleaned and cut into long, quarter wedges

2

tsp

sesame oil

1

tsp

sesame seeds
Instructions
Preheat the griddle pan to HOT.

Prepare the veggies and lay out the the toughest/thickest pieces first.

Once cooked, remove the veggies and pop into a bowl. You may need to cook everything in batches.

Once all the veggies are cooked, pour over the sesame oil and sesame seeds and toss well to coat.

Plate up the salmon and dress with the Lime & Coriander dressing. Serve alongside the veggies and devour happily.
Nutrition Facts
Low Carb Griddled Veg with Saucy Salmon
Amount Per Serving
Calories 304
Calories from Fat 162
% Daily Value*
Fat 18g28%
Cholesterol 0mg0%
Sodium 30mg1%
Potassium 565mg16%
Carbohydrates 13g4%
Protein 22g44%
Vitamin A 1995IU40%
Vitamin C 69.3mg84%
Calcium 52mg5%
Iron 1.4mg8%
* Percent Daily Values are based on a 2000 calorie diet.
Huge thanks to The Saucy Fish Co. for inspiring and sponsoring this recipe. As always all thoughts (and leftovers!) are my own.
Jane x