Oh boy, this Slow Cooker Venison in Cider is a decadent and deeply nourishing stew that'll warm the body and the soul.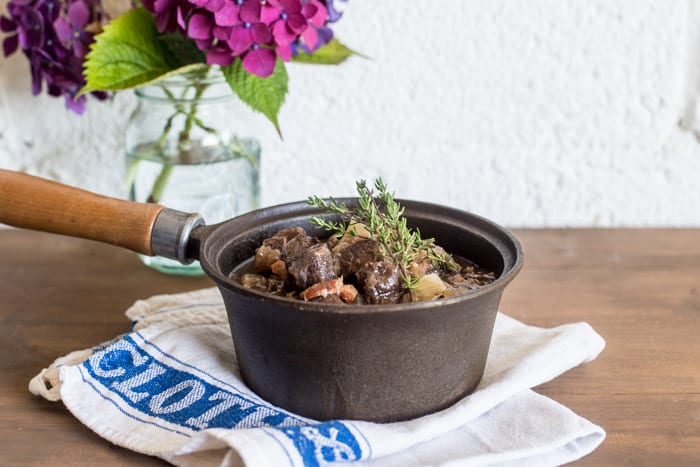 A few years back, in the depths of winter, we got a call from our good friend Simon.
He'd just witnessed the car in front hit and kill a deer on his way to pick up a Chinese takeaway.
He called to see if we wanted it.
Errm, yes please!
And that is how Simon & Jonny were to be found piling a road kill deer into the boot of my Ford Focus on a tiny country lane, whilst I held the torch and Simon's dog sniffed round with extreme interest.
Ah, country life :)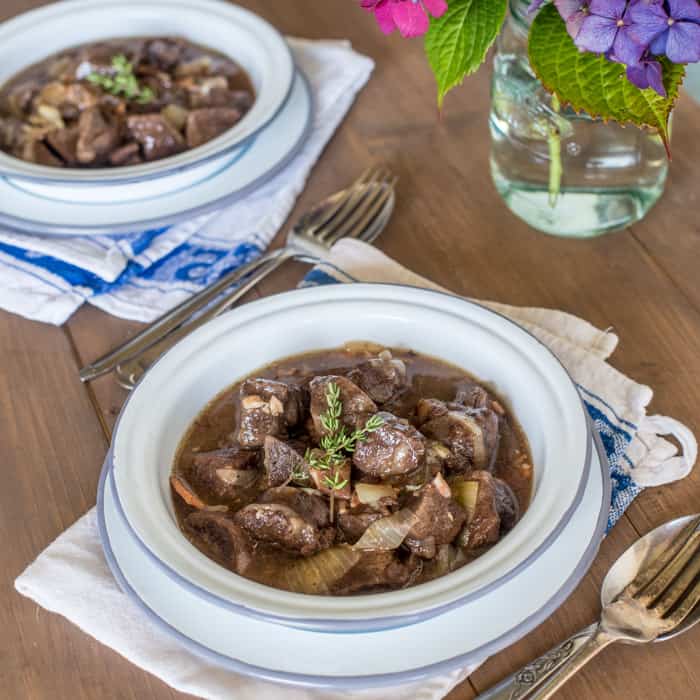 We got the beast home and rigged it up in the log shed where I managed to remove the engine to stop it spoiling.
Bearing in mind the biggest animal I'd ever butchered at this point was a pig, and that was with help, I was a little daunted about taking this critter apart.
However, after watching a couple of youtube videos and consulting a couple of knowledgeable friends on the subject, I managed to butcher that deer into tidy-ish joints of venison.
Slow Cooker Venison in Cider
It's inevitable with 5 freezers on the farm that things get lost in the permafrost.
Shamefully sometimes for years.
But when treasures such as this piece of venison resurface it's like Christmas has come early!
Feel free to mix up the herbs to whatever you prefer.
Opt for the woody varieties to stand up to the long cooking time, and the softer varieties to season the dish once it's cooked.
And whilst I cooked it up in the slow cooker, this would work equally well cooked over a campfire.
Just make sure to cook it long and slow so the meat becomes fall apart tender.
Yum!
Do you have a favourite way of cooking venison?
If so please let me know in the comments below so I can give some of them a bash before my secret stash finally runs out!
Meanwhile here are some of my bloggy friends favourite recipes… Elizabeth shares a yummy looking venison stew with tomatoe-fruits. Madeleine has this venison & blood orange salad. And Bintu has these amazing Chipotle Venison Burgers. Yum!
Janie x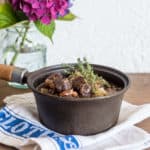 Slow Cooker Venison in Cider
Keyword:
venison in cider, venison recipe
Ingredients
800

g

venison

1

tablespoon

of your favourite oil

3

onions

sliced

6

rashers of smoky bacon

rind removed and chopped

1

litre

dry cider

6

cloves

garlic

minced

1

bay leaf

Cornflour

Salt & pepper
Instructions
Dice the venison into bit sized chunks and pop them into the slow cooker. If you have time feel free to sear them first in a hot pan, but I was in a hurry and skipped this step. It still tasted delightful.

Heat the oil and cook the onions down until they become soft and slightly golden. Avoid letting them crisp as they'll become chewy in the final stew. Tip onto the venison.

Fry the chopped bacon until well coloured and tip into the slow cooker.

Pour a little of the cider into the frying pan to deglaze it (keep the pan over the heat and stir/scrape all the tasty sticky bits stuck on the bottom of the pan up into the cider) Pour this over the venison too.

Finally throw the garlic, bay leaf and the rest of the cider into the slow cooker. Pop the lid on and cook of high for 4-6 hours or low or 8- 10 hours or until the venison is fall apart tender.

Season with the salt & pepper to taste.

Mix the cornflour with a tablespoon or two of cold water and pour this in too. Pop the lid back on for 10 - 15 minutes until the cornflour has thickened the sauce.

Serve with crusty bread or creamy mash and some green veggies.
Nutrition Facts
Slow Cooker Venison in Cider
Amount Per Serving
Calories 298
Calories from Fat 126
% Daily Value*
Fat 14g22%
Cholesterol 127mg42%
Sodium 216mg9%
Potassium 559mg16%
Carbohydrates 6g2%
Protein 34g68%
Vitamin C 5mg6%
Calcium 25mg3%
Iron 4.8mg27%
* Percent Daily Values are based on a 2000 calorie diet.