In this article we'll walk you step by step through how to butcher a chicken. This is a great skill to learn that will definitely save you money.
Next time you have a recipe that calls for a couple of chicken breasts, look at the price per kilo of that meat. Now look at the price of a whole bird. Doesn't it make more sense to buy the whole bird, butcher it yourself and freeze the bits you don't need right away?
All that money you'll save will allow you to splurge on choosing a higher welfare, happier bird too.
Butchering a Chicken
Remove the bird from the packaging, and cut off any string holding the legs in place. Pinch the skin on top of the bird, and cut it with a sharp knife. Using both your hands, peel & tear all the skin away from the bird and discard (I leave it on the wings as I'm lazy). If you prefer to use chicken meat with the skin on, ignore this step.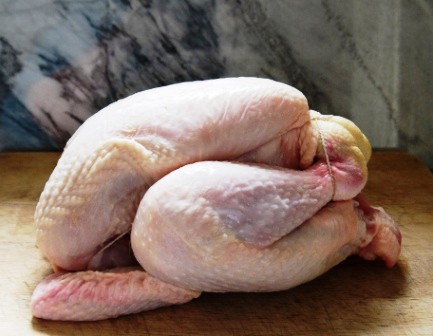 Feel along the top of the bird (where my knife is) and you'll feel a kind of ridge running along the length. This is the breastbone, and the breasts lie either side of it.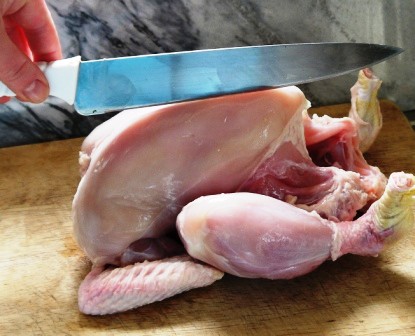 Cut down on one side of the breastbone, and carefully cut the breast out.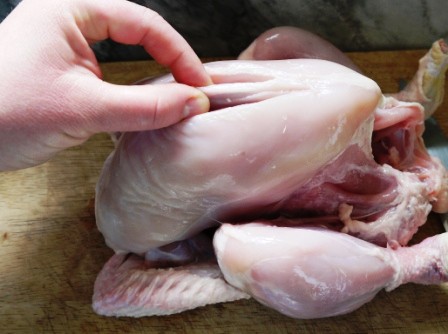 Just follow the lines of the meat/muscle, then repeat on the other side.
Turn the breast over and you'll see a scrappy smaller piece of meat attached to it. This is the fillet and you can leave it on the breast or cut it away and use it on its own.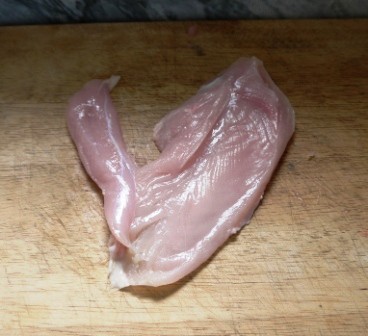 Next you need remove the thighs. Bend the leg back until the hip joint 'pops'. Use the knife to cut the leg away, taking as much meat with it as you can.
You can also remove the wings at this point if you fancy. I only bother when we are processing several chickens at once, so we'll have a bag full of them in the freezer. Just 'pop' the wing joint as you did the thigh, and remove.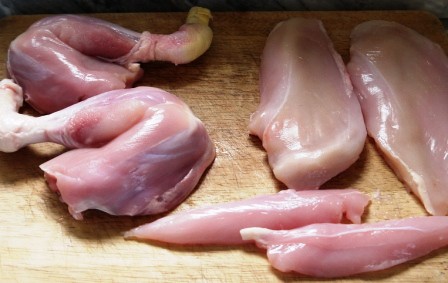 Here are the bits we've cut away. Two legs, two breasts and two fillets. Freeze them in small individual freezer bags or freeze them on a tray, ensuring the pieces aren't touching. When frozen, remove from the tray and put in one bigger freezer bag.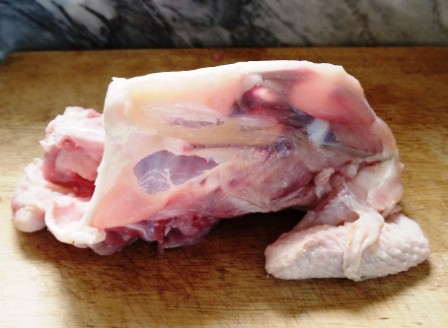 This is what you're left with.
There is still lots of meat on here, and you can certainly cut it all away. However, that is really time-consuming so I generally pop the carcass in the slow cooker, add water and cook on high for 4-6 hours. When it cools I have a great pot of chicken stock, and lots of cooked chicken bits that are easy to peel away and use in a sandwich or salad.
Hope that helps! If you have any questions, please holler!
Janie x