Finally, a healthy (and dairy free!) hors d'oeuvre! These Crab and Lemongrass Cups are packed with flavour and will have your party guests begging for more.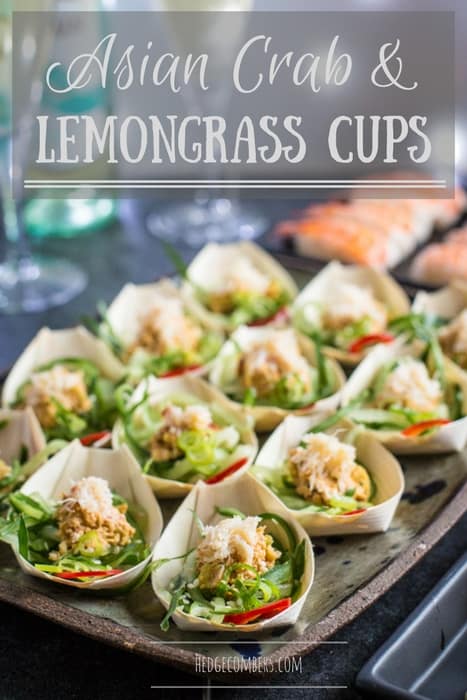 Hello Asian crab and lemongrass cups, and all my favourite flavours in the universe :)
Backpacking through Asia in my misspent youth, coupled with an intolerance to all things dairy, means that Asian cuisine is the one I fall back on more than any other.
It's quick to prepare, fresh, healthy and full of seriously punchy flavours and it leaves my body feeling amazing.
So this party season, if you want your party nibbles to make people glow, then keep reading…
Preparing the Cucumber Salad
I sliced my cucumber in half, lengthwise, and scraped out the seeds with a teaspoon.
Next I grated the cucumber halves with a mandoline to get these very long, thin ribbons.
You can totally use a spiraliser for this if you have one.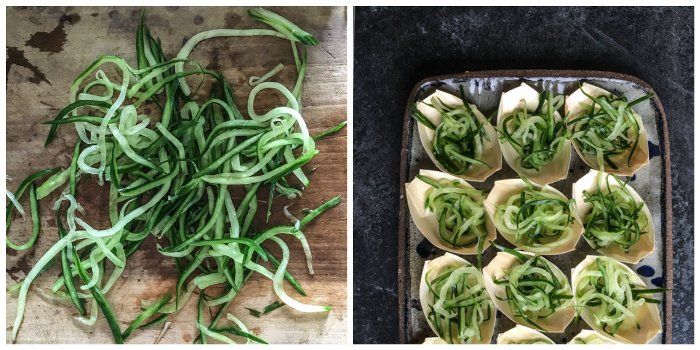 Next squish the cucumber ribbons in your hands within a few sheets of kitchen towel.
You're aiming to break down the fibres and release as much water as possible.
You should be left with thin and 'wobbly' cucumber noodles.
Divide these into 12 little cups.
I'm using bamboo ones that I had leftover from a food demo, but you could use ramekins or lay them out in little heaps on a platter for folk to help themselves from.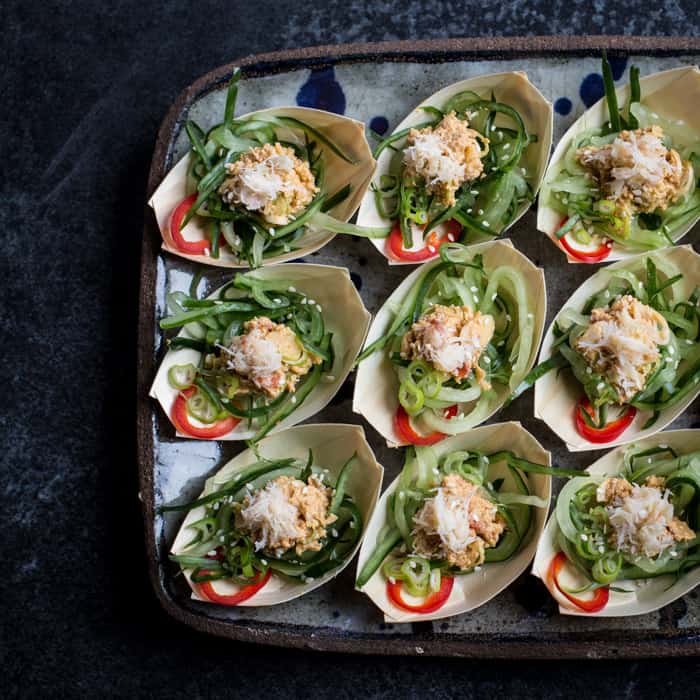 Preparing the Crab
When buying crab there are two things to look out for.
1/ be sure to buy British (assuming you live in Britain!).
2/ buy hand picked, or pick your own. This ensures maximum flavour, and minimum bits of broken shell mixed through your crab meat.
You can also buy crab meat frozen which can make for a very handy impromptu dinner.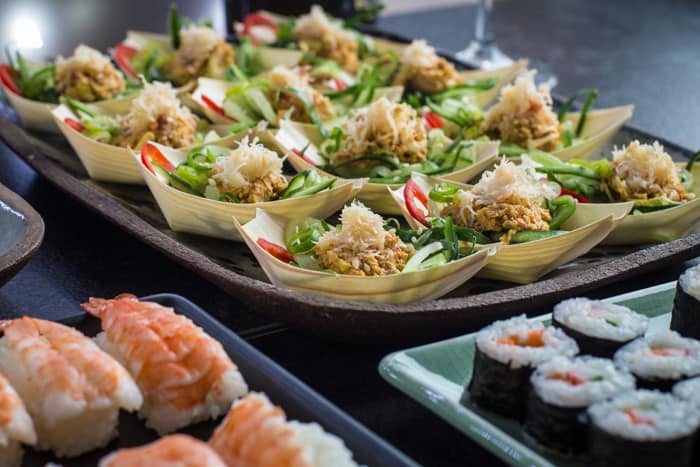 To make the Crab cups
Next I very finely chopped a stick of lemongrass, and thinly sliced the white part of a spring onion. These both got mixed through the brown crab meat.
This then got piled onto the cucumber, topped with the white meat, decorated with a sliver of mild red chilli and dressed with sesame seeds and the delicious lemongrass dressing.
At this point I would recommend making more than you think you'll need as these are sooooo good!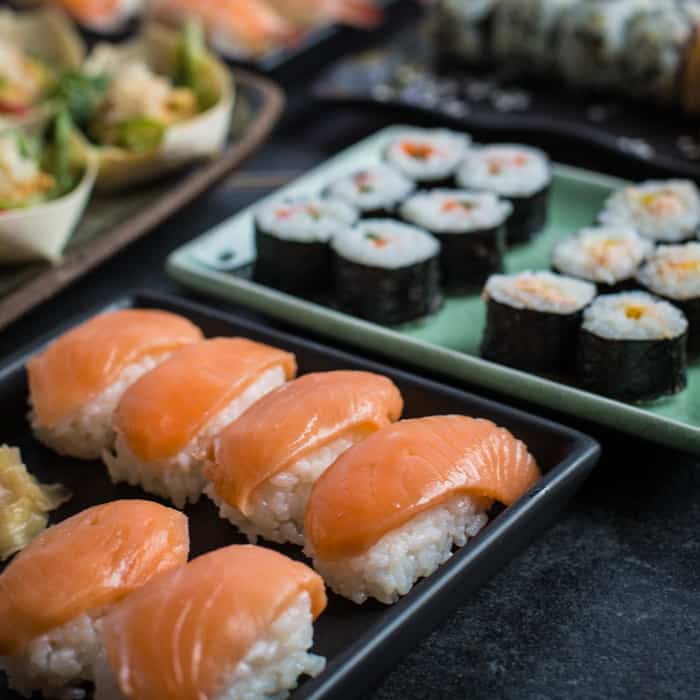 You can serve these cute little cups as a starter, a side to another Asian style dish. Or as I did, as part of seafood & sushi spread.
This is honestly one of those meals that I will never forget <3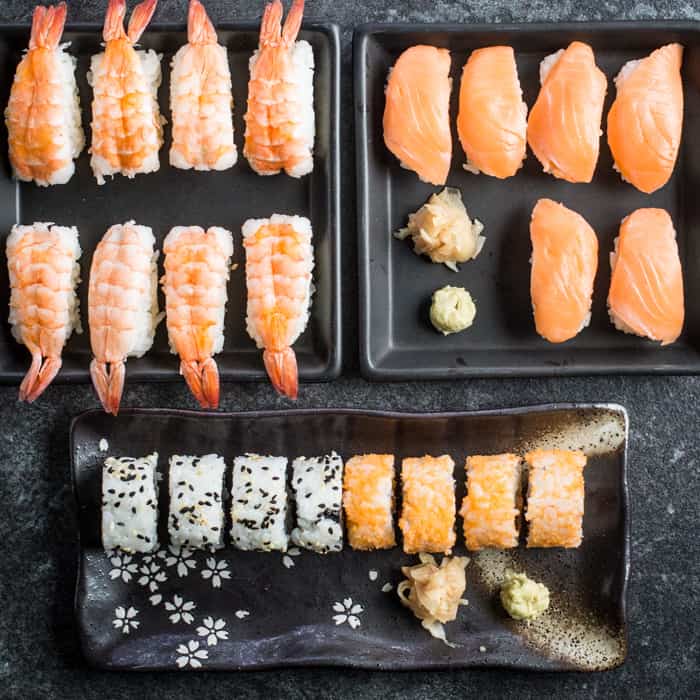 If Asian flavours are your thing too, may I recommend checking you my Asian Style Razor Clams recipe?
There's also plenty of info in the article about how to catch your own razor clams too.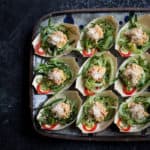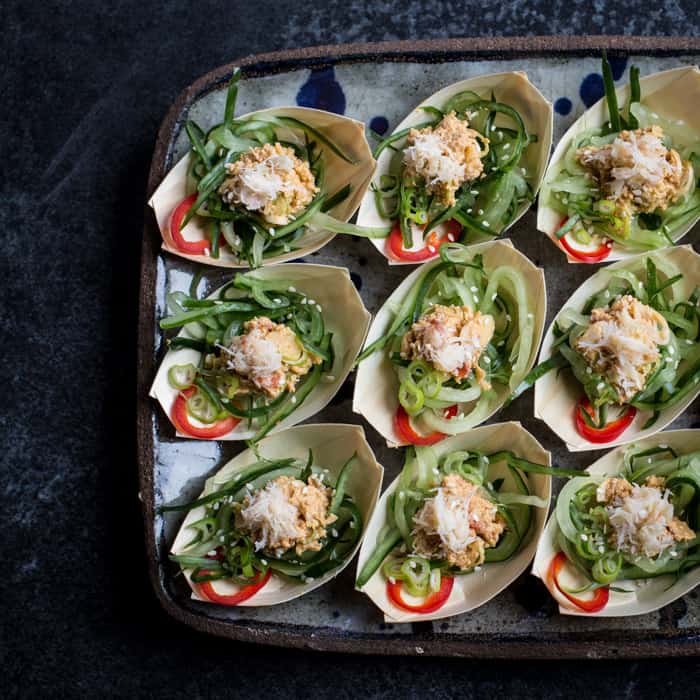 Asian Crab and Lemongrass Cups
Ingredients
Crab Salad
1

medium hand picked crab (defrosted if frozen)

1

cucumber, cut lengthways, deseeded and grated into long thin ribbons

1

spring onion, finely sliced, green and white parts separated

1

mild red chilli, very thinly sliced

2

teaspoon

sesame seeds
Lemongrass Dressing
1

fresh lemongrass stick, very finely chopped

1

lime, juiced

1

teaspoon

toasted sesame oil

1/2

teaspoon

fish sauce

1/2

teaspoon

sugar
Instructions
Crab Salad
Slice the cucumber in half, lengthwise, and scraped out the seeds with a teaspoon. Discard the seeds.

Grate the cucumber halves with a mandoline to get very long, thin ribbons. Pile them up in a few sheets of kitchen paper and squeeze firmly to remove as much water from them as possible

Divide the cucumber noodles into 12 portions.

Separate the white from the brown crab meat in two bowls. (If your crab meat comes mixed together, don't worry, it will still taste delicious)

To the brown meat add the white slices of spring onion and half the minced lemongrass stick. Mix well. Pile the brown meat on top of the cucumber noodles, and top with the white crab meat.

Decorate each cup with the green slices of spring onion, the red chilli slice and a pinch of sesame seeds and keep refrigerated until you are ready to serve.
Lemongrass Dressing
Mix all the dressing ingredients together in a small bowl and add a little to each Asian crab and lemongrass cup just before serving.