This Asian Style Razor Clam recipe is so quick and easy to prepare and it tastes out of this world!
Keep reading for the recipe and my foraging advice on how to catch the humble Atlantic razor clam below.

Have you ever tried eating a razor clam?
They are one of my absolute favourite seafood. In fact, I'd say they were in my top 3 (my others being scallops & spider crab in case you were wondering).
Razor clams are sweet, juicy and just a tiny bit salty, when cooked exactly as they are.
Asian Style Razor Clams
Due to the speed with which clams cook, they pair up so well with the light flavours of Asia.
With that in mind I selected garlic, lemongrass, ginger, dried chilli flakes and lime.
In addition, I threw in some spring onion and fresh coriander.
And that's it!
It's a simple, delicious seafood recipe, which is easy to make.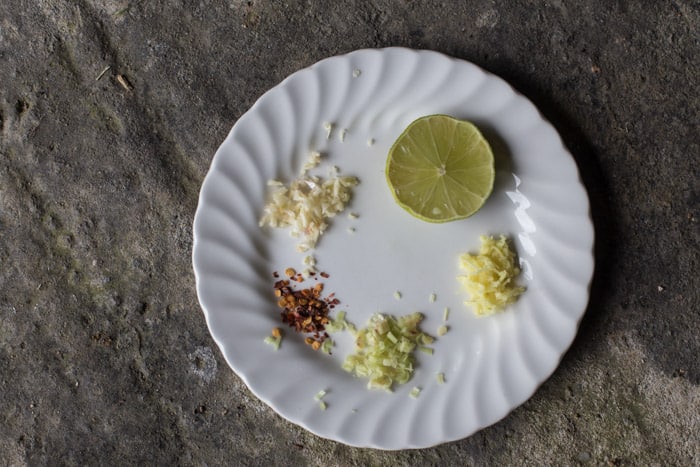 The razor clam is a funny looking thing.
This is especially true once they are cooked.
Try to see past that and you will be rewarded by one of the very finest seafoods the oceans have to offer.
You can find the full details for my Asian style razor clams recipe at the bottom of the page.
But first, here's everything you need to know about how to foraging for razor clams…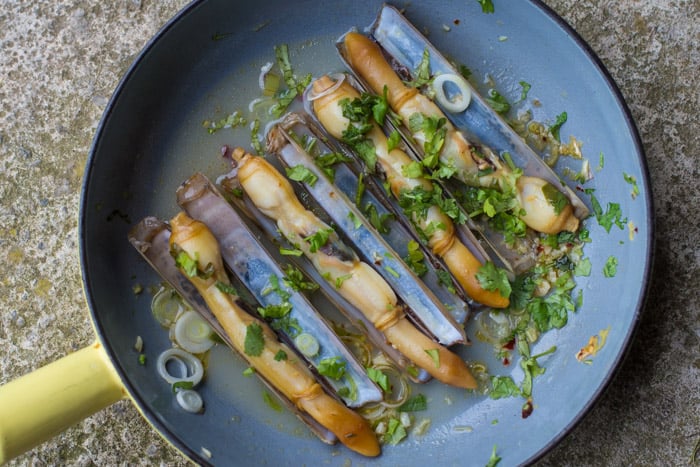 How to Catch an Atlantic Razor Clam
Let me tell you exactly how to catch a razor clam. Specifically in this instance, an Atlantic razor clam.
It's worth noting that there's a difference between the razor clams we get in the UK and those you find in the rest of the world.
Here in the UK, the razor clams we get are Atlantic razor clams.
Elsewhere in the world, you get Pacific razor clams.
For reference, here's the difference between an Atlantic razor clam and a Pacific razor clam in terms of appearance: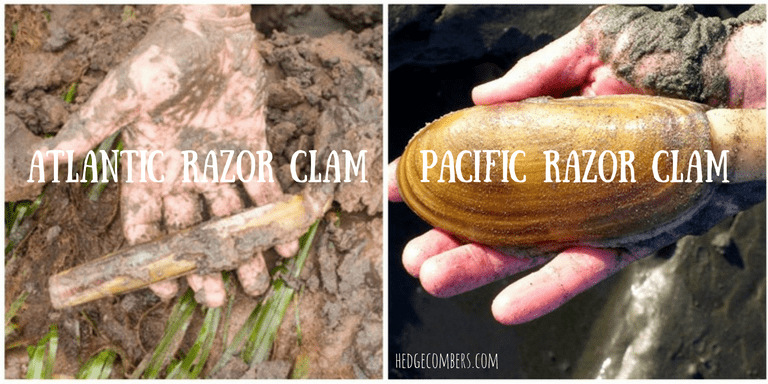 1/ catching razor clams with salt
Before you can catch razor clams, you need to invest in the razor clammer's essential weapon… a gigantic tub of salt.
Table salt is totally acceptable in this instance and probably the most cost-effective tool in your armoury.
Believe me, this is going to be worth the investment!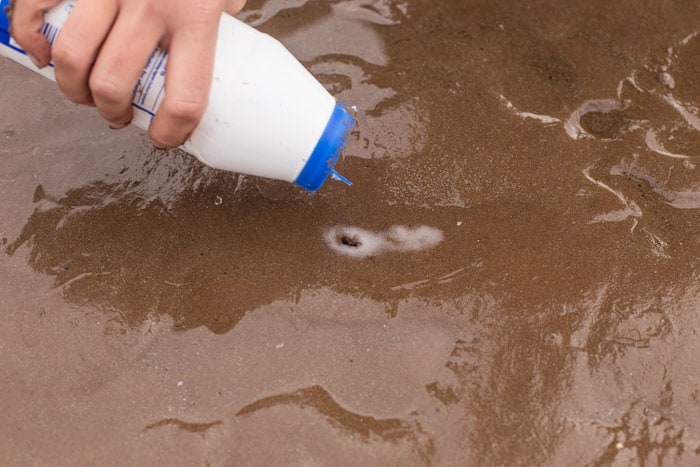 2/ pour salt into a clam hole
On a very low tide, head down to the waters edge and keep a beady eye out for holes in the ground.
You need to look for keyhole shaped holes.
When you think you've found a suitable keyhole-shaped hole, pour a little table salt into it.
About 1-2 teaspoons is fine.
Then wait.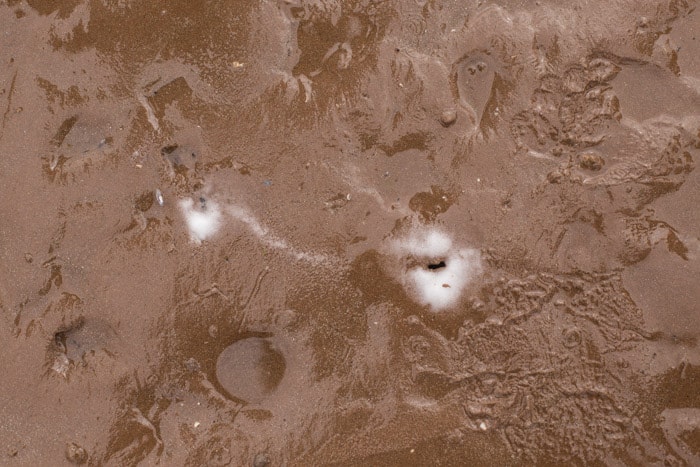 It can take seconds or up to a minute or two.
But if you're in luck you'll soon be greeted by a rather grumpy razor clam.
They'll poke themselves out of their hole by about half of their body length.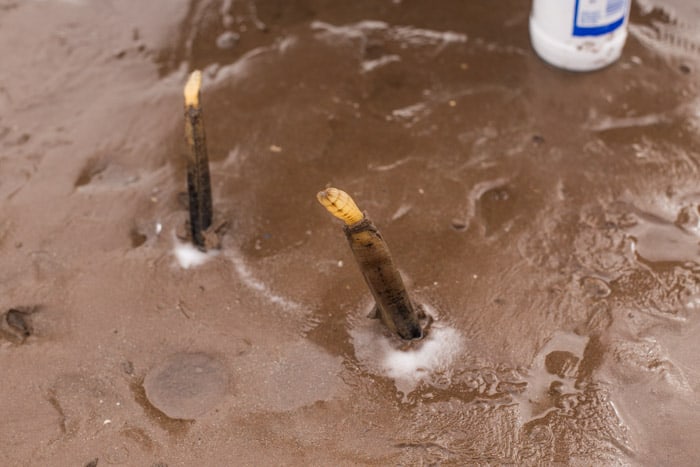 At this point you must gently but firmly grab hold of the shell and hold on.
Do not try to pull it out, just hold and wait.
The key here is patience.
They are surprisingly strong.
Slowly you'll feel him start to let go, and at this point you can gently pull your razor clam out of the hole.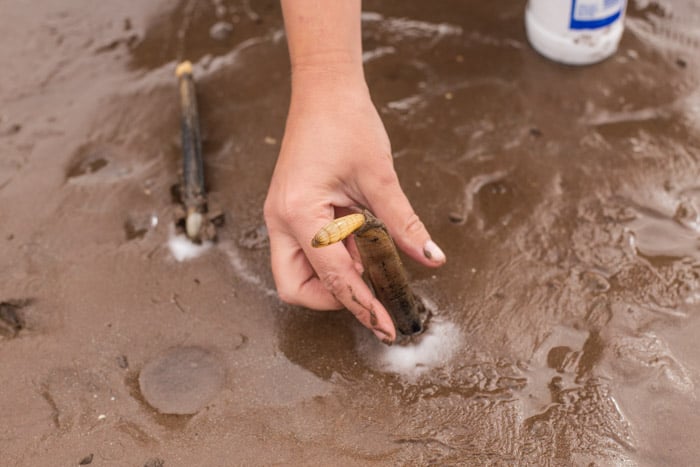 How do you clean a razor clam?
When you've extracted your razor clams, pop them into a bucket and top this up with sea water.
Ideally you want to leave them like this overnight in the sea water to purge them of sand and grit.
However, we have been known to cook them up straight away on the beach.
To do this, you just have to remove the stomach sack (the black bit).
Actually I remove the black bit anyway, purely because it doesn't look very nice. But my friend and razor clam mentor Mark, purges them then happily eats the whole thing.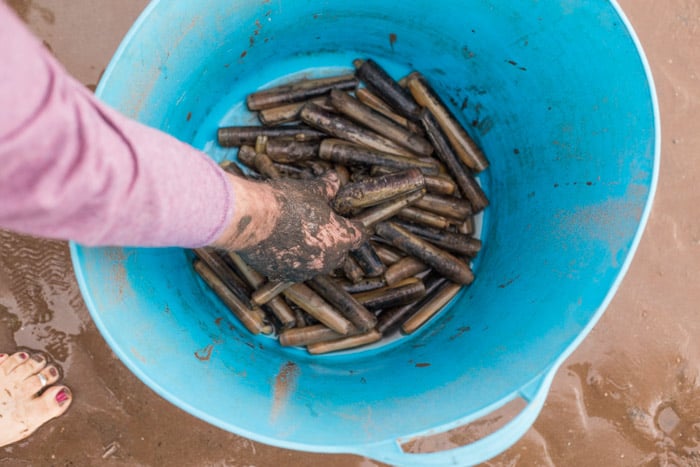 As always when foraging, only take what you can use.
A group of us collected this bucket-full and nothing went to waste.
One final note, whenever you have this much fun on a beach with a tub of salt, you are going to attract a pretty interested crowd!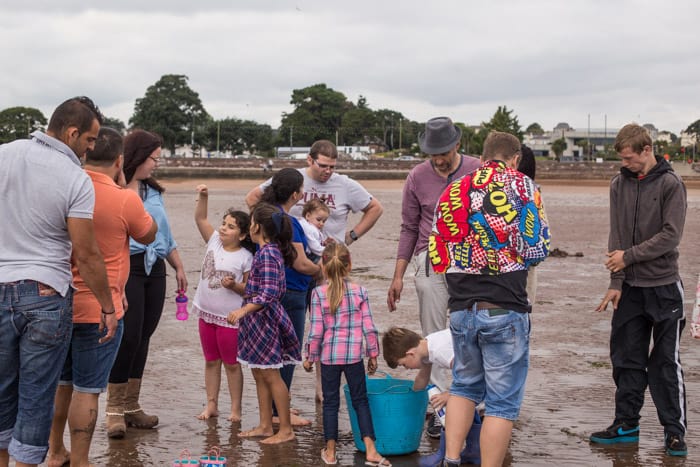 How to Cook Razor Clams
Now onto the most important part: How to cook your razor clams!
1/ safety first
When cooking fresh/live razor clams
If you're cooking clams that are alive, the shells (as with all bivalves) must be tightly closed before cooking.
If they are open, give them a little tap with the handle of a knife to make sure they snap shut.
Important: The shells that don't shut must be thrown away as they are already dead and may cause food poisoning.
When cooking frozen/defrosted razor clams
If yu buy your razor clams frozen you can safely ignore this advice as the clam would have been safely frozen immediately after death.
2/ best ways to cook razor clams?
You can cook razor clams in much the same way you would cook mussels.
Poaching, steaming or stir frying are great. Or you can cook them directly on the embers of campfire.
The razor clams are ready to eat just moments after their shells reopen in the heat.
Avoid overcooking as the clams become tough and rubbery.
And if you have a good haul of razor clams and are looking for more inspiration in the kitchen, try these alternative razor clam recipes out for size. Substitute the mussels in this Thai style broth for the same weight of razor clams. Or do the same in this recipe and pimp this moules frites into razor clam frites!
And finally, here's my recipe inspired by this great day of seaside foraging…
Asian Style Razor Clams Recipe
The razor clams in the recipe below were ones that I'd foraged and were roughly 7 inches (18cm) long.
I've since seen packs of frozen ones in the supermarket that much smaller, possibly 4 or 5 inches long.
If these are the ones that you're using to make this recipe, you many want to double the amount you use per person.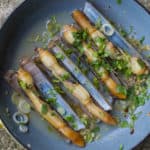 Asian Style Razor Clam Recipe
Keyword:
razor clam recipes
Ingredients
Per person
10

razor clams

- shells scrubbed under cold water just before cooking

2

tsp

oil

1

lemongrass stick

- peeled, bashed with the back of a heavy knife & finely chopped

1

garlic clove

- finely chopped

1/2

inch

fresh ginger root

- peeled & grated

2

tsp

lime juice

1/2

red chilli

- Finely sliced. Use less or more as you prefer

2

spring onion

- finely sliced

2

tbsp

fresh coriander

- finely chopped
Instructions
Heat the oil in a large, flat bottomed pan.

Add in the lemongrass, garlic and ginger and fry for 1 minute to release the flavours.

Do not let them burn.

Quickly place the clams in the hot pan and cover with a lid or a plate.

The clams are still alive at this point so it is essential that you do this quickly to minimise their suffering.

After 1-2 minutes, shake the pan around and remove the lid.

The clams should all have opened and released a lot of juice into the pan.

Tilt the pan and spoon the juice over the top of the clams to get the flavour into the shells.

Sprinkle with the lime juice, chilli, spring onion and coriander and serve.
Nutrition Facts
Asian Style Razor Clam Recipe
Amount Per Serving
Calories 98
Calories from Fat 72
% Daily Value*
Fat 8g12%
Cholesterol 3mg1%
Sodium 68mg3%
Potassium 113mg3%
Carbohydrates 5g2%
Protein 2g4%
Vitamin A 238IU5%
Vitamin C 5mg6%
Calcium 24mg2%
Iron 1mg6%
* Percent Daily Values are based on a 2000 calorie diet.