These mussels in a Thai style broth are the ultimate in simple, healthy fast food. And if you're visiting the coast on holiday, you should be able to source some straight-from-the-sea fresh ones!

When I'd planned this recipe for mussels in a Thai style broth a week or two back, I had fully intended to pop down to the beach and collect the mussels myself. However with all the crazy weather Cornwall has been hit with lately, I cheated and bought a bag from my fishmonger instead.
Mind you, they're so cheap to buy, that I don't feel all that bad.
I love how decadent & grown up a big steaming bowl of fresh mussels look and they make the perfect quick lunch when you have friends round (although as they seem to divide more people than Marmite, so do check with said friends beforehand whether they are fans or not!)
How to Clean a Mussel
First up, give the shell a tap with the back of a knife. Within a couple of seconds the shell should clamp shut by a very disgruntled resident. If it doesn't, it means the mussel is dead and you need to bin that one.
On the opposite side of the hinge, you'll often find what looks like a fuzzy piece of seaweed sticking out of the shell. This is known as the beard, and you need to pull that away before they go in the pot. Often times it's easier to use the blade of blunt knife and your thumb to yank the beard out, but be warned, as soon as that shell closes, it closes tight.
Lastly, give each shell a good scrub under running water washing to remove any sand or silt and you're good to go.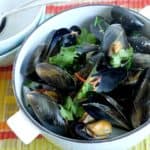 Mussels in a Thai Style Broth
Servings
:
2
(or 4 if as a starter)
Ingredients
1

kilo super fresh mussels

2

spring onions

sliced

1

red chilli

sliced

275

ml

of hot chicken or vegetable stock

150

ml

coconut milk

1

teaspoon

fish sauce
Instructions
In a large saucepan bring the stock to boiling point, then add the mussels. Pop the lid on the pan, turn the heat down and let them cook for 2 minutes, shaking the pan as they cook.

Add the other ingredients, giving the mussels a quick stir and let cook for 1 more minute before dishing up the mussels into bowls and pouring the stock over them.

Serve with a chunk of baguette to mop up the juices