This Wild Garlic Bread is one of the first ways I ever used wild garlic in my kitchen.
It's such an easy way to get the most out of those flavourful, vibrant flowers and leaves and tastes amazing!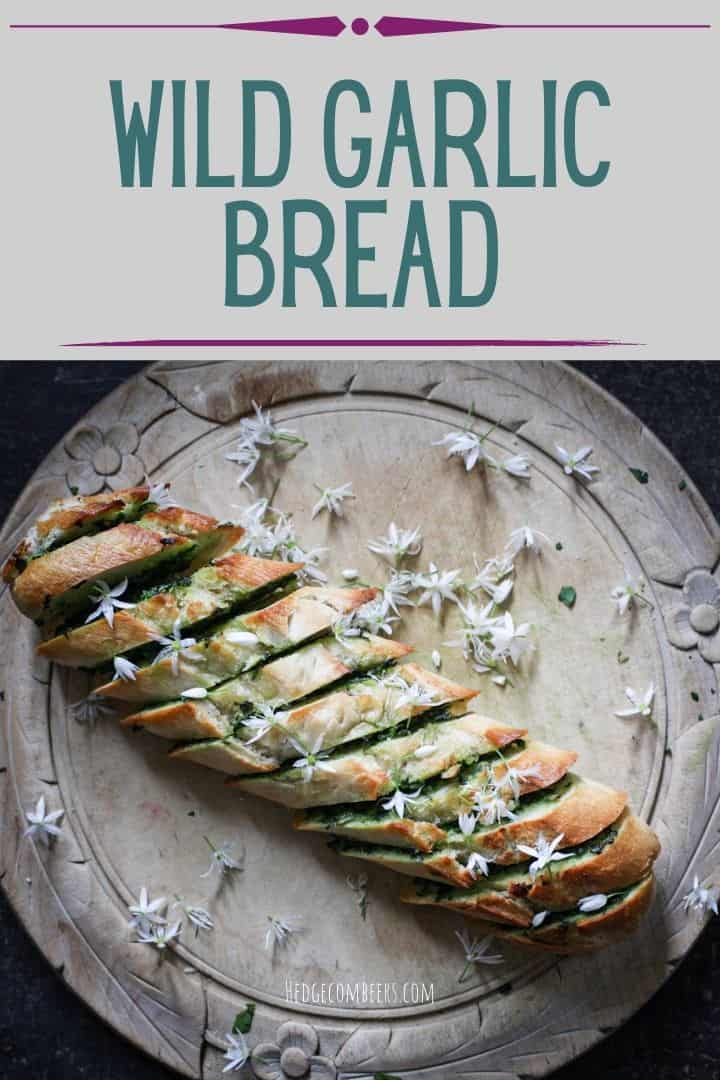 *post originally written in 2013, and updated for 2022
Being on the South Coast of Cornwall does have one distinct advantage over most of the UK.
Whilst there are reports of more snow falling further north, I was out picking Wild Garlic in the beautiful spring sunshine.
The hedges on our lane are carpeted with the stuff. And whilst I only found a few flowers in bloom, there are plenty of good flavoured leaves ready for the picking.
Wild Garlic Bread
Any part of the plant is edible but please remember that in the UK it's illegal to dig up plant bulbs from hedges, open and public land (more info).
For this wild garlic butter recipe, I only used the leaves, keeping those precious flowers for the photos. However, later in the season I'll be using the flowers too. They are not suite so punchy in flavour and make a not so vivid butter.
You could use either ramsons or three-cornered leek (also known as 'tri-cornered leek') for this recipe. Or a mix of the two.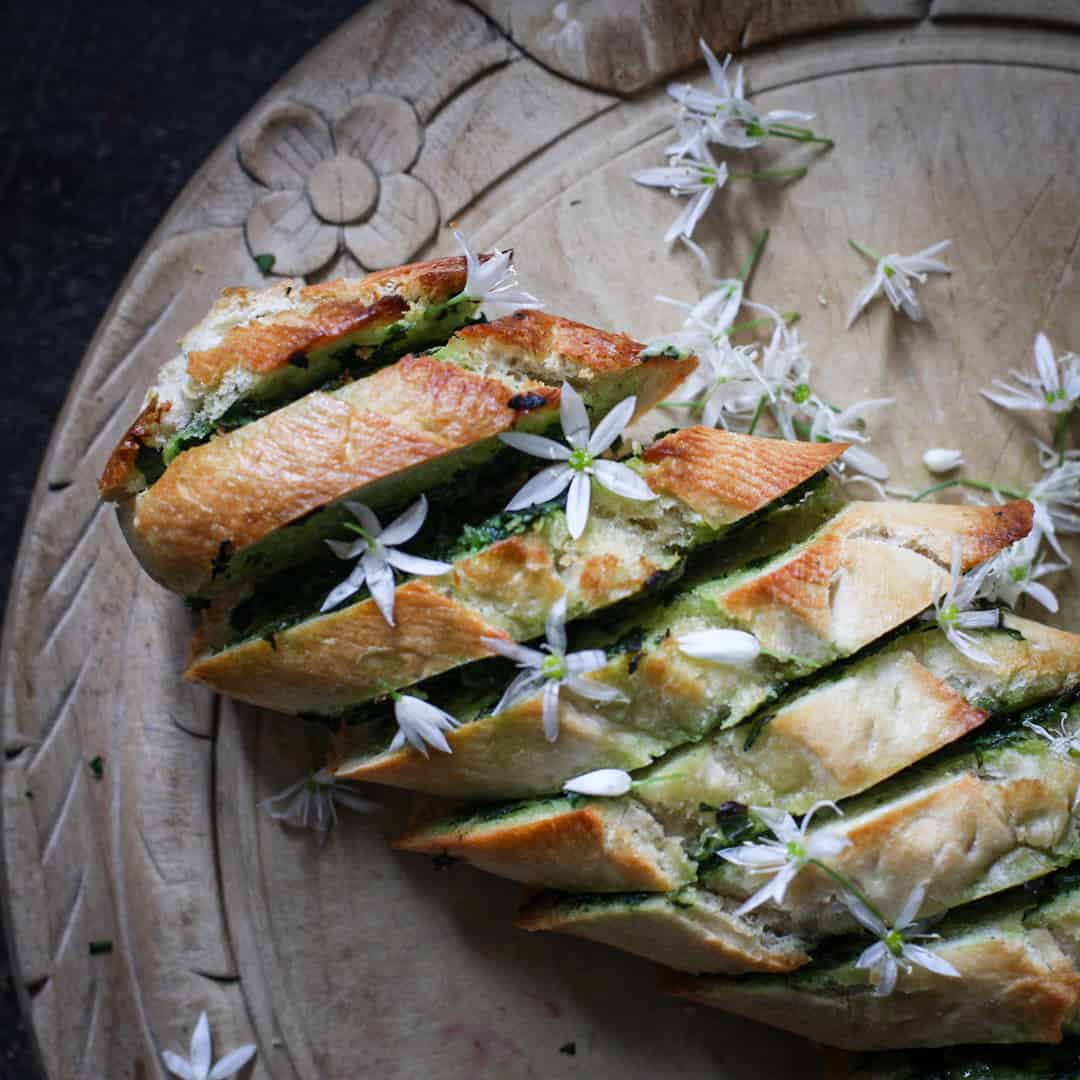 How to make wild garlic bread
This easy recipe uses a quick storecupboard cheat: a double pack of park baked baguettes.
However, you can use a fresh loaf of your homemade, or bakery bread instead – just reduce the cooking time as appropriate.
1/ clean your wild garlic
Depending where you picked your wild garlic from this may not be necessary.
Mine was picked from a stream at the bottom of a field on private property. So there was no traffic pollution built up on the leaves, and no dogs had peed on it.
So I just picked through removing any blades of grass that had been picked by mistake, or any tatty looking leaves.
If you need to wash your wild garlic, be sure to shake it, or post it dry with a clean tea towel to remove as much of the water as possible before making your garlic butter.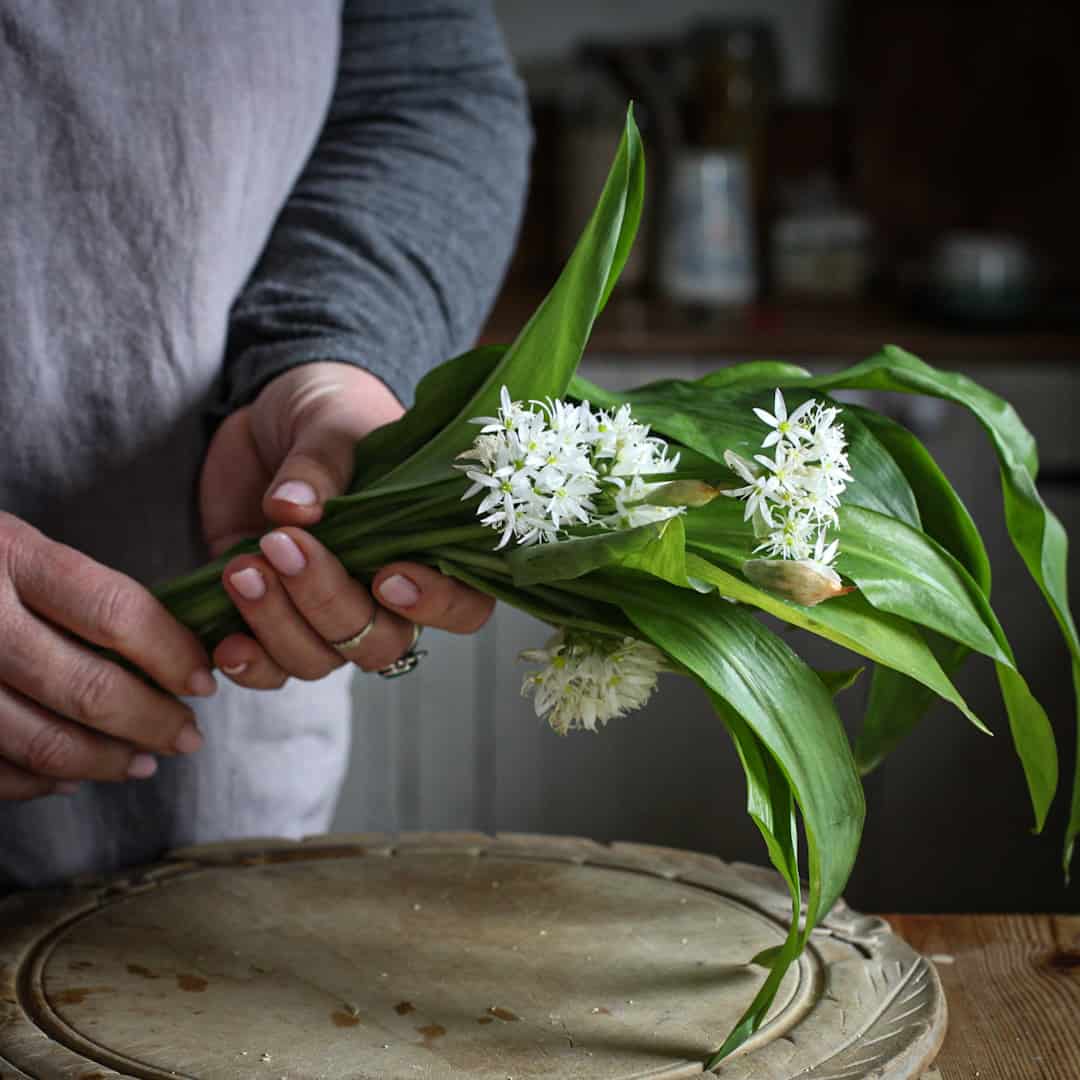 2/ chop your wild garlic
Use a sharp knife to cut the leaves up finely.
I'm making by wild garlic butter by hand, but if you're using a food processor you can skip this step.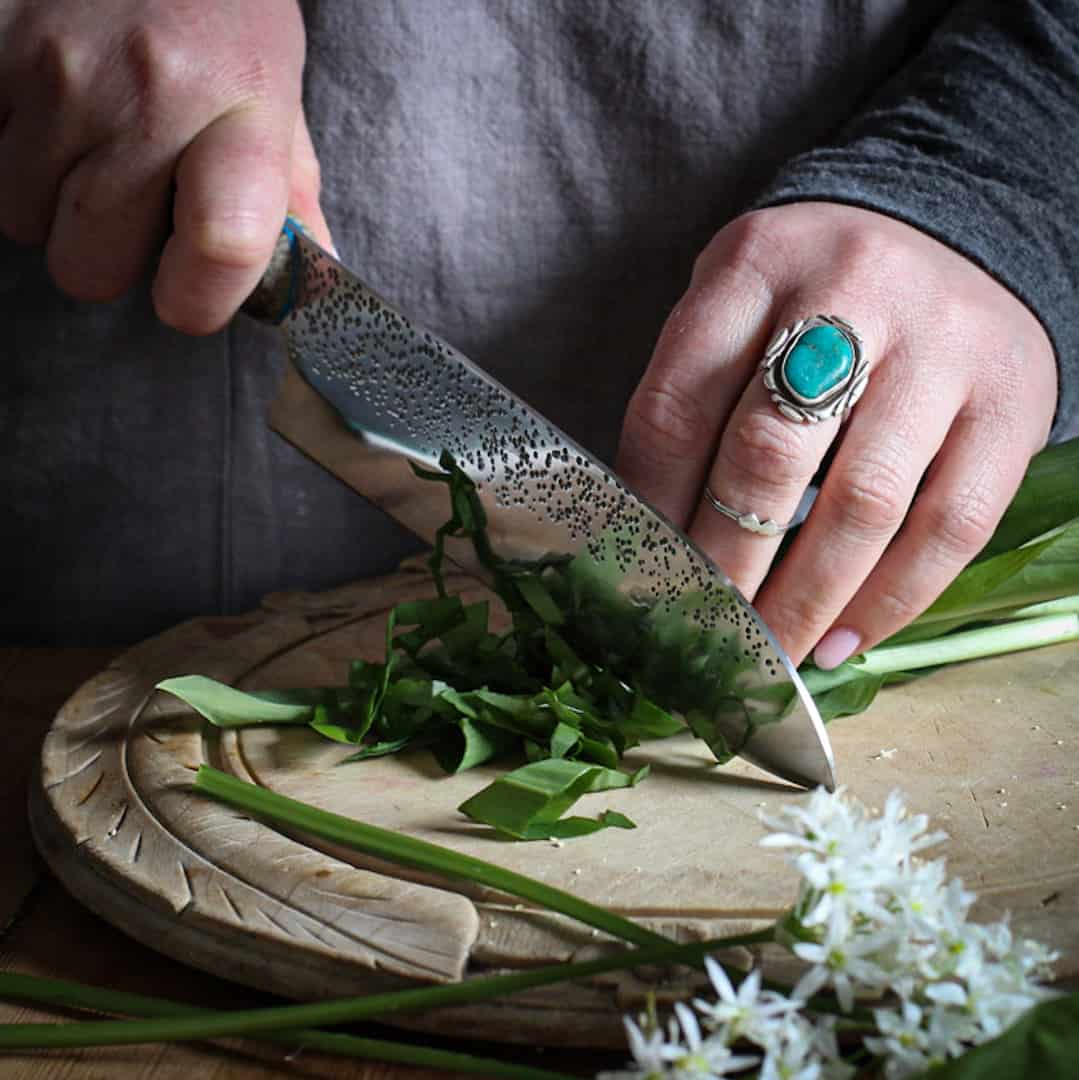 I wanted to keep the tiny little white flowers to scatter over the finished garlic bread, so I cut them off and put them to one side.
The stalk then got chopped up along with the leaves.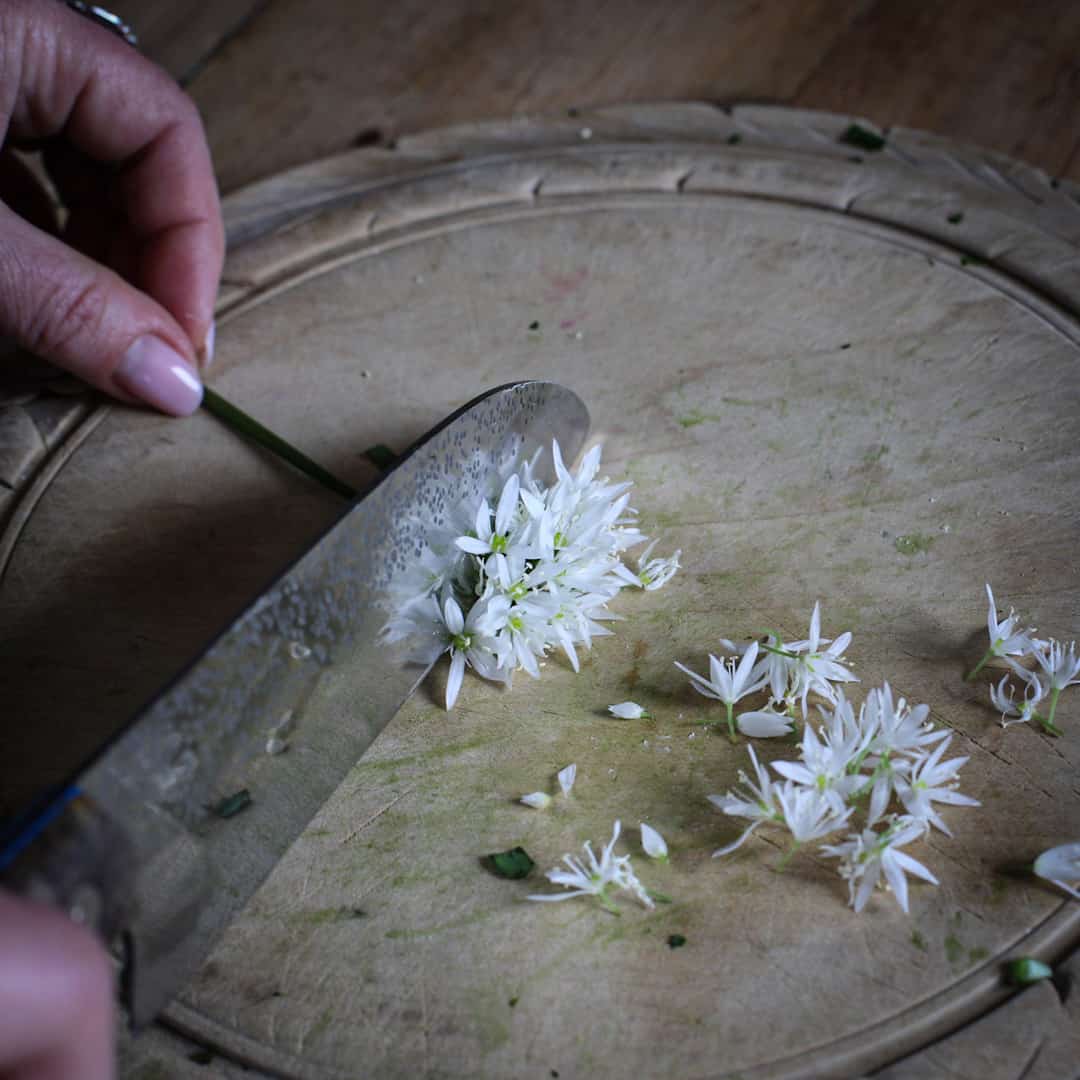 3/ make the wild garlic butter
This got added to a bowl, along with the butter and salt.
I then used a fork to mash it all together.
Ensure the butter is at room temperature to make mixing by hand as easy as possible!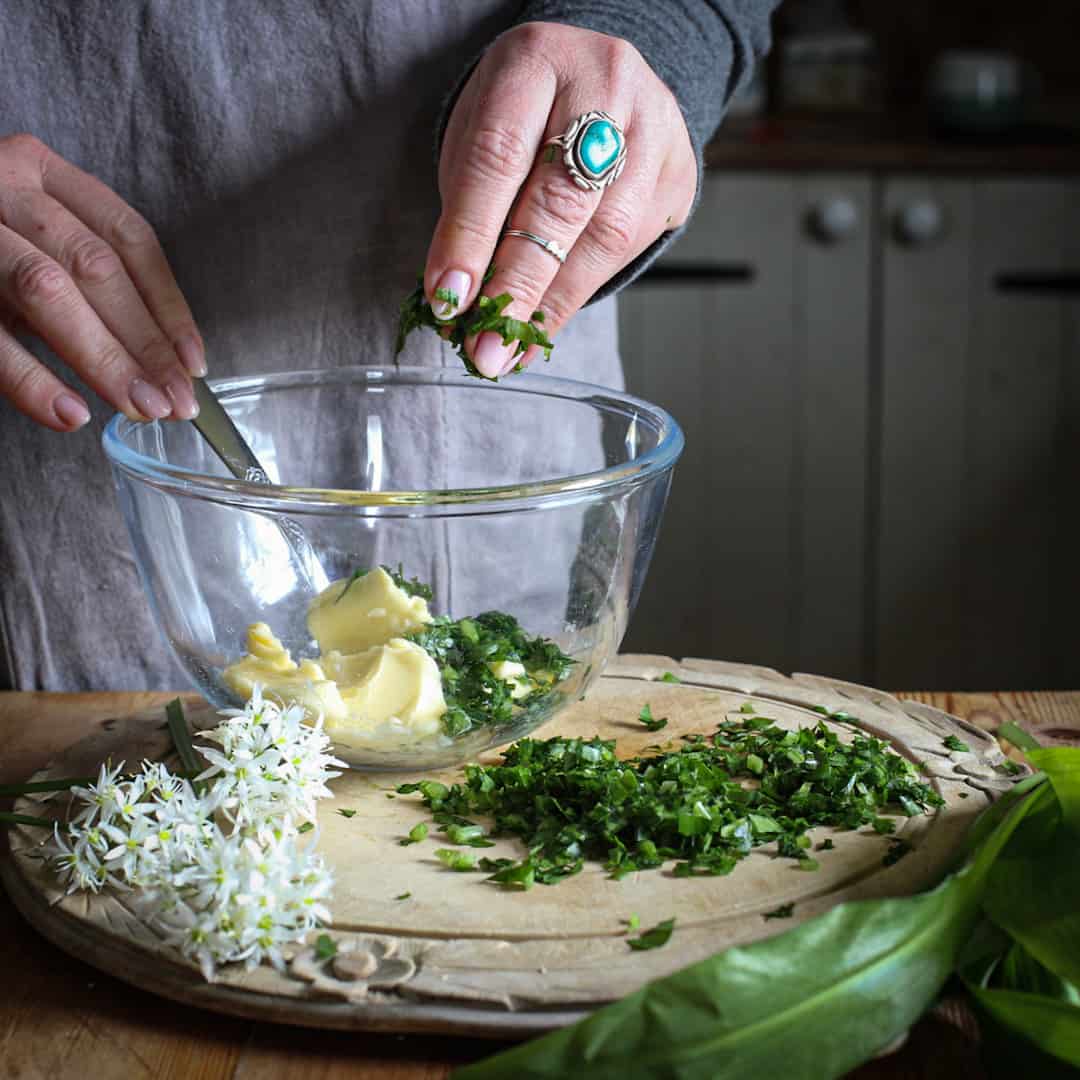 When it's well combined you'll be left with a vibrant green herby butter that tastes, and smells, just wonderful!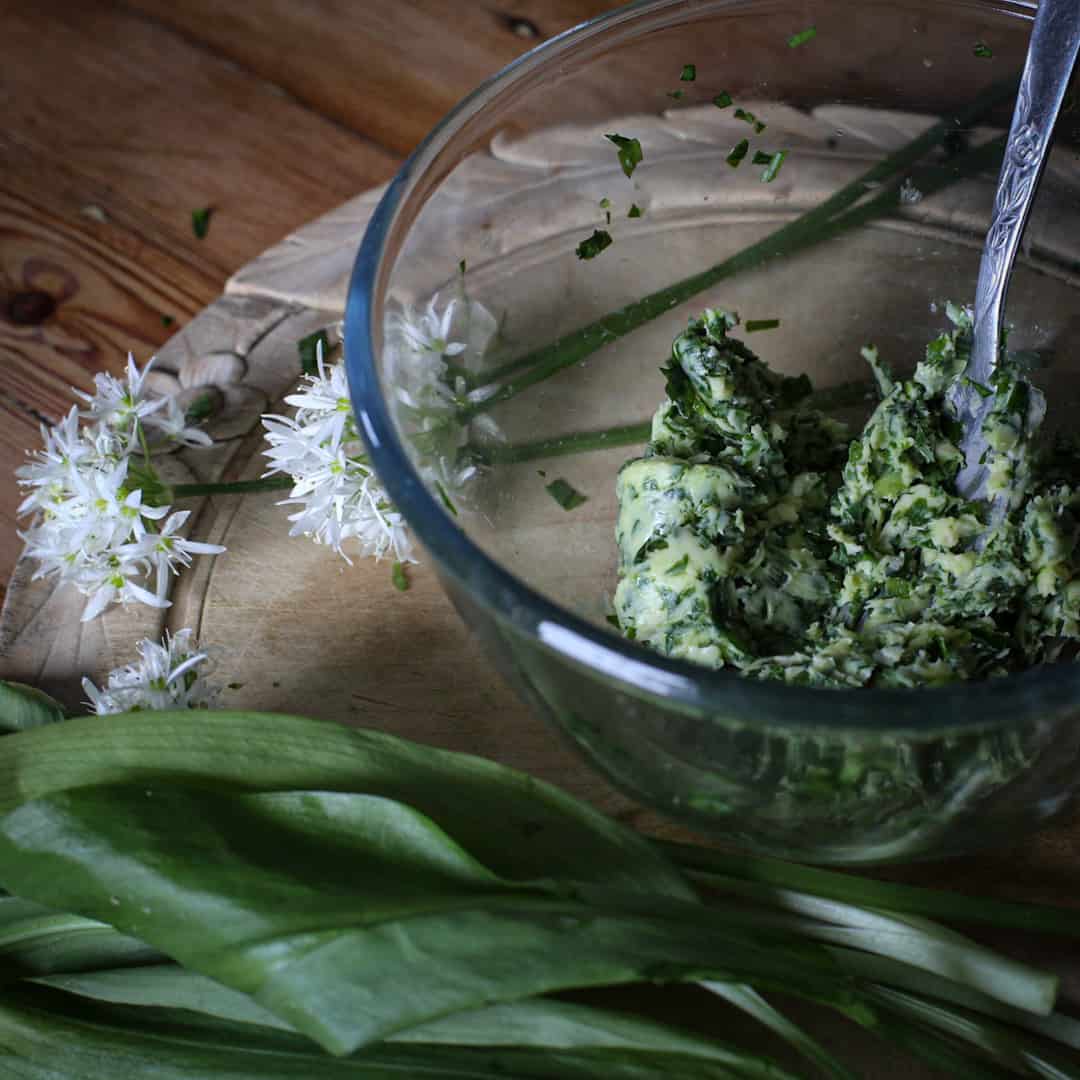 4/ slice your part baked baguettes
I laid my ready to bake bread rolls onto a baking sheet lined.
Using a bread knife, I sliced about 3/4 of the way through the loaf.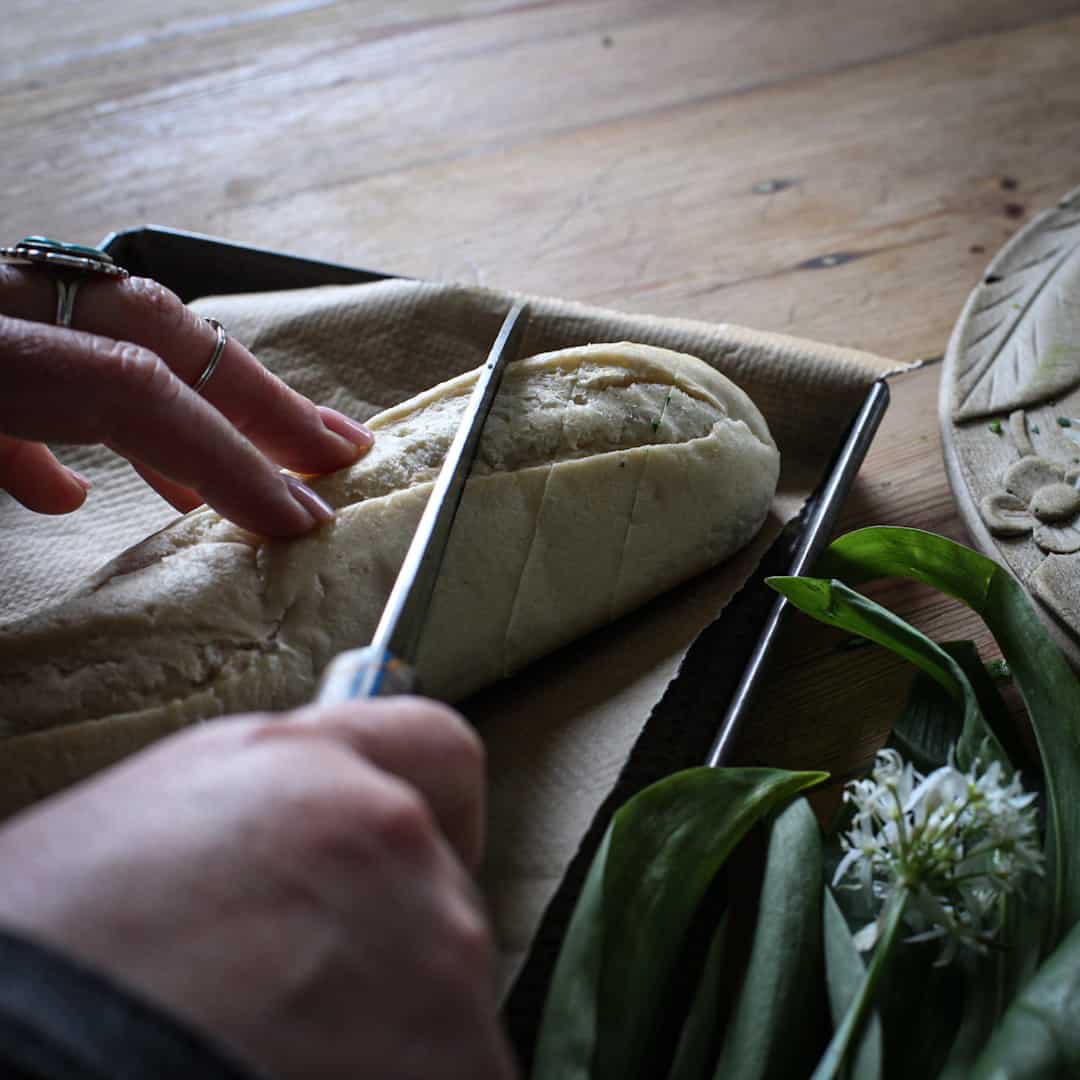 It was then easy to spread each side of each slice generously with the freshly made wild garlic butter.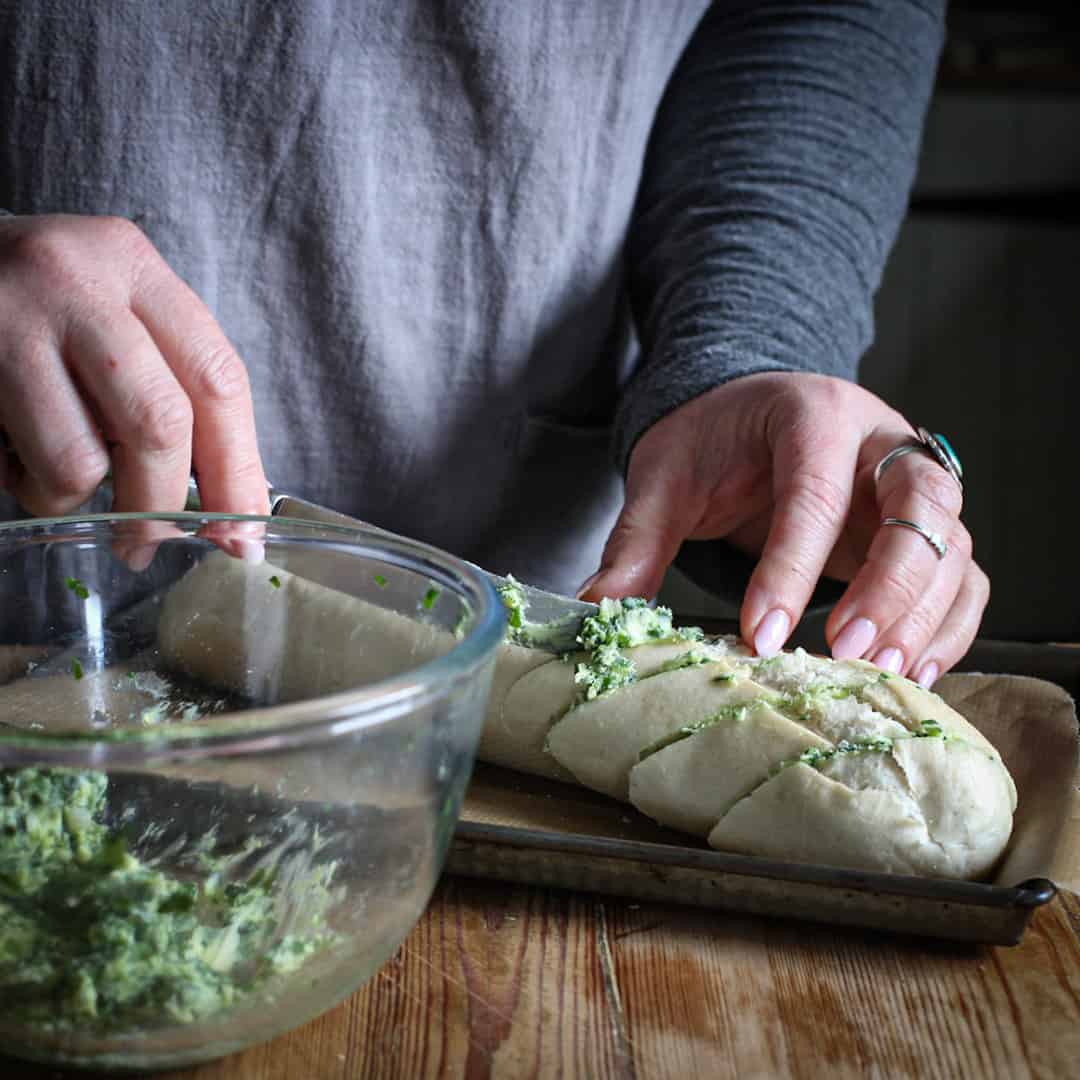 5/ bake your wild garlic bread!
When the loaf is is ready, pop it into the preheated oven and bake for as long as the packaging suggests.
Or until the top is golden brown and the bread is baked right the way through.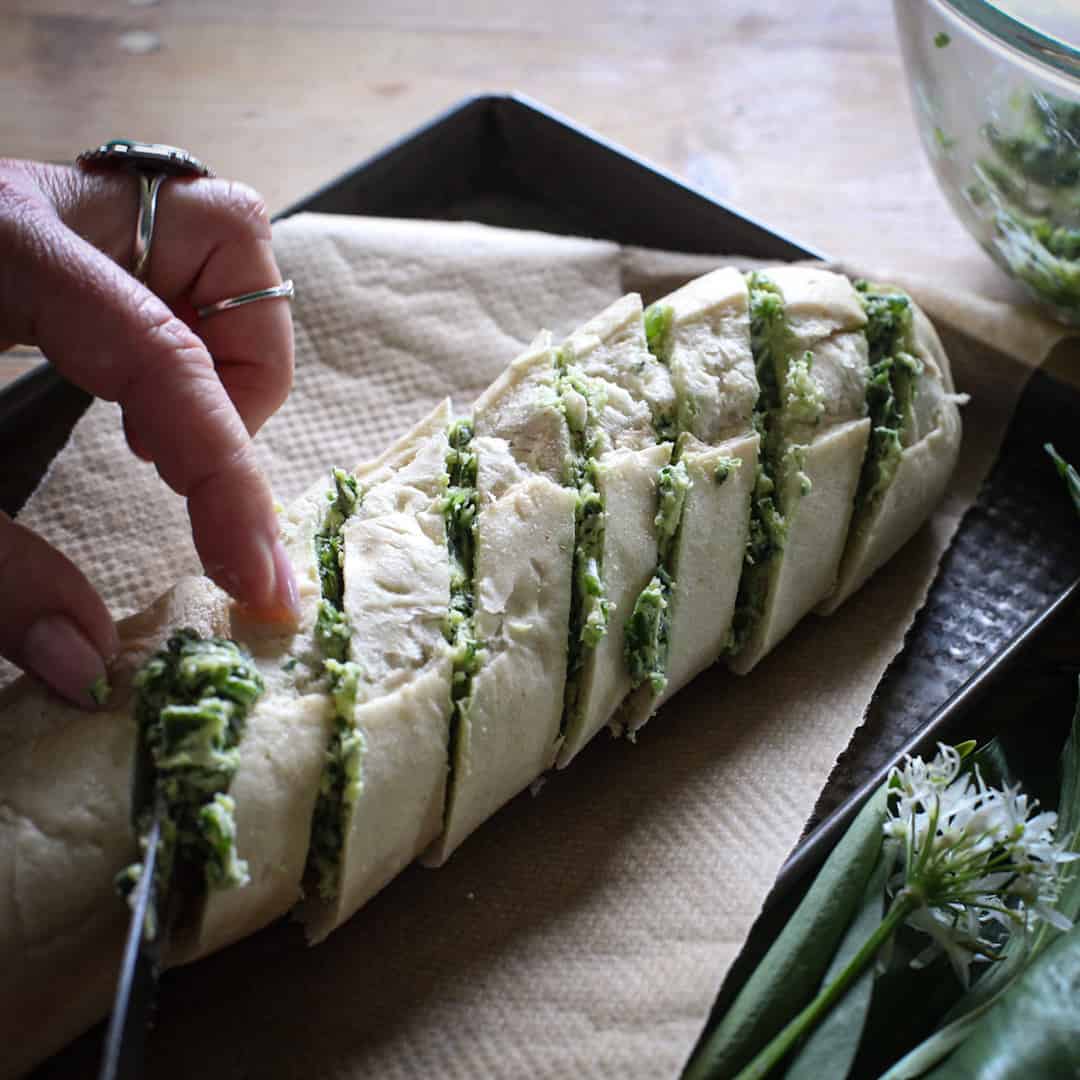 At this point, there's nothing left but to tear open that loaf and dive right in!
It's so, so yummy :)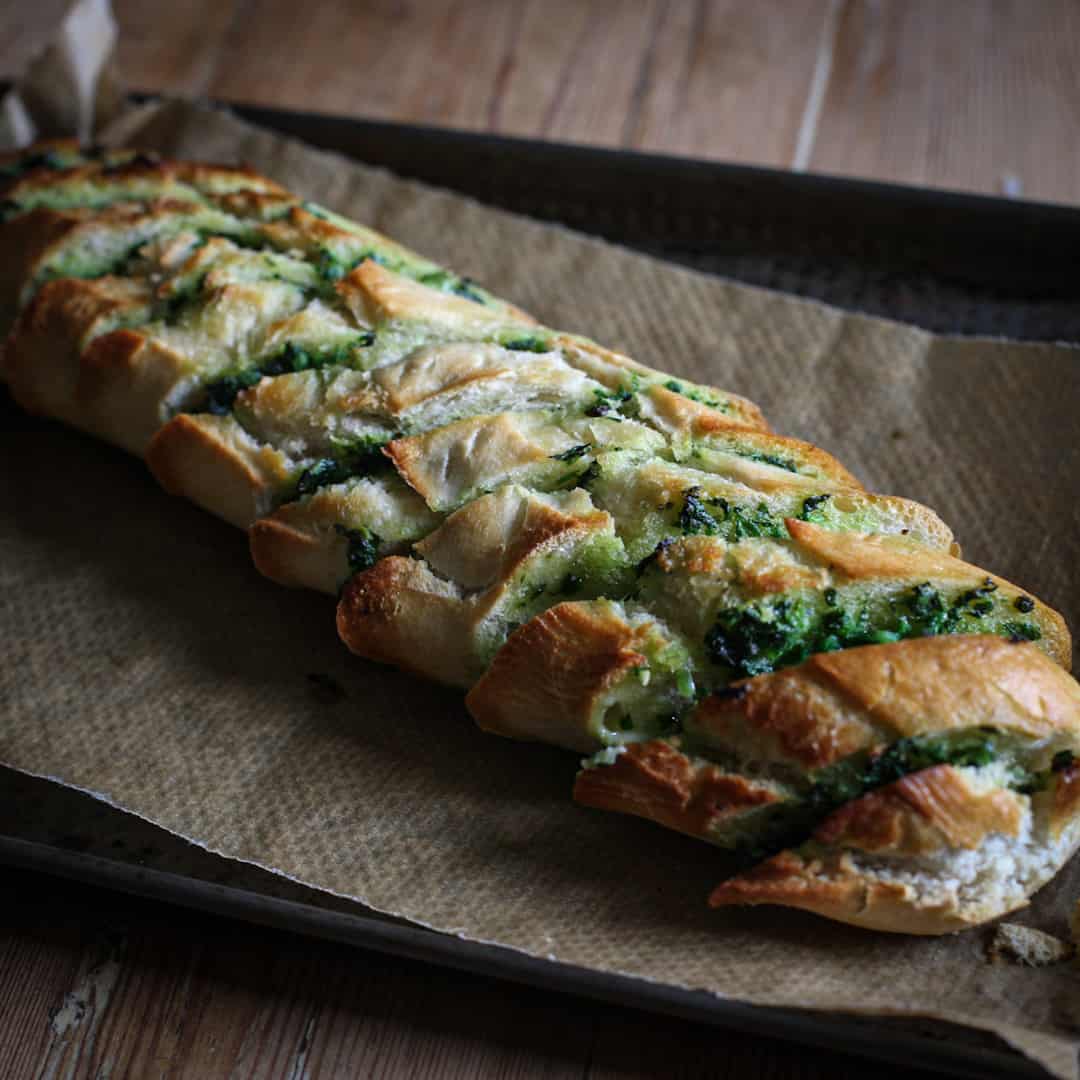 You can find the full recipe down below, and if you give it a go please feel free to tag me in any pics you share online. You can find me pretty much everywhere as @hedgecomber :)
Jane x
PS if you'd like some more wild garlic recipe inspiration, feel free to visit my other recipes: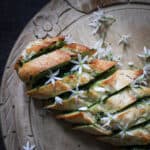 Wild Garlic Bread
This wild garlic bread recipe is such an easy way to use foraged wild garlic or ramsons. Also works well with wild three cornered leek.
Keyword:
wild garlic bread, wild garlic bread recipe
Ingredients
80

g

butter

- softened

6

tbsp

wild garlic

- chopped (about one small handful of fresh ramsons)

1/2

tsp

salt

2

small

baguette

- part baked are ideal, but ready to eat baguettes also taste great.
Instructions
to make the garlic butter
Either whizz the butter, wild garlic and salt up in a food processor until you have gloriously green butter.

Or mash it with a fork in a bowl.

If you are using a food processor and you have a little extra wild garlic, why not make extra and freeze it for a later date?

To do this, scrape the excess wild garlic butter onto a piece of baking paper and roll into a tight cylinder. Secure with tape or elastic bands.

Write on the package what it is, and the date you made it, then pop it into freezer.
to make the garlic bread
Preheat the oven to 220C (420F), or follow the packaging instructions of your part baked baguettes if they differ.

Slice the part baked baguettes 3/4 of the way through, at one inch intervals.

Generously spread the softened garlic butter in between each slice.

Place onto a baking sheet. Lining the sheet with baking paper or foil will make for an easier clean up.

Bake for 8 minutes (or follow the packaging instructions if they differ) or until the tops are golden brown.
Nutrition Facts
Wild Garlic Bread
Amount Per Serving
Calories 139
Calories from Fat 72
% Daily Value*
Fat 8g12%
Cholesterol 21mg7%
Sodium 228mg10%
Potassium 27mg1%
Carbohydrates 12g4%
Protein 2g4%
Vitamin A 250IU5%
Calcium 22mg2%
Iron 0.7mg4%
* Percent Daily Values are based on a 2000 calorie diet.