This easy peasy Wild Garlic Egg Mayo is a simple way to get these fresh and vibrant greens into your diet without any effort or pre-planning.

Yay! Our hedges have started sprouting the wild garlic flowers, which must mean spring is on its way!
I for one will be soooo glad to have this soggy winter behind us. Thankfully we haven't had any damage from the various winter storms but plenty of homes and businesses around Cornwall and the UK have suffered from some horrendous flooding :(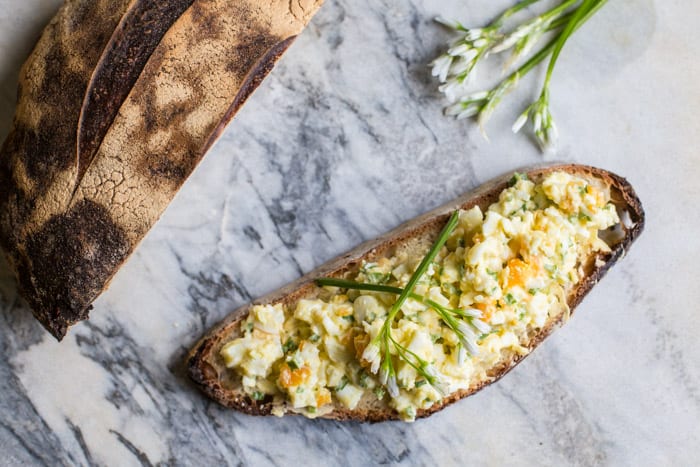 These sweet little white flowers are like beacons of hope, ready to pop up in the hedges around our farm in abundance as the days warm up and the hours of daylight increase.
When you go a foraging for your wild garlic, as always avoid picking when dogs are likely to run (and therefore pee) and on the sides of busy roads where fumes and road spray could end up on the plants.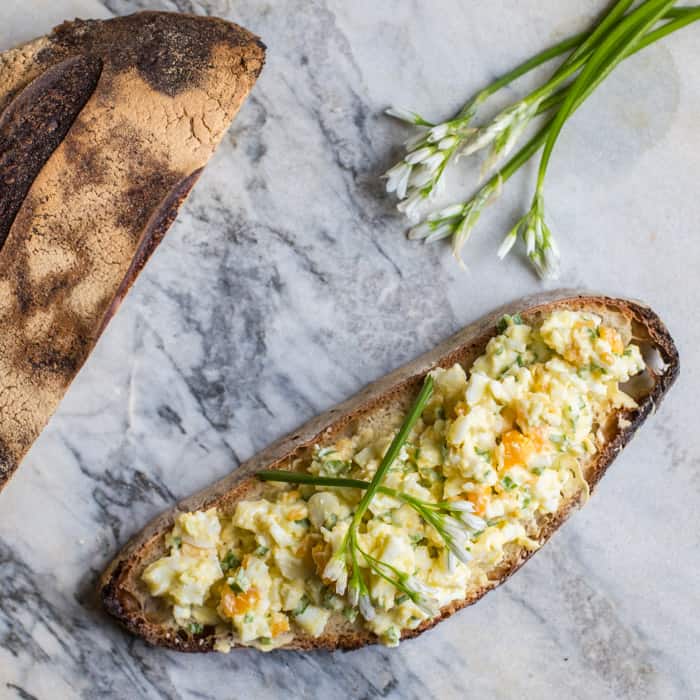 This variety is actually called Tri Cornered Leeks, but it's referred to locally as wild garlic. Out of the three varieties that grow around here (also Jack by the Hedge and Ramsons) this is by far my favourite. It has a fresh clean taste, a good crunch and it doesn't get bitter as the season goes on.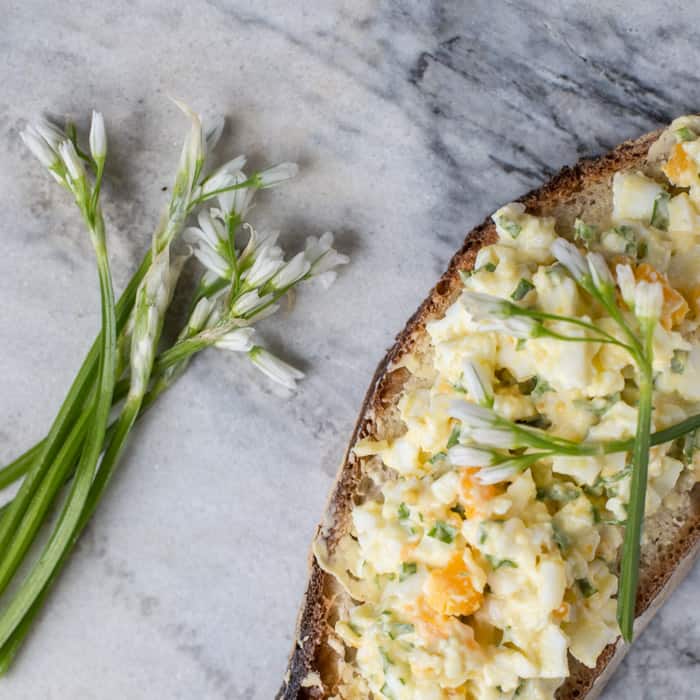 I remember as a little girl walking down Talland Hill into Polperro and the warm summer air being thick with the smell of oniony garlic. I couldn't quite believe a wild plant could smell so strongly and when I was told it was edible I remember laughing as if was ludicrous that you could eat anything that came out of a hedge.
Oh how times have changed :)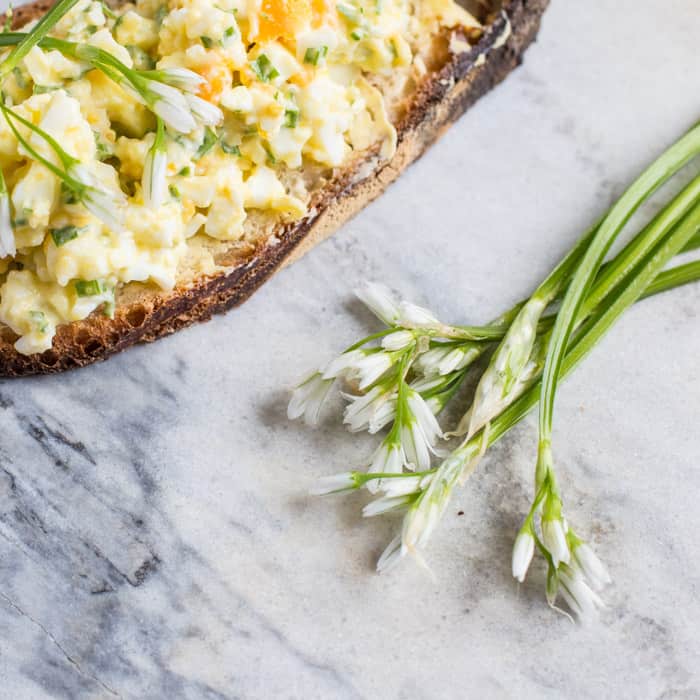 Do please let me know your favourite way of eating wild garlic, and if you give this wild garlic egg mayo a try, be sure to share on Facebook, Twitter or Instagram.
Janie x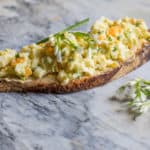 Wild Garlic Egg Mayo
Keyword:
wild garlic egg mayo
Ingredients
4

eggs

2

tablespoons

mayo

pinch sea salt

4

tablespoons

chopped wild garlic

leaf, stem and flower
Instructions
Boil the eggs for 10 minutes.

Drain and let sit in cold water for another 10 minutes, occasionally changing the water to keep them cooling.

Peel the eggs and put back in the rinsed out & dried saucepan, and mash with a potato masher.

Add in the mayo and salt and mash again.

Stir through the wild garlic and serve on slices of fresh sourdough. Yum.
Nutrition Facts
Wild Garlic Egg Mayo
Amount Per Serving
Calories 255
Calories from Fat 171
% Daily Value*
Fat 19g29%
Cholesterol 333mg111%
Sodium 217mg9%
Potassium 121mg3%
Carbohydrates 8g3%
Protein 12g24%
Vitamin A 475IU10%
Vitamin C 7.3mg9%
Calcium 92mg9%
Iron 1.9mg11%
* Percent Daily Values are based on a 2000 calorie diet.