This hearty Vegan Spaghetti Bolognese is packed with plant based nutrients and makes the perfect one pot camping meal!
Welcome to my second vegan recipe this Veganuary, for a yummy vegan spaghetti bolognese!
This recipe ticks the hardcore comfort food box in total style.
And it's perfect for the cold, dark nights of January.
And yes, I know it's a bit odd to be talking about camping recipes in January. But now we have Myrtle the Campervan, we get to go camping all year round!

However, if camping season is still a few months away for you, do feel free to bookmark or pin this recipe, or my whole camping recipe section for the warmer months. ;)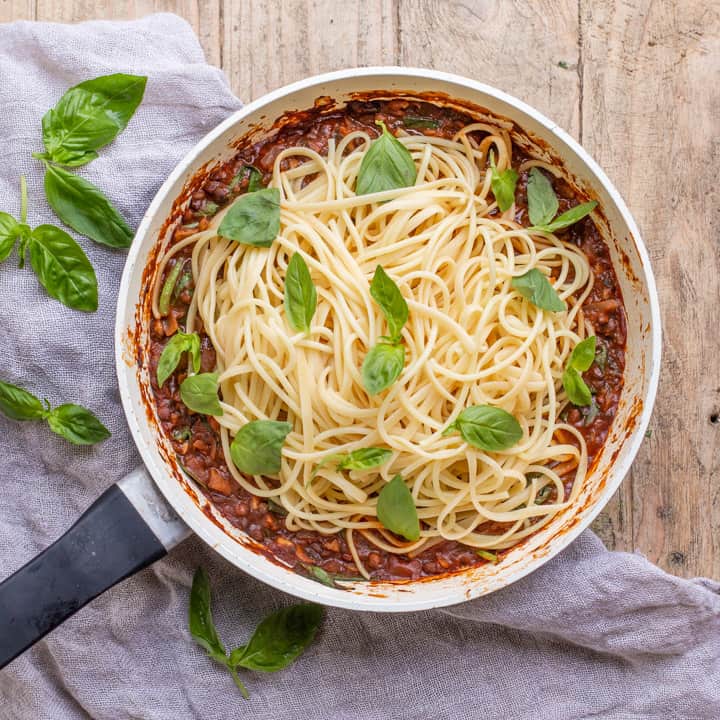 This vegan spaghetti bolognese is a great place to start with a vegan diet.
Or if you're just looking for new meat-free recipes for your family to try.
In fact, I'm not sure most meat eaters would notice a difference between this lentil bolognese, and a slow cooked beef version.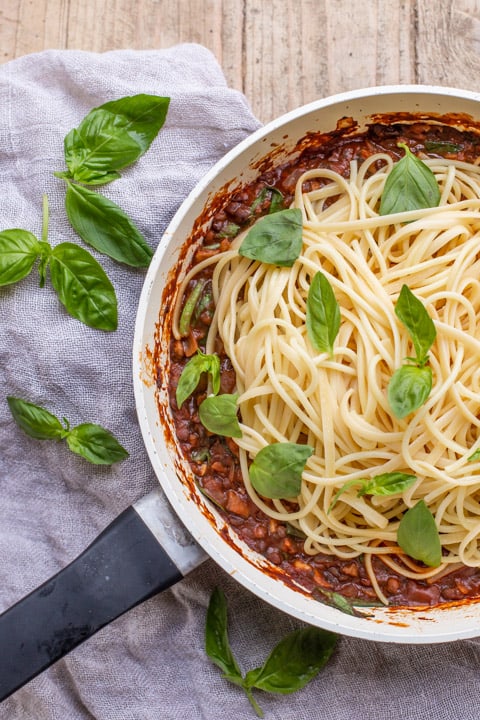 Lentil Love!
In this meat-free spaghetti bolognese, lentils are the star of the show.
Not only do they make this filling and satisfying.
But lentils are packed with protein allowing your energy levels to peak, and help you feel fuller for longer.
Lentils are also pumped with fibre, folate, manganese and iron, among other anti oxidants and nutrients.
Which make this humble little legume a powerhouse that should be feasted on regularly in a vegan diet.
Because we here at The Hedgecombers are all about quick n easy one-pot recipes that are perfect for camping, we used ready cooked lentils.
You can buy them in 250g pouches, or in 400g tins.
However, if you'd prefer to make this with uncooked/dried lentils that's no problem!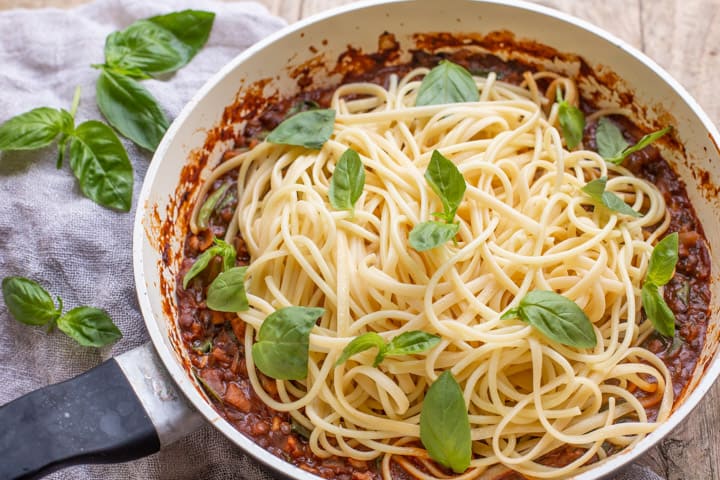 Can I use dried Lentils?
Of course!
Simply rinse your dried lentils in cold water first, and pick out any debris or sad-looking lentils.
Keep topped up with extra water/stock/red wine during the cooking process to ensure they cook perfectly and the sauce stays, saucy!
Time-wise, you'll need to increase the cooking time by an extra 15-20 minutes.
PLEASE NOTE: do not substitute any other pulses for lentils in cooking them raw.
Other beans need soaking prior to cooking.
However, Lentils do not need to be soaked first.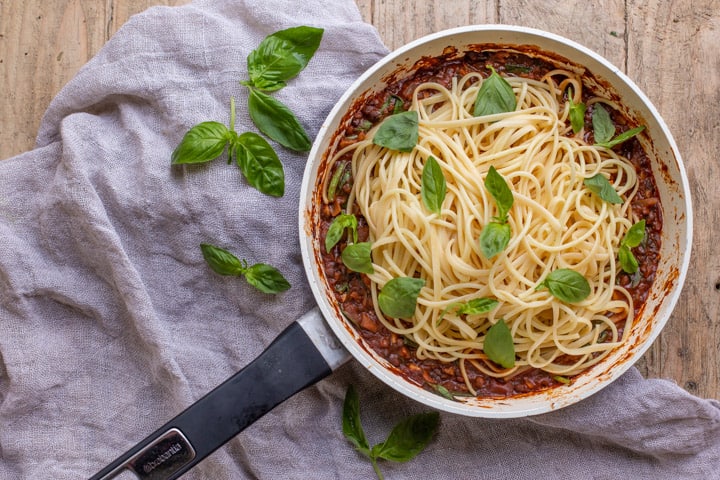 What Pasta is Vegan?
Most supermarket fresh pasta contains egg which you'll need to avoid.
However dried pastas are usually egg free.
Just be sure to check those labels.
It is easy (and cheaper!) to cook your (egg free) dried spaghetti in a separate pan.
Or, if you are wanting to save on washing up like me, take a look at how I cook this vegan bolognese in a one pot, campervan cooking style!
How do you Make a Meat Free Bolognese Sauce?
A vegan bolognese sauce is actually really easy to make.
And as we are using punchy flavours such as onions, garlic, chilli, balsamic vinegar and fresh basil, you are not going to go short on taste.
If you would rather swap out the lentils for Quorn, TVP or tofu, go for it!
Simply follow the packet instructions when deciding where to add it in the recipe.
Enjoy!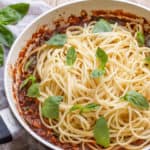 Vegan Spaghetti Bolognese
Keyword:
camping, one pot, vegan
Ingredients
1

tbsp

coconut oil

1

onion

finely chopped

2

garlic cloves

finely chopped

3

chestnut mushrooms

sliced

1

chilli pepper

finely sliced

250

g

cooked lentils

I used a pouch of ready to eat lentils

250

g

passata

2

tbsp

balsamic vinegar

100

g

baby spinach

a couple of big handfuls

salt & pepper

160

g

dried spaghetti

fresh basil leaves
Instructions
One Pot Vegan Spag Bol
If you are wishing to make this a one pot dish, simply fill your pan with water and bring to the boil.

Add in your dried spaghetti, and cook according to the package instructions (about 8 minutes)

When almost cooked, drain the water away, then add a knob of coconut oil to the spaghetti and toss well to coat each strand. This will prevent it sticking together in one lump.

Tip onto a plate and set to one side whilst you continue the recipe below in the same pan.
Vegan Spag Bol
Preheat the pan, then add the coconut oil.

Gently fry the onion until softened. Add in the garlic and mushrooms, and fry for a minute more.

Next, tip in the cooked lentils, passata, balsamic vinegar, stir well, and cook together for a few minutes.

Add the chilli, salt and pepper. Stir well, then taste the sauce, and adjust the seasoning as necessary.

When ready to serve, pile the pre-cooked spaghetti on top of the sauce, pop the lid on, and let steam for a few minutes to heat through.

Or, if you are using fresh pasta, mix the pasta through the sauce. Pop the lid on and let cook for the time required by the packaging. please note, you may need to add a splash more liquid if you are using this method.

Or, cook the dried pasta in a separate pan if you have a dishwasher! :)
Nutrition Facts
Vegan Spaghetti Bolognese
Amount Per Serving
Calories 615
Calories from Fat 81
% Daily Value*
Fat 9g14%
Cholesterol 0mg0%
Sodium 92mg4%
Potassium 1772mg51%
Carbohydrates 110g37%
Protein 27g54%
Vitamin A 5540IU111%
Vitamin C 66.5mg81%
Calcium 136mg14%
Iron 9.4mg52%
* Percent Daily Values are based on a 2000 calorie diet.