Woohooooo! Finally I am able to share pics with you of Myrtle, my self build VW T4 campervan conversion.
Getting her adventure ready has been a labour of love.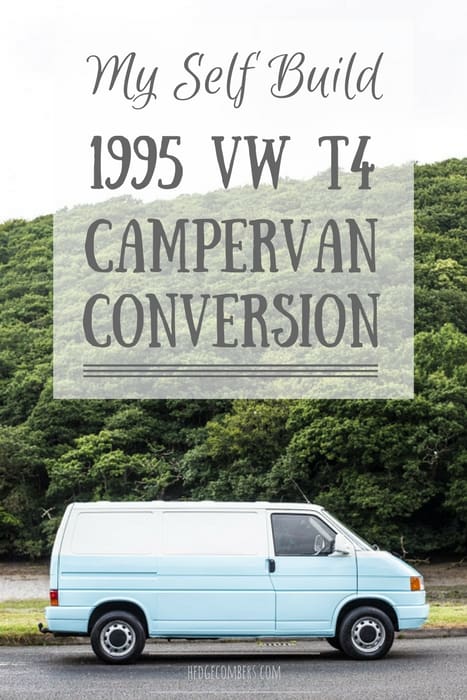 Stage one of her build is officially complete and she is packed and ready to hit the road for our first major road trip.
Excited doesn't even come close :)
Squeeeee!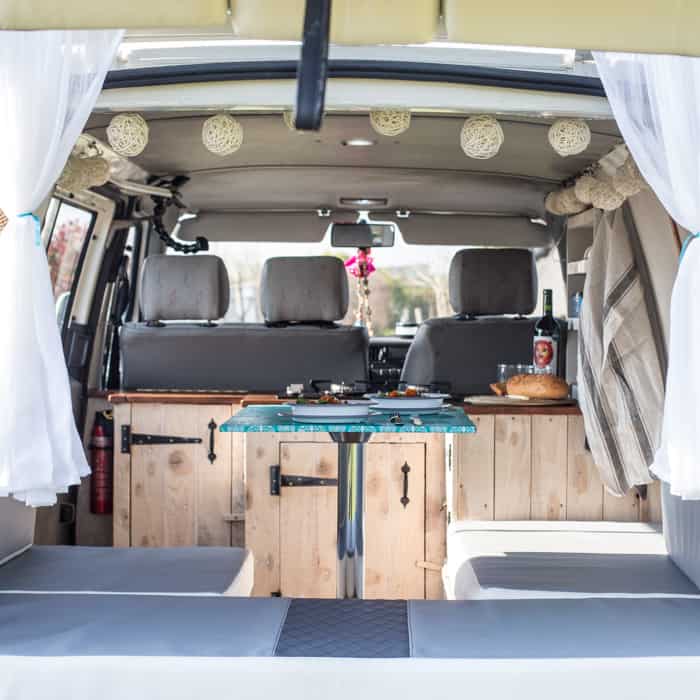 On May 1st Jonny & I drive the 661.3 miles to Inverness.
Followed by an entire month exploring the Scottish Highlands.
It'll be a busman's holiday for me, as I still intend to create yummy recipes for you guys & my YouTube channel.
But I also intend to step away from the gadgets and go explore one of the wildest remaining places in the UK.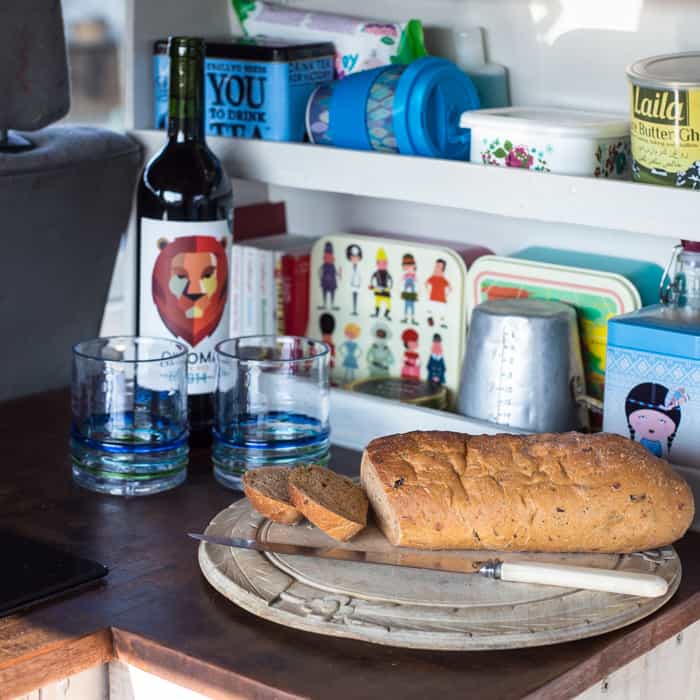 We want to climb mountains, swim in lochs, canoe down rivers and fish for our dinner at every opportunity.
I also want to sleep late.
For a whole month.
How blissful does that sound?
This trip has been planned for well over a year.
We plumped for May as the weather should be kinder and the midges should be non-existent.
Fingers crossed on both accounts!
My Self Build VW T4 Campervan Conversion
And this is how we intend to get there…

Myrtle was an egg delivery van.
I bought her in December 2015 for £1000.
She's a 1995 VW T4 with a cool 240,000 miles on the clock.
She came from Sussex and I drove her back to Cornwall to live out an adventurous retirement.
I've since spent a ridiculous amount of money on morphing her into our perfect adventure wagon.
One day I'll add it all up, but it would probably scare the bejesus out of me so it won't be any time soon!
Firstly, she had a full restoration and respray.
Followed by a self-build conversion to make a YouTube friendly kitchen and comfortable living/sleeping space.
We used pallets and a lot of scrap wood we had on the farm which helped keep the build costs pretty low.
Huge thanks to Jonny for taking on the conversion and doing such a beautiful job. He literally saved me thousands.

In all the months I've owned her, I wouldn't allow myself to splurge on all the pretty bits that I knew would make her home.
I made myself wait so I could get a feel for the space, and work out exactly what I needed.
As the build came together I was chatting with the guys at Homesense & TK Maxx, and they offered to sponsor the kitting out.
This was my most perfect union as I am a HUGE fan of their stores.
For those not in the know, Homesense is an off shoot of TK Maxx. They are giant stores that just stock the glorious homewares, with none of the fashion. My idea of retail heaven.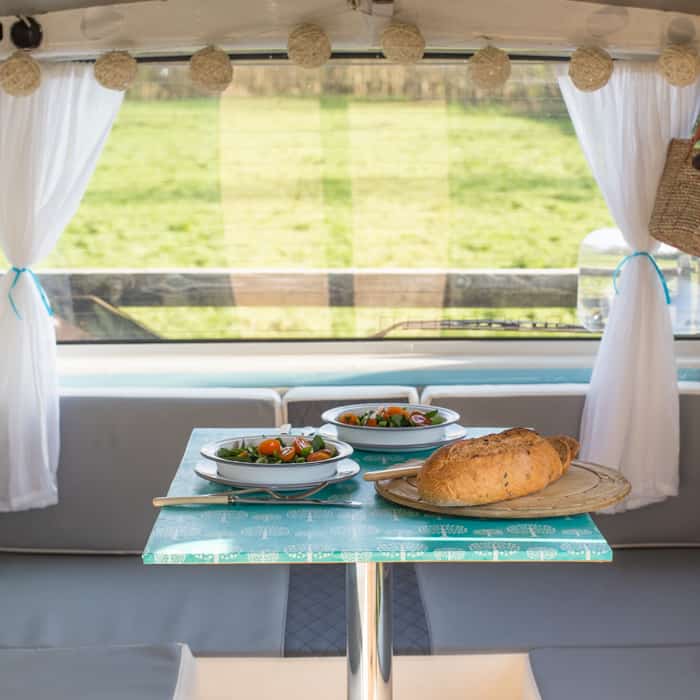 Fast forward to a crazy day travelling over 300 miles to visit three Homesense stores and two TK Maxx's across the south west to fill my van with the most beautiful treasures you could imagine.
We got the lot! Everything from bedding to fairy lights to storage bags to a can opener!
We were utterly exhausted by the end of the day, but returned triumphant.
A few more bits later and Myrtle now has a permanently kitted out kitchen.
You can catch the bulk of my haul in this video over on YouTube.
So that's it! My beautiful van is now ready to hit the road.
Although we're keeping fingers & toes crossed that she makes it to Scotland and back with no drama :)
If you are interested in finding new camping & campervan friendly recipes, or of you want to follow our adventure to the Highlands, why not subscribe to my YouTube channel as I'll be posting a heap of tasty content over there.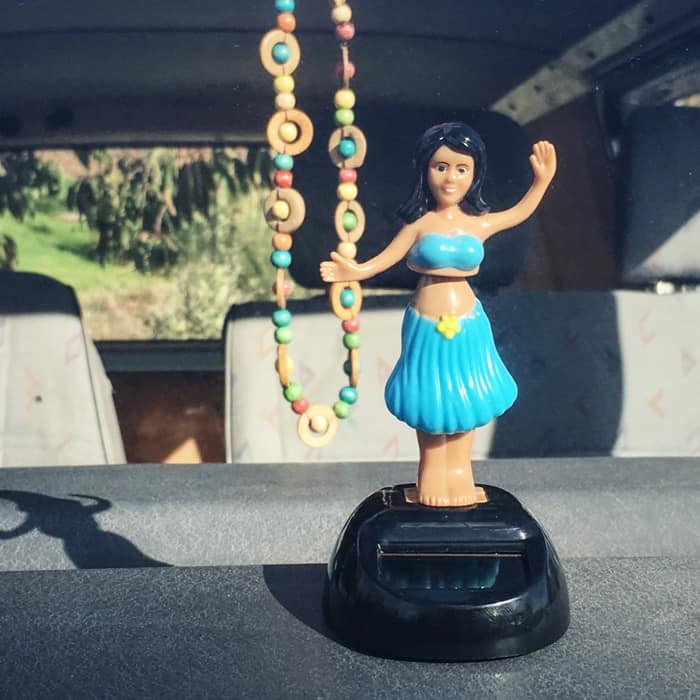 Huge thanks to Homesense/TK Maxx for sponsoring Myrtle's big reveal.
I was a huge fan of their stores beforehand, but now I think I could be classed as a zealot!
There aren't many shops that could make this girl as excited as they do!
As always, all thoughts in a sponsored post are my own.
Jane x