Do you remember these gorgeous, soft and chewy coconut pyramids from childhood? Textured with desiccated coconut, they used to fill my back-from-school-hungry belly in a nanosecond.
Grab the fabulous, dairy-free and gluten-free recipe here…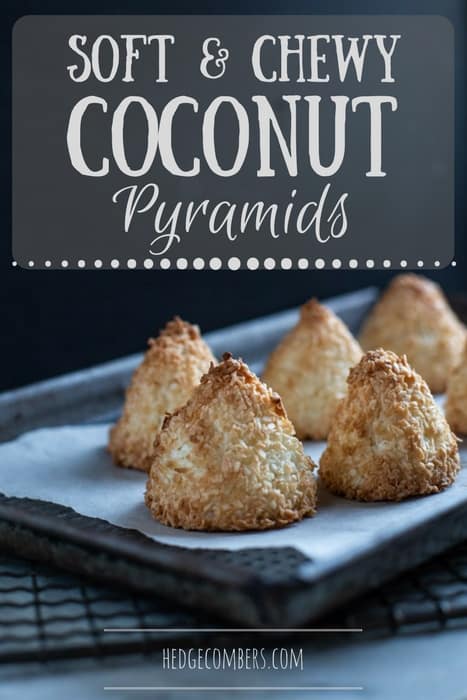 This recipe was originally published back in 2014, but has just been updated.
If you're looking for a UK coconut pyramid recipe. That uses only 4 store cupboard ingredients and is a doddle to throw together.
Then this is the recipe for you…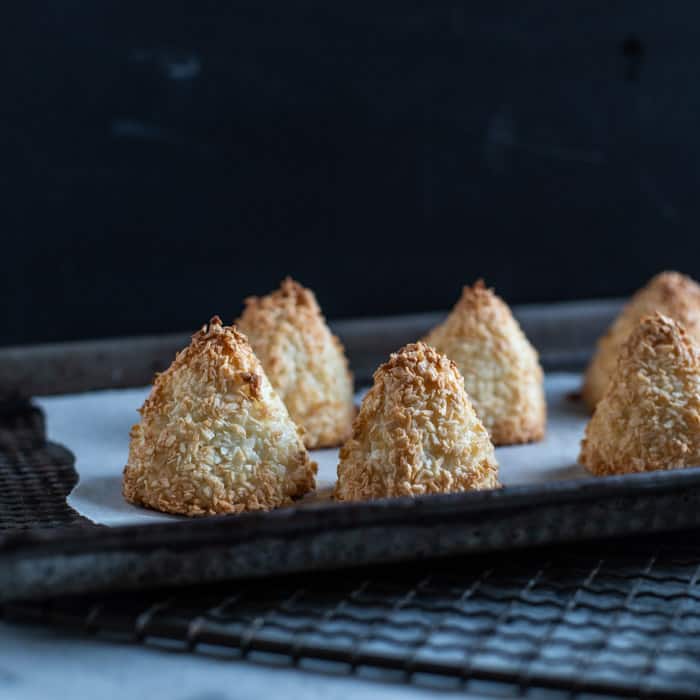 According to the internet, these little coconut treats from my childhood are also called coconut haystacks elsewhere in the country/world.
And whilst they are a sweet treat, the ingredient list isn't horrible. And in fact, there's only four ingredients in the entire recipe!
It's such a handy recipe to have up your sleeve when the treats tin is bare and the family deserves something special.
They are so quick to make. and a great baking recipe to get the little ones to help with.
They're also naturally dairy-free and gluten-free too.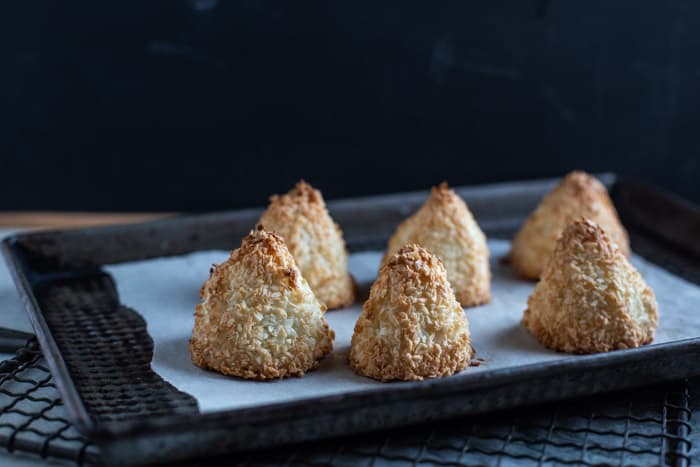 The recipe below makes six little pyramids.
Of course, you could make them bigger or smaller, but be sure to alter the oven timings if you do.
How to make traditional Coconut Pyramids
With such simple ingredients, these quick bakes really are child play.
In a mixing bowl, weigh out your icing sugar (also known as confectioners sugar)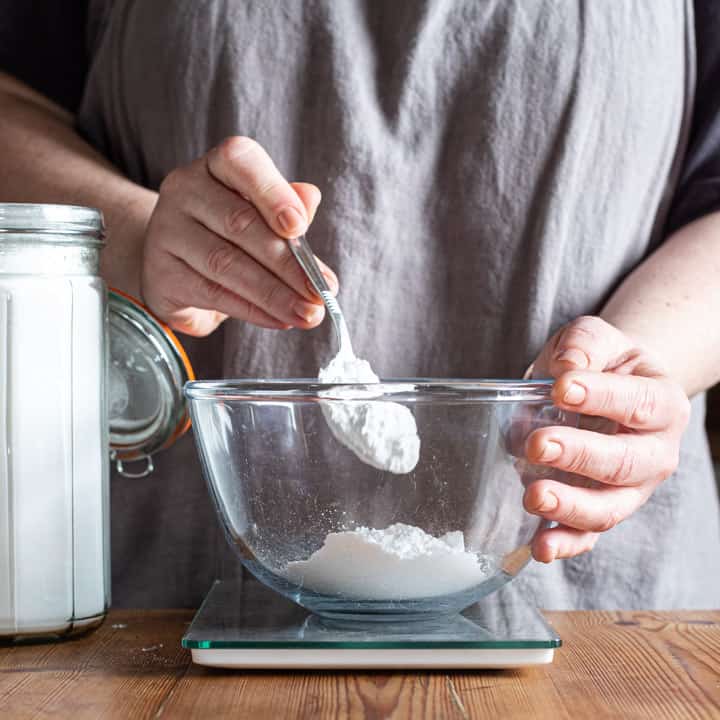 Add in the desiccated coconut.
I would recommend using an unsweetened coconut.
But if you can only find the sweetened version, you may wish to reduce the icing sugar in the recipe by a little.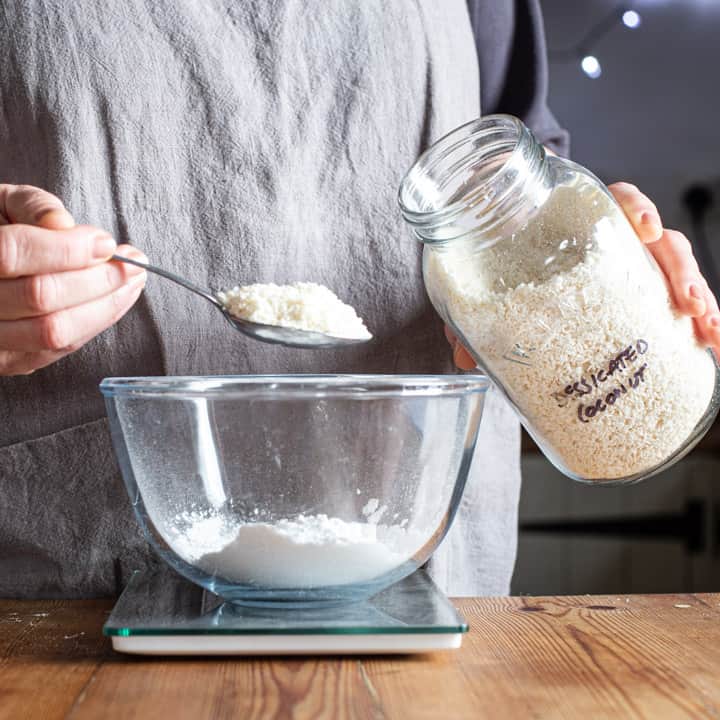 Next up add in the cornflour (also known as cornstarch).
That's all the dry ingredients!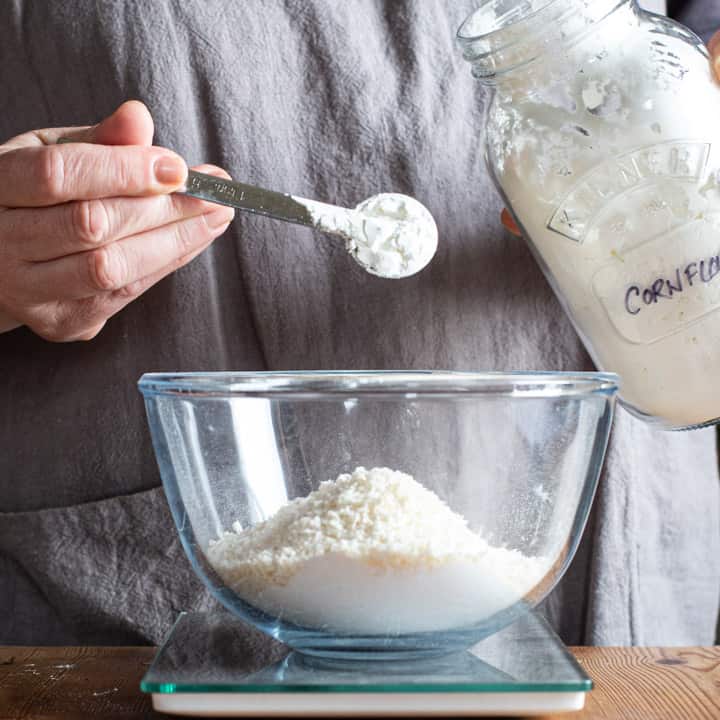 Finally, crack an egg and carefully separate the yolk from the white.
Try to keep the yolk intact, otherwise, it'll be difficult to separate the two.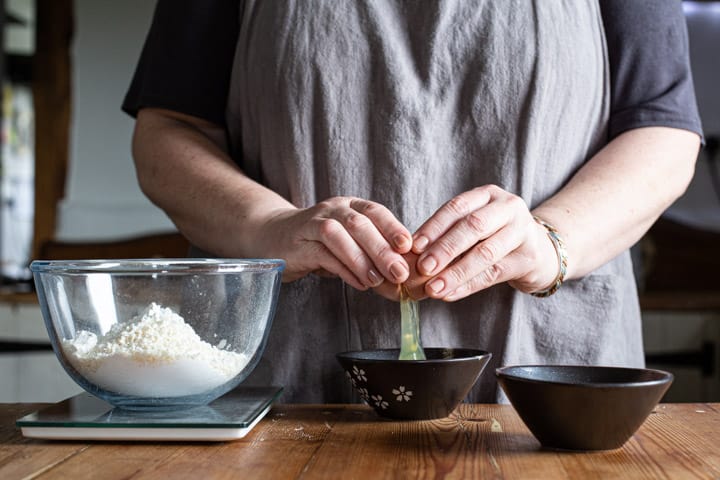 You need to add the white into the pyramid mixture.
The yolk can be used in another recipe.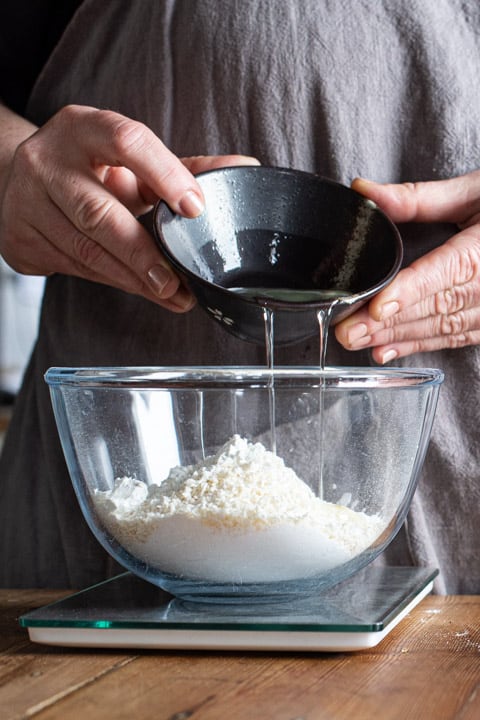 Then simply mix the whole lot together!
After a minute or two of gently stirring it'll come together. And at this point, you can start shaping your little pyramids!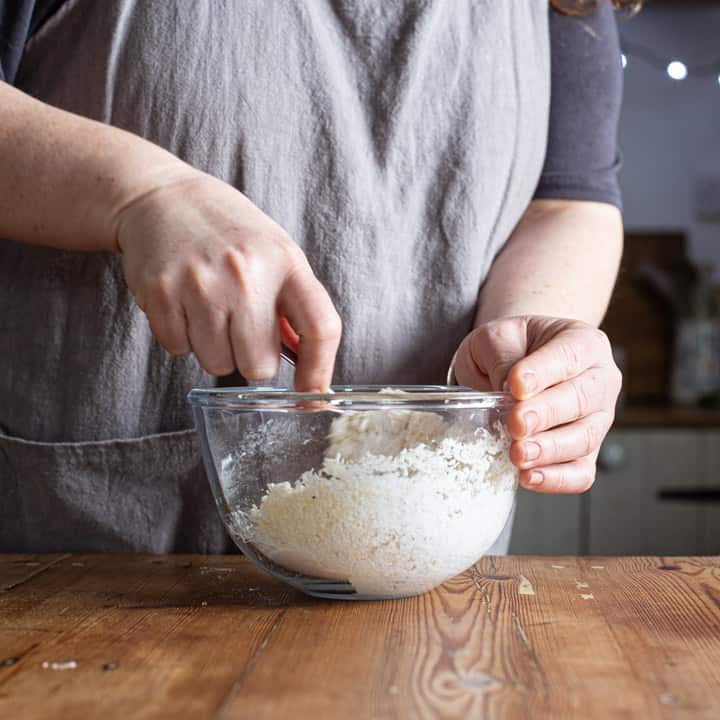 Divide the mixture into 6.
Then take one portion in your hands and start shaping it to have a flat bottom…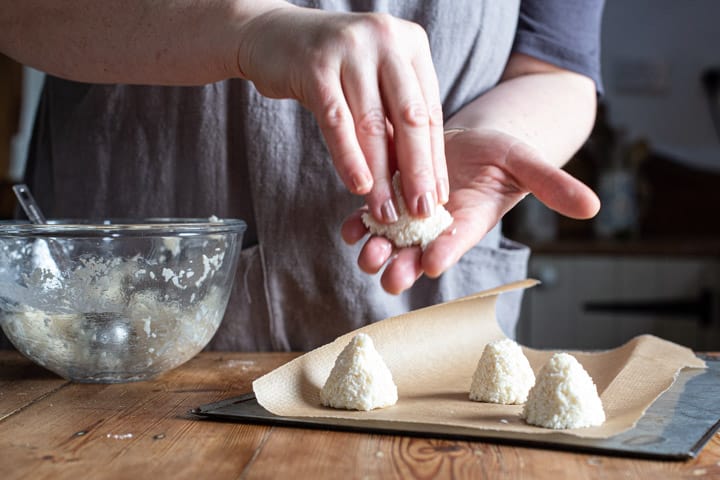 …and a pointy top!
It's pretty easy and you definitely don't need to be precise.
Rustic and homemade is always a good look when you're baking ;)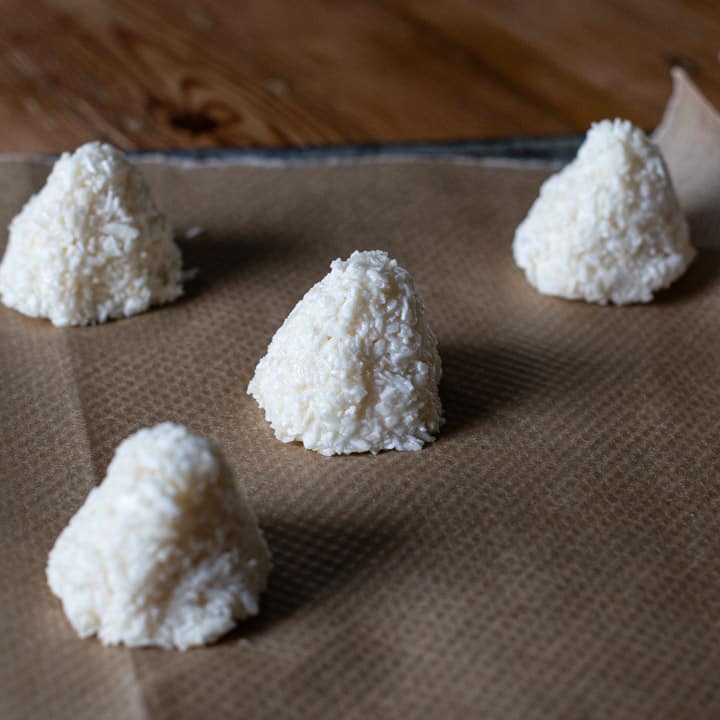 Once they're shaped, pop them onto a lined baking sheet.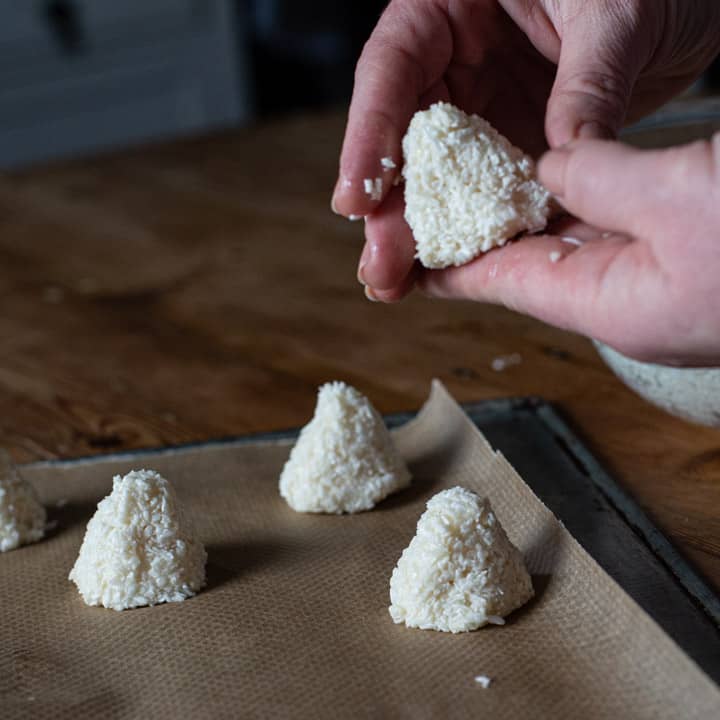 And then place the tray into a preheated oven.
Do keep an eye on them as the cooking time comes to an end as you don't want them to burn.
Instead, you're looking for a nice golden brown colour.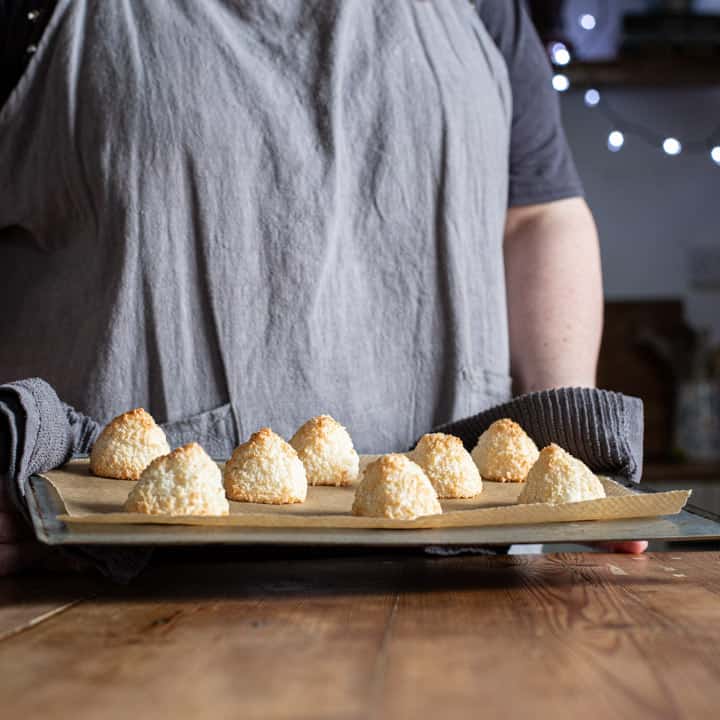 Remove from the oven and leave the little coconut haystacks on the hot tray to cool down.
Initially, they'll be quite soft and squishy.
But as they cool they'll firm up perfectly.
The outside becomes ever so slightly crunchy, but the inside is soft and almost chewy – they're SO good!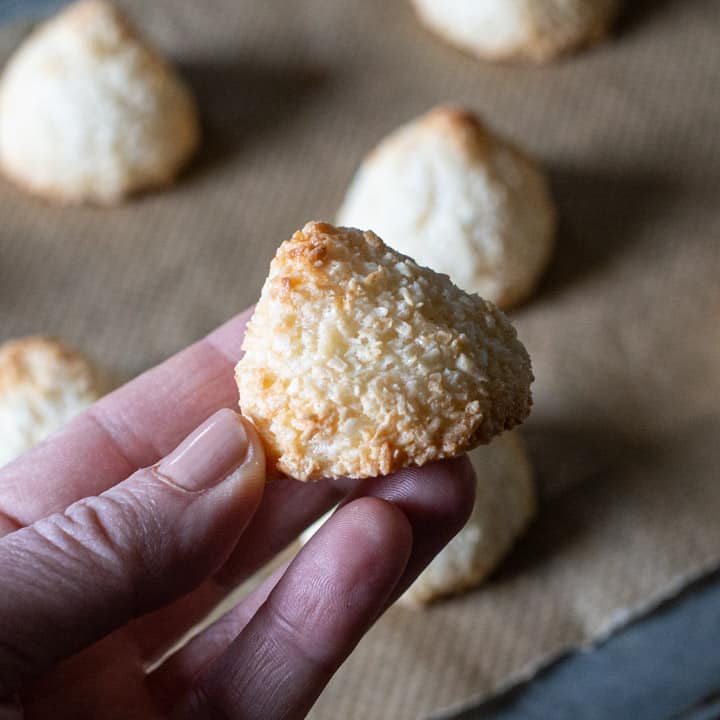 Coconut Haystacks Recipe Tips
If you run your hands under some cold water before shaping the pyramids, you'll find the mixture doesn't stick so much.
Let the coconut pyramids cool on the baking tray. They'll firm up as they cool and peel off easily.
Once cool, store them in an air- tight tub where they will last for a few days.
And finally, make a double batch. Trust me on this one. A single batch won't last long at all :)
Looking for a dairy-free Coconut Pyramid recipe that doesn't use condensed milk?
Then, my friends, you've found it!
This is the traditional British recipe that creates a frugal, yet utterly delicious coconut pyramid.
This is the traditional dairy-free version. Happy days!
Do I need to buy a coconut pyramid mould?
Err, no. Not unless you really want to!
These pyramids are easily shaped by hand and look rustic and cute for it.
Run your hands under cold water first to help stop the mixture from sticking to you.
Need more desiccated coconut recipes?
Well, it just so happens that I've used desiccated coconut A LOT over the years!
A couple of my favourite bakes are my ever popular coconut rock cakes.
And let's not forget these fabulous little date, coconut and almond truffles. They are just delicious.
And if you have leftover desiccated coconut to use up, these Fudgy Coconut Brownies look incredible!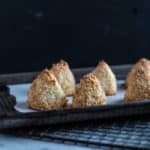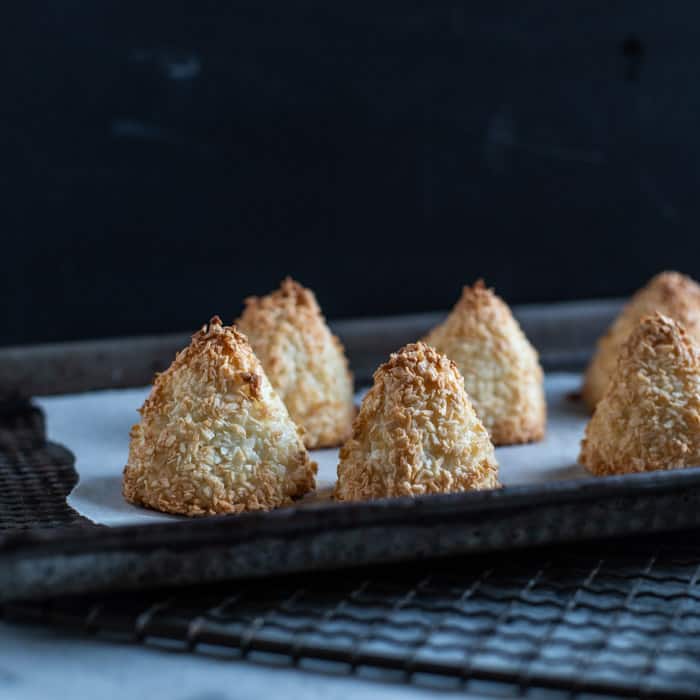 Soft and Chewy Coconut Pyramids
Keyword:
coconut haystacks, coconut pyramids
Ingredients
40

g

icing sugar

75

g

desiccated coconut

2

level teaspoons cornflour

1

egg white
Instructions
Preheat the oven to 170/fan150/325/gas 3.

Mix all four ingredients together in a bowl.

Divide into 6 portions, and mould each portion with your hands into a pyramid shape.

Place each one onto a greased baking sheet.

Bake for 12-14 minutes, or until the tops are dark golden brown, and the sides have also take on some colour.

Let cool on the tray then simply pick up and eat/store!

Initally they'll very soft, but they'll harden as they cool.

Once completely cool, they can be stored in an air-tight tub for up to 4 days.
Nutrition Facts
Soft and Chewy Coconut Pyramids
Amount Per Serving (0 g)
Calories 112
Calories from Fat 72
% Daily Value*
Fat 8g12%
Sodium 13mg1%
Potassium 76mg2%
Carbohydrates 10g3%
Protein 1g2%
Vitamin C 1mg1%
Calcium 4mg0%
Iron 1mg6%
* Percent Daily Values are based on a 2000 calorie diet.