If you only ever make one recipe from this website, make it this one. I promise, so long as you like coconut, you will not be disappointed.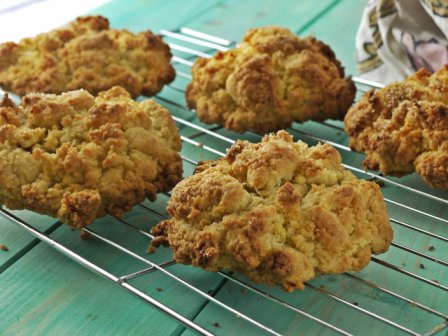 I don't think I have the words to describe them with any justice, so I shan't even try. Just take my word for it, they are freaking delicious :)
Coconut Rock Cakes
Ingredients
110

g

butter

110

g

sugar

200

g

plain flour

75

g

desiccated coconut

½

teaspoon

bicarb of soda

baking soda

½

teaspoon

cream of tartar

1

egg

a little brown sugar to top
Instructions
Preheat oven to 400/gas 6/200/180 fan

Cream the butter, sugar and egg together in a large mixing bowl.

Add the rest of the ingredients and, using some brute strength, mix it to a stiff consistency.

On a greased baking sheet, pile largish mounds of the mix.

You'll need to push each lump together ever so slightly, but you don't want to flatten out those rough edges.

Lightly sprinkle with the brown sugar and bake for 15-20 minutes until golden brown and the edges are just starting to darken.