After my evening meal I always get a humongous sweet craving. Generally there is nothing in the house to quash that need, so I have a piece of toast with peanut butter and jam on.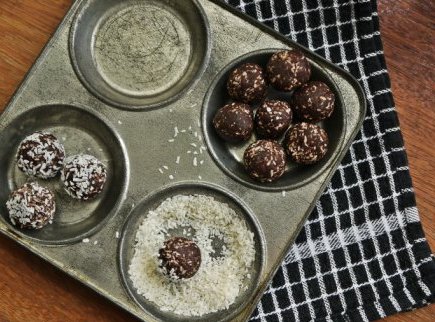 If I'm totally honest one bite would be enough to satisfy. but I was brought up to clear my plate, and we all know that wasting food is a big No-No, right?
Then I stumbled over this AMAZING looking recipe for Almond Date Truffles over at the Sprouted Kitchen. It was love at first sight, and I think these little beauties could be my new after dinner sweet hit. See what you think…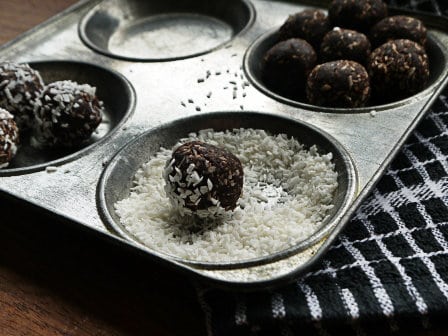 There is something so satisfying about using dates in bakes and sweet treats. You're still getting a full on sweet hit, but minus all the crap of processed sweets. If you've not tried them before, you might want to take my popular best flapjack recipe for a spin. It has a layer of dates in the middle which makes the flapjacks so moist and naturally sweet. They;re yum!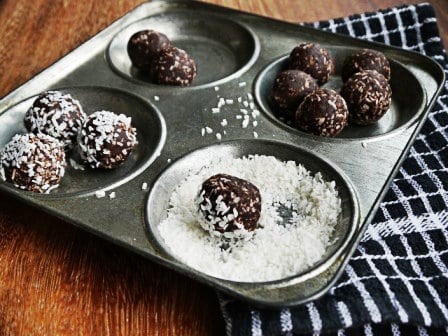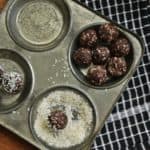 Date, Coconut & Almond Truffles
Ingredients
I altered Sara's recipe a little

so here follows my 'inspired by' version of hers!

1

Packet of dates. You want the soft

juicy ones you'll find in the fruit n veg section around Christmas time, not the hard ones found in the baking section. Sara recommends Medjools which are perfect. There were 22 dates in the packet I bought to give you an idea of how many to use.

2

tablespoons

almond or peanut butter

2

tablespoons

dessicated coconut

1

tablepsoons cocoa powder

pinch of salt

1

teaspoon

cinnamon
Instructions
Stone the dates and whizz them in a food processor until you reach a tasty looking datey mash. Chuck in everything else, and pulse until all is combined well.

Spoon out desert spoon amounts of datey goo, and use your hands to roll into little balls.

They'll be perfectly edible as is, but to make them look extra special, roll them in cocoa powder, chopped nuts or more coconut. I'm going to roll my next in chopped pistachios as I think they'll look even more perfect :)