This Slow Cooker Rabbit with Thyme and Prune recipe is a rich and nourishing way to serve rabbit meat that the whole family will love.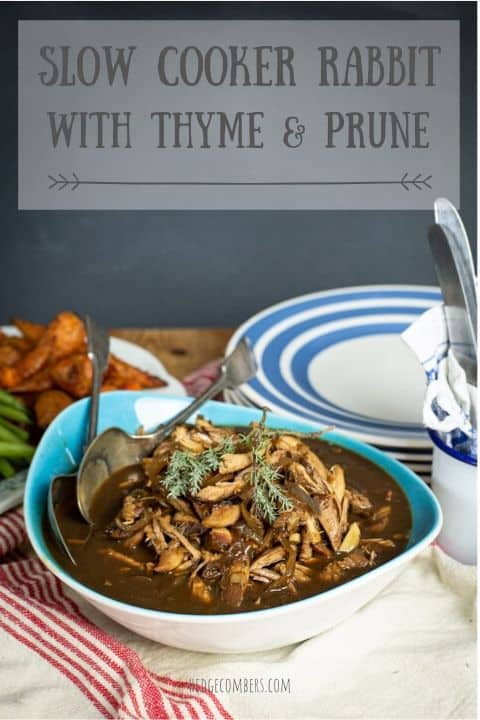 This recipe is sponsored by Sunsweet Prune Juice.
Growing up in rural Cornwall in the 70's, rabbit was a common meat on our menu. My Dad and brother would both shoot regularly, as much to keep the rabbit population on our little farm in check, as putting food on the table.
They'd bring their haul back to the kitchen where Mum and I would butcher them and make her famous rabbit and prune casserole.
Sadly I don't have a copy of her recipe, but I remember the casserole so well.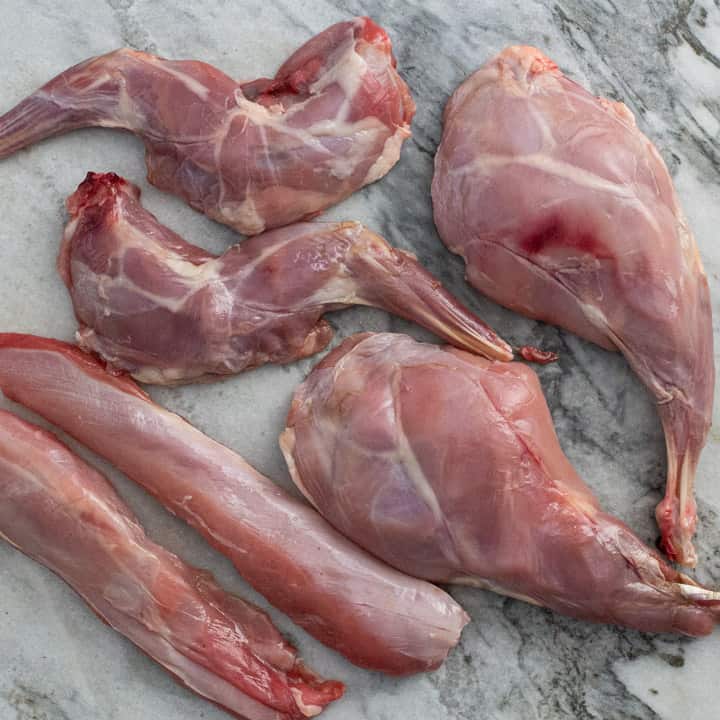 It was slow cooked in the bottom of the AGA for hours, until the rabbit was soft and tender.
The fruit gave the dish a rich sweetness which worked so well with the piles of buttery mash and whatever green veg was in season in Dad's allotment.
It's one of those childhood food memories that makes your tummy rumble!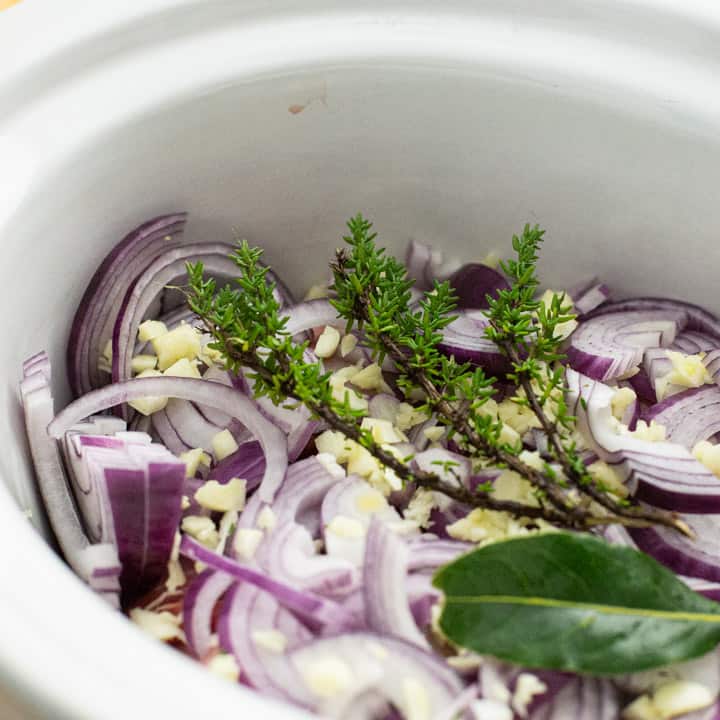 Could rabbit be the ultimate source of sustainable meat-based protein?
I'd like to think rabbit is having a resurgence at the moment as consumers are choosing to boycott factory farmed, mass produced meat, and are instead looking for more environmentally sound options.
In fact, I would go as far as to say that wild rabbit is the ultimate sustainable meat-based protein source here in the UK.
It has very low food miles, comes with zero plastic or waste packaging and has no carbon footprint from being shipped across the planet.
As the rabbits breed and live in the wild it is compassionately reared without human interference.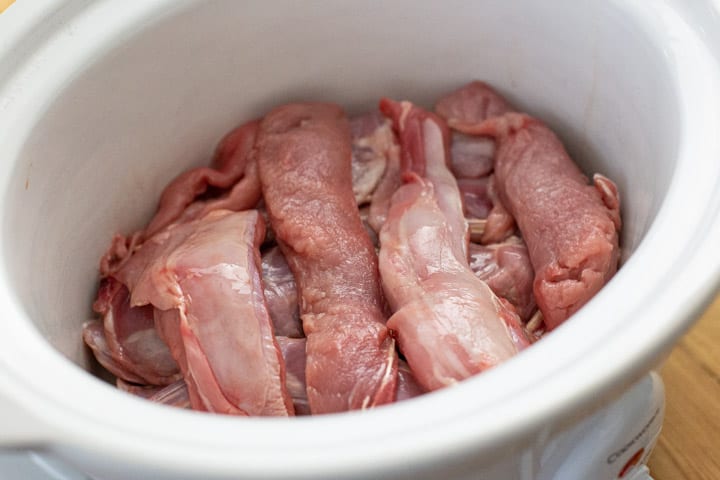 On the other hand you can sometimes find 'farmed rabbit' in some supermarkets or butchers, and I would urge you avoid this entirely.
The vast majority of farmed rabbit meat (grown both here and overseas) are not farmed in a kind or compassionate manner at all.
What does Rabbit Taste Like?
Plus…can I replace rabbit with chicken?
Unlike a lot of game, rabbit has a mild flavour, very similar to chicken.
In fact, I doubt the majority of people would be able to taste the difference between rabbit and chicken in a finished dish!
To that end you can certainly substitute chicken for rabbit in this (and any other recipe) should you have trouble sourcing locally shot wild rabbit.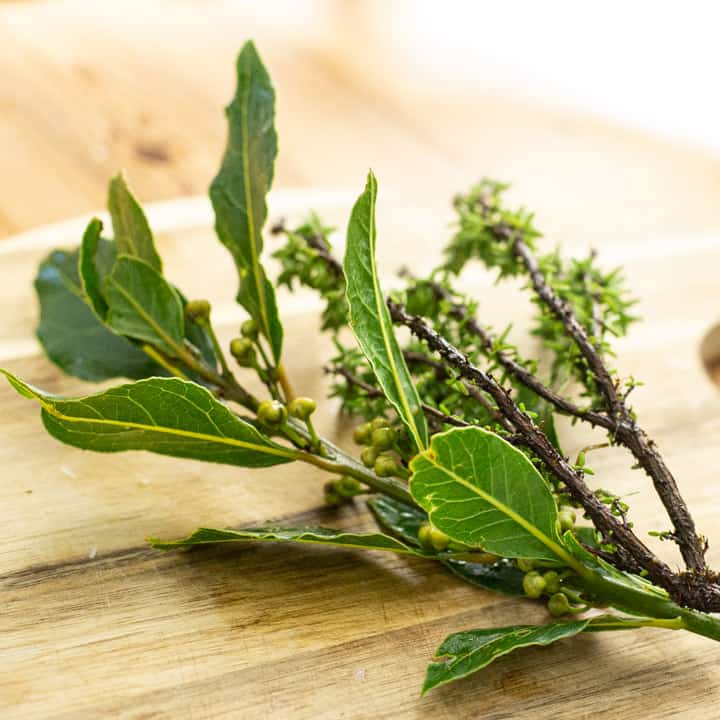 Older rabbits will have a stronger or gamier flavour than young ones, and the meat will be tougher too.
Slow cooker rabbit is therefore perfect method for cooking older rabbits as the meat will stay tender and moist throughout.
It's a very pure source of protein, as it's one of the leanest meats available.
Slow Cooker Rabbit with Prune Juice?
When I recently created my Poached Pears in Spiced Prune Juice recipe, I felt I had to give a response to the potential reaction of "Prunes? Really?!".
You might find yourself wondering the same about rabbit! However, my enthusiasm for prunes as an ingredient continues to drive my resounding 'YES! Really!'.
Rabbit and prunes are as perfectly paired as pork and apples.
In France, this traditional dish is known as 'Lapin aux Pruneaux' and you'll still see it on restaurant menus today. Most often the recipes call for whole prunes, that get broken down over the cooking time.
However I've taken a short cut by using Sunsweet prune juice to create a thick, rich and silky smooth sauce that complements the rabbit.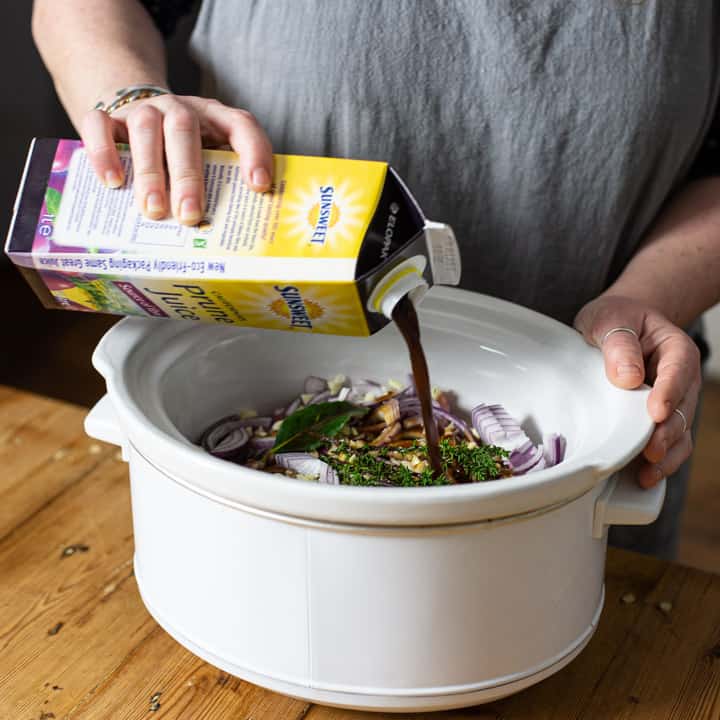 Why Slow Cooker Rabbit?
Anyone who follows my recipes will know that I'm a huge fan of slow cooker recipes.
Slow cooked meals not only give me an opportunity to do other things, even get out and about whilst my dinner is bubbling away, slow cooked meats are tender and 'fall-apart'.
Slow cooked dishes are so easy to prepare and yet always so impressive!
All that's needed for this slow cooker rabbit recipe is to layer up the meat and other ingredients, pour over the prune juice and stock. Then pop the slow cooker on low for 8 to 10 hours (or high for 4 to 6).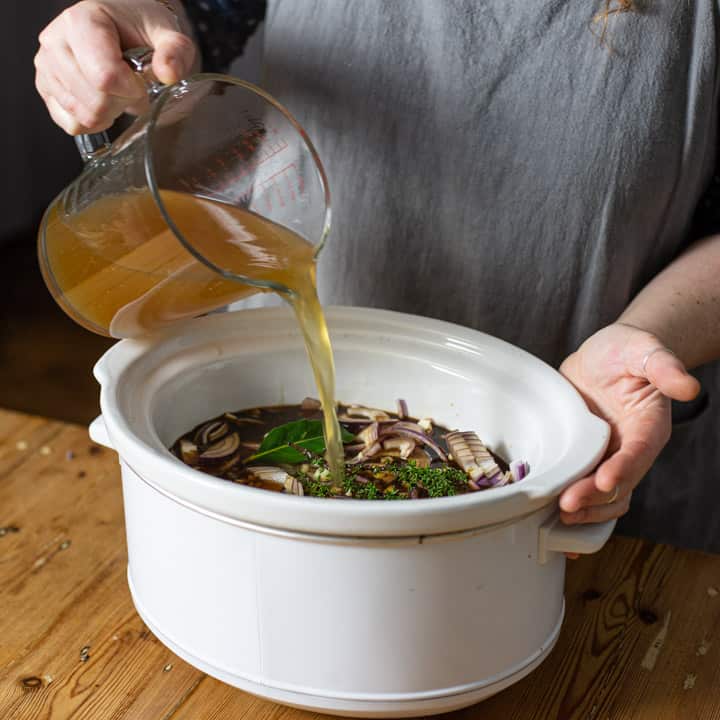 This rich, meaty, rustic dish really takes me right back to my childhood.
It is one of those wholesome meals which you can easily imagine sharing around a table with the family, the smell filling the room as you serve it up alongside crispy roasted potatoes and freshly picked vegetables, laughing together and enjoying good company.
I hope you'll try it and that it becomes a lovely foodie memory for many of my readers!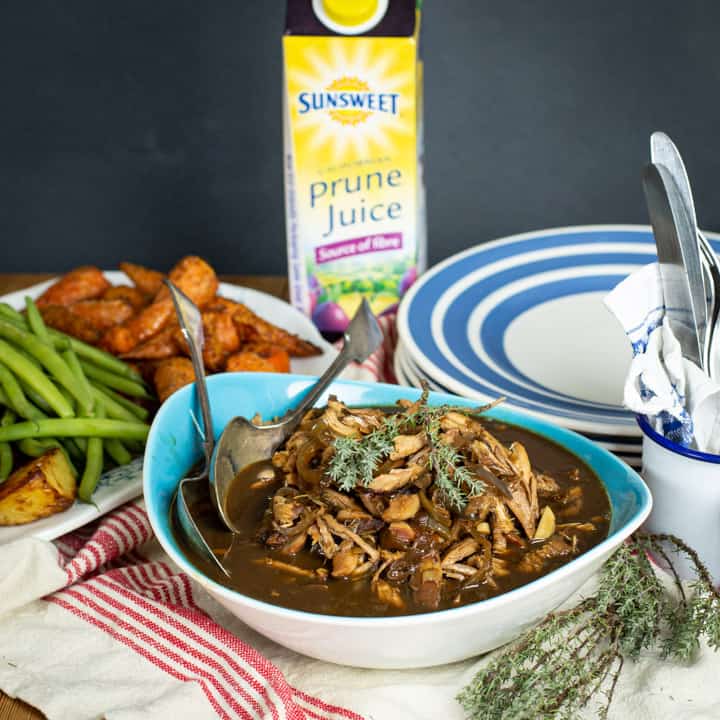 Oh, and if you're ever lucky enough to get offered some super fresh venison from a hunting friend, may I recommend this recipe for Venison Liver Pâté? It's another of my readers favourites that I thought you might like :)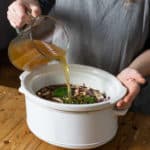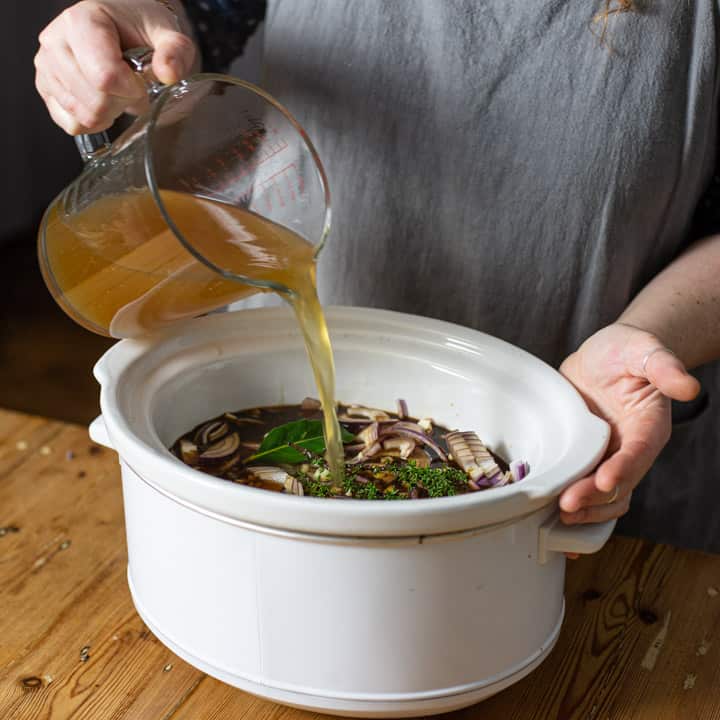 Slow Cooker Rabbit with Thyme and Prune
A rich and nutritious slow cooker rabbit recipe that the whole family will love.
Keyword:
slow cooker rabbit
Ingredients
2

rabbits

wild, jointed

1

red onion

finely sliced

4

garlic cloves

minced

400

ml

Sunsweet prune juice

600

ml

stock

(I used beef stock cube & boiling water)

1

tsp

salt

1/2

tsp

black pepper

3

sprigs

fresh thyme

1

bay leaf
Instructions
Layer all the ingredients into the slow cooker.

Switch on to low and cook for 8-10 hours, or switch to high and cook for 4-6 hours.

When cooking time is up, remove the rabbit joints with a slotted spoon and place into a bowl. They will be so tender they'll be falling apart so work carefully and quickly.

Pour the gravy into a saucepan and bring to a rapid boil. Boil until it is reduced by half.

Meanwhile, if you wish to remove the meat from the bones, wait until it has cooled enough to handle. This is a fiddly and time consuming job as the bones are so small, but worthwhile if you are serving to guests, those who don't like bones or children.

If you keep the meat on the bones, keep the rabbit warm.

When the sauce has thickened into a rich gravy, pour over the shredded rabbit meat or joints and serve. This dish is perfect served with roast root veg and green beans.
Nutrition Facts
Slow Cooker Rabbit with Thyme and Prune
Amount Per Serving
Calories 320
Calories from Fat 54
% Daily Value*
Fat 6g9%
Cholesterol 203mg68%
Sodium 719mg31%
Potassium 1022mg29%
Carbohydrates 9g3%
Protein 55g110%
Vitamin A 178IU4%
Vitamin C 3mg4%
Calcium 41mg4%
Iron 8mg44%
* Percent Daily Values are based on a 2000 calorie diet.
Huge thanks to Sunsweet for sponsoring this recipe and helping keep my recipes free for all to enjoy. As always all thoughts (and leftovers!) are my own.
Janie x