This Poached Pears with Spiced Sunsweet® Prune Juice recipe makes a light, warming dessert with no added sugar. The dish is served with an easy vanilla whipped cream.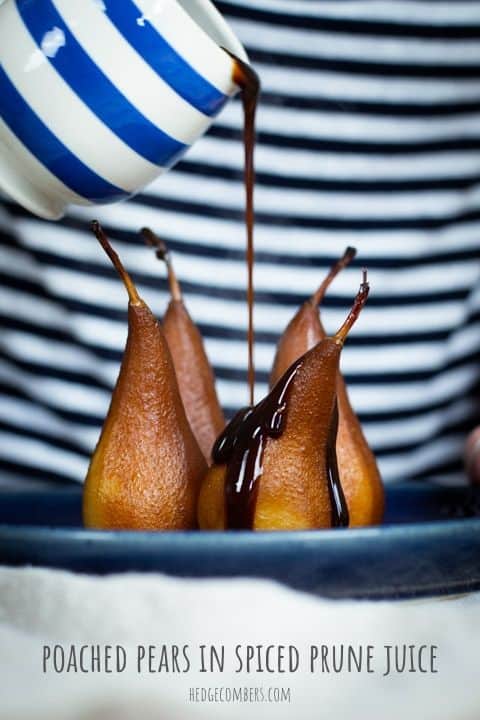 Oh man. Prune juice may have just become my new favourite ingredient in my little country kitchen! Today I'm using it to create the dreamy sauce for these poached pears, but stay tuned as we have an incredible savoury dish coming up real soon too.
Prunes? Really??
Yep! Prunes may have traditionally had a medicinal cult following, but that doesn't mean they aren't delicious too! And there's no disputing that they're good for you. As a healthy wholefood, they offer a range of vitamins and minerals, especially potassium and vitamins K and B6, and are a brilliant way to bring a natural sweetness to all sorts of recipes. Both sweet and savoury.*
A prune is simply a dried plum, and is there any fruit sweeter or more delicious than a perfectly ripe plum? Sunsweet Prunes and Prune Juice are from California, the land of sunshine, and I swear you can taste it in their fruit!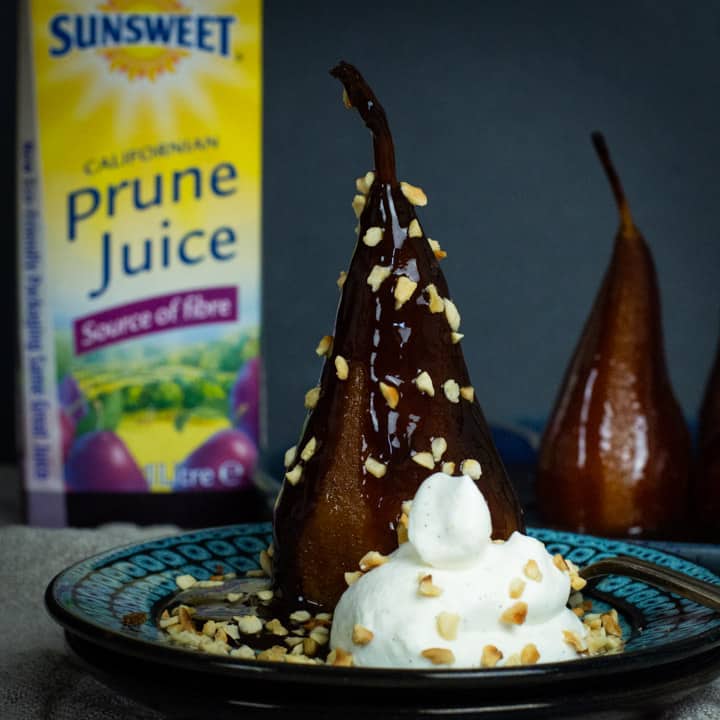 And whilst I may sound like a life-long prune fan, the only time I actually remember eating them was in my Mum's famous rabbit and prune casserole she used to make when I was a kid (more on that note coming soon). And the only other place I've really seen prunes was in hotel breakfast buffets and they are rarely anything like the quality prunes from Sunsweet.
It's only this past fortnight, since I've been testing recipes and researching all things prune that I've become really rather smitten. In fact, if we had more than one single solitary plum tree here on our little farm in Cornwall, I'd be tempted to try dehydrating my own prunes this summer. But as it is we scoff through those fresh plums far too quickly to consider putting any back for winter!
When I mentioned this to Sunsweet, they did advise me that even though all prunes are plums, not all plums can become prunes and that the garden variety of plums is most likely not the variety that would make prunes. Something I wasn't aware of and thought was really interesting!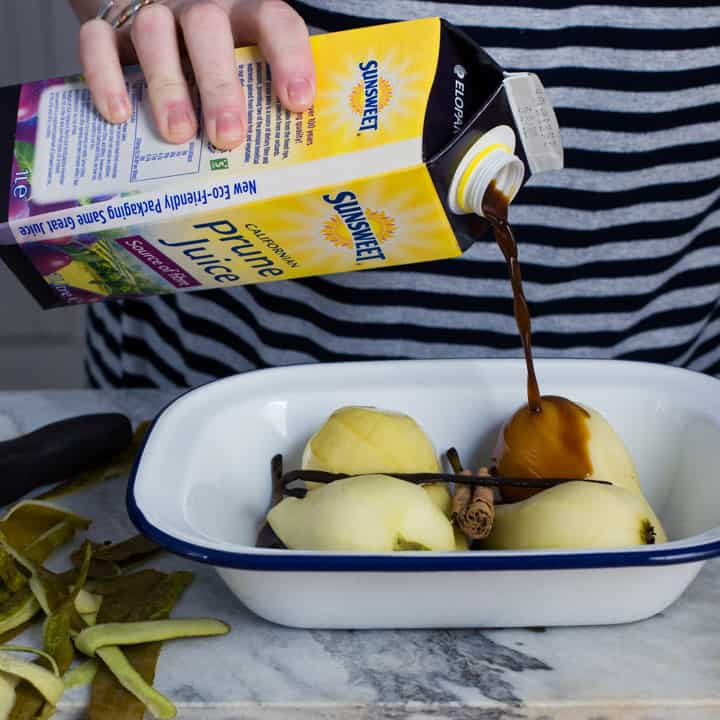 Prune juice recipes: A Versatile Ingredient!
Buying prune juice makes this amazing fruit even more versatile, and I can't believe how many recipes I'm now reaching for it. From our post-workout smoothies, to overnight oats. I've even used it in a breakfast muffin and managed to get the sugar right down whilst boosting the nutrient density through the roof.
I can highly recommend searching for a prune juice recipe from Sunsweet's online collection. It's really quite surprising what you will find there!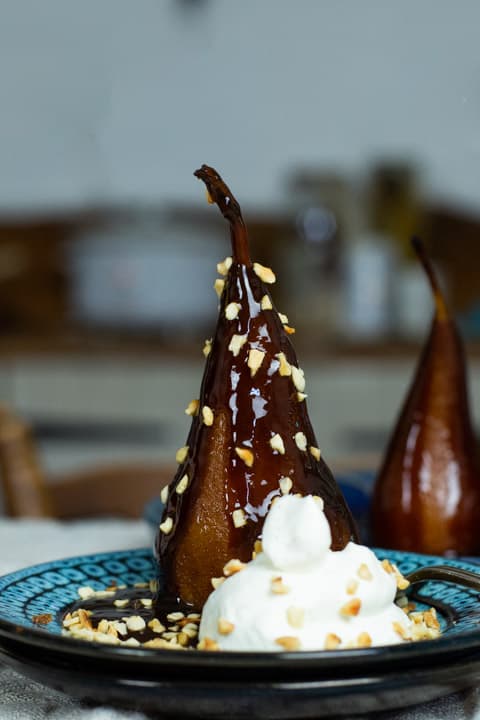 And then there's the real magic I have discovered since experimenting with prune juice recipes. Prune juice makes the most incredible sauces, ever.
The only ingredients in this thick, sticky and unctuous sauce are:
Cinnamon
Ginger
Vanilla pod
Arrowroot powder (available in supermarkets)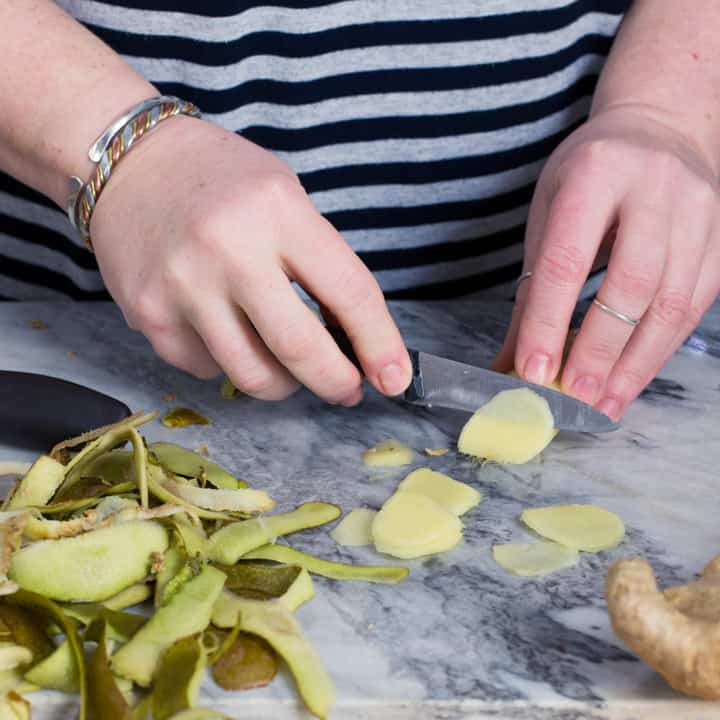 That's it! Even though it is super sweet, all that sweetness comes from the fruits themselves. No sugar or syrup needed. Somehow (and I know how bonkers this sounds) when poured over these slow cooked pears, and topped with those crunchy little nuggets of toasted hazelnuts, this sauce tastes like a caramel'y chocolate sauce.
The arrowroot powder is used to thicken the sauce up, and it does so perfectly. If you mix the arrowroot in a cup with a splash of cold water first, you'll find it stirs into the fruit juice easily and with no lumps.
Honestly, this recipe is up there as one of my favourite natural, gluten-free desserts on my whole blog.
I beg you to try it next time you need a pud that is easy, healthy and that doesn't contain any added sugar, sweetener or syrup. I hope you love it too!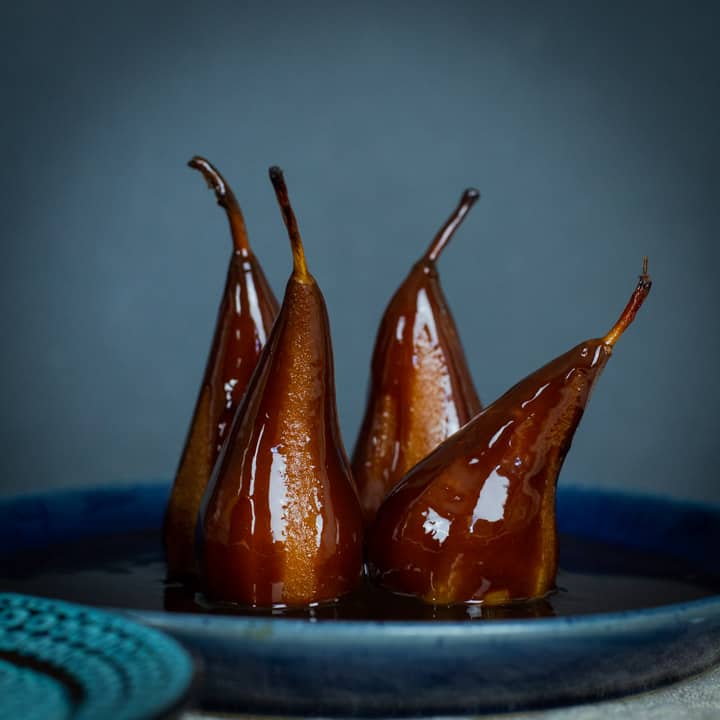 Serving this poached pears in spiced prune juice recipe
Now poached pears can be served hot or cold. If you're after an easy make-ahead dessert, then you can make them the day before and serve them cold. They are utterly delicious.
However, if you have room in the oven whilst you're cooking your main course, you can serve them hot too.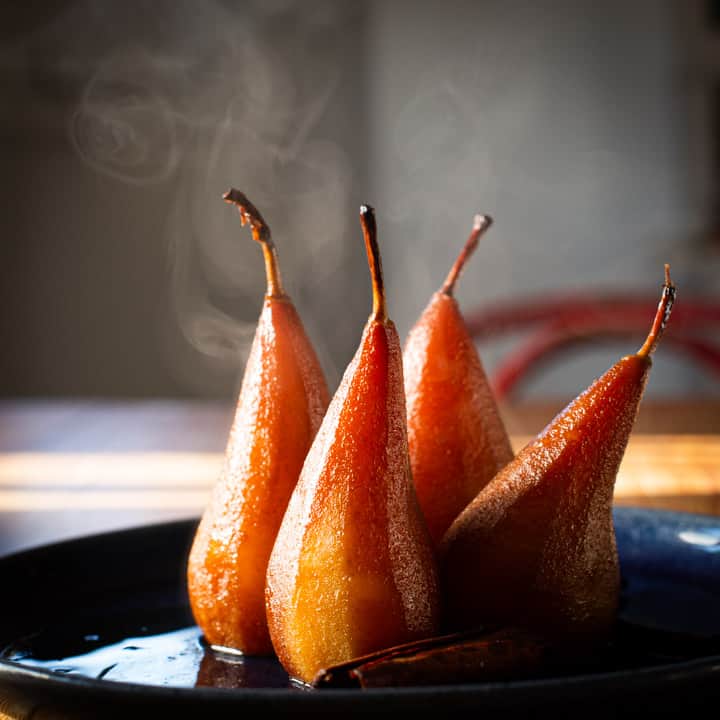 How to Poach Pears
The key to poached pears is to start with ripe, but hard pears. If you use soft, juicy ones, they'll collapse with the long slow cooking time. And whilst they'll no doubt be delicious, you'll miss out on the fabulous contrasts of texture that this dish brings to the table.
Peel the pears using a potato peeler. Keep the stalk intact (for no other reason that it looks cool when you come to serve them!)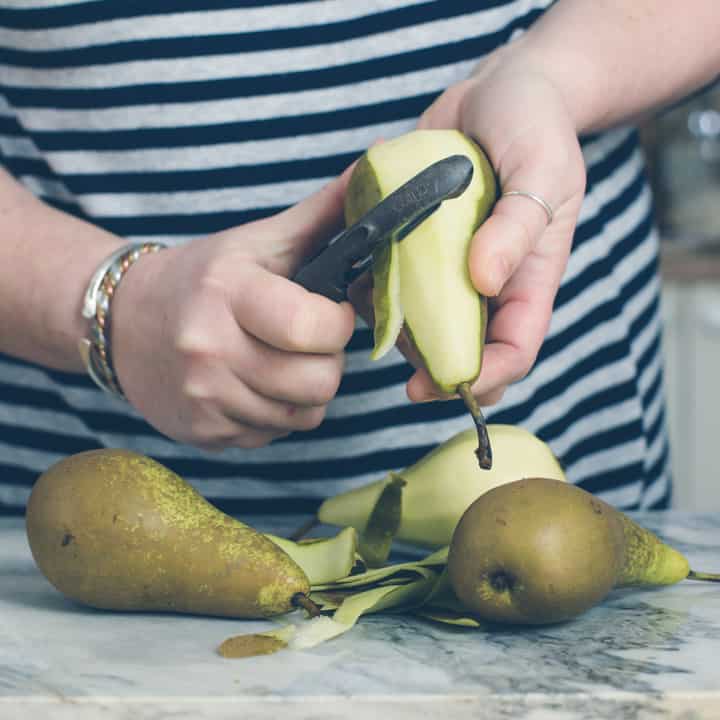 You don't need to remove the pips either. I find that they soften to the point of disappearing during the cooking process so I don't even notice I'm eating them. However you are welcome to remove them once the pears are served if you prefer.
Once they are peeled, I placed them in a baking dish and covered them with the prune juice and spices. Then I simply covered them with piece of foil (bonus points if you use a pan with a lid!) to keep the moisture in. Then baked in a low oven for three hours. Low and slow.
Try to remember to turn them once during the cooking time. And finally, if you'd like your pears to stand upright in the serving dish, simply slice a little piece off the bottom to create a flat surface. You'll find they'll then easily balance on a flat dish or plate.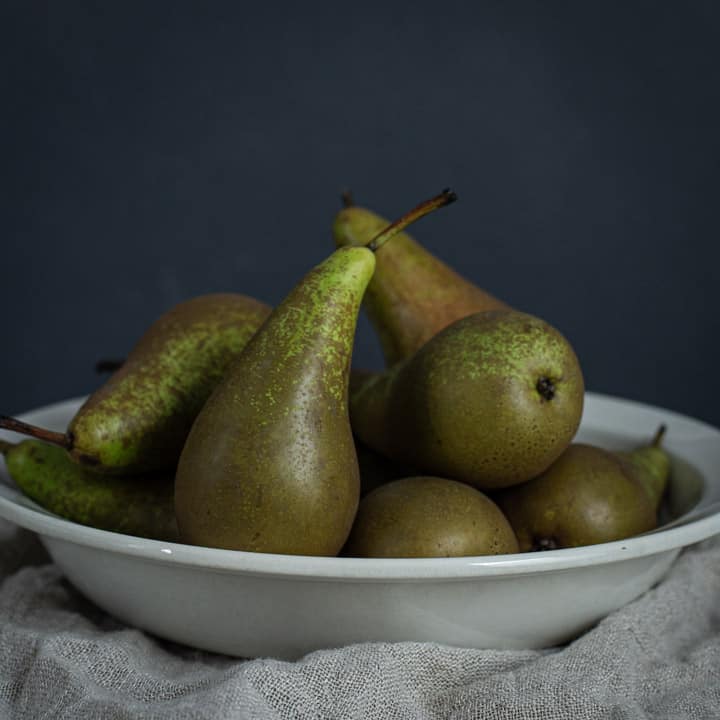 How to Make Vanilla Whipped Cream
Whilst 100% not essential to this dessert being utterly divine, this vanilla whipped cream complements the whole dish perfectly.
And as a bonus it uses up the vanilla pod that you've cooked along with the prune juice and spices too.
Win win!
When you remove the spices from the juice, split the vanilla pod with a sharp knife down the centre. Open it out, then scrape the seeds out from along the length.
Simply add these to the mixing bowl where you plan to beat your cream.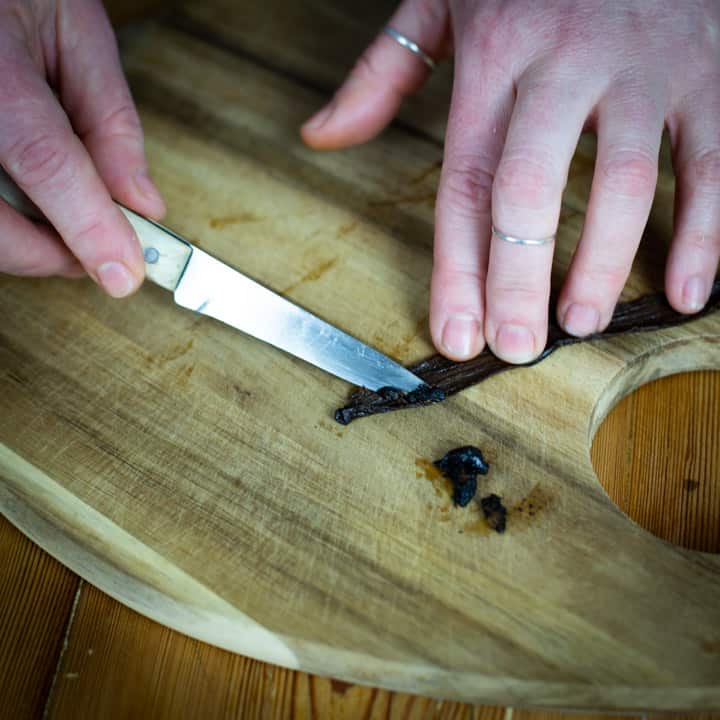 Make sure you buy 'fresh whipping cream'. Pour the cream in the mixing bowl and beat with an electric mixer (easy) or a whisk (this will be a work out – good luck!).
Keep chilled until you are ready to serve the dessert.
When you plate up, add a little sprinkle of the toasted chopped hazelnuts. The flavour and texture finish this dish off just perfectly.
Poached Pears in Spice Prune Juice Recipe
Before we get to the full recipe, if you're always looking for fun new healthy recipes, check out my ever popular Healthy Flapjack recipe. It contains no added sugar (or Golden syrup!), and still tastes GREAT!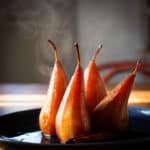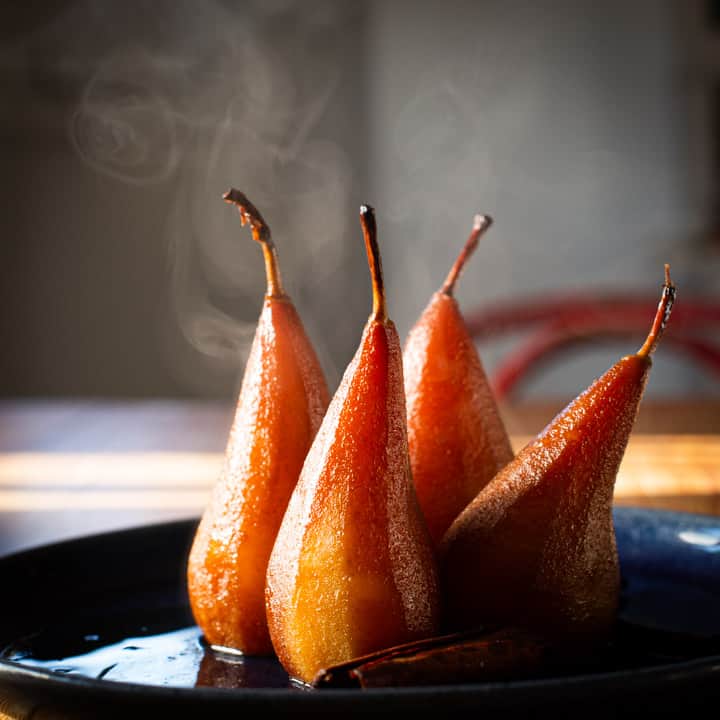 Poached Pears in Spiced Prune Juice Recipe
Keyword:
poached pears, prune juice
Ingredients
500

ml

Sunsweet Prune Juice

1

cinnamon stick

1

vanilla pod

1

inch

ginger root

peeled and thinly sliced

4

pears

peeled but left whole with stalk intact

2

tsp

arrowroot powder

200

ml

whipping cream
Instructions
Preheat the oven to 130C / 300F / Gas 2.

Pour the prune juice into a saucepan. Add the cinnamon, ginger and vanilla pod and bring to a boil.

Meanwhile, peel the pears, leaving the stalk in place. Nestle them snugly in a small baking dish. Ensure that they are in one layer so that they cook evenly.

Pour over the prune juice and spices, cover with a lid and pop into the oven for 3 hours, turning once halfway through the cooking time.

When cooked, remove the pears into a serving dish and keep warm.

Pour the juice back into the pan, removing the spices.

Cut the vanilla pod down the length and scrape out the seeds with a small knife. Add the seeds to a large mixing bowl and pour over the whipping cream. Whip until the cream thickens and forms peaks that stand up by themselves.

Mix the arrowroot in a cup with a little cold water until it is fully dissolved.

Pour into the pan with the juice and bring to a gentle boil, stirring constantly to prevent it burning.

Within a couple of minutes the juice will thicken into a silky, rich sauce.

Pour the spiced prune sauce over the pears, and serve hot or cold with the vanilla cream.
Nutrition Facts
Poached Pears in Spiced Prune Juice Recipe
Amount Per Serving
Calories 345
Calories from Fat 171
% Daily Value*
Fat 19g29%
Cholesterol 69mg23%
Sodium 26mg1%
Potassium 370mg11%
Carbohydrates 46g15%
Protein 2g4%
Vitamin A 780IU16%
Vitamin C 9mg11%
Calcium 67mg7%
Iron 1mg6%
* Percent Daily Values are based on a 2000 calorie diet.
Huge thanks to Sunsweet for sponsoring this recipe and helping me expand my foodie skills. As always all thoughts (and leftovers!) are my own.
Janie x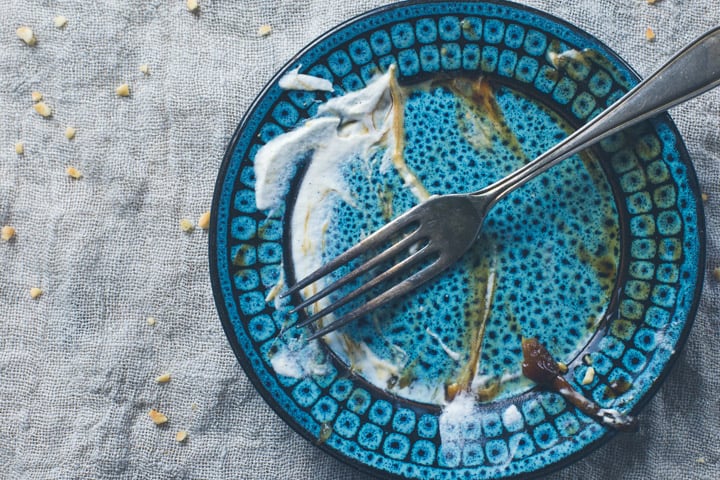 * Prunes are high in fibre and contribute to normal bowel function when 100g of prunes are eaten daily and as part of a varied and balanced diet and an active lifestyle