This Healthy Flapjack Recipe is a tempting, satisfying and altogether healthier alternative to traditional flapjacks.
Its secret? No sugar added and no golden syrup. Instead, natural sugars from bananas and dates give this traybake its delicious sweetness.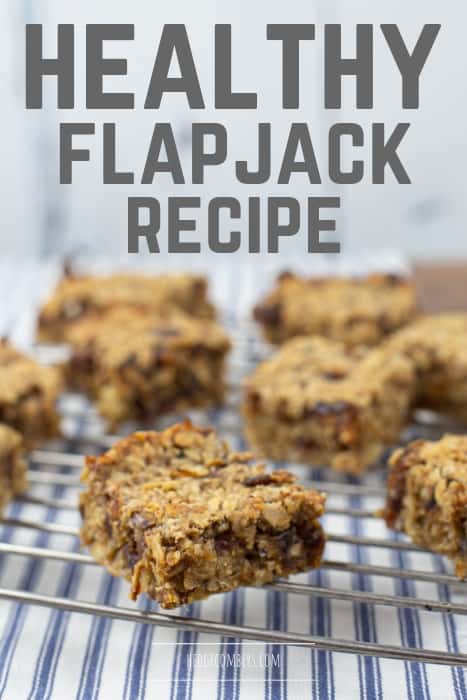 This recipe was originally published in 2019 but has been updated for 2021
What is a healthy flapjack recipe, anyway?
A healthy flapjack recipe?
My instant reaction was that this was going to be a tough call!
However, I quickly decided that the key is to understand what 'healthy' might mean.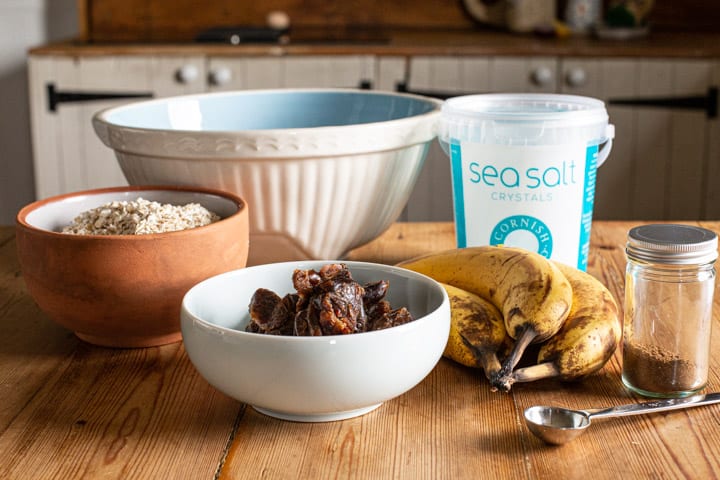 A flapjack, in all its traditional glory, is an energy-boosting snack with a high oat content.
Those oats give slow-release energy, meaning you are fuelled for longer.
Sounds like a positive health benefit to me!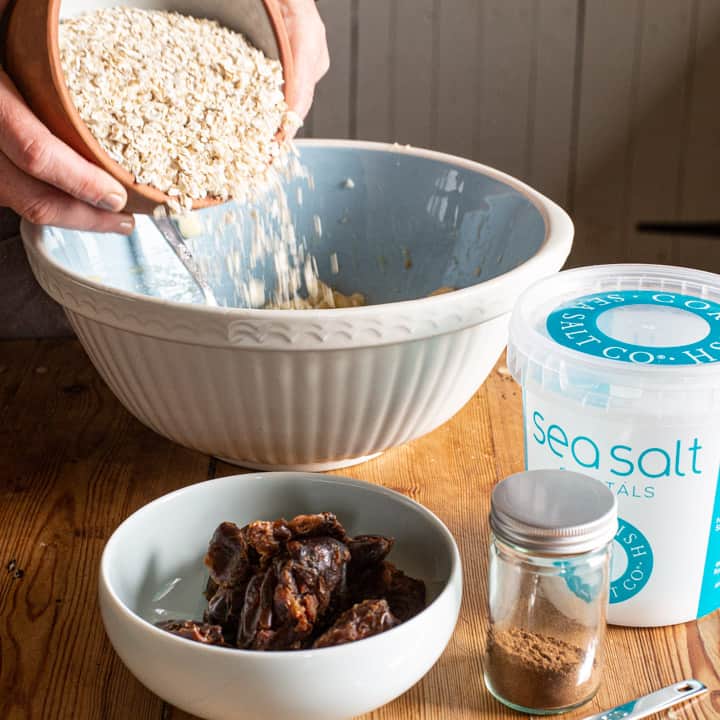 No added sugar
When I asked around as to what other people considered would make a healthier flapjack recipe, the overall response was a 'no sugar added, no golden syrup' alternative.
Given that the basic ingredients of a traditional flapjack in the UK are oats, golden syrup and melted butter, this could be tricky.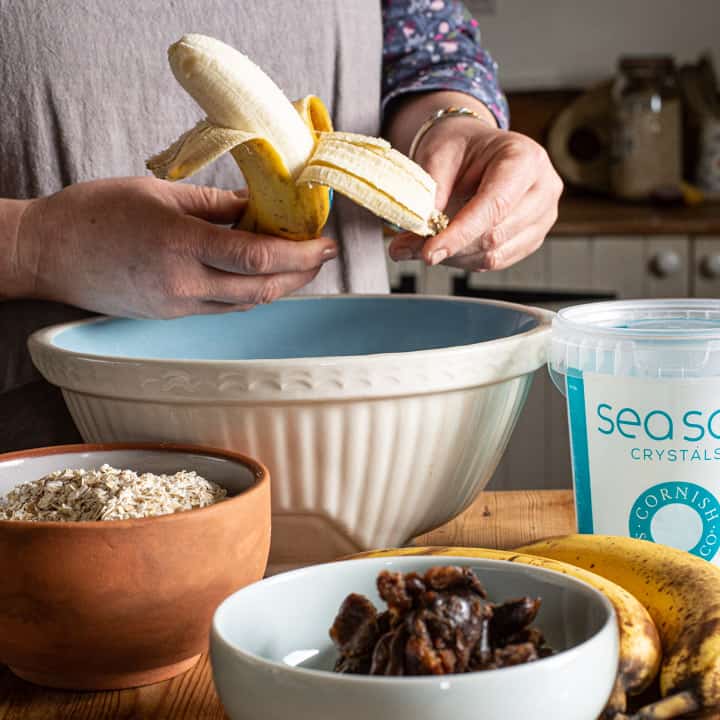 But fear not!
After lots of mouth-watering online research and playing with some ideas (oh, that was one wonderful day of deliciousness, I can tell you!).
I found that if I replaced the syrup and refined sugar with bananas and dates, this gave me a base for a really good, healthier flapjack.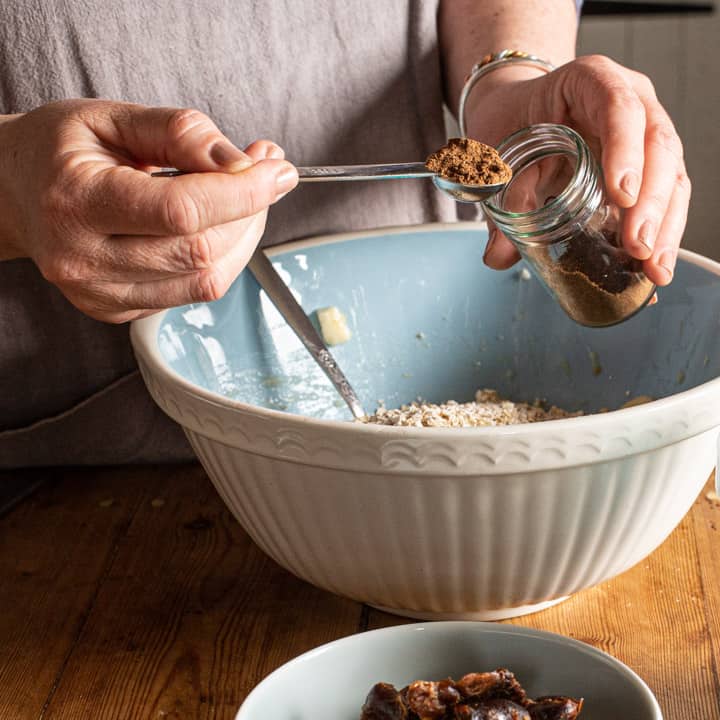 I hope you will agree, the result is tempting, delicious and satisfying.
Just like its naughtier (although also very nice) traybake rival!
How to make a healthy flapjack recipe even healthier
Let's talk about butter.
I'm a fan. So for this recipe, I decided not to cut out the butter completely.
Instead, I've gone for reduced butter content.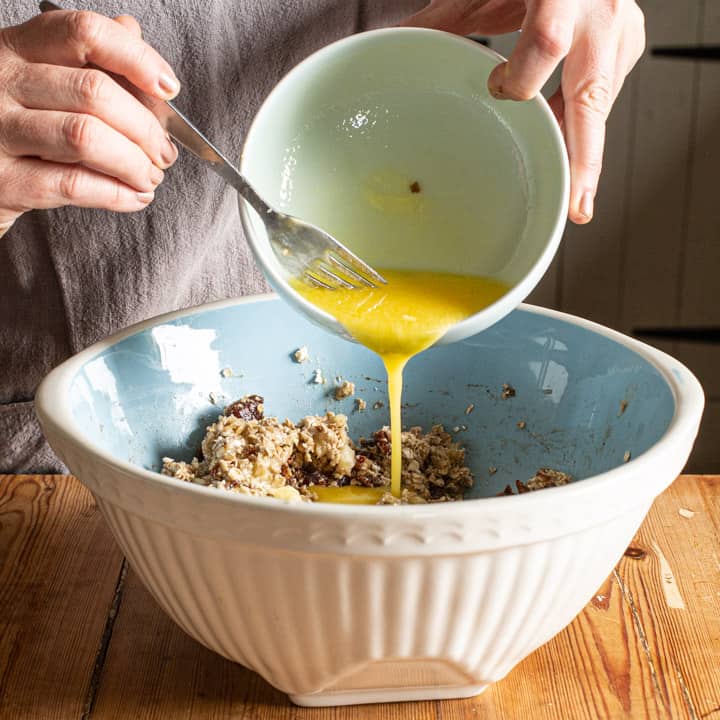 In fact, it's almost half of the amount of butter compared to my most popular Best Flapjack Recipe Ever. (This is definitely the recipe to try when you're in need of a not so healthy treat!)
Another important step towards my healthier flapjack.

Flapjack with bananas and dates
Why did I decide to use bananas and dates in this recipe?
Bananas and dates contain natural sugars which give this flapjack its signature sweetness.
In addition, mashing up the banana will give you the wet stickiness which will be missing due to removing the golden syrup.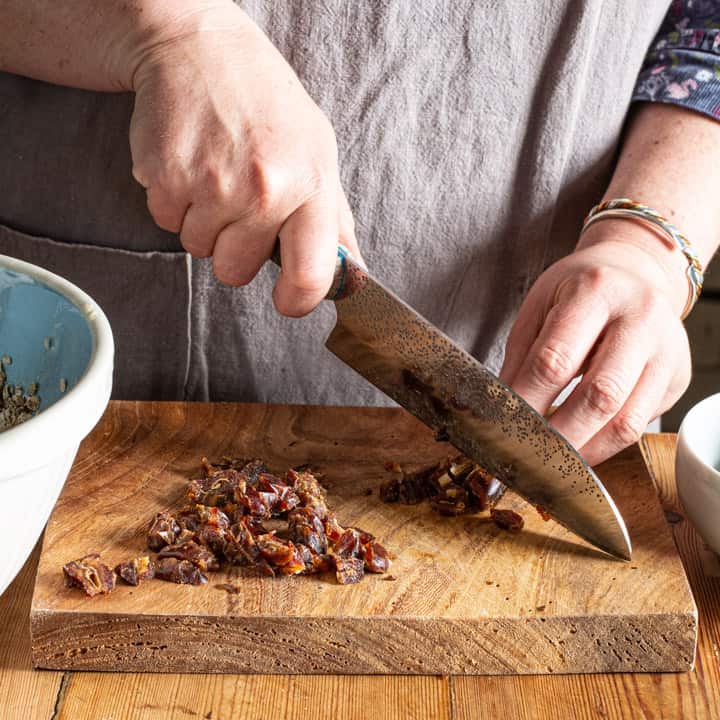 The mixture will all come together as a result.
At the same time, those little chunky, scrummy bites of dates in the flapjack lends an added chewiness.
I love this sweet, oaty, chewy, sticky combo!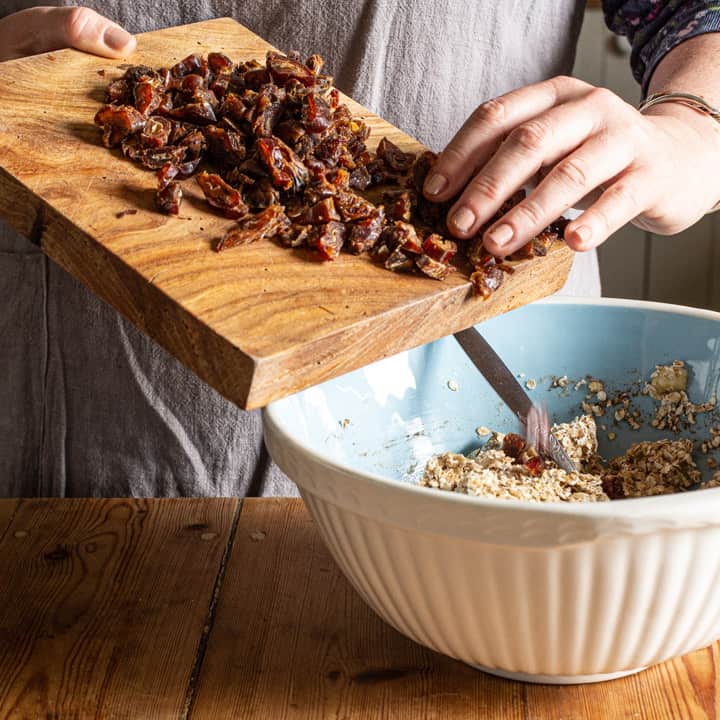 Healthy snacks for kids – and grown ups!
Flapjacks have always been a great option as healthy snacks for kids.
But this healthy flapjack recipe takes that one step further!
They are brilliant for packed lunches.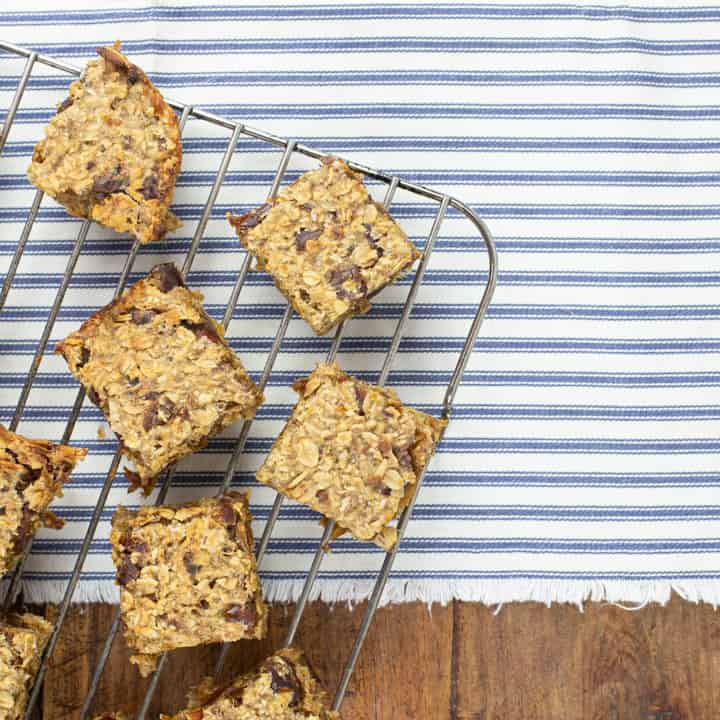 And because they are homemade, you know exactly what's gone into them.
As many schools have a no-nuts policy due to allergies, this nut-free recipe ticks that box too.
Let's not give them all to the children though.
They make for a delicious healthy snack in any grown-up's packed lunch box too! ;)
With everyone in the house loving this tasty treat, you'll soon be ready to make your next batch.
The really great news is that if you really enjoy them, you can freeze flapjacks.
Either store them in an airtight container (they will last for a week or two) or make a big batch and freeze.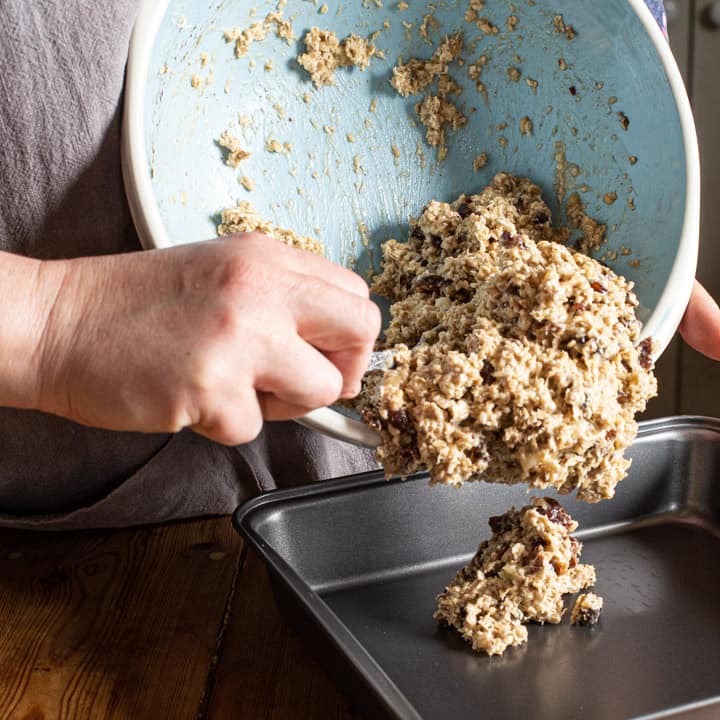 What does a healthy flapjack recipe look like to you?
Does this work for you?
Do you like the idea of trying a healthier flapjack or will you stick to a more traditional recipe?
Have you found any other replacements for ingredients which have supercharged your flapjacks to make them healthier?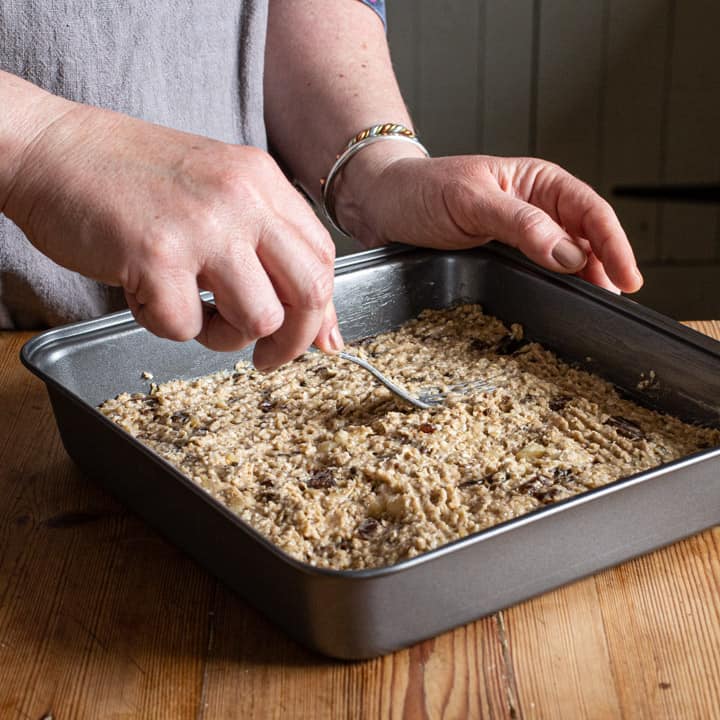 I quite like the idea of playing with adding carrot, for example.
That could lend sweetness and reduce down the natural sugar content if it replaces some of the fruit in the recipe.
I will keep you posted on any success I have with that one!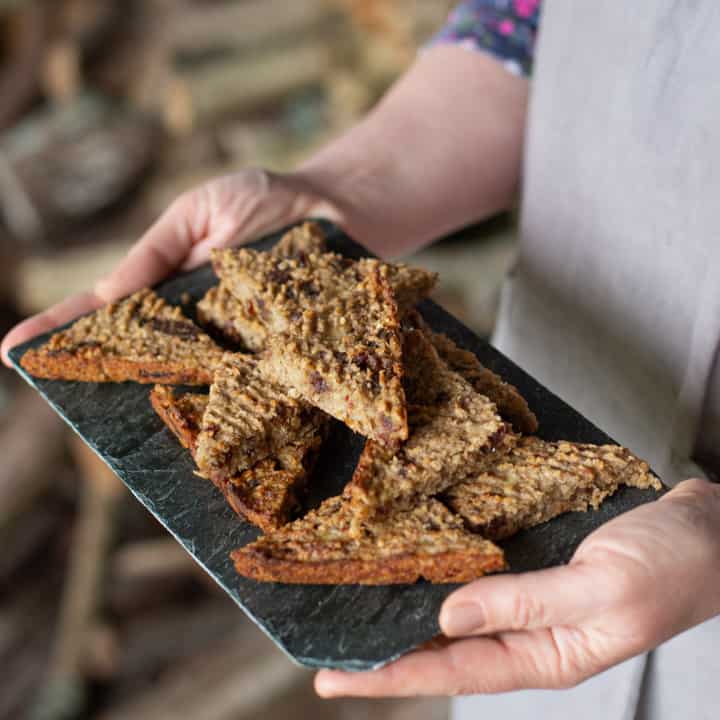 For now though, do let me know if you give this recipe a go.
I would love to hear from you!
You can see my video of this recipe here!
Healthy Flapjack Recipe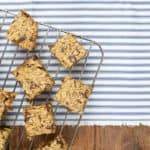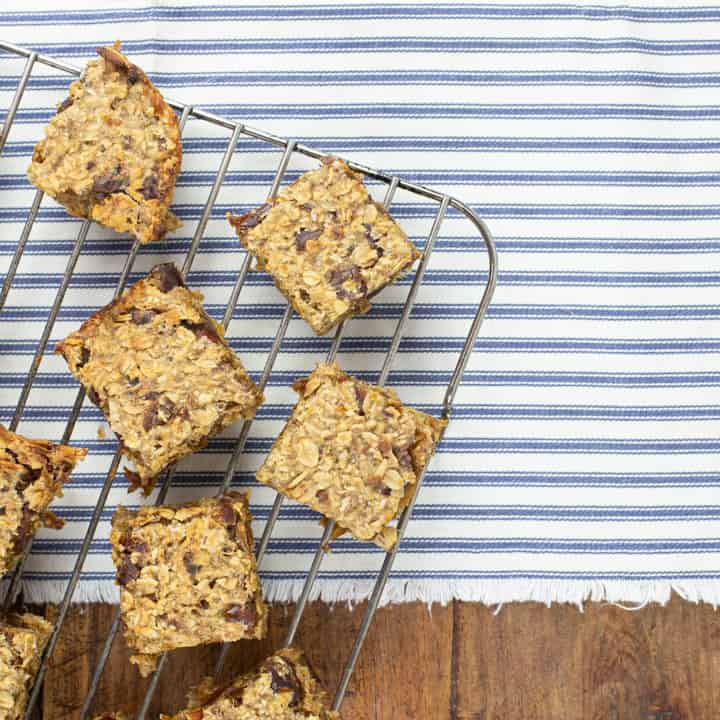 Healthy flapjack recipe
Keyword:
healthy flapjack recipe
Ingredients
3

large bananas

175

g

dates

chopped

180

g

oats

75

g

butter

melted

1

tsp

ground mixed spice

1

pinch

salt
Instructions
Preheat oven to 180C (350F) Gas 4

Mash bananas in a bowl. You can use a fork, potato masher or your hands.

Stir in all the other ingredients until well combined.

Put the bowl aside and let stand for 15 minutes. This will allow the oats to soak up the juices from the bananas.

Meanwhile, grease an 8" square baking tray with a little butter. Alternatively you. Could line the baking tray with a piece of greaseproof paper.

Bake for 20 minutes or until golden brown on top

Take the tray out of the oven, let cool and then slice the flapjack into 12 even sized pieces.
Nutrition Facts
Healthy flapjack recipe
Amount Per Serving
Calories 169
Calories from Fat 54
% Daily Value*
Fat 6g9%
Cholesterol 13mg4%
Sodium 49mg2%
Potassium 256mg7%
Carbohydrates 28g9%
Protein 3g6%
Vitamin A 175IU4%
Vitamin C 3mg4%
Calcium 16mg2%
Iron 1mg6%
* Percent Daily Values are based on a 2000 calorie diet.