Oh boy, this Red Shrimp Tempura with Spicy Soy Dipping Sauce is now firmly on my top five favourite recipes here on hedgecombers.com. It is unbelievably good!

I remember the first time I had tempura. I was in Yokohama, Japan and my hosts wife was cooking us our first taste of Japanese food. She was so elegant and appeared to glide around the minuscule kitchen taking mere seconds to cook up course after course of amazing food.
Her tempura were mostly vegetables and the batter was light and crisp and not at all greasy. It made for a lovely course of dinner, although I would have been happy with eating nothing but more tempura!
Whilst it may look fancy and fiddly, it is a surprisingly easy recipe to make and you can be sitting down to eat just a few minutes after defrosting your shrimp. They make a great starter, or why not serve with with a vibrant noodle salad packed full of Asian flavours for a more filling meal.
My Iceland Mystery Bag
This month my brief from Iceland was to collect a mystery bag of shopping from my local store and create a recipe out of the contents. So I trundled off to pick up this gorgeous cool bag filled with a mountain of yummy treats!
Clockwise from top left are: 3 Asian ready meals that are deliciously dairy free and allll mine! I've already had the Luxury Sri Lanken Chicken Curry already and it was fantastic: really fresh and vibrant and an excellent quality ready meal. Next up are three boxes of Millie's cookies, and Jonny was delighted to claim these as all his! I baked up a box of the triple choc flavour and he loved them. Such a great idea to keep a couple of boxes in the freezer for when you just want a little sweet hit. Or if you want to impress visitors with warm, home baked cookies ;)
In the bottom right pic is a bag of Iceland's Sea Bream fillets which I've used in the past and love, and a bag of Red Argentinian Shrimp. More about these a little bit later…
And finally there's a bag of purple potato chips which are bright purple and look awesome (and taste just like normal potatoes!) and some yummy spiced cauliflower.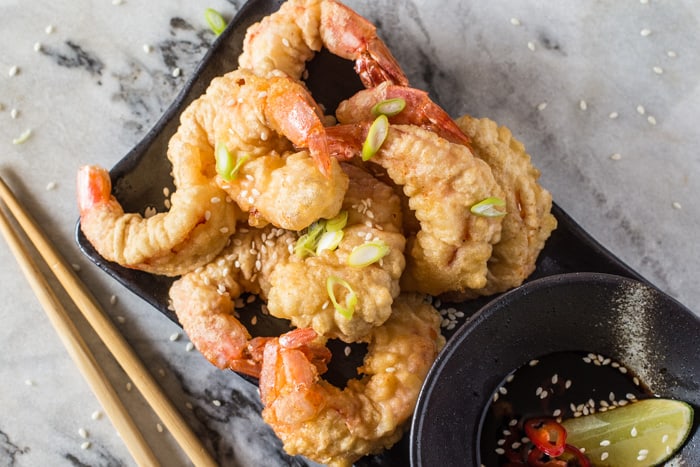 Red Shrimp Tempura
Last year you may remember that I took a trip to Chester to visit the swanky new Iceland test kitchen. One of the many things I learnt that day was that there was a shrimp (prawn) that was red in its raw state. Normally shrimp and prawns are grey when raw and turn pink when cooked. Not so with the Argentinian Red Shrimp however, as they looks like this in their uncooked (and frozen) state…

To make the tempura I defrosted the shrimp and peeled the shells off, leaving the tails intact to act as 'handles'. The batter took all of two minutes to whisk up and the shrimp took a quick plunge before being briefly deep friend.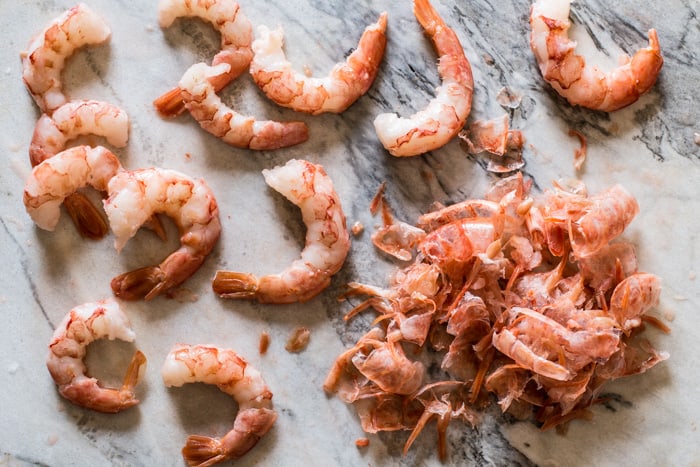 Red Shrimp Tempura with Spicy Soy Dipping Sauce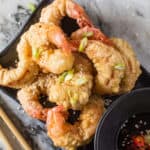 Red Shrimp Tempura with Spicy Soy Dipping Sauce
Keyword:
Red shrimp Tempura with Spicy Soy Dipping Sauce
Ingredients
Red Shrimp Tempura
130

g

plain flour

40

g

cornflour

1/2

teaspoon

baking powder

1/4

teaspoon

bicarb of soda

1

cup

ice cold water

1

egg

300

g

large red shrimp or king prawns

defrosted
Spicy Soy Dressing
2

tablespoons

soy sauce

1/2

teaspoon

sugar

1/2

teaspoon

chilli sauce, sriracha or Tabasco hot sauce

(more or less to taste)
Garnish
mild red chilli pepper

sesame seeds

Spring onion
Instructions
Heat a deep fat fryer or a pan of oil to 180c/350f

Sift the flours and powder together into a large bowl.

Add the water and break in the egg, whisking to make a smooth batter.

Peel the shrimp shells & legs off, leaving the tail attached.

When the oil is at temperature, hold each shrimp by the tip of its tail and dunk in the batter. Let most of the batter drip away before carefully lowering the shrimp into the hot oil.

Let cook for 4 minutes or until the batter is lightly golden. Don;t overcrowd the pan, I cooked 3 or 4 at a time in milk pan with about 3 inches of oil in.

Carefully lift out of the oil and drain on kitchen paper.
Spicy Soy Dressing
Mix together the soy sauce, sugar and hot sauce
Garnish
Sprinkle the shrimp with sesame seeds, spring onion and red chilli slices and serve with the spicy soy dressing.
Nutrition Facts
Red Shrimp Tempura with Spicy Soy Dipping Sauce
Amount Per Serving
Calories 256
Calories from Fat 18
% Daily Value*
Fat 2g3%
Cholesterol 229mg76%
Sodium 1180mg51%
Potassium 179mg5%
Carbohydrates 35g12%
Protein 21g42%
Vitamin A 60IU1%
Vitamin C 3.1mg4%
Calcium 141mg14%
Iron 3.6mg20%
* Percent Daily Values are based on a 2000 calorie diet.
Huge thanks to Iceland for commissioning this fun mystery bag recipe. As always all thoughts (and leftovers!) are my own.
Jane x