These Surf and Turf Kebabs are going to seriously up your BBQ game! Sweet, juicy scallops lightly charred. Rich, juicy steak with the slightest crust from the embers. Double YUM!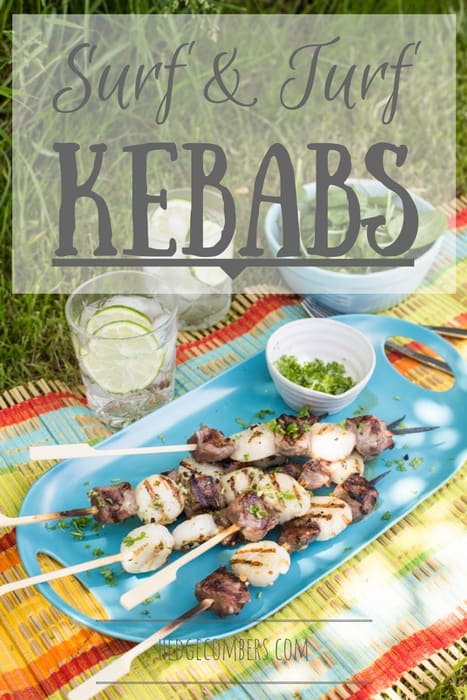 Woah, this weather! Cornwall is HOT!
As beautiful as Cornwall is in the sunshine, the beaches become a little out of bounds as they get so busy. Like, crazy busy. So, although we were planning for a beachy BBQ this past weekend, we decided to stay a little closer to home.
And actually, the dappled shade of the garden was probably the coolest place to be when slaving over a hot BBQ!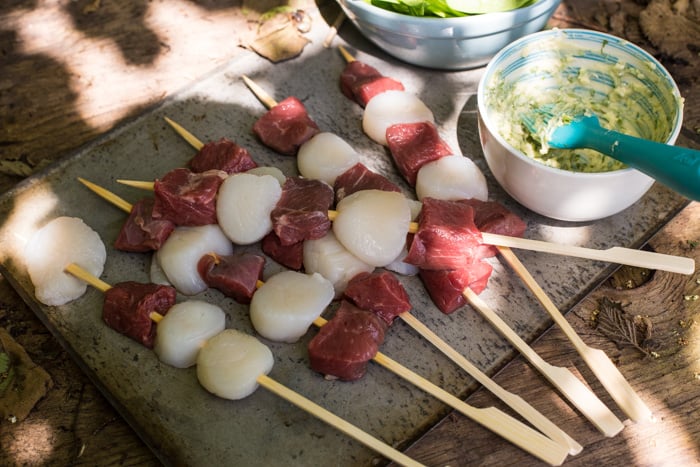 Surf and Turf Kebabs
So what is surf and turf? It's usually a mix of steak and seafood. I decided to use scallops but you could equally use prawns for a legit surf & turf kebab. (If you do opt for prawns, the ones I used in this Red Shrimp Tempura would be just perfect).
Living on the coast I am a little spoilt when it comes to seafood, and fresh scallops are one of my absolute favourite foods on the planet. I'd never used frozen scallops before and was a little sceptical to see how they measured up.
I bought a bag of these Extra Large Scallops from Iceland. Once defrosted, they have a softer flesh than fresh ones. The flavour was also a little softer too, but still sweet and juicy.
Would I buy them again? Yes. The benefit of having this gorgeous, healthy seafood on hand makes keeping a bag of them in the freezer a no brainer for us seafood lovers. And the caramelisation that the BBQ gives them makes a lovely contrast to that soft flesh.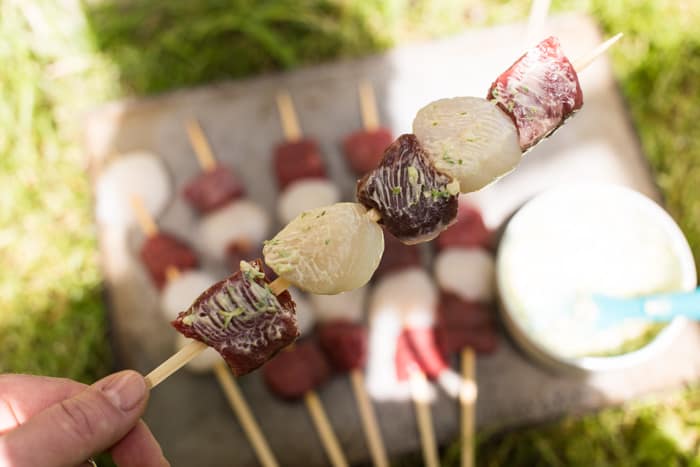 As for the steak aspect of my Surf and Turf Kebabs, I plumped for the Gaucho Rump Steak* from Iceland. And I was seriously impressed with it. It was so juicy and full of flavour and will definitely be going in my basket next time I'm Iceland!
* If you grab the Gaucho rump steak from Iceland too, you can skip the garlic butter aspect of the recipe below. You'll find that the steak comes with a portion of smoked garlic and herb butter already in the pack. Just soften it and brush it on before cooking the kebabs.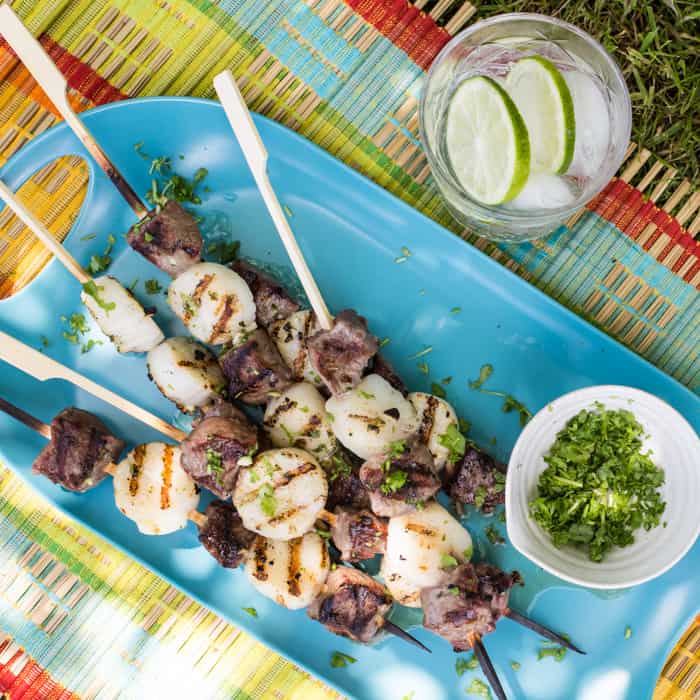 Five Top Tips For Your Next BBQ
Always make sure you wait until the coals have gone grey and ashy looking before starting to cook food. This will ensure you get the best result. I know you're hungry, and excited to get cooking, but rein yourself in till you see grey ash!
Nothing cooks 'wet' foods better over an open fire than cast iron. It spreads the heat out to avoid hot spots that can burn your food, just make sure you never leave it to stand with water in as it'll rust really quickly.
Salads don't need to be boring! Even if you can only find Iceburg lettuce and tasteless tomatoes at your corner shop you can still make it taste awesome! Make a quick punchy salad dressing, add seeds, nuts, cheese, fresh herbs or tinned beans or lentils.
If you're not sure if a piece of meat or a sausage is cooked through, don't worry about taking one off the BBQ, cutting it in half, then popping back on the grill to finish off. No one will mind and it's so much safer than serving meat (in particular chicken and pork) undercooked.
Food never tastes better than when cooked outdoors so don't be surprised if guests eat more than you were expecting! Filling sides such as jacket potatoes (cook them in the oven or microwave first, then just pop them on the side of the BBQ to keep them warm), rice based salads and fresh breads are a cheap way to bulk out the meats and seafoods.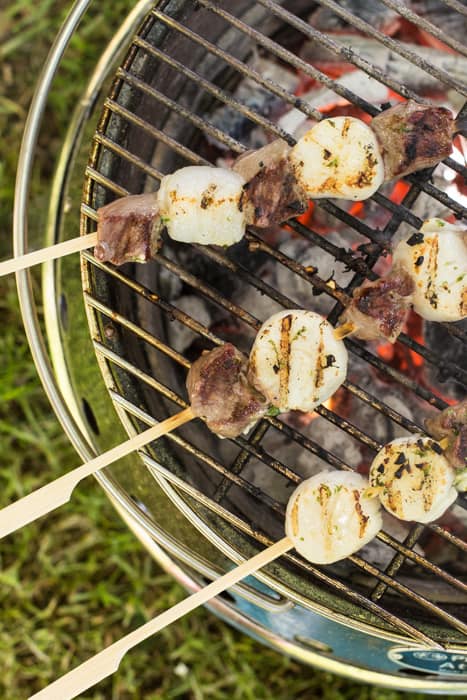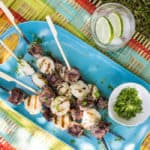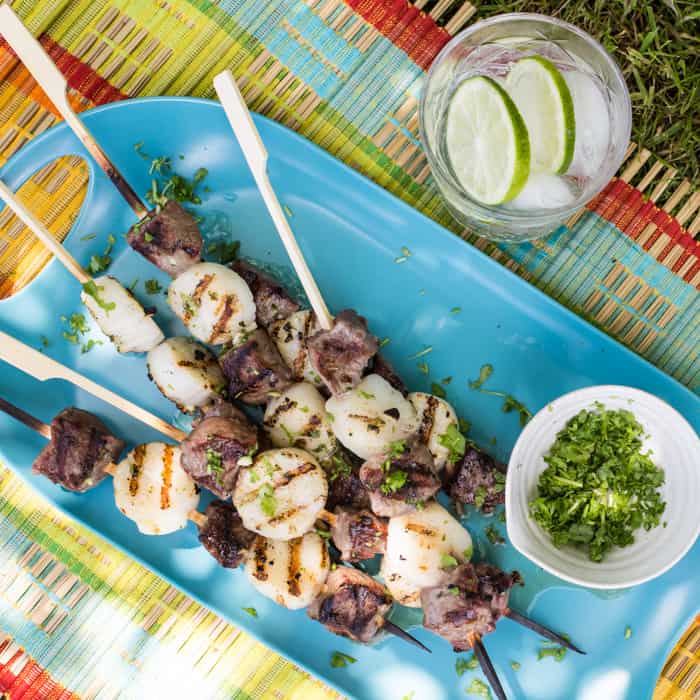 Surf and Turf Kebabs
Keyword:
Surf and turf kekabs
Ingredients
227

g

Rump steak

12

Scallops

defrosted

2

tablespoons

Butter

softened

2

cloves

Garlic

crushed

2

tablespoons

Fresh parsley

finely chopped

Salt & pepper to season
Instructions
Light the BBQ and leave for 20-30 minutes, or until the coals turn grey and ashy.

If using wooden kebab sticks, get them soaking in cold water before assembling the kebabs to prevent them burning on the BBQ.

Remove any fat from the steak and cut into 1 inch squares.

When ready to cook, assemble the kebabs by skewering three pieces of steak and two scallops on each stick. Spread them out a little so the heat can evenly cook each item.

Mix the butter, garlic and parley together and brush on the kebabs generously.

When the fire is ready, pop the kebabs on the grill. Let cook for 3 minutes each side or until the steak and scallops are cooked thoroughly cooked through.

Sprinkle with a little extra parsley before serving.
Nutrition Facts
Surf and Turf Kebabs
Amount Per Serving
Calories 161
Calories from Fat 72
% Daily Value*
Fat 8g12%
Cholesterol 59mg20%
Sodium 257mg11%
Potassium 296mg8%
Carbohydrates 2g1%
Protein 17g34%
Vitamin A 345IU7%
Vitamin C 3.1mg4%
Calcium 20mg2%
Iron 1.2mg7%
* Percent Daily Values are based on a 2000 calorie diet.
Huge thanks to Iceland for sponsoring this recipe and enabling me to continue bringing you tasty recipes, for free! As always all thoughts (and leftovers!) are my own.
Jane x