These Scallop and Steak Surf and Turf Kebabs are going to seriously up your BBQ game! Sweet, juicy scallops lightly charred. Rich, juicy steak with the slightest crust from the embers. Double YUM!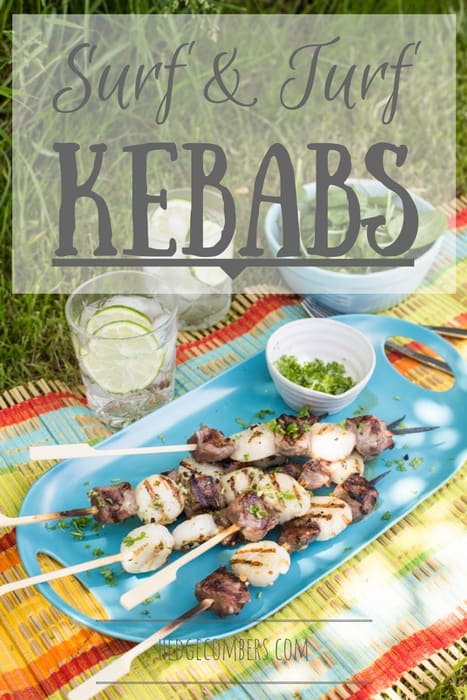 This recipe was originally published in 2017 & has been updated for 2021.
What is Surf and Turf?
Surf and turf is an umbrella term referring to a dish that comprises of both meat and seafood.
In this recipe we're cooking the meat and seafood on wooden skewers to serve as kebabs, but there are various different ways to serve a 'surf and turf' meal.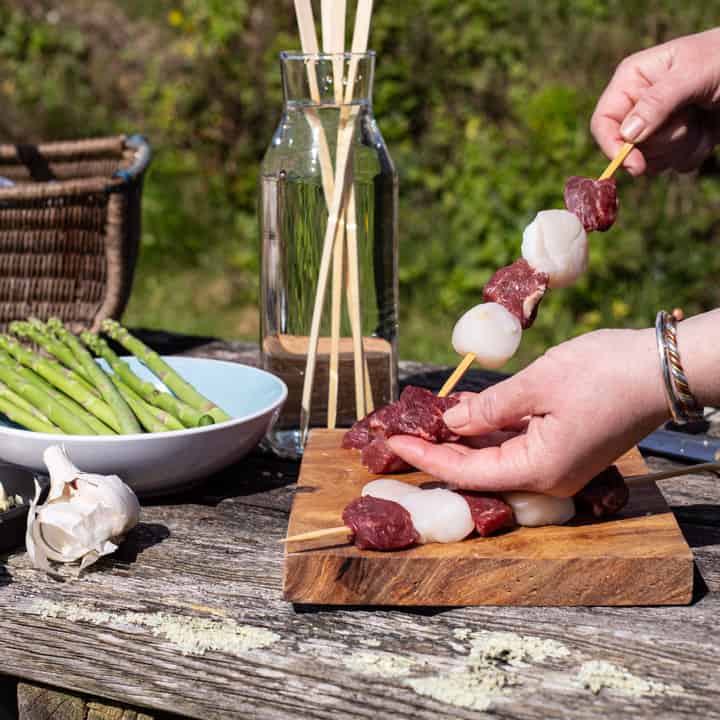 Steak and Scallops Surf n Turf!
In the recipe below I'm using scallops as my 'surf', and sirloin steak as my 'turf'.
These two foods go together extremely well. The sweet, juiciness of the grilled scallops balances out the umami meatiness of the steak.
It is a match made in heaven!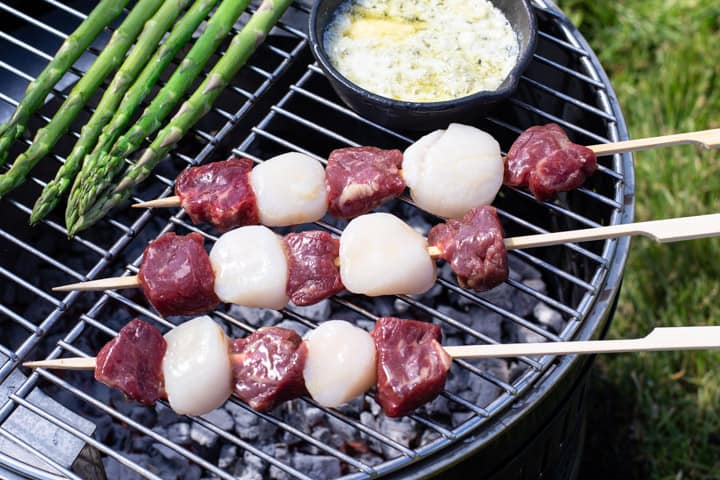 How long do scallops take to cook on the BBQ Grill?
Scallops need very little cooking, and can easily be overcooked which will make them rubbery.
As a general rule of thumb scallops only need 2-3 minutes cooking on each side. However, there are many variables to take into account, such as the temperature of your BBQ, the distance they are from the coals, whether they were refrigerated or at room temperature before you started cooking etc.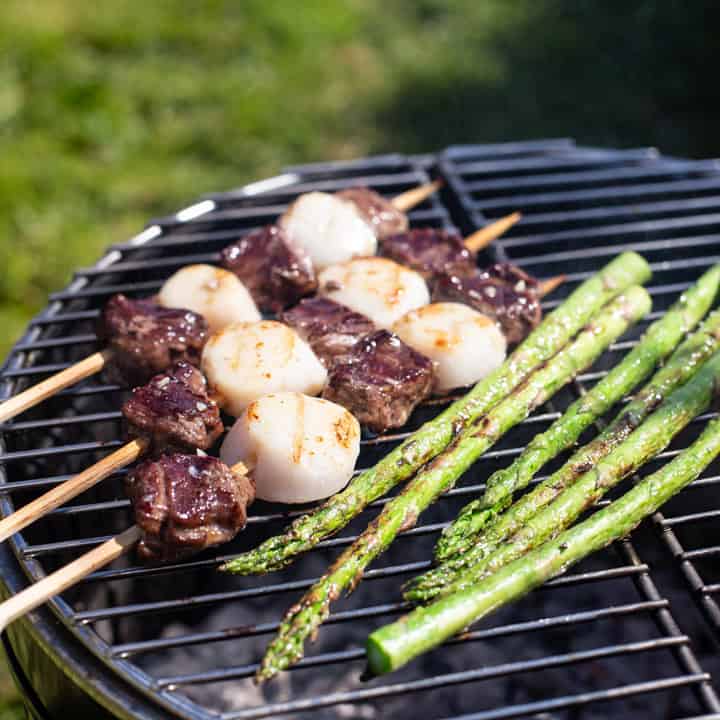 To be totally safe, there are two solid ways to know if your scallops are properly cooked.
Cut one in half and take a look. If the scallop is opaque white all the way through the centre, it is cooked. If it still a little translucent in the centre, this means it is not entirely cooked.
Take the temperature in the centre of a scallop. The internal temperature of seafood must reach 60°C (140°F) to be considered safe to consume. I use a Thermapen to accurately and quickly register the internal temperature of foods when cooking.
How do I make Garlic Butter on a BBQ Grill?
In the following recipe I keep a little pot of garlic butter close at hand to swipe over the surf and turn kebabs every time I turn them.
This keeps the meat juicy and moist, whilst building up a slight crust.
It also gently flavours both the steak and the scallops, but it isn't at all over-powering.
In fact, the garlic butter is a very subtle addition.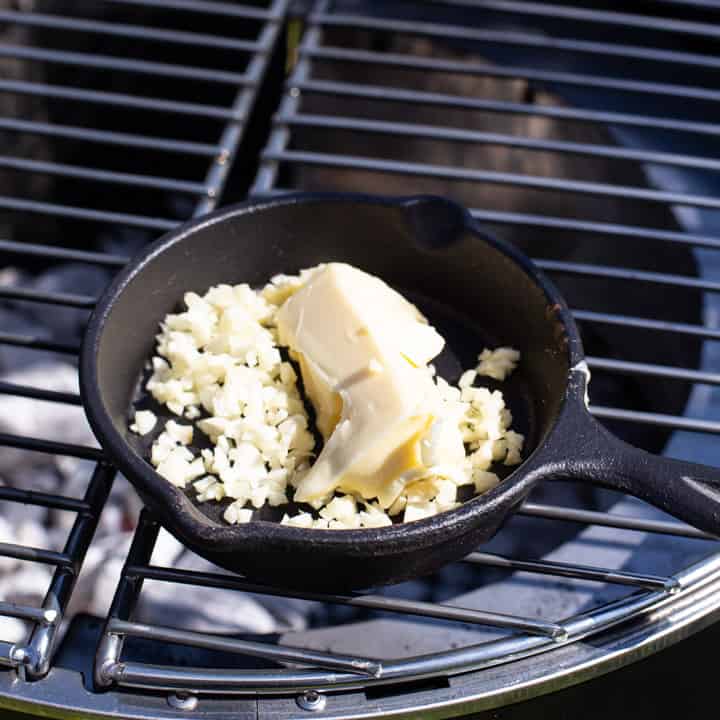 If you don't have a small heatproof pot, you could use a double layer of foil that you shape into a little boat.
I use a silicone basting brush to get the garlic butter all over the meat and the asparagus.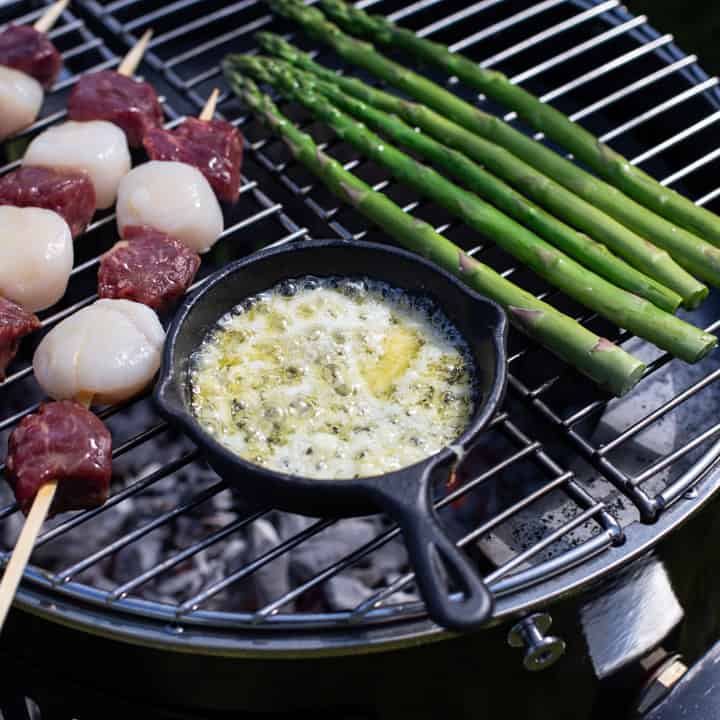 Why Should I Soak my Wooden Skewers Before Making Kebabs?
It's recommended you soak your wooden kebab skewers for 20-30 minutes before using to prevent them catching fire on the grill.
If you are using metal skewers, you can skip this step.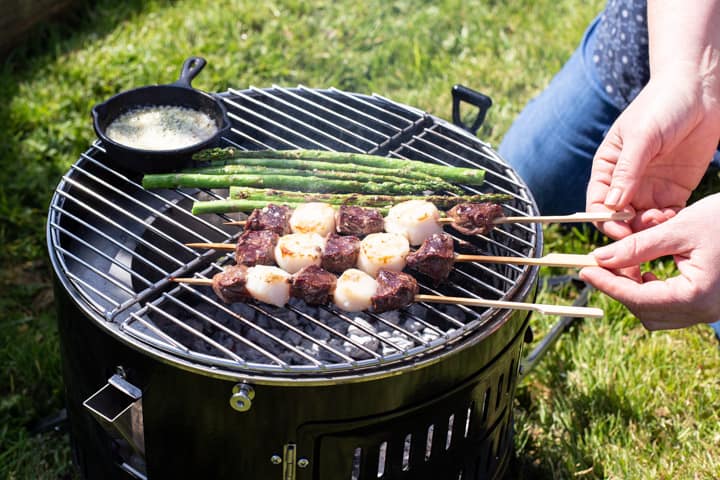 How Do I Cook Asparagus on the BBQ Grill?
Asparagus is the perfect vegetable to cook on the grill!
Firstly, cut off about an inch of the base of each spear of asparagus.
Rinse under cold running water, then dry off with a clean tea towel.
Place the asparagus on the BBQ grill, laying them the opposite way to the metal grill. This will prevent them from falling through the grate into the fire below.
Baste with the garlic butter (or you could use plain olive oil if you prefer) as they cook and turn every couple of minutes using a pair of kitchen tongs.
After 4-6 minutes, you'll notice that each spear is charring lightly. The centre becomes almost soft and if you picked one up it would no longer hold itself up. This means they are ready to eat. BBQ grilled asparagus is the best!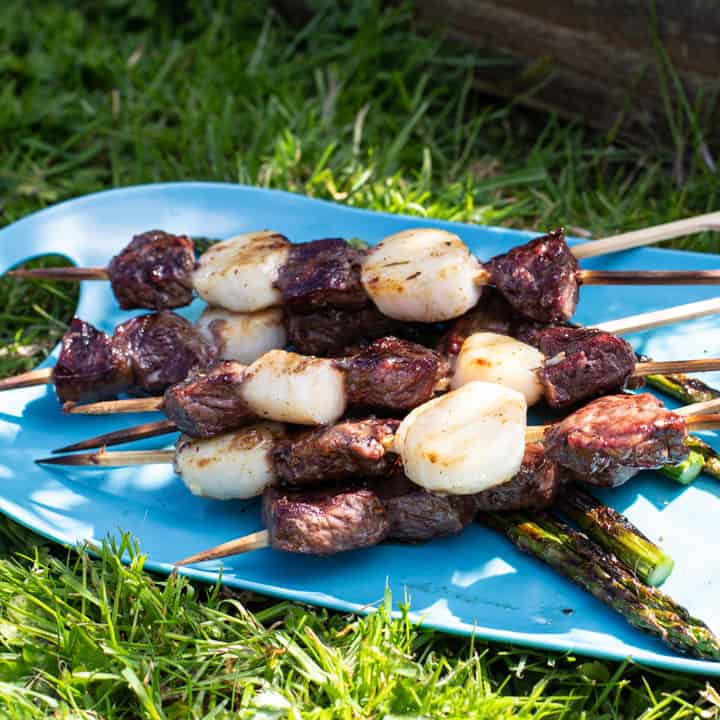 Surf and Turf Kebabs!
If you try this recipe, or any of my other campfire recipes, please tag me in any pics you share online! It makes my day to see my recipes being made all over the world!
You can find me pretty much everywhere as @hedgecomber :)
OK, let's cook!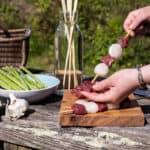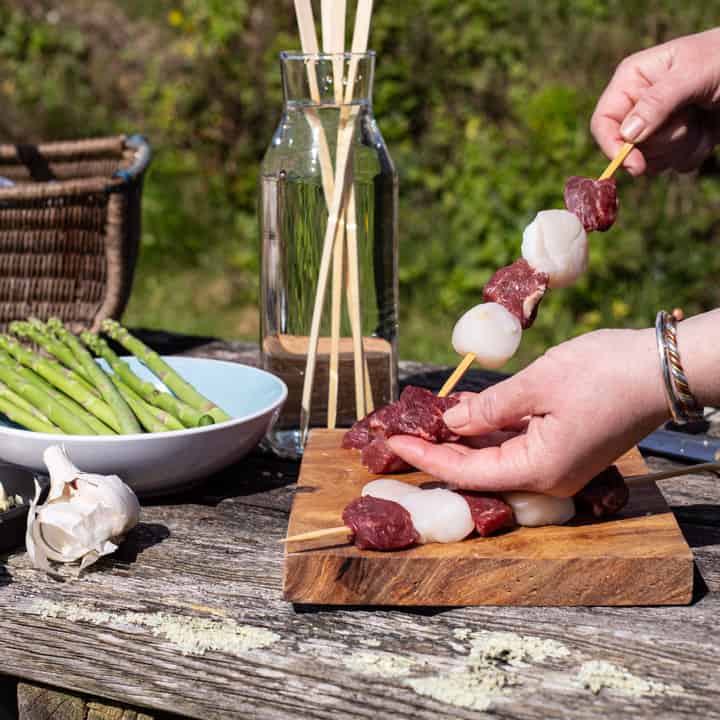 Surf and Turf Kebabs
These scallop and steak surf n turf kebabs are SO deliciosu!
Keyword:
Steak and Scallops, Surf and turf kekabs
Ingredients
2

sirloin steak

- fat and rind removed

12

scallops

2

tbsp

butter

2

cloves

garlic

- minced

1

pinch

salt
Instructions
If using wooden kebab sticks, get them soaking in cold water before assembling the kebabs to prevent them burning on the BBQ.

Light the BBQ and leave for 20 minutes, or until the coals turn grey and ashy.

Cut the steaks into 1 inch, bitesize cubes.

When ready to cook, assemble the kebabs by skewering three pieces of steak and two scallops on each stick.

Spread the pieces out a little so the heat can evenly cook each item.

Mix the butter and garlic together in a small pan and place on the grill to melt.

When the fire is ready, place the kebabs and the asparagus spears on to the grill.

Using a silicone basting brush, baste with the garlic butter and let cook for 2-3 minutes.

Carefully turn the kebabs by holding the handle, and turn the asparagus by using a pair of kitchen tongs.

When the scallops are cooked through and the steak is cooked as you like it, serve the kebabs with the asparagus.
Nutrition Facts
Surf and Turf Kebabs
Amount Per Serving
Calories 472
Calories from Fat 198
% Daily Value*
Fat 22g34%
Cholesterol 190mg63%
Sodium 601mg26%
Potassium 973mg28%
Carbohydrates 4g1%
Protein 61g122%
Vitamin A 353IU7%
Vitamin C 1mg1%
Calcium 77mg8%
Iron 4mg22%
* Percent Daily Values are based on a 2000 calorie diet.