This One Pot Salmon and Prawn Pasta recipe will make light work of busy mid-week mealtimes.
And we give you a few options to make this an easy store cupboard dish too!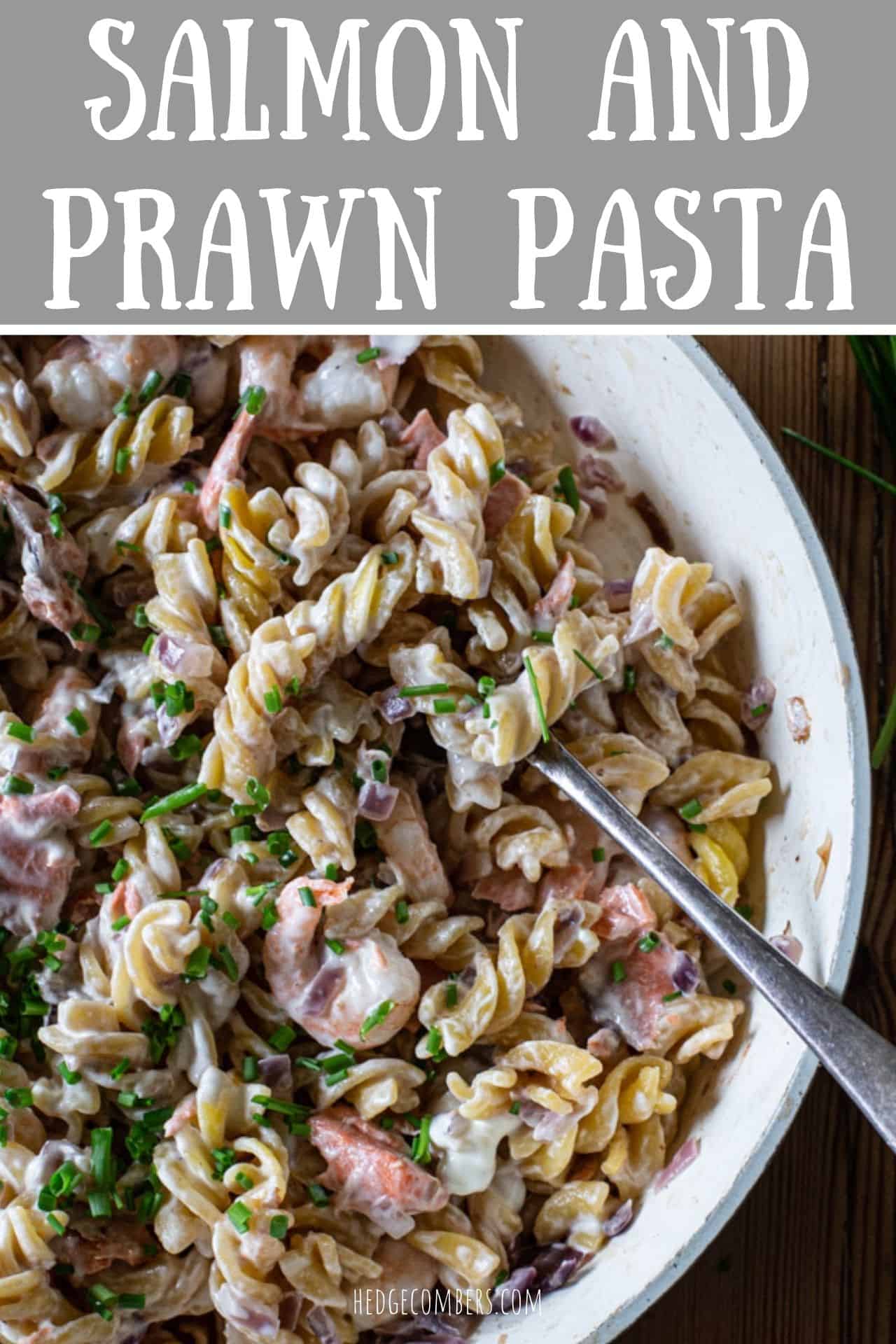 If you're in the market for a new, easy and super quick recipe to serve on those crazy busy nights. Then this one-pan prawn and salmon pasta might just be it!
It seriously couldn't be simpler!
And if you love all the flavours involved, consider stocking up the store cupboard version ingredients too and dinner will be ready even quicker!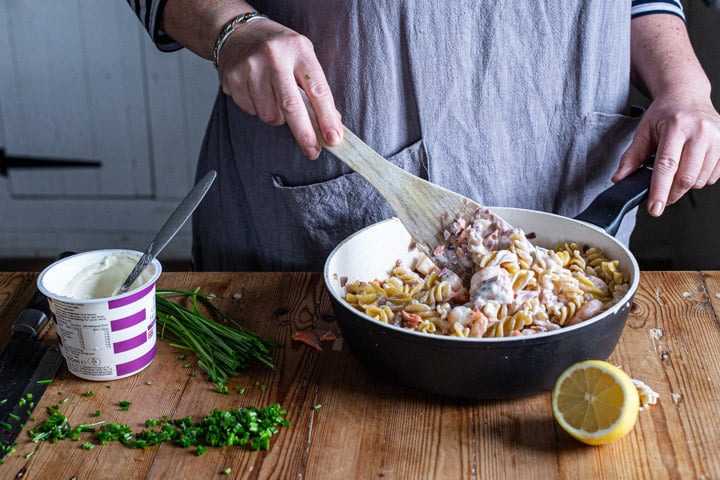 It's also worth noting that this simple dish is great cold.
Why not make extra, and then you have tomorrow's packed lunches sorted too.
Win-win!
What salmon should I buy?
OK, first, let's talk salmon.
As always, if your budget has a little wriggle room please only buy wild salmon.
(I won't go into details here, but if you're not sure why, I urge you to go read this quick read by Compassion in World Farming on salmon farming exposed. Fish farming is horrific for the animals involved, as well as the environment in which they are farmed).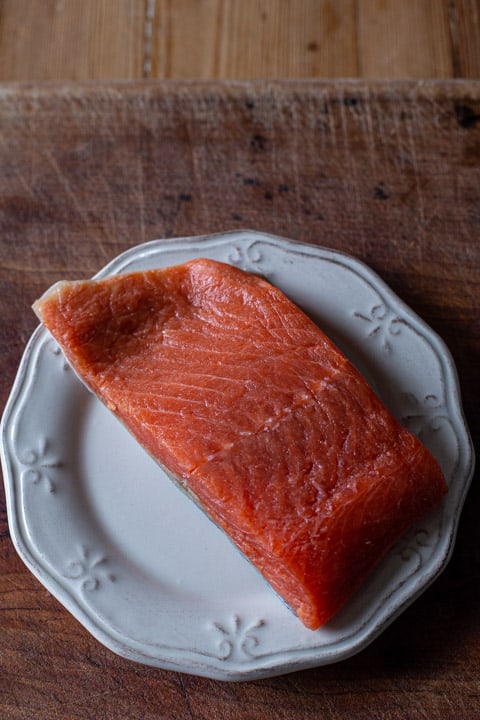 So, your options on the wild salmon front are:
raw fillet (fresh or frozen)
cooked fillet (whole or flaked)
canned
In this recipe I'm using the fresh, raw fillet.
However, the other two choices will make the final dish ever quicker to get on the table!
Read through the recipe box below and I'll let you know when to add them.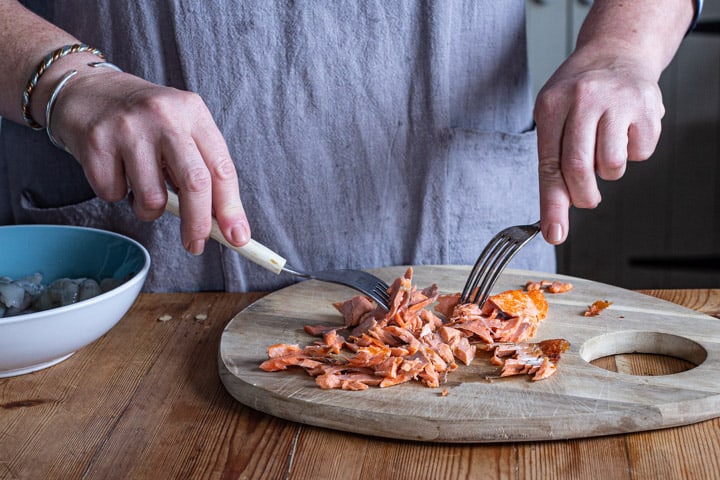 What Prawns Should I Buy?
I'm using raw prawns in the recipe below.
You can generally tell the difference between raw and cooked prawns by the colour. Raw prawns are grey (usually) and cooked prawns are pink.
(However Argentian red shrimp are the exception to the rule as they are pink even before cooking!)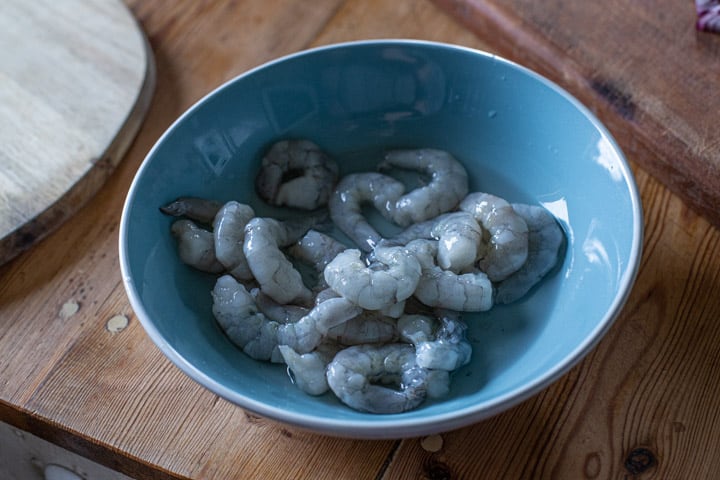 Pre-cooked prawns will need slightly less cooking time than raw ones.
Again, I'll include options for either in the recipe below.
Finally, whether your prawns are raw or cooked, if you buy them frozen, be sure to defrost them fully before using.
What Pasta Should I Use?
Again, this is a personal preference. Fresh pasta is quicker, dried pasta is cheaper.
In the recipe below I'm using fresh fusilli pasta. However, I'll walk you through how to adapt the recipe if you are using dried.
As for pasta shapes, the world is your oyster (or should that be prawn!?).
This dish comes with a delicious creamy sauce, so a pasta shape that 'holds' sauce would be my first choice.
But honestly, even good ol' spaghetti would taste amazing!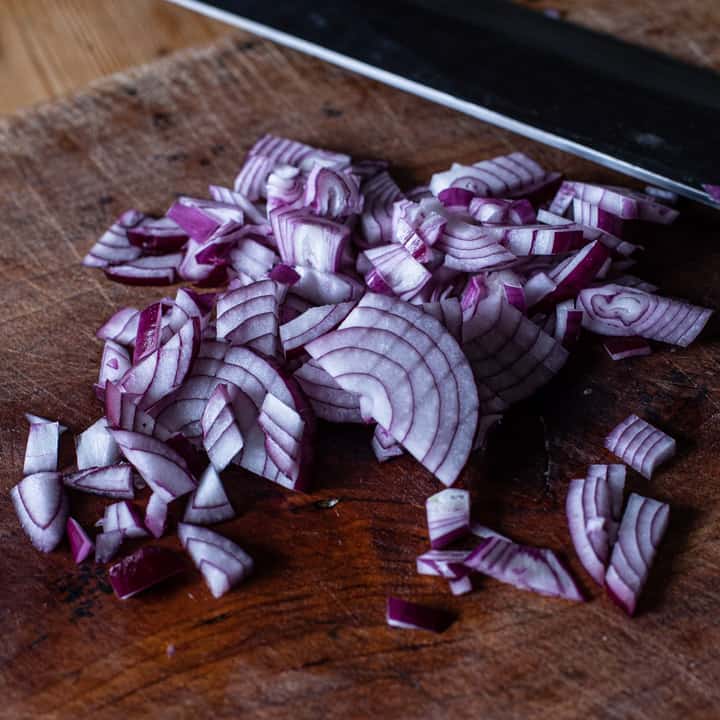 One-Pot Salmon and Prawn Pasta
Over on the Hedgecombers YouTube channel, I specialise in one-pot meals that are perfect for camping.
That's where this recipe originated. So here's how to make it in just one pot (and save on the washing up!)
Firstly, I cooked my salmon in a little oil.
Depending on the thickness of the fillet, this takes around 3 minutes each side.
When cooked, remove from the pan and when it's cool enough to handle, simply shred it into flakes.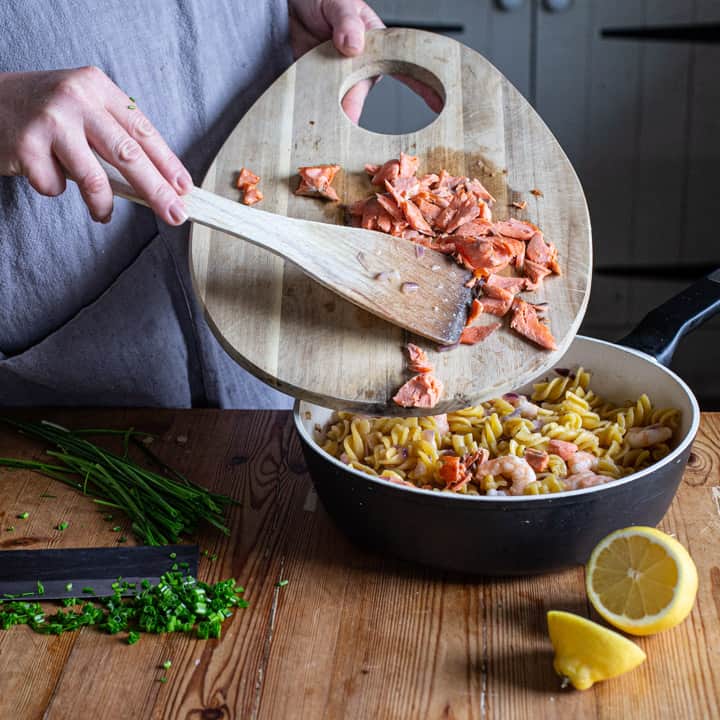 Next, I fried the onion and a little garlic in the pan.
To this, I added the fresh pasta and a glug of hot water from the kettle.
Pop the lid on and the pasta will simmer/steam in about 4-5 minutes.
When the pasta was almost cooked, it got pushed to the sides of the pan and the raw prawns were tipped into the centre.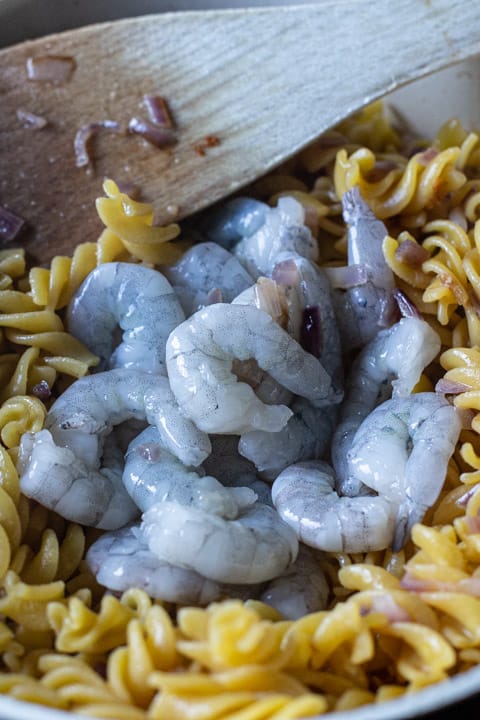 Cook until bright pink, then add the salmon flakes back in and gently toss together.
Finally, add the creme fraiche and lemon juice. Mix well and serve.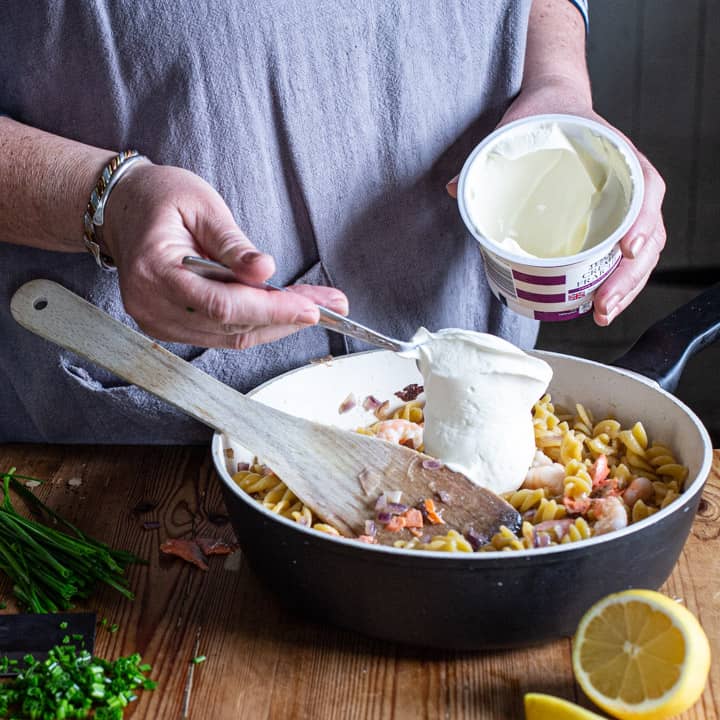 And just to prove how quick and easy this dish is to throw togethher, here's me making it, in a campervan!
Today's video over on YouTube!
I do hope you enjoy it if you give it a go.
And please don't forget to tag me in any pics you share online. You can find me everywhere as @hedgecomber!
And if you'd like more one-pot inspiration, take a peep at my archives here: One Pot Pasta Recipes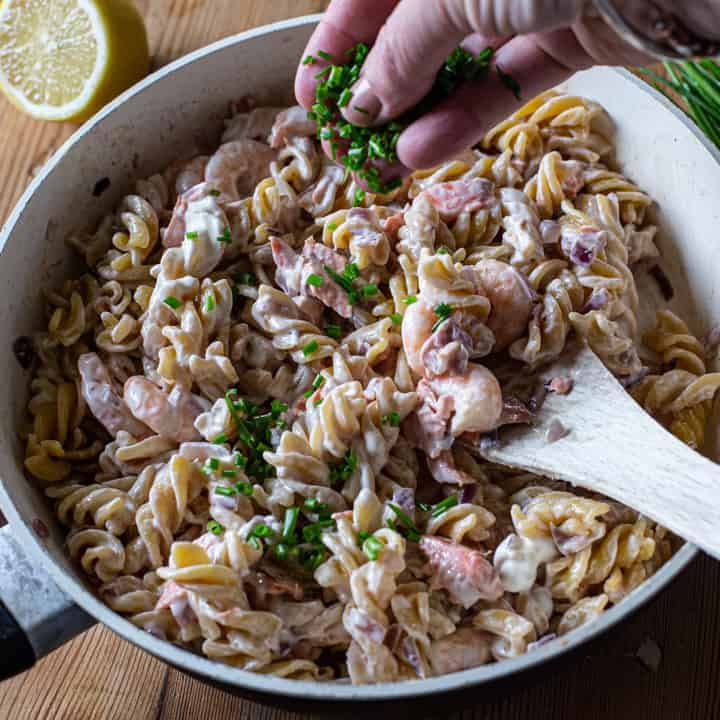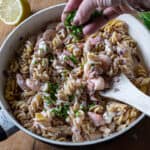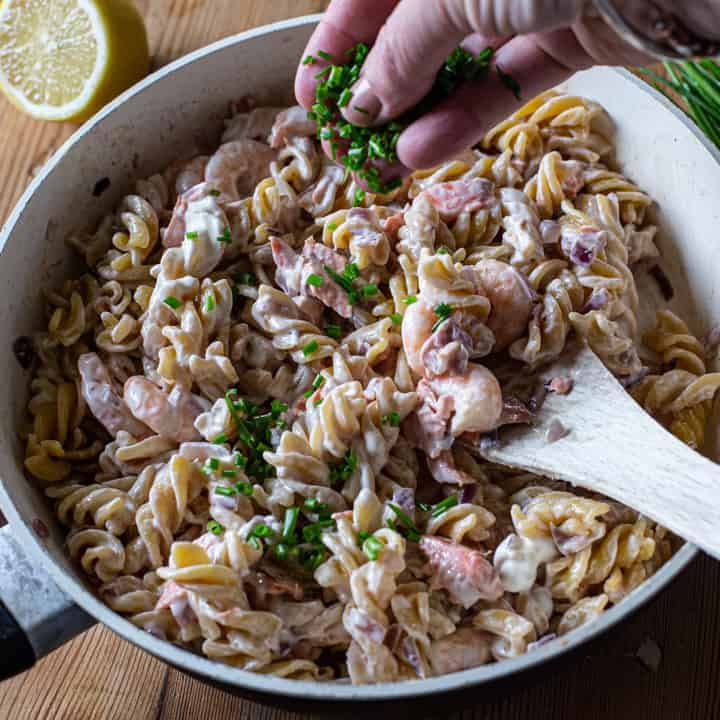 Salmon and Prawn Pasta
A quick and easy creamy seafod pasta meal
Keyword:
salmon and prawn pasta
Ingredients
1

tbsp

oil

1

salmon fillet

1

tsp

oil

1/2

onion

finely diced

300

g

fresh pasta

150

g

prawns

4

tbsp

creme fraiche

1/4

lemon, juice

1

tbsp

chives

chopped
Instructions
Boil the kettle before you start cooking.

Preheat a saute or large frying pan that has a tight fitting lid.

Add the oil, and gently fry the salmon fillet (skin side down) for 3 minutes.

When the fish 'unsticks' from the pan, flip it and cook the second side for 2-3 minutes, or until it is cooked through.

Remove the salmon from the pan and place on a plate to one side.

Add the second lot of oil to the saute pan, and fry the onion for a couple of minutes.

Tip in the fresh pasta, and pour in a good splosh of hot water from the kettle.

Mix the pasta with the onion and water, pop on the lid and let steam for 4 or 5 minutes, stirring occasionally. If the pasta gets dry, or starts sticking to the pan, add more water.

When the pasta is cooked, make a well in the middle and tip in the prawns. Pop the lid back on and let cook for 2 minutes.

Remove the skin from the cooked salmon and using 2 forks, shred it into flakes.

Tip this into the pasta, along with the creme fraiche and lemon juice and stir well.

Sprinkle the dish with the chopped chives and serve.
Recipe Notes
If you're using dried pasta:
To keep this meal 'one-pot', simply pre-cook it in salted water in the saute pan first. If you don't mind about having two pans on the go, cook it alongside instead.
If you're using pre-cooked or canned salmon:
Add it to the pan once the prawns have turned pink. As the salmon is laready cooked, it just needs 1-2 minutes to heat through.
If you're using ready cooked prawns:
Add them into the pan 1-2 minutes before adding the creme fraiche and lemon juice. As they don't need cooking, just reheating, they won't take long to warm through.