This Homemade Vanilla Sugar is the perfect gift to give to home bakers, coffee heads, dessert lovers or porridge addicts! It's a thoughtful yet frugal gift, and easy to make at home.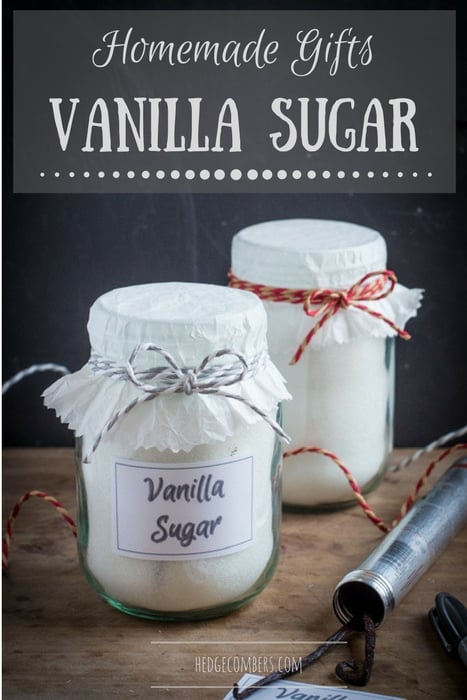 Here's the latest in my long line of homemade foodie gift ideas! You can check out the others in the archives here: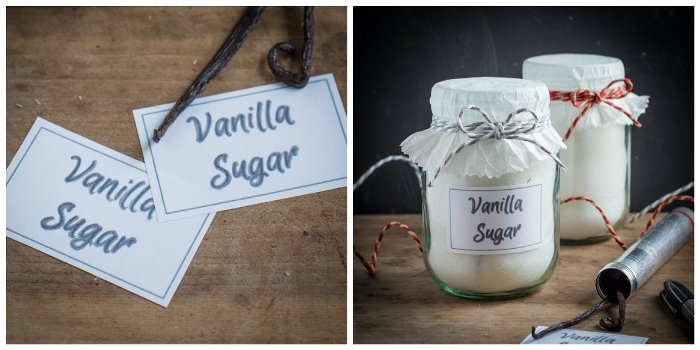 This homemade vanilla sugar is one of the cheapest gifts on my site to put together. Enough sugar to fill my jar cost about 30p, and the vanilla bean was around £2. All you need then is to find an old pretty jar and a label, and you're sorted.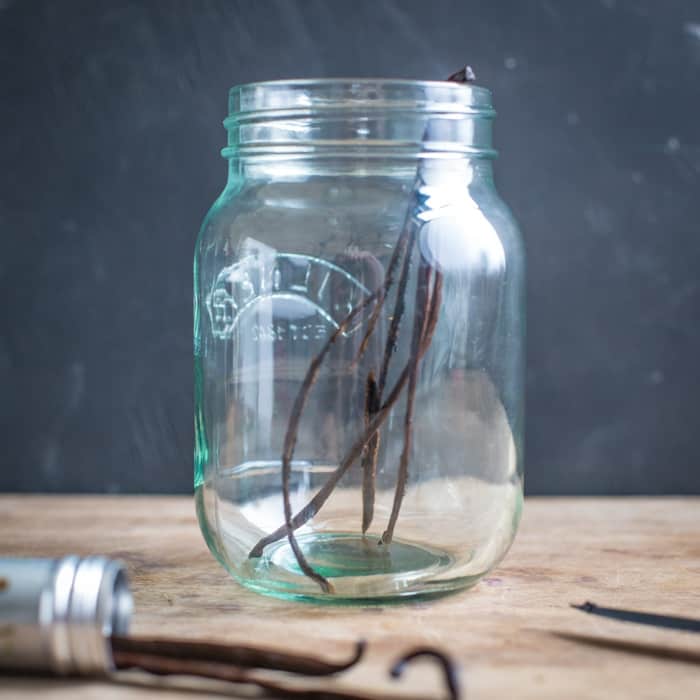 Cleaning old jars to recycle
If you need to remove sticky label residue from an old jar, spray a little WD40 on the glue and it'll rub right off.
Pop your jars and lids through the dishwasher to clean and sterilise them. If you don't have a dishwasher, pop a little detergent in the bottom of each one and fill with boiling water from the kettle. When it has cooled down enough to handle, wash up as normal.
If the jars or lids still smell of the previous contents, refill with hot water and a spoonful of bicarbonate of soda (baking soda to our friends in the US). Let sit, ideally overnight, then wash up as normal.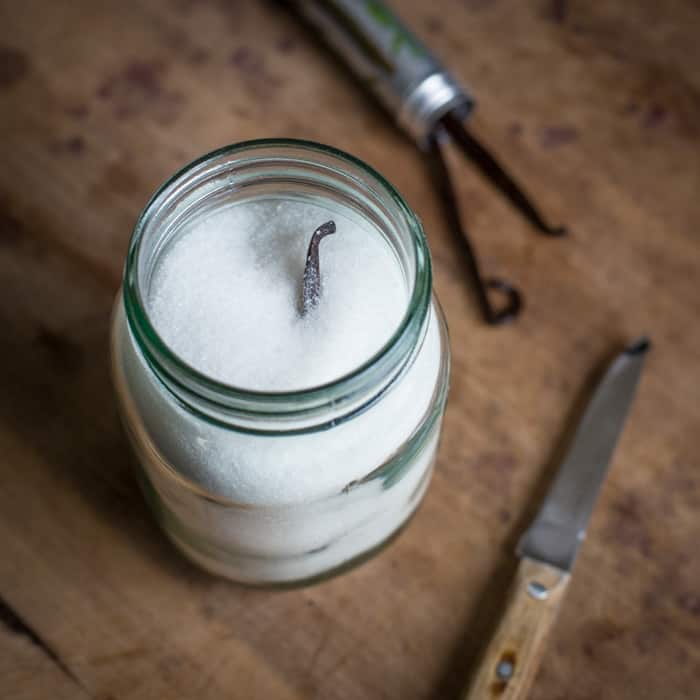 Homemade Vanilla Sugar
Slice the vanilla bean lengthwise, leaving the seeds inside. Pop the pod into the jar and fill with sugar. It doesn't matter if you use granulated, caster, icing or brown sugar. Use the one you have, or the one best suited to the person/purpose it's intended (ie if your giftee is mad about baking meringues, then you might want to use caster caster sugar).
I made the lids out of some white baking paper and a little bit of pretty string. Use proper sticky labels, or even a little piece of paper or card that you cut out and stick on with double sided sticky tape. Print out the labels if you want a fancy look – there are tonnes of free downloadable designs online.
You could even add a tag with a recipe written on (feel free to grab this recipe for these Foolproof Meringue Nests).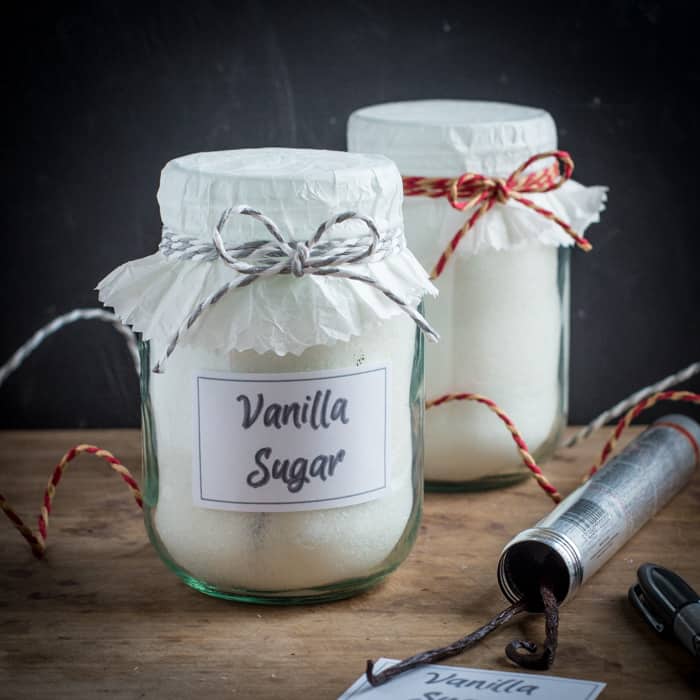 I would love to know what gifts you're planning on making this year in the comments below. And if you do give this homemade vanilla sugar a go, please do share pics with me on social media. You can find pretty much everywhere as @hedgecomber :)
Happy gifting friends!
Jane x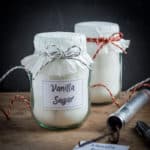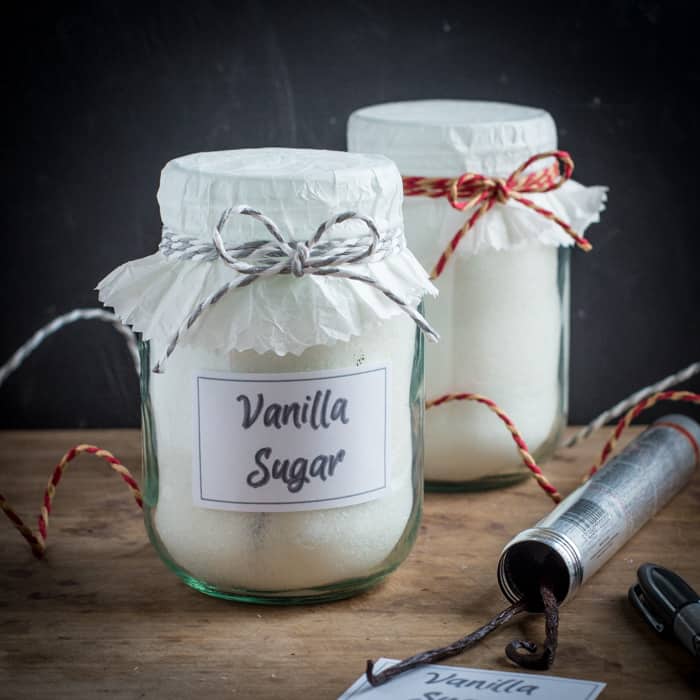 Homemade Vanilla Sugar
Ingredients
1

clean, glass jar

1 vanilla bean/pod

enough sugar to fill the jar
Instructions
Using a very sharp knife, carefully slice the bean down its length. Aim to keep it intact.

Pop into a clean, dry jar and top up with sugar.

Pop a lid on, add a label and pat yourself on the back for being an awesome friend!