Whether you're making handmade Christmas gifts this year, or you just have a weak spot for Candied Orange Peel. This homemade version will be a most welcome treat.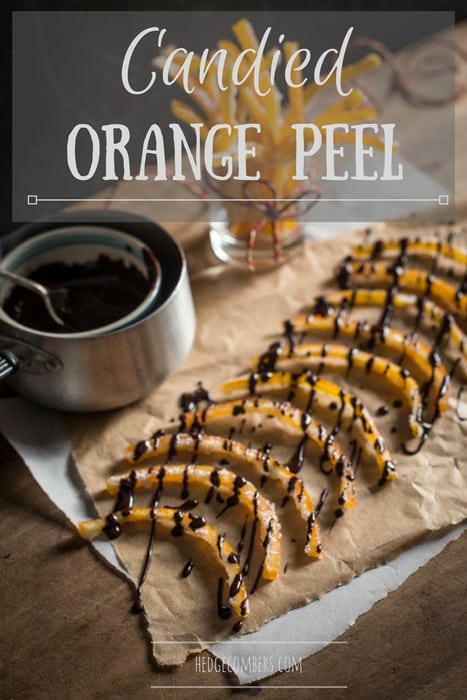 I used to work in a chocolate shop.
It was during those delicious days that I discovered I was lactose intolerant and immediately 95% of the stock became off limits.
There were a couple of treats left that used a dairy free dark chocolate. But all my previous favourites were now out of bounds.
I said a teary adieu to the cappuccino truffles.
So long to the waffles drenched in molten Belgium chocolate.
And adios to the Cornish clotted cream fudge, coated in a thick milk chocolate shell.
Left in my dairy free corner were…
Turkish Delight and crystallised or candied orange peel.
Sigh.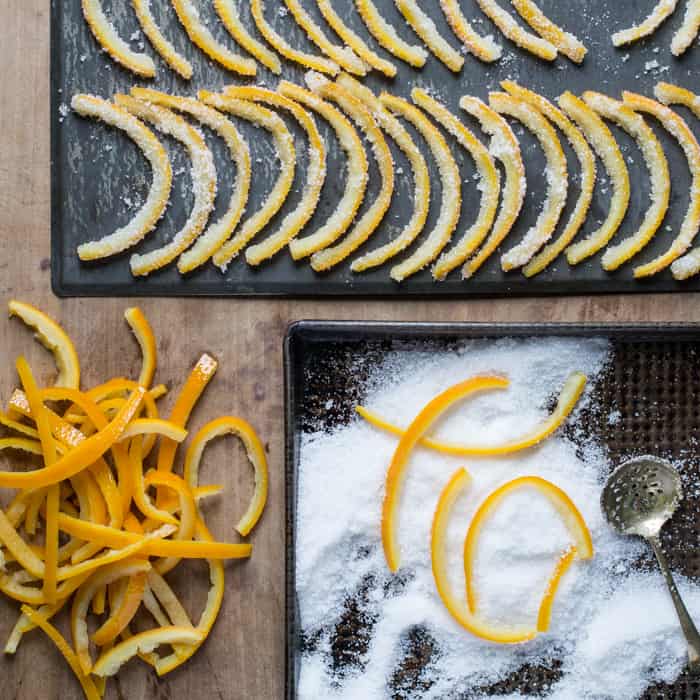 Until that point in my life, the idea of eating any citrus peel had never even entered my head.
You'd see it in little tubs in the supermarket at Christmas. A gaudy mix of coloured peels to stir through a fruit cake.
But I wasn't quite sure why anyone would bother ruining a perfectly good cake by using it.
So when all that was left to satisfy a sweet craving at ye olde chocolate shoppe, was a couple of pieces of candied orange peel I put my best foot forward and learnt to like, and eventually, even love the stuff.
How to make homemade candied orange peel
As always (well, mostly always) home made candied orange peel knocks spots off anything shop bought.
In this case I've learnt that the more time you spend on that peel, scraping the white and bitter pith away from the rind, the sweeter, and better the final treat will taste.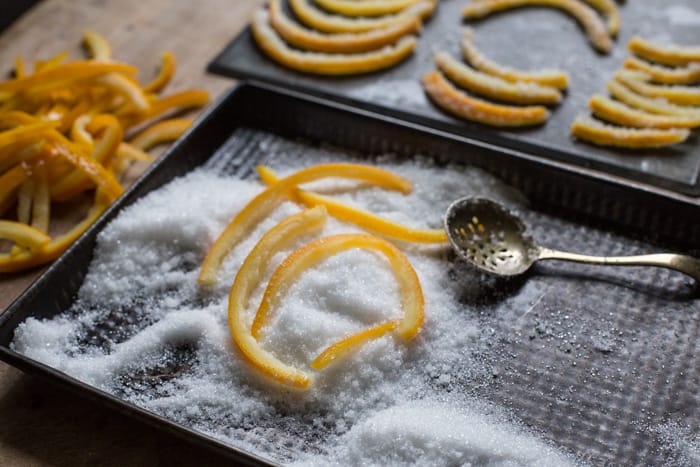 What kind of oranges should I use?
Try and find organic oranges for your candied orange peel.
However, if you can't, pop them into a sink with hot water and a drop of detergent.
Scrub the skins with a vegetable scrubbing brush, rinse well and dry.
What chocolate should I use?
If you decide to dunk or drizzle your peels with chocolate, use a seriously good quality dark one.
I used a 90% which I would be hard pushed to eat straight from the wrapper.
But combine it with the fragrant rind and crispy sugar coating, and you have yourself a menage a trois straight from heaven.
And if you're a hardcore citrus peel fan, you need to bookmark this awesome orange marmalade recipe for a later date.
Oh, and while we're talking about making festive treats and gifts, take a look at this traditional figgy pudding recipe. It's s Mrs Breton special and makes for a fun read!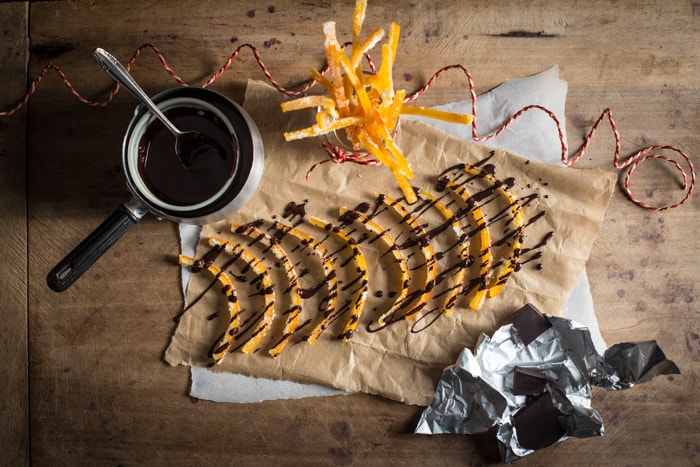 How to Make Homemade Candied Orange Peel
Let's walk you through the recipe, step by step.
I work on metric, but if you prefer US measurements, simply switch the little toggle in the recipe card below.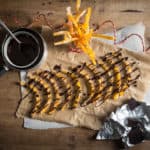 Candied Orange Peel
Ingredients
3

large

oranges

preferably organic

400

g

granulated sugar

plus extra for coating the final peel

750

ml

boiling water

1/2

lemon

preferably organic

50

g

dark chocolate
Instructions
Slice the top and bottom off the oranges, then cut each on into quarters.

then using a sharp knife, carefully cut away the skin from the flesh.

Scrape the white pith away from the inside of the peel using a teaspoon. I prefer the candied orange peel that has very little pith, but if you like yours to be more bitter you may wish to leave more on.

Slice the peel into very thin, even slices.

Next, pop the peels into a large pan of cold water. Ensure the water is deep enough to cover the peel.

Bring to the boil for 15 seconds then pour the water away. Rinse the peels in cold water, refill the pan with cold water and repeat two more times. Drain the peel the third and final time.

Pop the hot water into the pan along with the sugar, and heat until the sugar has dissolved. Add in the peels and half a lemon, bring to a boil, then simmer for 15 minutes.

Let the fruit peels sit in the syrup overnight, then drain and gently toss the peels in sugar.

Lay each one out on a baking sheet and let dry in a warm place such as an airing cupboard.

If you have a dehydrator, lay them out on the shelves and dry until firm but still pliable.
Optional chocolate coating
Melt the chocolate in a bain marie or small bowl over a pan of simmering water.

Either drizzle with a teaspoon over the candied orange peels, or dunk all or half of each peel. Lay out on baking paper until the chocolate has set.
Nutrition Facts
Candied Orange Peel
Amount Per Serving
Calories 2122
Calories from Fat 198
% Daily Value*
Fat 22g34%
Cholesterol 1mg0%
Sodium 52mg2%
Potassium 1431mg41%
Carbohydrates 492g164%
Protein 9g18%
Vitamin A 1240IU25%
Vitamin C 322.2mg391%
Calcium 294mg29%
Iron 7mg39%
* Percent Daily Values are based on a 2000 calorie diet.