This traditional figgy pudding recipe is an old fashioned English dessert usually served at Christmas. My version was heavily inspired by the original celebrity chef, Mrs Beeton.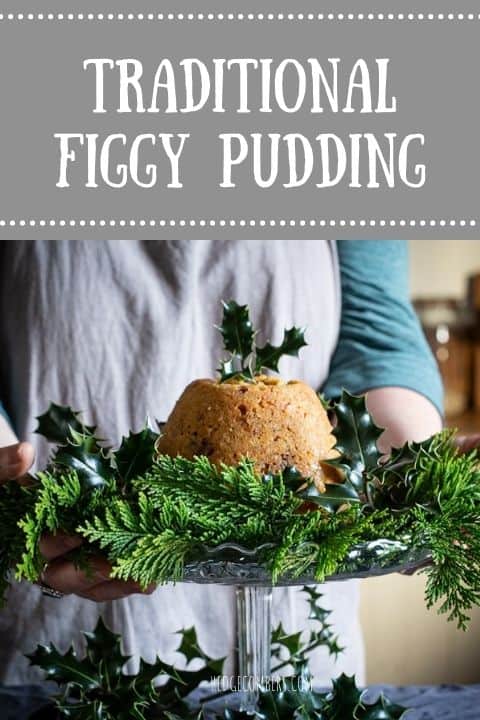 This recipe was originally written in 2015 & has been updated today.
As a food writer and recipe creator, many people ask me where I get my inspiration for the recipes I produce.
So, picture the scene if you will. There I was one Thursday evening, sat in front of the fire, cat on my lap, reading Mrs Beeton's 'Cookery & Household Management'.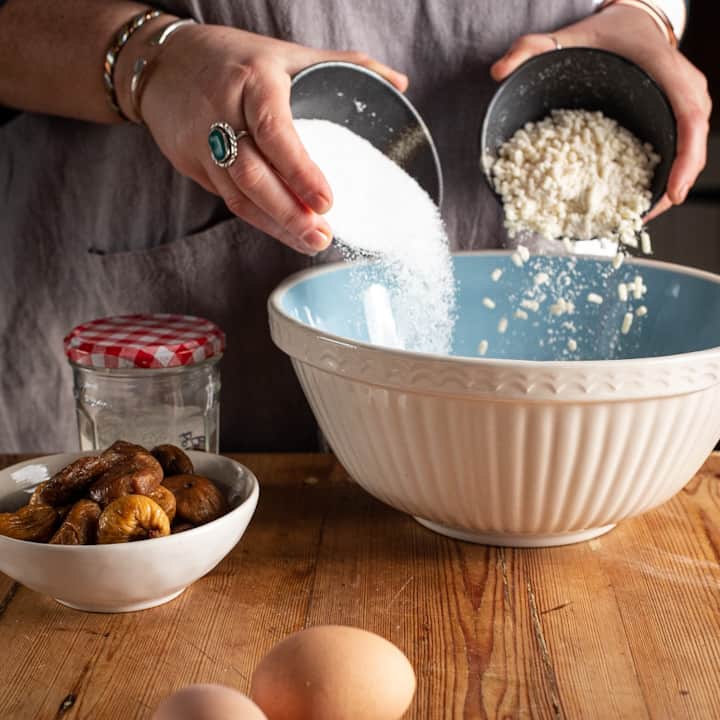 Some might consider it to be a bit of a dry read.
I personally couldn't think of many things I'd rather be doing on a chilly Thursday evening. :)
Inspiration struck when I got to the chapter on steamed puddings. I realised that I'd never made a steamed pudding.
What makes this more surprising, is that my vintage kitchenware habit means that I have at least 5 pudding basins in my kitchen.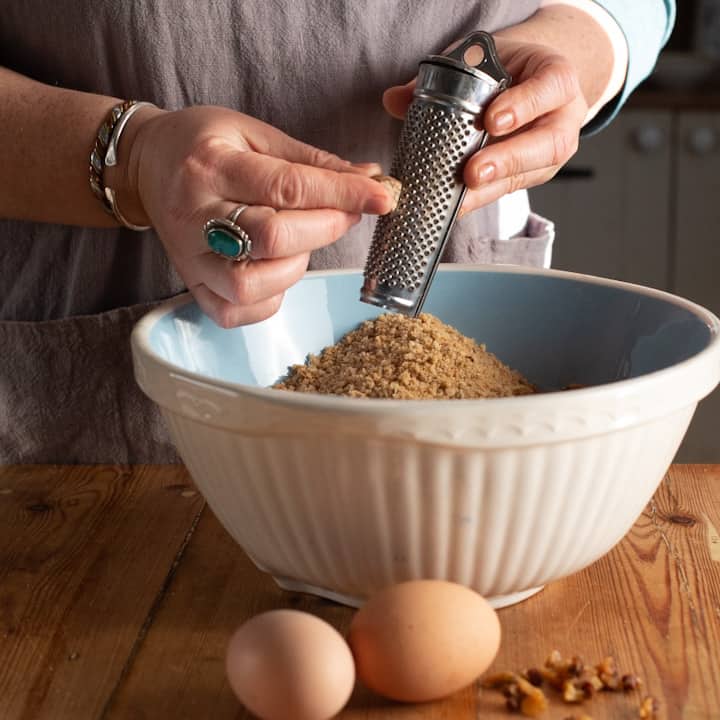 Anyway, buried in Mrs Beeton's tome was a recipe for a traditional Figgy Pudding.
Other than in the lyrics of a Christmas carol, I've never heard of this dish.
The gauntlet was down.
Challenge accepted Mrs B.
What is figgy pudding?
Well, according to Mrs B, a figgy pudding is NOT the same as a Christmas pudding.
A traditional figgy pudding is an olde English steamed pudding made with suet and dried figs (amongst other things).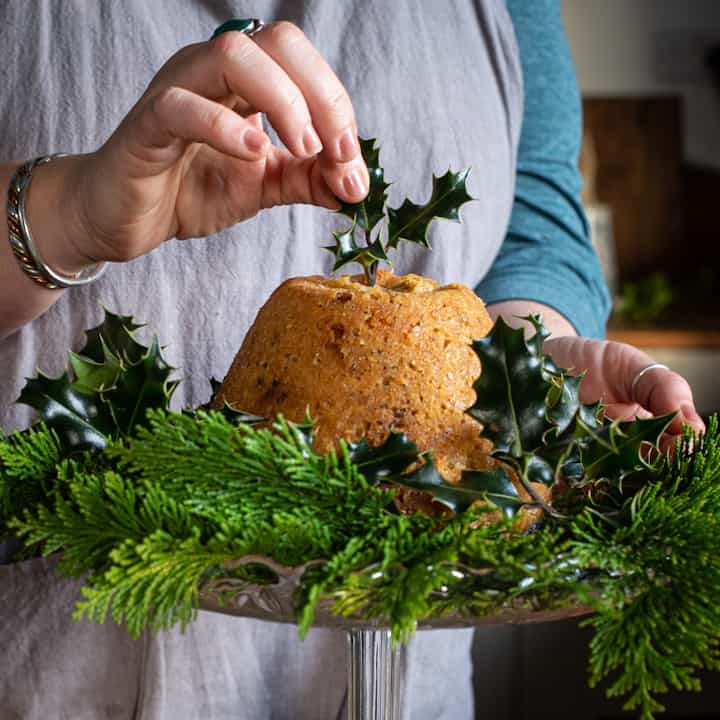 Alas, the term 'pudding' becomes complicated, particularly for my American readers.
Not only does 'pudding' mean the same as 'dessert', but it also refers to a specific type of dessert. Usually it's a heavy filling dessert that's served warm (and often covered in custard!)
What's a steamed pudding?
If we take it one step further, a 'steamed pudding' is a similar, heavy dessert that's made in a ceramic pudding basin.
The basin is covered with foil or baking paper, tied with string, then placed in a large pan of simmering water. There is will slowly steam until cooked through, which can take several hours.
A traditional Christmas pudding falls into the category of being a steamed pudding also.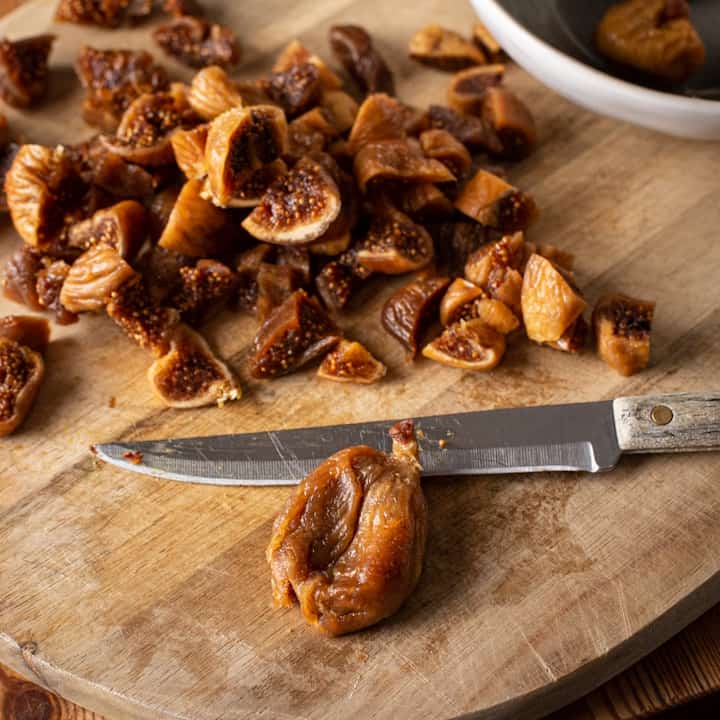 Beef suet in a pudding recipe?
In a lot of traditional English recipes, both sweet and savoury, you'll see suet as an ingredient. Suet is a fat that is made from the 'leaf lard', or the fat surrounding the kidneys of cows and sheep.
In her recipe, the intrepid Mrs Beeton cuts her own suet from an animal carcass. I however took the lazy route and bought a packet of beef suet.
Feel free to use veggie suet if the thought of all this tradition is making you feel faint.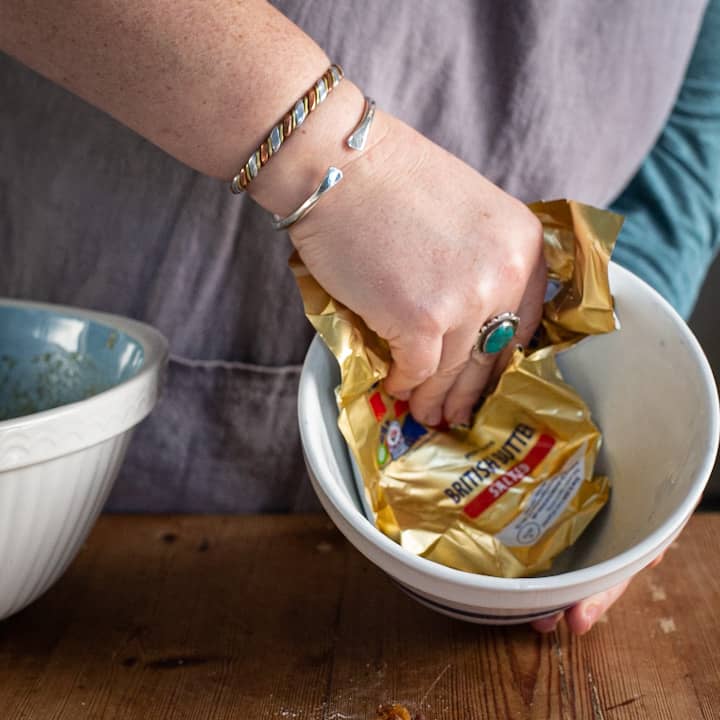 As my pudding cooked, it honestly didn't smell all that tempting.
It had the aroma of a roast dinner in the making, rather than a dessert.
But thankfully I couldn't taste the suet in the finished pud.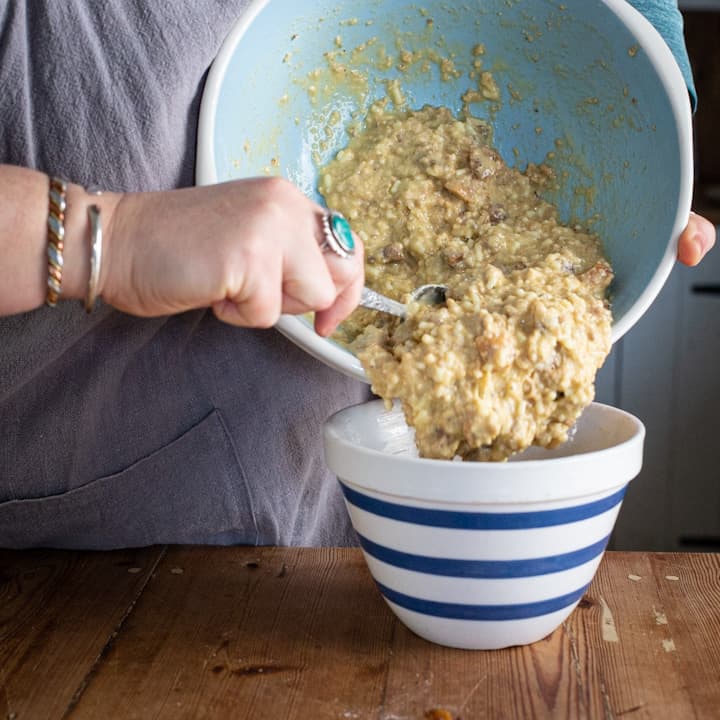 How to Make Traditional Figgy Pudding
This traditional dish is not overtly sweet like a lot of today's desserts. This means that a jug of custard or a drizzle of warmed golden syrup pairs with it nicely.
It's a straightforward recipe as you will see from the step by step guide below.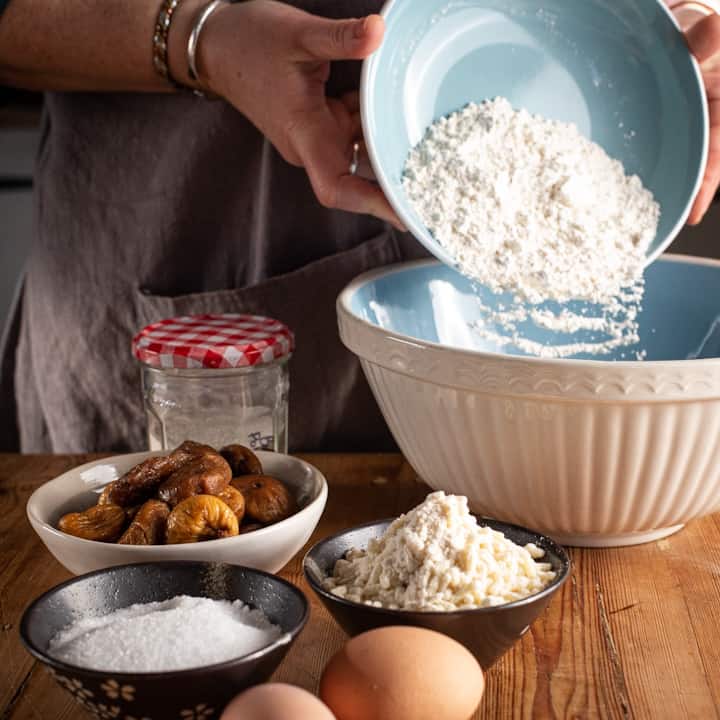 1/ mix together the ingredients
The first part of the method is similar to making muffins.
You mix the dry and the wet ingredients separately, before stirring the wet ingredients into the dry mixture.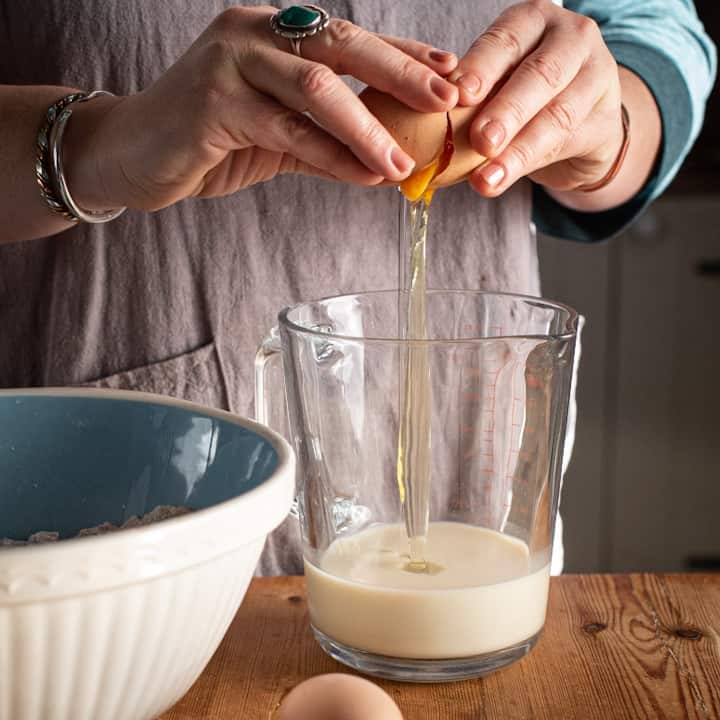 As figs are no longer in season here in the UK at Christmas time, I'm guessing this festive recipe would only ever have been made with dried figs.
I like to cut off the little hard bit at the top of the stalk, and then cut each fig into smaller pieces.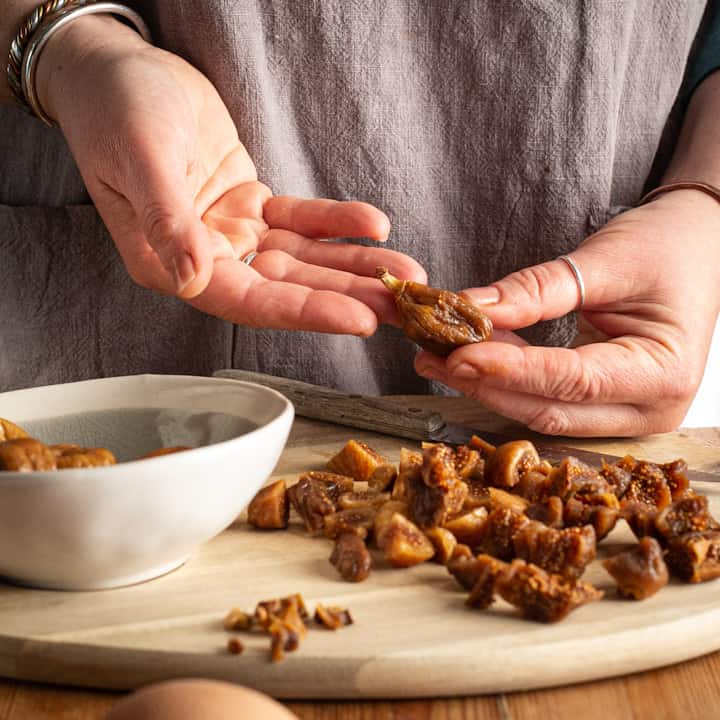 2/ pour into a pudding basin
Take a two pint pudding basin, and smear a little butter around the inside. I used the wrapper from a stick of butter.
Then pour in your batter.
Next, the basin is covered with greaseproof paper and tied with string.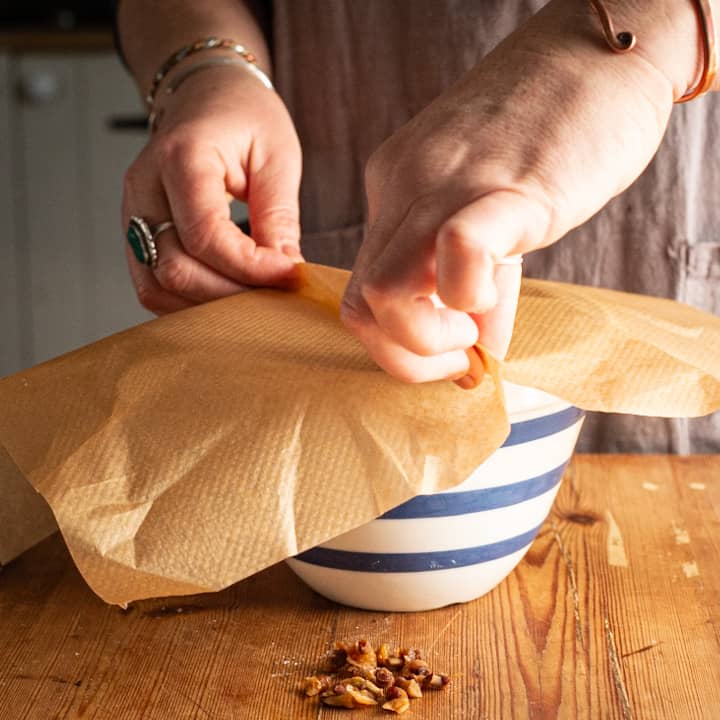 I recommend folding a crease in the baking paper before tying with string so that the pudding has room to rise.
And I also recommend roping in a second pair of hands to tie the string too!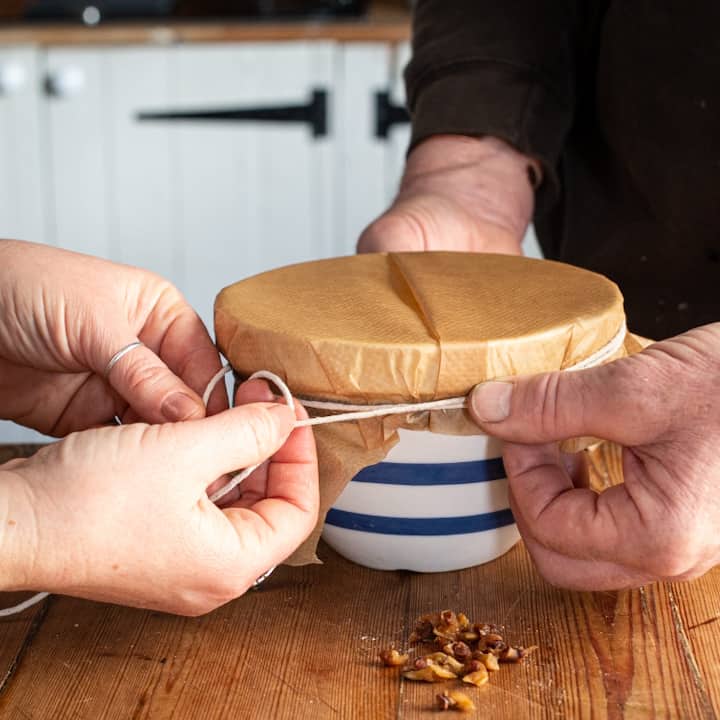 2/ how to steam the pudding
Place a saucer or small plate upside down in the bottom of a large saucepan.
Fill the pan with about 3 inches of boiling water from the kettle. Then carefully lower the pudding into the pan, to sit on top of the saucer.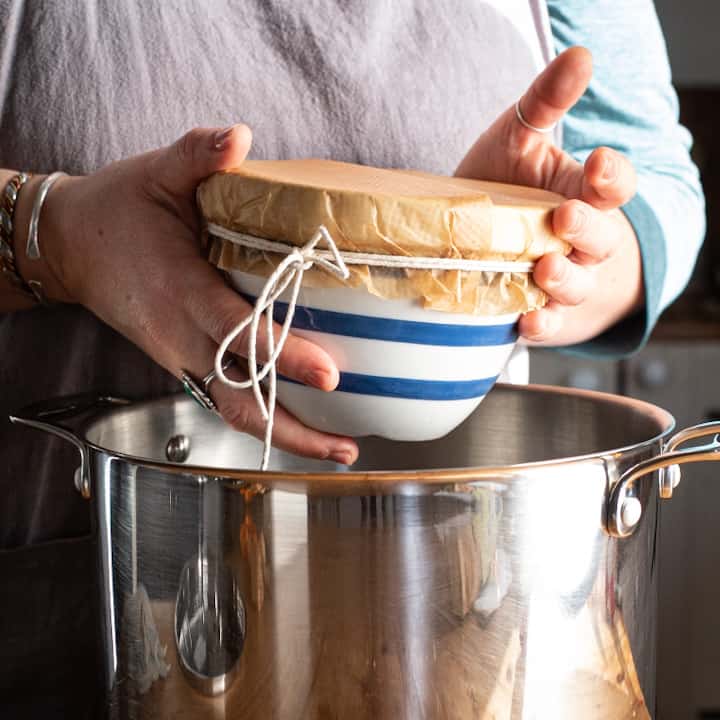 Place on the saucepan lid and let steam for 2.5 hours.
Check occasionally that the water isn't boiling dry – ideally you want it to come half way up the basin.
3/ plate up the steamed pudding
When the time is up, carefully remove the basin from the pan.
I used oven gloves and placed the hot dish onto a tea towel on my counter top to protect it.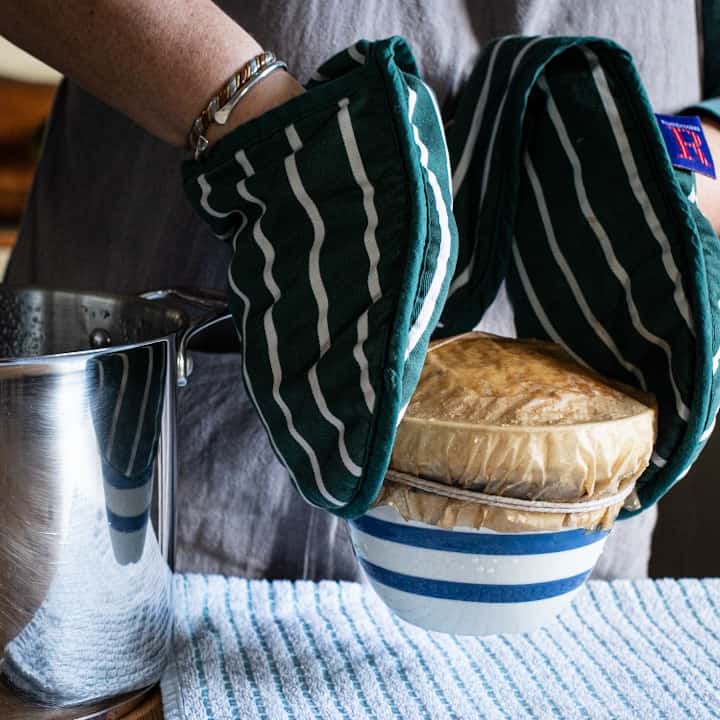 Cut away the pieces of string and remove the baking paper.
When I first tried to turn out the pudding, it wouldn't budge. Even though I'd been very generous when greasing the dish!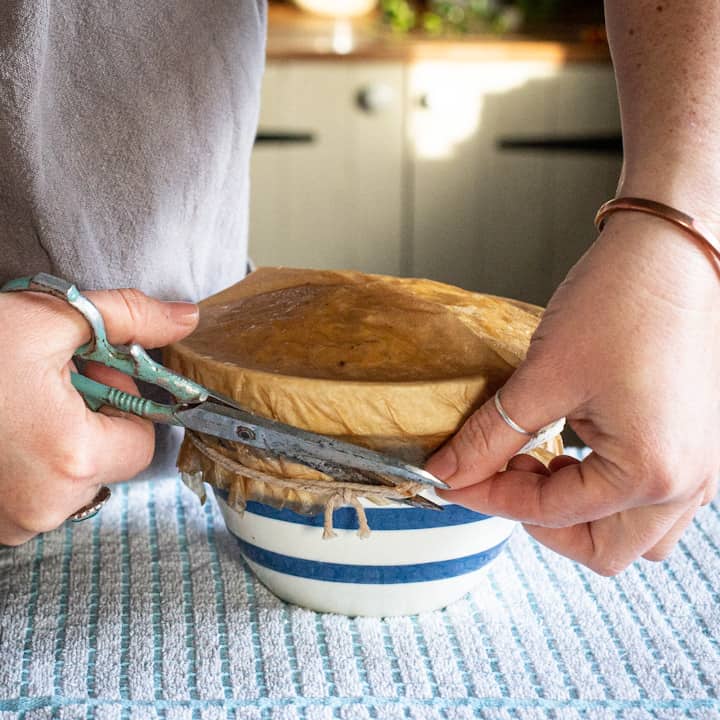 So I ran a blunt knife around the inside of the basin to loosen the pudding.
This worked a treat.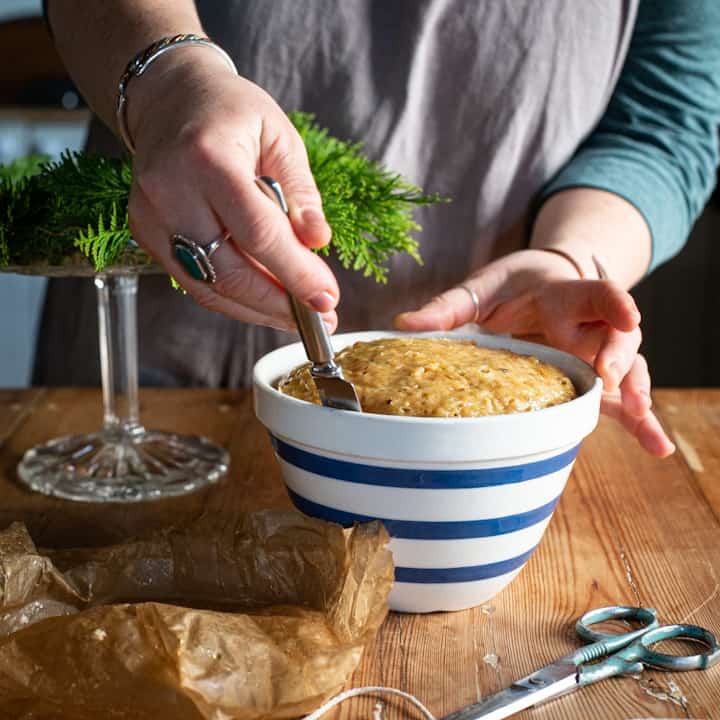 Then turn the pudding out on to a pretty plate or cake stand, being sure to protect your hands from the steam.
And finally, decorate it however you like.
I used some freshly picked holly and trimmings from a fir tree here on the farm.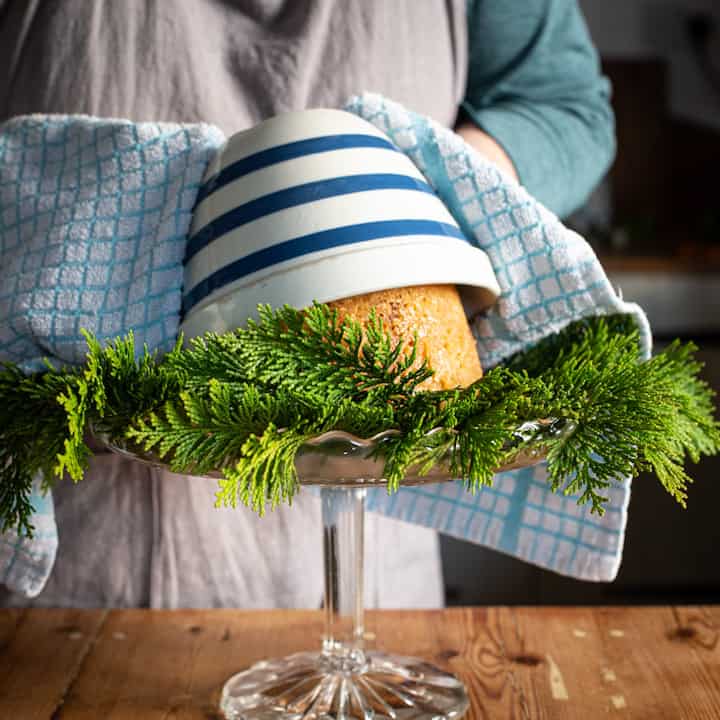 4/ what to serve with figgy pudding?
I would recommend serving your figgy steamed pudding with custard or double cream.
Or, as it's not an overly sweet dessert, a drizzle of golden syrup would be delicious too.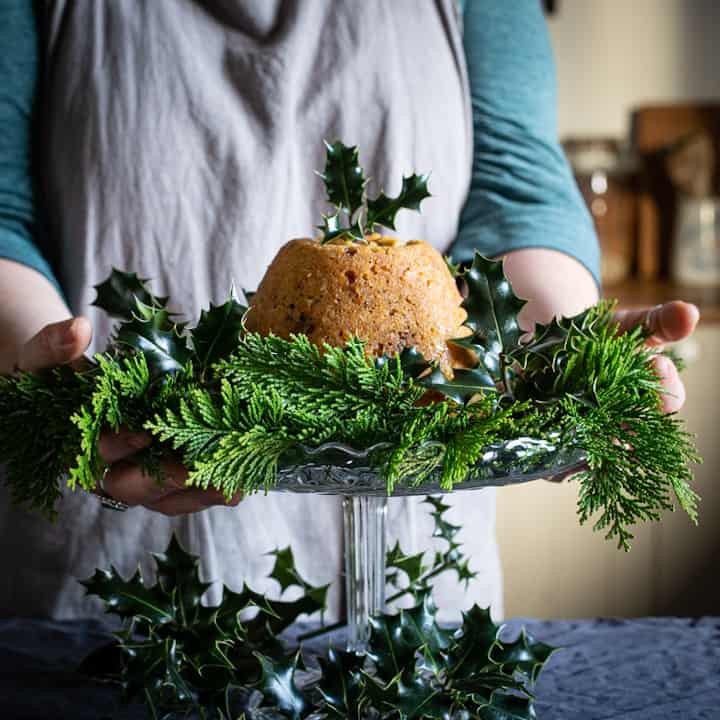 If you give this recipe a go, do feel free to tag me in any photos you share on social!
It gives me such a buzz to see my recipe getting made all around the world! You can find me pretty much everywhere online as @hedgecomber :)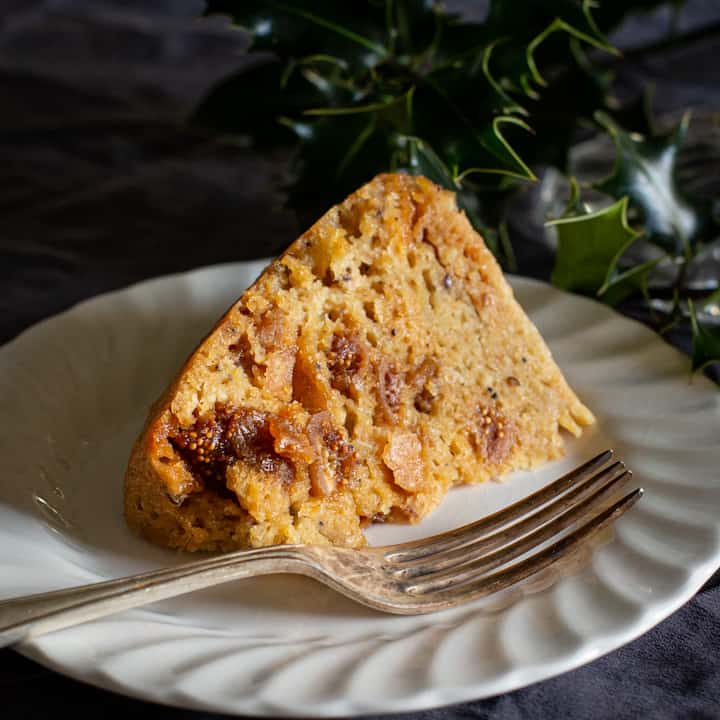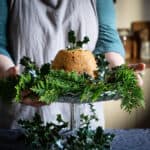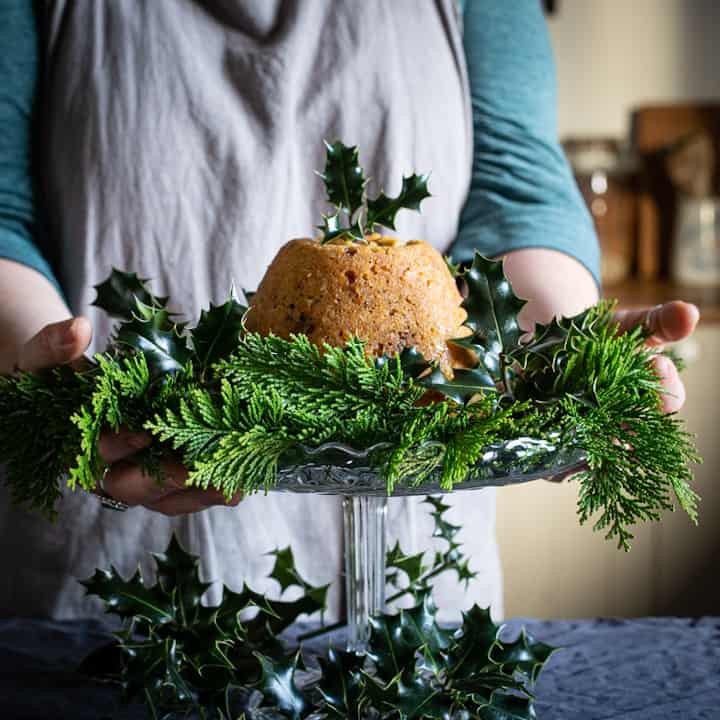 Traditonal Figgy Pudding Recipe
Keyword:
recipe for figgy pudding, traditional figgy pudding recipe
Ingredients
110

g

plain flour

110

g

suet

110

g

breadcrumbs

1

tsp

baking powder

110

g

sugar

pinch

salt

pinch

nutmeg

ground

225

g

dried figs

chopped

2

eggs

210

ml

milk
Instructions
To make the figgy pudding batter
Grease a 2 pint pudding basin and one side of a piece of baking paper that measure at least 30cm (12 inches) square.

Mix the flour, suet, breadcrumbs, baking powder, sugar, salt, nutmeg and figs together in a large mixing bowl.

In a jug beat the eggs with the milk and stir into the mixture.

Pour the batter into the pudding basin and cover with the greaseproof paper.

Fold the paper down around the rim of the basin, and use a piece of string to tie it in place (this is much easier of you have help!)

Once the string is secure, cut off any excess paper and string.
To steam the figgy pudding
To steam the pudding, you'll need a saucepan with lid that is deeper than the height of the basin.

Place a saucer or small plate in the bottom of the saucepan, upside down.

Boil a kettle full of water and pour a couple of inches of water into the pan.

Carefully lower the pudding basin in to the pan, ensuring the basin sits on the upturned saucer.

Top up with more boiling water, until it reaches halfway up the pudding basin.

Put the lid on the saucepan and steam the pudding for 2.5 hours.

Check occasionally that the water hasn't reduced too much, and top it up as necessary.
To serve the figgy pudding
Using oven gloves, carefully remove the basin from the pan and set out on a tea towel.

Snip away the string, then remove the paper from the top of the basin.

Place a serving plate over the top of the basin, then carefully tip both upside down so that the figgy pudding tuns out onto the plate.

If the pudding sticks to the basin, you can try running a blunt butter knife around the inside of the basin to unstick it.

Decorate it in a festive style and serve hot with custard or a drizzle of warmed golden syrup.

Leftovers can be cut into slices and fried in a little butter to reheat.
Nutrition Facts
Traditonal Figgy Pudding Recipe
Amount Per Serving (6 g)
Calories 377
Calories from Fat 144
% Daily Value*
Fat 16g25%
Cholesterol 53mg18%
Sodium 137mg6%
Potassium 336mg10%
Carbohydrates 54g18%
Protein 7g14%
Vitamin A 105IU2%
Vitamin C 1mg1%
Calcium 131mg13%
Iron 2mg11%
* Percent Daily Values are based on a 2000 calorie diet.