Have you ever looked for a traditional figgy pudding recipe? Keep reading to get the insider scoop on a truly old fashioned recipe by the original celeb chef, Mrs Beeton.

The inspiration behind my traditional figgy pudding recipe
As a food writer and therefore a regular recipe creator, many people have asked me where I get my inspiration for the recipes I produce. Well, as we fast approach the most festive season of the year, you could be forgiven for assuming that a traditional figgy pudding recipe might be high on my list of 'essential recipes for creating at this time of year' list. Ummm…the thing is that I don't actually have one of those lists! I probably should!
No, I generally read cookery books for fun. And by cookery books I mean I generally read a LOT of cookery books for fun!
So, picture the scene if you will. There I was one Thursday evening, in front of the fire with SassyCat purring on my lap, reading Mrs Beeton's 'Cookery & Household Management'.
Some might consider it to be a bit of a dry read. I personally couldn't think of many things I'd rather be doing on a chilly Thursday evening. :)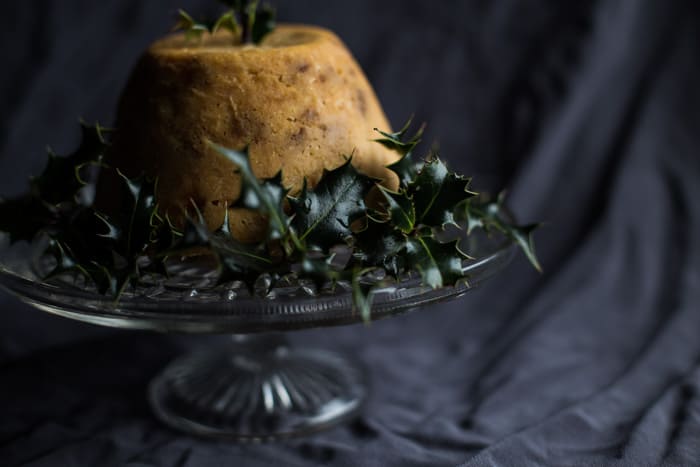 Inspiration struck when I got to the chapter on steamed puddings (yes, I actually 'read' through the chapters!).
I realised that I've never made a steamed pudding.
Even though my vintage kitchenware habit means that I have at least 5 pudding basins in my kitchen. And I'm pretty sure there are more in my prop cupboard (the place where I stash treasures that I know will get used in food photos, one day).
Interestingly, this is the same habit that has had me 'rescue' the 17 various sized and chipped enamel baking tins I've collected over the years. Much to my minimalist best mate's despair.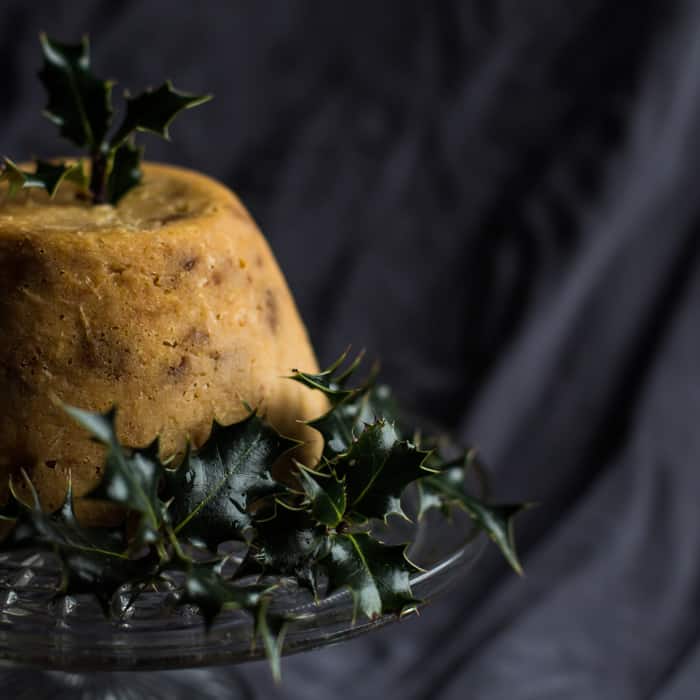 Anyway, buried in Mrs Beeton's tome was a recipe for a traditional Figgy Pudding. Other than in the lyrics of a Christmas carol, I've never so much of heard more of this dish.
The gauntlet was down. Challenge accepted Mrs B.

Oh bring us a figgy pudding!
The Christmas carol in which I've heard of the figgy pudding is 'We Wish You a Merry Christmas'. I have fond memories of being in the girl guides. Groups of us would sing the carol on friendly people's doorsteps in the run up to Christmas around my nearby local village. Just for fun, I decided to look up the origins of the song. Sadly, it would appear that very little is known about the song. All I could glean was that it originates from England (possibly the west of England) and dates from the 16th century.
Not to worry – it is a happy, kind of feisty little song and I like it!
What is figgy pudding?
What is figgy pudding? Well let me tell you that (according to Mrs B – and I for one, am not going to argue with this particular legend), figgy pudding is NOT the same as a Christmas pudding. Nor is figgy pudding 'Plum Pudding' (as per Christmas Pudding for reference). Traditional figgy pudding is a traditional English pudding made with suet and dried figs (amongst other things).
The term 'pudding' becomes complicated, particularly for my American readers. Not only does 'pudding' mean the same as 'dessert' which could refer to any dessert at all, 'pudding' also refers to a specific type of dessert. In this instance, the word 'pudding' also refers to the fact that the dish is cooked by boiling or steaming it in something. In the case of this figgy pudding recipe, it is a pudding basin.
If you try and love this recipe, another delicious pudding recipe that I'd recommend which has Welsh origins rather than English is the Snowdon Pudding.
Suet for figgy pudding recipe
Being a book from days gone by, the intrepid Mrs Beeton cuts her own suet from either sheep or cows. I took the lazy route and bought a packet of beef suet.
Honestly the pudding didn't smell very tempting as it was cooking, having the aroma of a roast dinner in the making rather than a dessert, but I couldn't taste the suet in the finished pud. Feel free to use veggie suet if the thought of all this tradition is making you feel faint.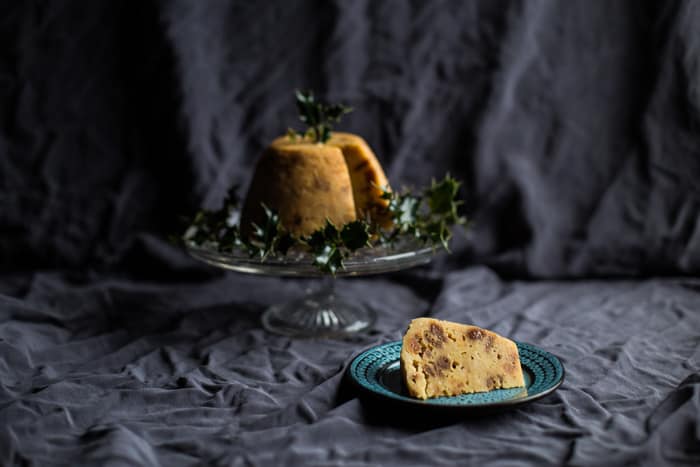 How to Make Traditional Figgy Pudding
This traditional dish is not overtly sweet like a lot of today's desserts. This means that a jug of custard or a drizzle of warmed golden syrup pairs with it nicely. It is a straightforward recipe as you will see from the step by step guide below. The first part of the method is similar to muffins. You mix the dry and the wet ingredients separately before stirring the wet ingredients into the dry mixture. This is then poured into a pudding basin. The basin is covered with greaseproof paper and tied with string. The pudding is then lowered gently into a pan of boiling water (with an upturned saucer in it to stop the basin sitting on the bottom of the pot) and it is steamed for 2.5 hours.
And whilst a steamed pudding takes a lot of effort compared to mixing a batch of muffins, it's a fun tradition. I will certainly be making again and make it a part of my festive favourite things to do. Do let me know if you give it a go too!
Janie x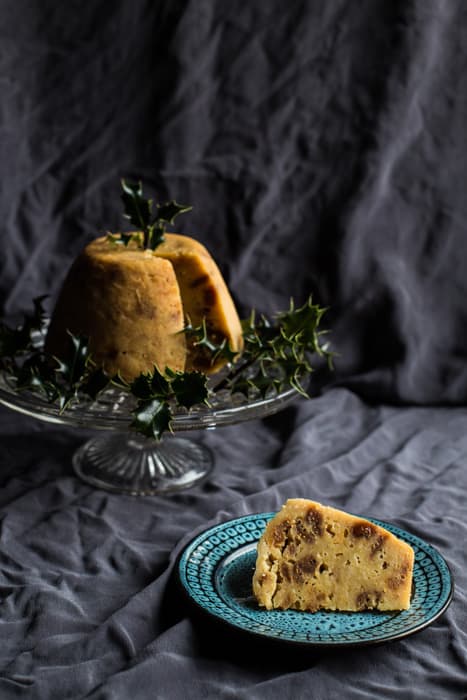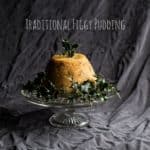 Traditonal Figgy Pudding Recipe
Keyword:
recipe for figgy pudding, traditional figgy pudding
Ingredients
110

g

plain flour

110

g

suet

110

g

breadcrumbs

1

tsp

baking powder

110

g

sugar

pinch

salt

pinch

nutmeg

ground

225

g

dried figs

chopped

2

eggs

210

ml

milk
Instructions
Grease a 2 pint pudding basin.

Mix the flour, suet, breadcrumbs, baking powder, sugar, salt, nutmeg and figs together in a large mixing bowl.

In a jug beat the eggs with the milk and stir into the mixture.

Pour into the pudding basin and cover with a piece of greaseproof paper that has been rubbed well with butter or other fat. Tie the paper around the rim of the basin with string.

Lower carefully into a large pan that has an upturned saucer in the bottom to prevent the basin from sitting directly on the base of the saucepan, and have the boiling water in the pan come halfway up the sides of the basin.

Pop on the lid and steam for 2.5 hours checking occasionally that the water hasn't evaporated.
Nutrition Facts
Traditonal Figgy Pudding Recipe
Amount Per Serving (6 g)
Calories 503
Calories from Fat 189
% Daily Value*
Fat 21g32%
Cholesterol 70mg23%
Sodium 176mg8%
Potassium 461mg13%
Carbohydrates 71g24%
Protein 8g16%
Vitamin A 135IU3%
Vitamin C 0.4mg0%
Calcium 181mg18%
Iron 2.9mg16%
* Percent Daily Values are based on a 2000 calorie diet.